Posted on May 19, 2015
Welcome back to a very special Tuesdays With Lazerbeak! Hard to believe this is even possible, but Sims' very first full-length, Lights Out Paris, officially turns 10 years old next month. INSANE. To celebrate that big decade mark, Doomtree Records is releasing an incredibly special deluxe edition of Lights Out Paris on vinyl for the first time ever!!! WHOA.
We've gone and remastered all of the audio from the original album to make it knock even harder, and this deluxe edition double LP also comes with a huge fold-out poster containing full printed lyrics from the album for the first time ever. In addition to that, we've added a digital download card containing full album audio, plus Sims' super rare 2004 False Hopes Four EP, and four brand new remixes from original Lights Out Paris producers Paper Tiger, MK Larada, Joe Mabbott, and Lazerbeak (me!). THAT'S A TOTAL OF 23 TRACKS! You can stream "15 Blocks (Lazerbeak Remix)" on the Soundcloud player below, along with the newly remastered original album version, to get a little taste of what we're working with. I tried my hardest to give this new remix a completely different feel from the OG beat that I made well over a decade ago, which probably explains the chill West Coast R&B feel. Sims even tweaked and re-recorded his vocals for an updated approach. Total blast to work on this and it rules to listen to the two versions back-to-back. Check it out!
All of this awesome news leads us right into the big time Lights Out Paris Pre-Order going on RIGHT NOW at the Doomtree Webstore! Let's start out with the Standard Vinyl Pre-Order details and ease our way into the deluxe territory. Check this out!
That's right, when you pre-order the Standard Vinyl Pre-Order you'll get all of the following:
- Remastered double LP
- Large fold-out poster with full printed lyrics
- Digital download card with full album audio, four brand new remixes, and Sims' super rare 2004 False Hopes Four EP (23 tracks total!)
- Instant download of "15 Blocks (Lazerbeak Remix)"
- Access to a private Livestream concert and hangout with Sims on Wednesday, July 15th at 9:00pm CST. He'll be performing various selections from his entire discography, playing some new material, and hanging out to answer questions as well.
SO SWEET. You can pre-order the Standard Vinyl Pre-Order right HERE…..OR you could ball out of control and go for the ultimate Deluxe Vinyl Pre-Order.  Check THIS out:
When you purchase the Lights Out Paris Deluxe Vinyl Pre-Order, you not only get all of the sweet extras that come with the standard version (private Livestream concert, "15 Blocks Remix" instant download, 9 bonus tracks, etc), but you also get all of this crazy stuff:
- Limited 2005-era Sims t-shirt
- Screen printed Lights Out Paris patch (to add to your All Hands, No Kings, and HELLA FRREAL joints)
- 3″ x 6″ glossy Sims sticker
- Sims button
All for just $15 more than the standard version! HOT DEALS. You can purchase the Lights Out Paris Deluxe Vinyl Pre-Order from the Doomtree Webstore right HERE.
And if physical product just isn't your thing these days, you can pre-order the 23-track Lights Out Paris (Deluxe Edition) digitally through iTunes and receive bonus track "15 Blocks (Lazerbeak Remix)" instantly. Check that out right HERE.
In other Doomtree-related news, Dessa just made it home safely from her crazy travels throughout Europe and South Africa. She'll get a couple days to catch her breath, and then it's right back to work. To kick things off Dessa will be performing a solo set on the main stage at Soundset this Sunday, alongside the likes of Ice Cube, Ludacris, J. Cole, Big Sean, and Yelawolf. Click HERE for tons more details and ticket info.
Doomtree will have a big merch tent set up at Soundset, just like in years past, and we'll be slanging a bunch of new Doomtree and Dessa gear all day long. Make sure to stop by and say what's up to Crista, Ander, and Nick. You can also get a very special deal on some F*cking Best Show Ever advance tickets. Two for $20 only at the Doomtree booth. Come check us out!
And while you're there, make sure you hit up the annual Last of the Record Buyers production showcase throughout the day. The homies Brandon Allday and Medium Zach have been hard at work to bring you another great lineup of producer and DJ driven entertainment. Here's a quick promo video to get you amped.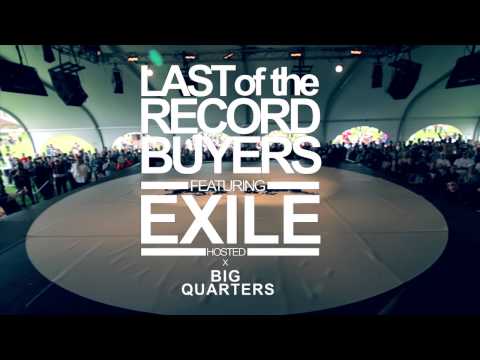 That should do it for Doomtree-related news this week, so let's jump into a couple of Doomtree-related Bonus Jams before I call it a day. Our good friend Astronautalis just released a brand new single last week, and it's produced by ME! This song was originally supposed to go on his upcoming full-length, but the direction was just a little too removed from that album's sound, so Andy decided to release this as a cool one-off. I'm really happy with how it all turned out. Check out "Papillon" below.
And speaking of Lazerbeak productions (you didn't really think I'd snap the Segue Streak now, did you?), here's that Sims "15 Blocks (Lazerbeak Remix)" one more time in case you missed it up top. Circle of life and all that steez. Enjoy!
I'll leave you with a couple of big time Bonus Baby Pics. The TWINZ are now 14 months old and totally killing the game. Here's Crab Man Cam flashing a very rare smile to the camera and trying out some fancy modeling poses, while Laid Back Lou rocks some cool blue jammies and keeps things super laid back (per usual). Work it, dudes.
These guys have been way into hanging out in the backyard now that everything is warming up a bit. Here's Cam hard at work on his dunking technique, while Lou attempts to fix the battery in the toy lawn mower. It takes all types.
Can't forget about P! She's been going totally buck at about any park she lays her eyes on lately. Here she is working on that upper body strength for some future gymnastics endeavors. I really need my photo shoppers out there to turn this pic into some sort of cool death-defying stunt. Maybe she's dangling precariously close to a fiery lava river in hell or something? Just an idea to get the creativity flowing. ARLO, once again I'm looking at you.
Here's Penny hanging out with her new favorite things in the world: ROCKS. Every weekend for the last month we've headed down to Minnehaha Creek to throw rocks in the water. The first hour of this is actually really fun, but by hour two I start to lose perspective on the overall end game of the whole thing. I might be overthinking it though.
Alright! That does it for this special Lights Out Paris edition of Tuesdays With Lazerbeak. Make sure to check out all the pre-order details right HERE and help us spread the word if you get a second. I hope you all have a wonderful week and we'll see you next Tuesday for a welcomed guest round of Tuesdays With Dessica.
– Beak
Twitter: @_LAZERBEAK
Instagram: @lazerbeak
SUPPORT THIS BLOG LYFE. TUESDAYS WITH LAZERBEAK SHIRTS AND POSTERS AVAILABLE NOW!!!