Here we go again.  Got a little late start on this one due to the combination of the fantastic Dolphins/Jets game last night and the vodka red bulls that went right along side it.  Yikes.  Think I'm gonna have to just roll out another installment of "3 Things Everyboday Loves, Because They Just Plain Rule."   Promise I will try to get more creative next week.
3 (MORE) THINGS EVERYBODY LOVES, BECAUSE THEY JUST PLAIN RULE
1. 3-D MOVIES
I believe the technical term is now Real-D, but whatever.  Don't get it twisted, this is not your parents rinky dink cardoard blue and red 3-D glasses experience (no disrespect to your parents).  Oh no.  Real-D was created to single handedly save the box office and make you feel like the king of the universe at the same time.  I'm not gonna lie, the first one of these I saw was Beowolf and it was pretty awful.  Since then though it's been all up hill.  Monsters Vs. Aliens, Coraline, and Up! have all been an absolute joy to watch, and don't even get me started on Toy Story 3 (still gotta see Cloudy With A Chance Of Meatballs too).  It's hard to express in words how good you are gonna feel when you leave  the theater after having your entire world rocked by this simple yet mind altering technology.  This just might be the actual fifth element of hip hop.
2. THIN LIZZY
These guys just slay so hard.  Undeniable legends that could melt your face off with both insane double guitar harmony riffs and crazy lyrics about epic warriors.  Not to mention the slow tearjerkers.  Get everything they ever made (even the solo Phil Lynott album rules).  The entire reason that I ever wrote a song called "Belly of the Beast," which I've included below because TPC! are the original LEGENDZ!!!!
The Plastic Constellations – "Belly Of The Beast" <— click that 
3. MY DOG, DELLA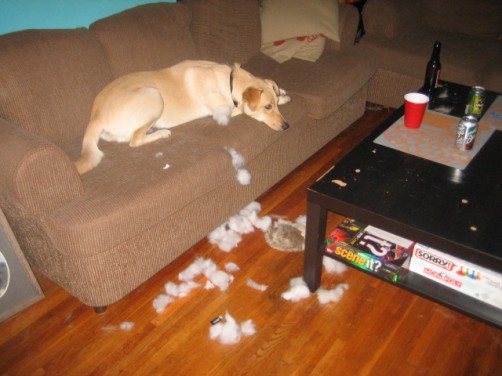 Couldn't resist.  I have become such a crazy dog person and I don't even know how to fight it anymore.  Instant legend status (even when she eats our shoes).  My life is forever changed.
There you have it: another Tuesday, another list of things that rule.  Also, I do make lava banger rap beats when I'm not doing this.  Check me out at myspace.com/lazerbeak and follow my rare twitter updates at twitter.com/_LAZERBEAK_