So it is officially Blowout week and man am I excited about this show on Saturday!  We've been scrambling around like crazy getting everything together.  New merch is on it's way, sets are being fine tuned, lava bangers are brewing up.  I love it.  Anyways, below is a pic of just some of the new stuff we're gonna have available for the first time the night of the Blowout.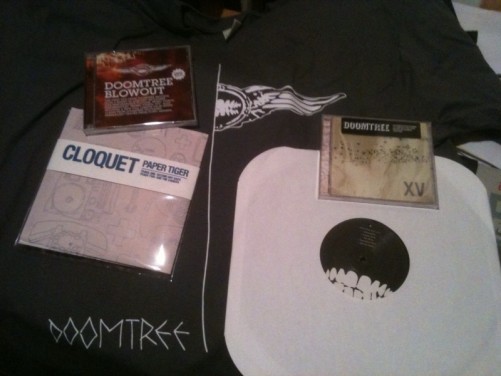 VINYL!!! That's right, this is a first for us and quite long overdue.  We will be reissuing the self titled Doomtree crew album on vinyl for the first time…..  300 limited edition double 12″ vinyl with brand new limited edition screenprinted artwork.  So exciting.  And Paper Tiger is also releasing a two song 7″ titled "Cloquet" as well (only 200 pressed with sweet screenprinted artwork).  Plus the new Doomtree False Hopes Fifteen disc, as well as a repressing of the Blowout DVD with new packaging and a ton of shirts and whatnot.  Seriously not trying to sound like a used car salesman, I'm just really proud of all this stuff coming together.  So one last time before I keep it moving, this is all you need to know: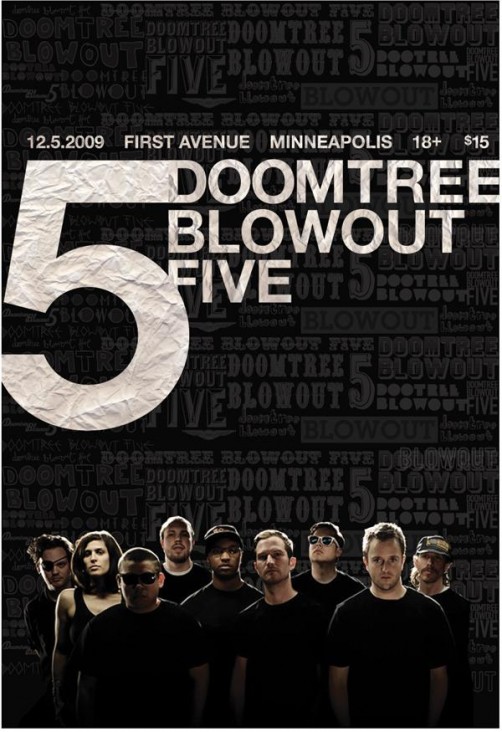 In other news, I was able to attend the incredible Vikings/Bears game on Sunday and boy was it one for the ages!  A little backstory: My wife was born and raised in Chicago and her love for the Bears is parallel to none and quite frightening at times.  Much to my dismay she has somehow converted a ton of our friends into Bears fans over the years as well (and she's been threatening to buy an Urlacher jersey for our dog for Christmas!).  Not cool.  So it has become tradition in our household to get tickets once a year when the Bears come to town and roll crew deep down to the Dome (or Mall of America Stadium or whatever they're calling it now).  We ended up going to a bar before the game to get warmed up and it just so happened that they offered a deal where for a measly $5 you could be dumped into a limo and dropped off at the stadium in style.  Plus they let you pour your beer into a plastic cup and drink it on the way over.  Incredible!  
I felt like a king.  I'm talking absolute legend status!  And the day only got better.  I was outnumbered by Bears fans everywhere I looked in my section, but by the end of the first half a strange silence had descended upon them.  The Vikes looked better than ever and ended up destroying.  Plus I got to eat nachos!  Bonus.    

We must have taken this panoramic before the game started, because Cam's smile was fairly non existent for the majority of the game.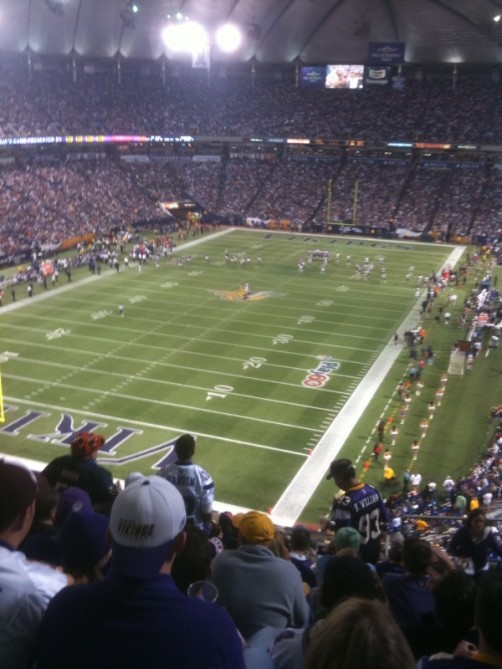 10 – 1!!!  What a glorious day.   
OK I should probably get back to work on this Blowout setlist, but if you're gonna be around this Thursday you should head down to the Unknown Prophets release show at First Ave and crush a brew with me.  Those dudes are my guys and I actually contributed some production to one of the tracks on their very awesome new album "Le System D."  Can't think of a better way to ease into the insane Blowout weekend.
And before I go, here are a few Bonus Jams I've been rocking this week.  
BlakRoc – "Ain't Nothing Like You (Hoochie Coo)" feat. Jim Jones & Mos Def 
I was pretty skeptical of this project at first, seeing as how Dame Dash had somehow climbed out from under the roc (get it?) he was hiding under and linked up with the Black Keys, then convinced a bunch of random NY rappers to get extremely blunted and bless the instrumentals.  Somehow this record turned out pretty awesome though.  Nice work Dame, you still got it (maybe).  Definitely worth watching the making of the album video series on YouTube as well.  Never thought Dame or Jimmy could be so likeable. 
This man is one of the G.O.A.T and he is still churning out hits.  This joint right here is off his newest album and it gets me choked up everytime I hear it, in a very manly legend god sort of way of course.  I think they might actually have placed it on the new Toy Story 3 trailer as well.  Double bonus.
The greatest song about a city every made!  This one is a consolation prize for all you Chicago Bears fans out there.  I don't really know what else to say, just make sure you listen to this track.  Every line is a quoteable.  Bears, Hawks, Sox, Bulls (Onions).
So there you have it.  Hope you have a great week.  See you Saturday!  
— Beak