Well, two outta three ain't bad I guess.  The 3 Day Insanely Awesome Weekend has finally come to an end and I am thoroughly exhausted and sore.  This has to be what it must've felt like back in the olden days when they would have parties that would last for weeks on end to celebrate the king's son returning home from battle or the village successfully defending itself against a flock of intruding dragons.  Something like that right?  Below is my recap of the events that occurred over the IAW, from what I remember at least.
FRIDAY
Friday night was the big release party for Dessa's album.  This was one of the first Doomtree shows in forever that I was able to just go and enjoy from the crowd as a spectator.  Let me tell you, it ruled.  We got down there around 10:00 and found out it had already sold out!  Cecil (with awesome backing band) slayed.  I usually can't get down with live hip hop that often, but those dudes pull it off so tastefully.  The night belonged to Dessa though.  She destroyed.  Everything just seemed to be working.  And I loved the intermission Knives On Fire set that broke up her two sets.  Thanks to everyone that came out to support the event.  It really felt like a big exciting deal that I can only imagine will carry over to every single city she plays on this upcoming tour with Stef.  Hell of a night.  Vita.mn shot a bunch of pictures from the show.  Click HERE to take a look.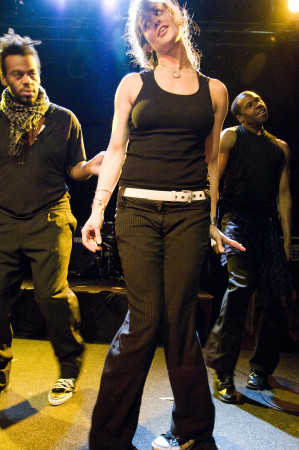 SATURDAY
Modern Radio Records 10 Year Anniversary Party.  Modern Radio put out the TPC! album "Let's War" back when we were all still in highschool (Class of 2000 represent).  Can't believe how fast time flies.  As a band we pretty much haven't played together in about two years, but when they asked us to do a reunion show for this thing it just felt right.  I gotta say, for only 3 or 4 practices we absolutely brought the flames!  There were so many incredible friends, new and old, that made it out for this (even on the iciest night of the winter) it was just overwhelming.  Felt like a big old family reunion.  I managed to remember all my lyrics and almost all of my guitar parts (although my amp did shut down for one song) and we all managed to get through the 12 song set without keeling over and dying from exhaustion.  Forgot how much energy is exerted at these shows.  I had gotten a little soft having just been tapping on the MPC for a couple years on stage.  Anyways, again a tremendous thank you to anyone that braved the elements and made it down.  A complete and total success and an incredible time that I will not soon forget.  LEGENDZ!  Reviler has a great picture/video recap of the show HERE.
SUNDAY
This was to be the day that the Vikes marched their way into the Superbowl.  What an insane evening filled with such extreme highs and devasting lows.  I haven't quite processed the crushing loss yet (and refuse to watch ESPN all week) because it still stings pretty good.  All I can say is it was an incredibly joyous and truly fun season to watch and be a part of.  Haven't felt that kind of excitement and comradery coursing through the city in awhile.  Favre is not gonna retire with his last pass being an interception.   Next year we will rise from the ashes and claim what is rightfully ours.  Go Vikes til I die.  And the night was not a total loss either.  Roons cooked up some of the best pot pie I've ever tasted, and Liz made sure the Purple Ape shots were always flowing in abundance.  Being in the company of friends definitely helped soften the blow.      
So the IAW has come to a close.  I spent the entire day yesterday fairly hungover and attempting to transform an old college fight song into a dirty south banger for some potential commercial (don't ask).  And tonight Sims and I will be in Des Moines at Drake University to play some rap music.  On our eternal grind.  Next week will be the unveiling of the world famous nacho cheese recipe and Lava Banger shot ingredients, just in time for the Superbowl.  Trust me, you're gonna want to know about this stuff.  Hope you have a good week.  Bonus Vikings Jam below.
— Beak
http://www.youtube.com/watch?v=HDs3U9IeYg0