I'd like to take this time to welcome my dear friends P.O.S, Dessa, Plain Ole Bill, and Isaac "Camera Guy" Gale back from their epic 2-month cross country Every Never Is Now tour.  From everything I've been told, it was an enormous success.   Here's a pretty sweet picture from the tour off of Isaac's new tumblr page: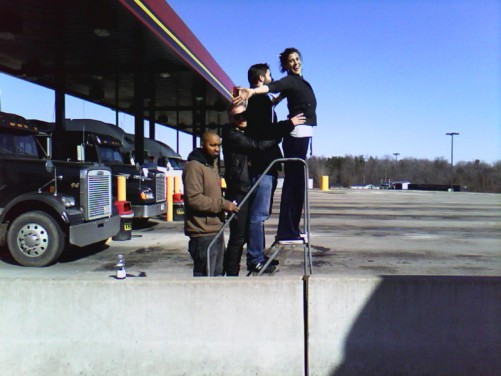 Can't wait to catch up with my ultimate homies.  For now though, I've decided to make a quick list of the Top Three Awesome Things Of The Past Week.  Again, just what I was feeling at the time (copyright Hov).
"Beak's Top Three Awesome Things Of The Past Week"
Life
While our existence on this earth is pretty awesome in general, I'm actually talking about this new 11 part nature documentary series that the Discovery Channel just started airing.  If you've ever seen Planet Earth then you already know what I'm talking about.  This stuff is totally outta control.  State of the art slo mo camera shots and animals that you've never seen before in your life.  Highlights from the first episode include a fly that uses air bubbles to make his eyes stretch way far apart, flying fish, and a crazy type of baby mountain goat vs. baby mountain wolf chase scene that takes place on a cliff about a million miles above the ground.  It can get a little boring if you try to watch both hour long shows back to back, but that's what DVR is for big duns.  They're gonna be airing two episodes every Sunday until they run out.  You really don't wanna miss these.
Cornbread Muffins
Really just anything involving cornbread, but a week or two ago Cam got this new recipe from thepioneerwoman.com for cornbread muffins that aren't even supposed to be that bad for you, and they were so delicious and easy that we've already made them three times since.  You can get the recipe HERE.  The key is you wanna add a couple tablespoons of diced jalapenos to the mix, and then put butter and syrup on them when they come out of the oven.  One of the best sweet and spicy combos I've ever tasted.  These are right up there with my families insane cornbread casserole recipe.
New Semi-Local Releases
There have been a couple really great albums that came out on iTunes this last week by people that used to live here in the Twin Cities but have since relocated.  Free Energy just put out their first full length "Stuck On Nothing" on DFA Records.  A few of these guys used to be in Hockey Night years back and then moved to Philly when that band broke up to start kind of a current version of an old classic rock radio band.  The T. Rex and Thin Lizzy comparisons haven't been that far off in my opionin, but they put a fresh perspective on it for sure (not fresh meaning really cool, but fresh meaning new).  A perfect outdoor spring and summer party record.  Dueling guitars will get me every time no matter what.
The homie Mux Mool just put out his first full length last week too.  It's called "Skulltaste" and came out on that Cartoon Network label Ghostly International.  Dude used to reside here but is currently living in Brooklyn if I remember right.  This man makes great beats.  I haven't had a chance to listen to the entire 20-tracks of intrumentals yet, but everything I've heard so far is totally crazy keyboard mayhem and I like it a lot.  Plus the album cover is one of the coolest I've seen in years.  Support this man!
Bam!  There you have it.  I wanna conclude by wishing my Pops a very happy birthday.  He turns 60 today, and we are gonna eat some seriously enormous steaks tonight to celebrate the man.   It will truly be glorious.  Love you Pops.  See you next Tuesday everybody!
– Beak