So the Paid Dues festival is finally upon us, and the whole crew is gearing up to head out to San Bernardino this weekend to perform at Saturday's big event.  It is going to be epic!  I've never really ever been to one of these mammoth outdoor summer festival shows where a million artists perform and the crowds look like enormous waves swaying back and forth.  Still can't believe Doomtree is on the same bill with a slew of insane rap LEGENDZ (Ice Cube, Tha Dogg Pound, Raekwon, Freestyle Fellowship) plus some extremely promising newer artists (Jay Electronica, Random Axe, Curren$y).   A huge thank you to Murs and Guerilla Union for inviting us to be apart of this wonderful gathering.  Now I just gotta try and scheme on a way to get beat tapes in the hands of all sorts of rappers while I'm out there.
For this week's blog installment I'm gonna try out a new approach of just listing a bunch of things on my mind along with some brief stream of consciousness descriptions next to each one.   Hopefully this isn't super lame.
"Lazerbeak's First Ever Stream Of Consciousness List"
TV Show Song Placements – I found out that a beat of mine was chosen to be the theme music in an upcoming ESPN show.  Once it airs I'll write a post on the insane process involved in making specific music for TV shows and the hilarious industry jargon that goes along with projects like this.  "Pastor Troy-esque" being one of my favorites.  Sports rule.
March Madness!– That Kansas State/Xavier double overtime game was absolutely nutz!  I would never have imagined the Final Four would look anything like it does right now.  All I know is that Duke must be taken down.  Still have nightmares about that Christian Laettner buzzer beater shot against Kentucky so many years back.  Also the nightmare about when the Wolves drafted Laettner.
Country Music– This one is hard to admit, but I might be actually starting to kind of like some of it.  I've never minded super old country music, but last weekend while drinking at my new favorite spot, Waff's Watering Whole (www.www.com), a friend of mine put on a few new top 40 country songs and I got way into it.  I'm talking like Toby Keith/Rodney Atkins Top 40, and screaming along at the top of my lungs way into it.  Please tell me it's possible that I may have just had a few too many and didn't use the proper judgement.  This can't be life.
Disney's The Princess and the Frog – I watched this by myself last night and really enjoyed it.  And I don't even have any kids yet.  At this point I may not even have any more edge to lose.  The Randy Newman score is awesome too.
When The Dog Escapes– It is as worse a feeling as I've ever known.  Della got out last week and went missing for over three hours.  I drove around every alley and street in the neighborhood over and over again, yelling her name  and waving handfuls of cheese out the window like a crazy person, before she finally sauntered back to our block like nothing had happened.  Seriously considering investing in the Garmin GPS dog collar.  Not cool.  I blame it on all the Bears gear she's forced to wear.  I'd wanna run away too.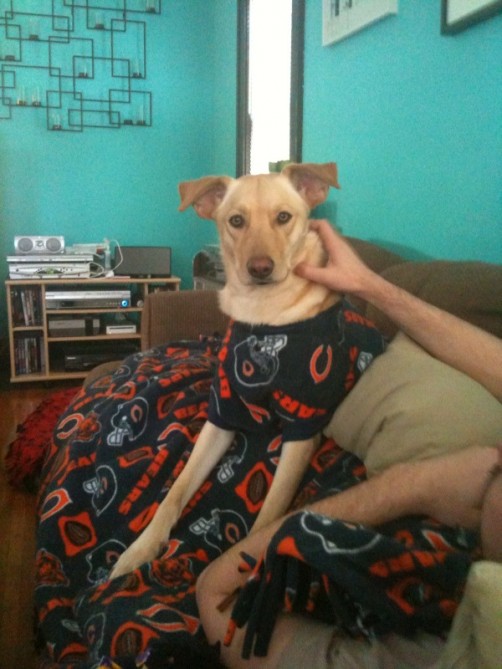 Clash Of The Titans in 3D – You heard it here first.  I am predicting that this will be the greatest movie of the last or the next ten years.  This will be the first 3D movie I will be going to see since the tragic 3D glasses eyeball gouging incident that occurred during the beginning of Avatar.  Finally ready to conquer my fears.  EPIC SAGAZ.
Bam!  The first ever installment of "Lazerbeak's Stream Of Consciousness List."  Hopefully that wasn't too unbearable.  I'll leave you with a guilty pleasure Video Bonus Jam of my current favorite song, "Somebody's Baby" by Jackson Browne.  This was playing in the liquor store last week and has yet to be bumped out of my head by anything else.  I actually might be starting to hate this jam now that I think about it.  Oh well.  See you next Tuesday.
— Beak