Time flies.  Been super busy lately getting all the details in order for the Paper Tiger full length coming out quite soon, as well as shooting a bunch more videos for my record coming out a bit after that, and putting the finishing touches on this Sims album as well.  It's definitely been a good busy though.  Below is a picture from the last video shoot that featured a seven armed mythical Beak beast playing a bunch of made up instruments. It's gonna look a lot sweeter than that when it's all said and done, I promise.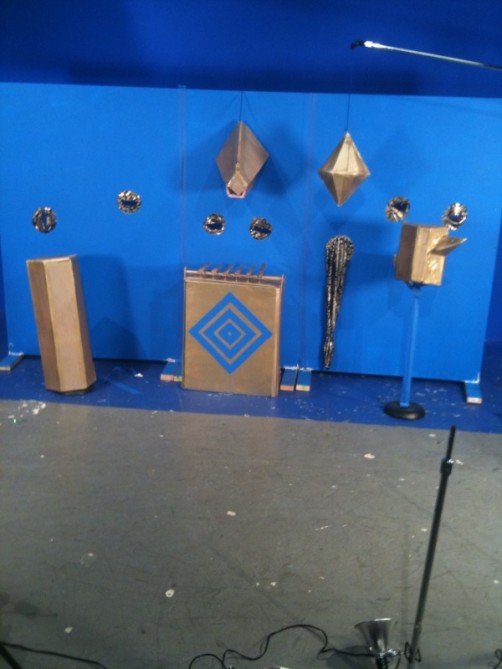 I want to real quick say a big thank you to everyone that attended the first annual Cadence Hip Hop Festival at the Guthrie last week.  Dessa did a wonderful job curating and hosting the event, and it was an honor to play on Thursday with Sims and Toki at such a beautiful, down right fancy venue.  9th floor baby…big time.  Check out that view!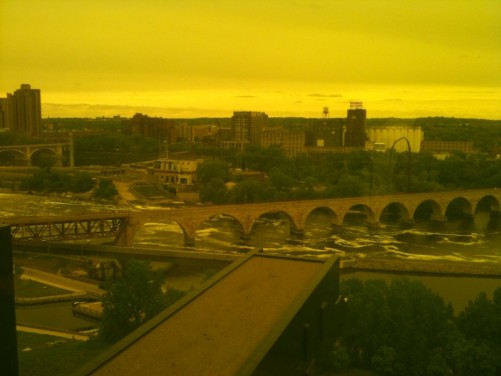 Thanks also to everyone working at the Guthrie for making all of us rap kids feel so at home in a very foreign environment.  Looking forward to many more shows there in the future.  Speaking of shows, if you're in the Twin Cities this Sunday I'll be playing at the Lyn-Lake Block Party backing up Sims and Mike for a special collabo set.  My favorite cover band ever, E.L.No, will be playing too and Har Mar Superstar is headlining! (nice cameo in "Whip It" dude).  Should be pretty outta hand.  Come crush Mike's Hard Raspberry Lemonades with us!
I decided to do a quick "Stream of Consciousness List" today since I couldn't really think of much else to write about this week.  Again, these are just a few of the many things I am into at the moment, followed by some serious off the top of the dome play by play analysis.  Enjoy.
Moms.  An enormous Happy Mother's Day to all of the incredible moms out there in this world.  You are truly the best.  I had a great time hanging out with the family on Sunday and catching up while devouring buffets.  My folks ended up destroying at bocce ball afterwards too.  They were unstoppable!  Without getting too cheeseball, Moms are easily the greatest things we have going for us and I can't say enough about how awesome mine is.  Love you Mom.
Alec Baldwin.  I've pretty much been in love with this guy forever, but recently he can do absolutely no wrong (minus the crazy personal life and tabloid dramas).  30 Rock is hands down the best thing on television (besides ESPN's 30 For 30, coincidence?) and quite possibly the greatest sitcom ever.  I recently even rented that new movie for old people, "It's Complicated," solely because of Baldwin's star power (I'm a sucker for Meryl Streep too), and it actually turned out to be pretty good for an old people movie.  Maybe not quite as good as David Letterman kept saying, but good nonetheless.  Baldwin is hosting SNL again this weekend for like the 700th time and I have no doubt in my mind that his incredible run of always slaying will stay in tact.  Below is that unreal scene from Glengarry Glen Ross where he completely loses his mind.  "I'm from Mitch and Murray and I'm on a mission of mercy!"
Hearing T.I. all over the place again.  Glad to see he didn't waste any time after getting released from the slammer.  His guest verses on the new B.O.B and Usher albums are awesome, and I also just heard him on the radio doing a verse over that NBA Playoffs theme song about being a winner,  in which he refers to his money being as long as an old Cadillac.  Not quite as awesome as when Jay spoke of seeing money longer than Scottie Pippen's arms, but still pretty sweet.  That new mixtape track "I'm Back" is a banger too, sounds like quite the return to form.  Now let's just hope this next album is a little more "Trap Muzik" and a lot less "TI vs. TIP."  Stick to the Toomp beats my man.
http://www.youtube.com/watch?v=DNxvqhjEJJA
Bam, another list down.  These things are really starting to pile up.  I'll leave you with a Bonus Video Jam by the one and only Gayngs (check out all those cameos!).  The record officially drops today and you would be doing yourself a serious disservice by not going out and copping it right away.  I hope to see a lot of you out on Friday for the big release party/"Last Prom On Earth."  Gonna actually have to dust off the old wedding suit for that one I think.  Should be a legendary night.  Have a great week big duns.
— Beak