Hello and welcome to a very special first ever edition of Wednesdays With Lazerbeak.  I ended up going camping the last couple of days which pushed this week's post back a little.  Wanted to start off by offering an enormous congratulations to the big homie Paper Tiger for releasing his first full length album Made Like Us out into the world yesterday.  It's an incredible record and I'm so glad everyone else gets to hear it now.  If you haven't already, make sure to pick it up at the webstore or off iTunes.  It flat out rules.  Check out the brand new crazy video for "2nd Day Back" too.  Directed by Isaac Gale and starring a plate of spaghetti and an Alf mask covered in green alien blood.
Last Saturday we threw the release party for the album at Sauce.  One of the funnest shows I've been a part of in quite some time.  It was great to see so many people come out and support instrumental music, and I couldn't have been more pleased with how everything went down.  Here's a picture of Papes and I running through the set.  You can check out a bunch more awesome pictures HERE courtesy of our good friend Benny from Burlesque.  A big thanks to Budo as well for flying out from Brooklyn to open up.  He killed it.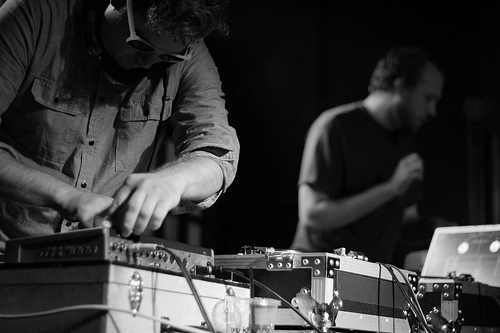 Another reason why that night was so special: some people totally got engaged at the show!  So awesome.  Here's a terribly blurry picture I took of the happy couple after the dude popped the question.  Pretty ridiculous.  I was able to impart on him the age old motto "Happy wife, happy life," so hopefully they should be good to go.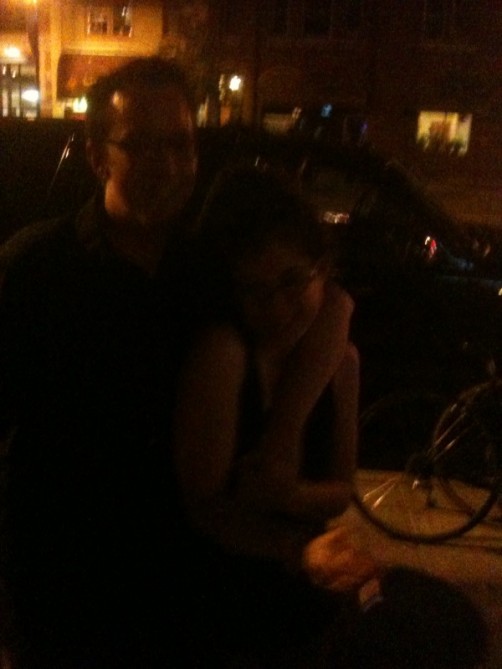 Last week was also my birthday and I wanted to say thanks again to everyone for all of the kind birthday wishes I received throughout the week.  Sims and Cam even threw me a surprise party last Wednesday with a ton of the homies, and I just can't say enough how much my friends rule.  Below is a picture of probably the best birthday card ever that Matt (dude who did all the artwork for Legend Recognize Legend) gave me.  It's a pic of Muggsy Bogues and the late great Manute Bol.  May he rest in peace.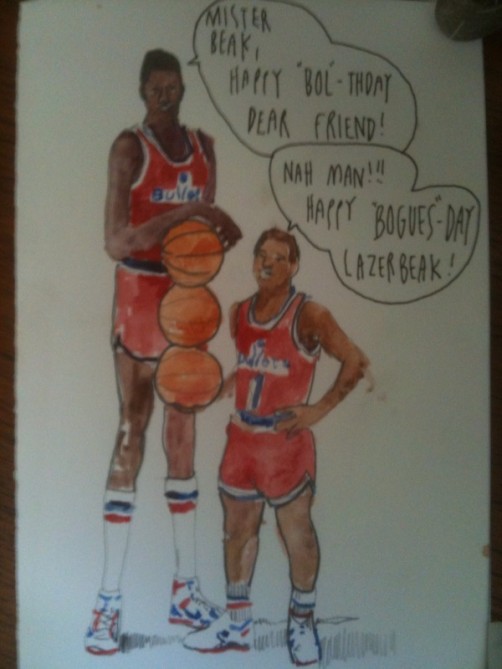 Monday morning I took off on a camping trip with my brother-in-law JC and my old friend Adam.  We drove about three hours West to the Upper Sioux Agency State Park in Granite Falls to do some hiking, listen to country music with no shame, and sleep in a tipi.  I'm a pretty big city boy, and outdoors stuff has never really been my thing, but this trip was the best.  We made it out there by noon and decided to stop in at the one bar in town for a cold Bud.  The sign on the door does not lie, absolutely the coldest beer in town.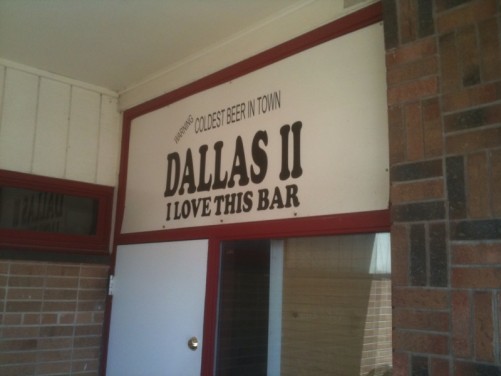 Here's a picture of the sweet tipi we stayed in.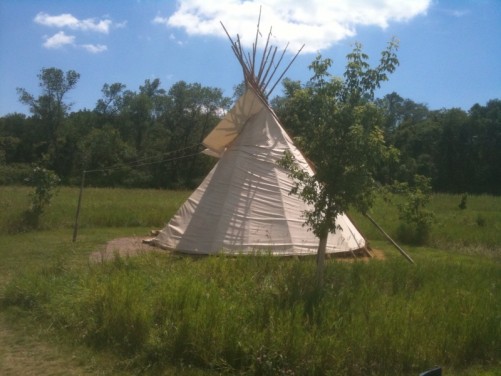 And here are some shots I took on our never ending hike through the prairies and down the Minnesota River.  It was absolutely beautiful, even though my legs may never stop burning.  Only downside: TICKS!!!!  I counted a total of seven that I had to fling off my shoes and jeans.  Truly my worst nightmare.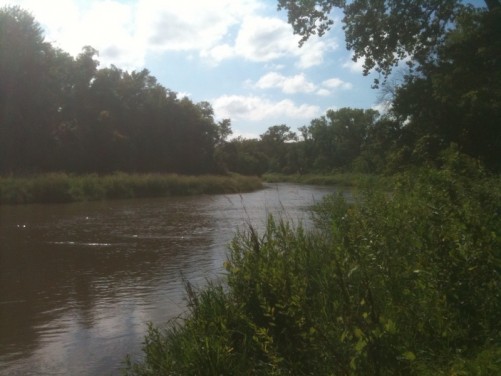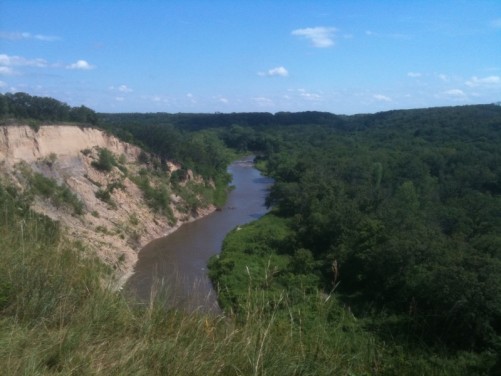 Spent the rest of the night with a couple bottles of Wild Turkey, some horse shoes, and a fire.  Definitely the most country I've ever felt and may ever feel again.  It was a blast, although anything more than one night out there and I think I might go a little crazy.  In honor of this trip out into the wilderness I've decided to end with a couple Bonus Videos.  I'm sure by now you've probably seen the hilarious Double Rainbow video, but just in case I've included it below as a starting point.  There were several times on this trip that I caught myself saying some truly high ass things while trying to comment on the beauty of nature, so I can relate to this dude's sentiments about said rainbow(s).  What a lot of people haven't seen though is this other video on his YouTube page of him capturing a pack of wild turkeys running all over the place.  Whoa that's a lot of turkeys!  SO good.  Check it out.  Below that is the musical remix of the Double Rainbow video that the Auto-tune The News guys made to bring it all full circle again.
We're putting the finishing touches on all the videos for Legend Recognize Legend this week and I should have a lot more news coming on that record in the coming weeks.  We're getting so close!  Thanks for reading this unconventional Wednesdays With Lazerbeak.  I'll see you next Tuesday at our regularly scheduled time.  Have a great week.
— Beak
www.twitter.com/_LAZERBEAK_