Lazerbeak "Legend Recognize Legend" Album Promo from Doomtree Records on Vimeo.
Blamo!  It brings me great joy to post the above album promo video, created by none other than our intern extraordinaire Ander Other.  I picked up the official Legend Recognize Legend CD/DVDs yesterday from Copycats, and I almost cried a little bit (in a super manly way) when I saw how awesome they turned out.  Can't believe how close we're getting to this thing actually being out, and holding the real deal in my hands really drove everything home.  SO pumped.
Speaking of driving, I've said it for years and it rings true now more than ever: the Toyota Camry is hands down the greatest family sedan of all family sedans ever.  Over the last three years I have picked up thousands and thousands of Doomtree albums from the manufacturing plant in my '99 Camry, and it has never failed me once.  In one trip I can comfortably fit 3,000 discs, still have leg room, and not have to worry about my back bumper scraping the pavement and falling off on the highway.  Truly a powerful yet comforting beast.  In fact, I would love to somehow work out an endorsement deal with Toyota (might help them restore their fragile image as of late), so if anyone has any ins there just holler at me.  Certainly would appreciate it.
I know that promo video shows you pretty much what the album packaging and artwork look like , but below are some shots I took last night while I was starting to sign the initial preorders, just to give you an idea of how much figurative bang you'll be getting for your buck.  As always, you can preorder these jump offs HERE.  I can promise that you will never in your long legged life regret the decision.
So sweet.  I can't thank the ultimate dun Matt Scharenbroich enough for creating the beautiful and life affirming artwork.  It looks better than I could have ever imagined.  You can check out more of his stuff HERE.
Since I'm on a roll with all these pictures already, I figured I'd just post a bunch more random shots I took over the last week.  Enjoy.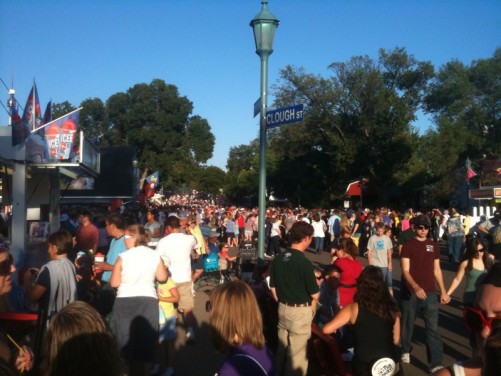 On Thursday a bunch of us hit up the Minnesota State Fair to celebrate our friend Cindy's birthday.  I forgot how completely insane this place is.  Not sure if every state has a yearly state fair or if that's just a Midwest thing, but people do not mess around at these things.  We went on opening day, and there must have been some sort of record set for attendance.  I ate a million things in a few short hours and immediately regretted it.  So many foods on sticks.  We ended up venturing into the farm animal zone at some point, where they have tons of pigs, cows, and sheep (a la Charlotte's Web) hanging out.  As we were walking I must have turned around for a split second to point something out and ended up running straight into a huge cow on the sidewalk!  How embarrassing.  To be fair, they really should have a separate walking lane for the farm animals to avoid this happening more often.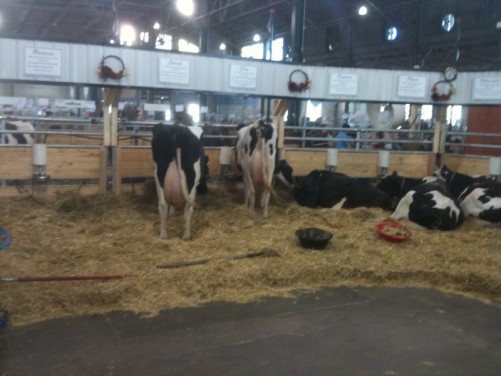 The biggest surprise highlight of the night happened to be that Boyz II Men were playing on the free stage.  At the fair they have the Grandstand where the huge artists play for big bucks, and then a bunch of smaller stages scattered throughout the grounds where smaller acts play for free.  Ten years ago if you would have told me that Big Head Todd & The Monsters would be playing the Grandstand while Boyz II Men rocked the free Leinie's Lodge, I would have called you crazy.  Poor guys.  Somehow it all worked out in our favor though, because we were treated to over an hour of straight up classics.  I'm talking opening with Motownphilly and closing with End of the Road classics!  They definitely brought it, even if they were just singing over a live band recording off of a CD player.  The only misstep came during the encore when they decided to show off their artistic versatility by performing a Goo Goo Dolls cover.  You read that correctly, the Goo Goo Dolls.  Yikes doesn't even begin to describe it.  Oh well, can't knock em for trying.  It was still a blast, and a perfect way to end the night.  Below is the one picture I was able to grab during their Tribute to Motown medley.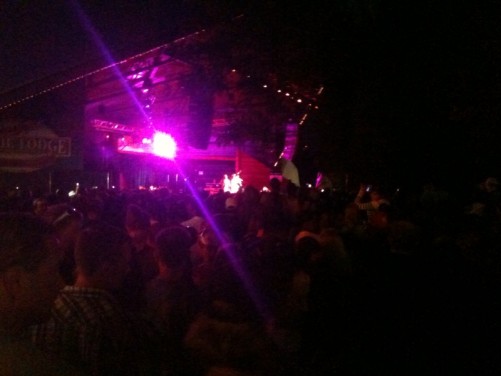 Switching gears a bit, yesterday marked the first practice for this CD release show at the Fine Line on Oct. 1st (get tickets HERE).  I got together with the homie deVon (also known as dVRG, keyboardist/songwriter for the mighty Heiruspecs) to go over parts and figure out how to turn these songs that were made in my basement into full on epic live bangers.  It went great, and I really think this show is gonna be something special when it's all said and done.  That man is a beast on the keys.  Here he is plotting out parts like a champ.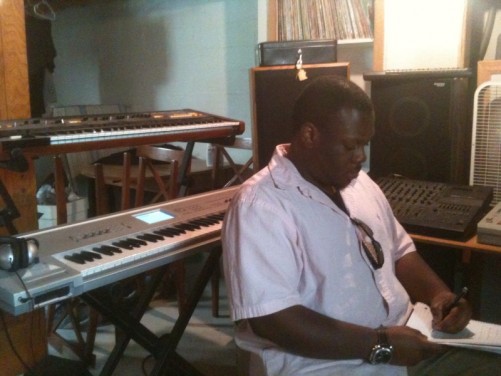 Super excited, I'm meeting with the drummers for another practice this afternoon.  The Ensemble of Legendz has grown to about eight deep as of right now.  We're like the Arcade Fire minus the trillions of dollars and weird Canadian vibes.
Now for the special guest photograph of the week.  My friends Brandon and Zach (of Big Quarters) and the homie DJ Todda got the opportunity to go to Berlin last week and open up for Freeway & Jake One.  They stopped in Paris on the way back and took this incredible picture by the Eiffel Tower, paying homage to the classic old RunDMC picture taken at the same location.  Brought an instant smile to my face.  Doing it real big out there my dudes!
Ha!  So BAWSE.  Anyways, I'd like to wrap up this random photo post with a picture of an album I bought for a mere dollar while guest employing at the Fifth Element over the weekend during their big Sidewalk Sale.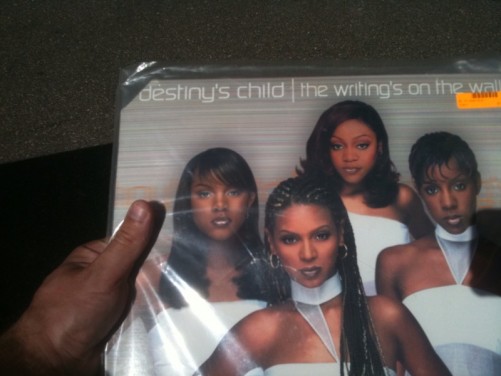 Such a classic album for me.  Brought me straight back to high school with this one, and I've been bumping it all week.  So many hits, pretty much their tour de force if you ask me.  In fact to bring things full circle, Destiny's Child came to the State Fair with Christina Aguilera back when I was a senior, and a few of us came super close to getting backstage press passes by almost convincing the higher ups at the Fair that we were writing a cover story on the group for our school newspaper.  Man that would have been awesome.  I'll leave you with a few deep cut Bonus Jams off of the album, because I know you still hear "Bills," "Say My Name," and "Jumpin" on the radio from time to time.  "If You Leave" even features a duet with Minneapolis' own N.E.X.T. (truly nobody ever xpected this).  I hope you have an excellent week.  See you next Tuesday big duns!
— Beak