Rap From The Future from Doomtree Records on Vimeo.
Hey everybody, check out this hilariously awesome video above that Ander Other put together for this show Sims, Mike, Cecil, Paper, and I are playing on September 17th.  It's a free outdoor show and after our set they are gonna screen Back To The Future, one of the greatest films ever.  Should be pretty ridiculous.  Shout out to Vita.mn for putting the whole thing together.  Below is an amazing flyer for the event with much more info:
In other show news, things are really picking up over here as we work on gearing up for this album release show.  Here's a picture of two of the Ensemble of Legendz, Matt and Joe, at our first drum core practice in my tiny basement.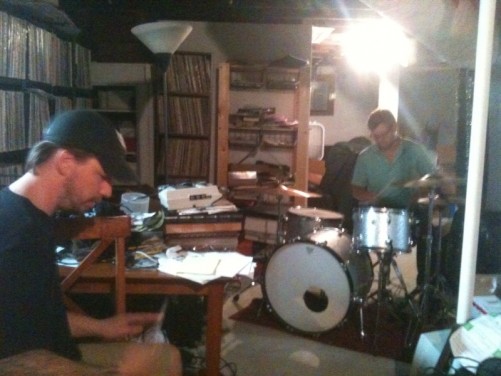 Initially when I started planning for this show I assumed there would probably be a lot of prerecorded parts from the record played underneath everything (kind of lame, but it seemed necessary since there were so many different parts).  Recently we have abandoned that plan all together though in favor of bringing a ton of incredible people on board to completely recreate these songs live.  The Ensemble of Legendz is eight deep at this point, and I am getting super pumped at the prospect of turning this record into a whole new live beast.  It all goes down on October 1st at the Fine Line with Doomtree and TPC!.  You can get tickets online HERE (or swing through Electric Fetus or Fifth Element to get them in person).  The way things are starting to look, it will truly be one for the ages.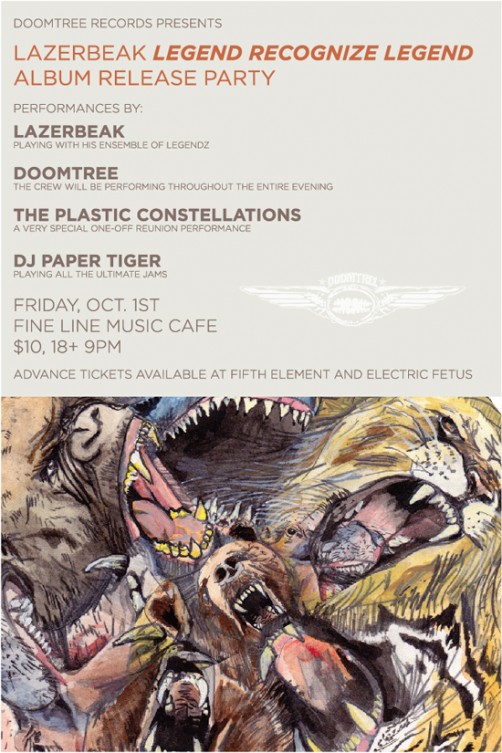 Last Saturday I went down to the Bedlam to check out a set by the Hood Internet, a DJ duo from Chicago that specializes in "mash ups" for lack of a better term.  I'm usually not that crazy about the whole mashup scene, but these guys do it so well that they cannot be denied.  Their specialty is putting current mainstream rap acapellas over current indie band's instrumentals, and often times the results are better than either original song (especially when Drake is involved).  Here's a few examples:
Drake/Birdman/Delorean
OJ Da Juiceman/Gucci Mane/Discovery
http://www.youtube.com/watch?v=MYv0C-0gcqw
Dead Prez/Grizzly Bear
This stuff slays at house parties, and now it has been confirmed that this stuff also slays at clubs.  Here's a picture of the homie Steve putting it down for the West Bank.   You can check out the Hood Internet's website HERE for a ton of free mixtapes and new tracks.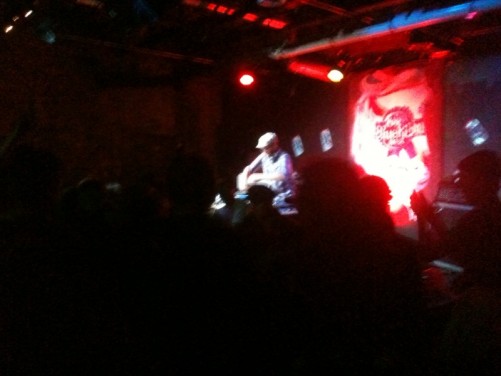 Since I'm kind of on a Bonus Jam vibe already, let's just keep it going.  Last Friday Kanye dropped off another new track in what he's begun to call G.O.O.D. Fridays.  Supposedly he'll be releasing a new track from somebody in his camp every Friday for the rest of the year.  He's definitely off to a great start, "Monster" is my jam and this new track "Devil In A New Dress" bumps as well.  I really love the beat, and after doing a little research now I know why: it was produced by the legendary/extremely underrated Bink!  So happy to see this guys name out there again.  He made his fame during the unstoppable Rocafella era (such a great time for rap music), producing a bunch of joints for Jay, Beans, Free, and Bleek during the early 2000's.  He even landed three beats on Jay's Blueprint album, but never got anywhere near the amount of recognition that Kanye and Just Blaze did for crafting that classic.  Not that I feel bad for the dude (I'm sure he's caked up for life), I was just always a big fan of his work and was bummed to see his name pop up so infrequently over the last five years on album credits.  Hopefully this new Kanye album will get him a bit more work.  I decided to drop a bunch of Bonus Jams below of some of my all time favorite Bink! beats.  Some of these I would even go out on a limb and certify as inductory Lava Bangerz.
Jay-Z/Memphis Bleek/Freeway – "1-900-Hustler" (first time I ever heard Free rap.  Me and Stef were in the car and both immediately lost our minds.)
http://www.youtube.com/watch?v=wAk7QUCe9f0
Freeway/Nate Dogg – "All My Life" (one of my favorite beats of ALL TIME)
Jay-Z – "Momma Loves Me"
http://www.youtube.com/watch?v=Mx0oiQa8z7M
Freeway – "When They Remember"
Kanye West – "Devil In A New Dress"
http://www.youtube.com/watch?v=RZbXEY6YoVs
Bam!  There you have it.  Man, I could write a year's worth of posts on that Rocafella era.  Brings back a lot of memories from 2001:  just acquiring my MPC and trying to figure out all the little details of how one goes about crafting molten heat knockers.  I was definitely inspired from the jump by all of those producers that had such a big role in that label (Bink, Just Blaze, Kanye, etc).  Much respect due.
Anyways, I'd like to end by wishing a ginormous happy anniversary to my wonderful wife Brittany (the greatest wifepiece of them all).  We are headed to Mexico at the end of the week to celebrate two years of marriage and a decade in the game, so there is a good chance there won't be much of a post next Tuesday except for maybe a few pictures of me snorkeling and holding baby sharks.  As always, if you enjoy this blog and would like to support your boy, you can preorder my album Legend Recognize Legend HERE.  I can assure you it will be a decision you will not soon regret.  I hope you have a great week enjoying the start of the football season!  GO VIKES!!!!
— Beak