Welcome back to another extremely informative edition of Tuesdays With Lazerbeak.  We are one week away from LRL dropping and things are getting pretty crazy around here.  I wanna start by inviting you to a very special album listening and video viewing party we're throwing tonight (9/21) at Honey in NE Minneapolis.  It's gonna be the first chance to hear the album in it's entirety, as well as check out all the amazing videos on a huge projector.  Should be a blast.  Come through and grab a drink with us, admission is free.  205 E. Hennepin, disc spins promptly at 10:00pm.  More info available HERE.
The pre-order ended this past Sunday night, and I'd just like to say an earth shattering thank you from the bottom of my heart to everybody that picked it up early.  The positive support has been overwhelming, and I can't tell you how much I appreciate it.  We're preparing to do the special live webcast tomorrow night (9/22) at 8:00pm central for everyone that did pre-order, and you should be receiving an email today with all the details and the password access.  Should be pretty special.  Gonna bring some guests in and do it real big.  Pre-orders will be shipping out this Thursday as well, so I'm so excited for people to finally hear the whole thing.  Here is a new track off the album called "Bound" that Radio K premiered as their track of the day on Friday.  It's a duet with Dessa that I'm super proud of.  I think we're gonna try to pull a stripped down version of this one off during the webcast too.
Practices with the Ensemble Of Legendz have been continuing to slay.  We hit The Current studios yesterday to pre-record three songs and an interview that will be airing this Sunday night at 7:00pm.  It was our first ever performance, and in addition to completely killing it dead, we also somehow invented a new Legendz Stance in the process.  Here is a how an official stance gets created.  It starts with just one brave soul: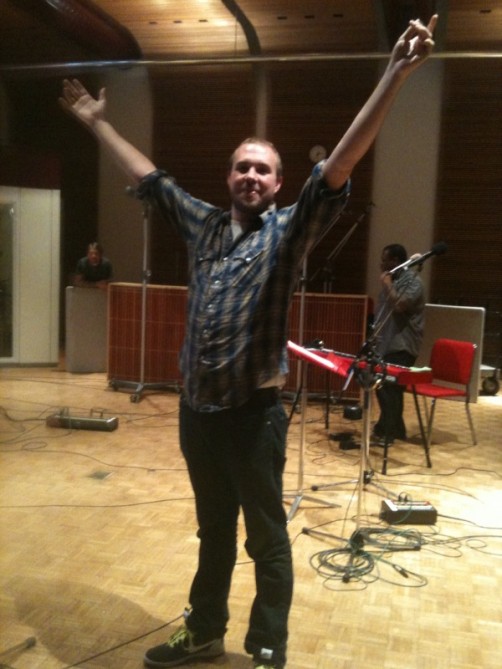 Then another revolutionary trend setter is brought in: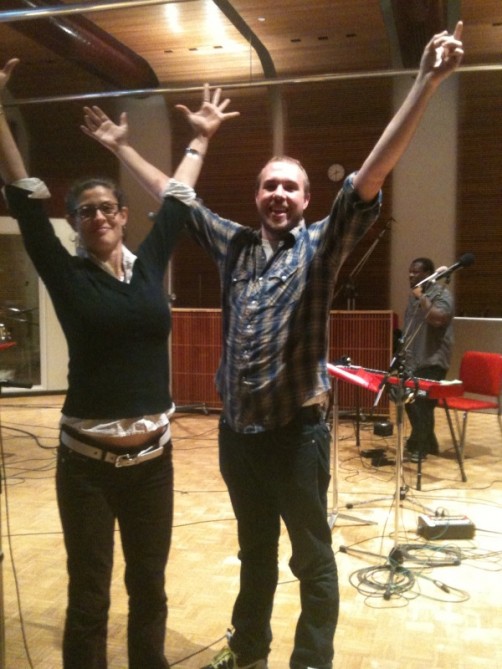 And before you know it, you have created history.  I proudly present to you the Ensemble Of Legendz' Legend Stance: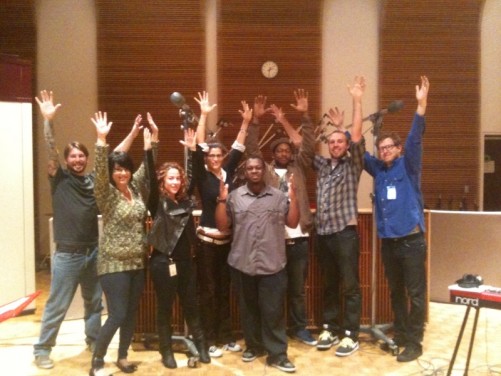 Also, here is a pic of what it looks like to be interviewed by the one and only mustachioed Dave Campbell in The Current's studio.  Pretty intimidating guy.  Huge thanks to everyone there for always making us feel so welcomed.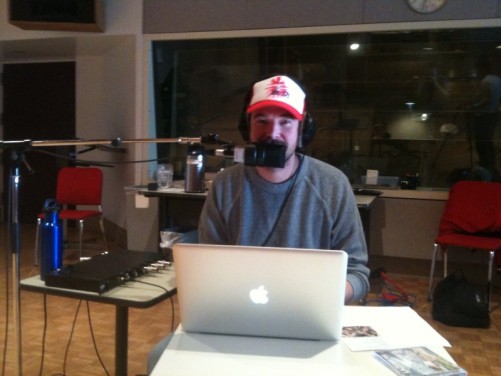 Last week was awesome for a number of reasons.  We officially wrapped up the mixing for the new Sims album that will be dropping in February.  The two of us have worked extremely hard on this project for a number of years, and it brings me great joy to know that we are that much closer to launching this thing out into the world.  Here is a pic of the final song getting bounced out.  Huge shouts to Plain Ole Bill for coming through and straight crushing the final cuts.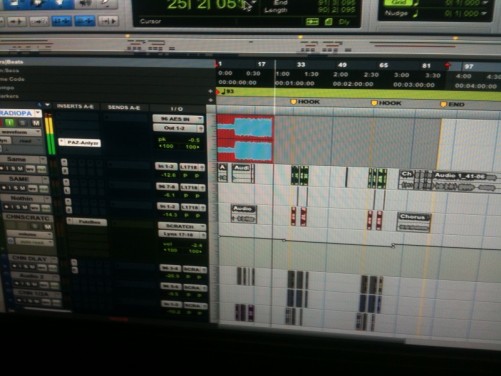 The crew also played a couple sweet outdoor shows over the weekend, which meant the return of our beloved Paper Tiger who has been living out in NYC for the last few months.  So nice to have him back, miss that dude.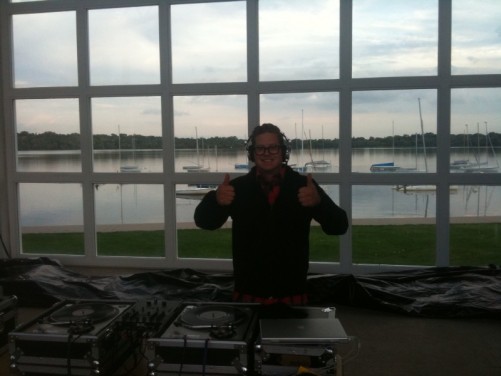 Here's a few shots from the shows.  Got to play in a bandshell by a lake on Friday, and then rocked the University of MN Duluth on Saturday.  For some much more professional looking shots, check out what our friends Benny and Zoe captured HERE, HERE, HERE, and HERE.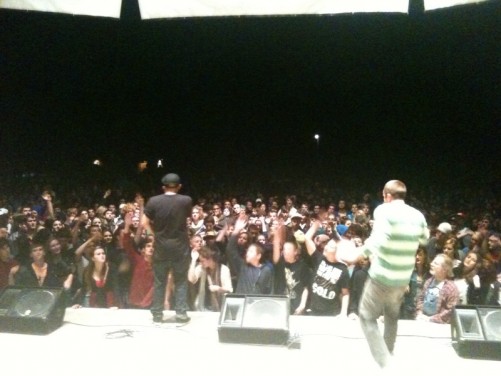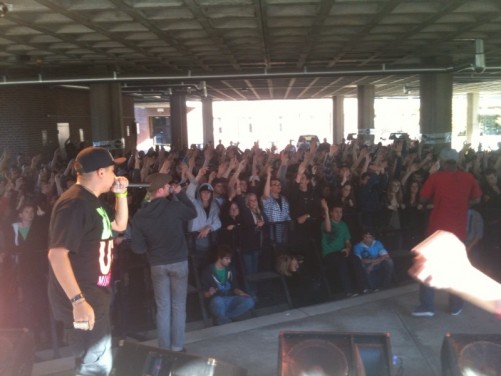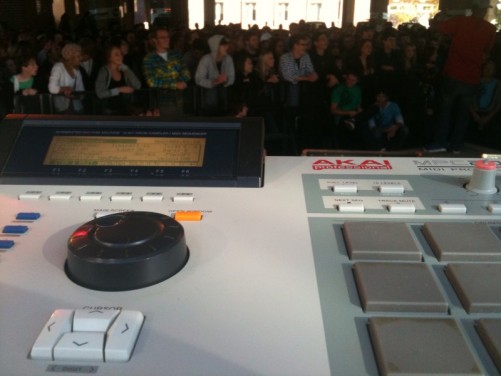 ———-
This week is shaping up to be even crazier than last.  In addition to the album listening party, webcast, and hitting KMOJ and RSE Radio, I'm also going to be competing in the regional Red Bull Big Tune Beat Battle this Friday night at First Ave, hosted by none other than the legendary DJ Premier.  I usually shy away from the battle stuff, but this seemed like a real good time.  I'm excited to hear all of MN's finest  producers bringing their A -game to the table.  More details HERE.  Come through and witness the rebirth of the Lava Banger.
———-
With LRL only a week away, a few reviews and interviews are starting to pop up.  I'm definitely encouraged by the initial response.  Check out this Reviler review HERE (94 out of 100!), as well as an extensive interview piece I did with UK based Hip Hop Fiend HERE.
———-
I'm gearing up to go on my second annual Mall Bros excursion to cop some new gear for the show, but in the meantime I'll leave you with some Video Bonus Jams of the week.  This time around it's a little different format.  Last November I did an intimate sit down Q and A thing for the UofM and we basically covered my entire musical career.  I was super nervous, but it ended up being pretty awesome.  They ended up filming the whole thing and just recently posted some clips from the interview online.  They're not super exciting, but if you've got some time to kill they might be worth checking out.  Good for a couple laughs at least.  I hope to see some of you at the various events throughout the coming days.  If not, I hope you have a marvelous week and I'll definitely see you next Tuesday when LRL gets officially released to the public!  Thanks again for making it through another extremely long and super self indulgent post.  'Preciate you!
— Beak