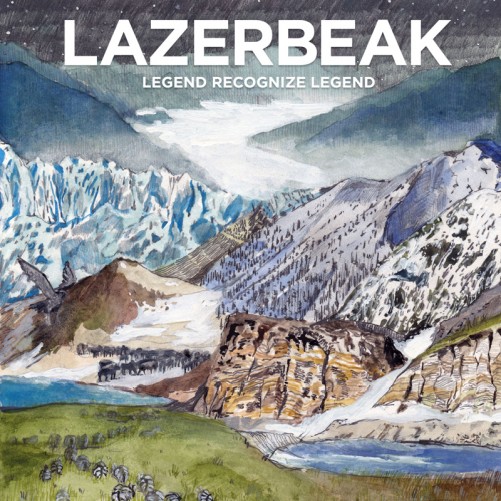 Man, I can't believe it's finally Tuesday and Legend Recognize Legend is officially being launched out into the world.  I feel so much supreme joy right now that we've made it to this point in the process, and I couldn't be more excited for people to hear it.  Release dates are a weird thing.  You set them months and months in advance, and over the course of getting everything in place (publicity, radio, art, videos, interviews) you kind of almost forget that the record will ever actually come out at all.  Then all of a sudden it's Tuesday morning and the panic sets in.  I've kind of gotten my "release day ritual" down from putting out so many projects with Doomtree and The Plastic Constellations in the past, and so I'm not nearly as bad as I used to be when it comes to that day-of-release-artist-freakout mode (ah, the things my poor wife has had to witness).
I can't lie though, I'm probably gonna be a nervous wreck for a decent amount of today.  In the morning it's all about making sure the album is actually up on iTunes (check), followed by incessant Google searches to see what people are saying about it.  Then it just becomes a struggle to keep yourself busy until at least the early afternoon when it is generally a little more acceptable to start drinking to calm the nerves.  By the evening everything has usually worked itself out, some good and bad reviews have come out, and you've slowly started to chip away at the recoupment of your (ever skyrocketing) budget.  At this point I generally start to feel an insane combination of pride and humility (due in no small part to the Budweisers), followed by the realization of how thankful and indebted I am to all the incredible people that were involved in any way, shape, or form in creating and putting the record out.  I then drink all of the beers ever and call said people to get really real on them about what they mean to me.
Haha, what a mess!  Oh well, thankfully this whole process only lasts one day and then things always get way easier.  If you're reading this right now I'd just like to say an enormous thank you to everyone for the tremendous support the album has already received.  I can't begin to tell you what a glorious feeling it is, and I truly appreciate it more than you may ever know…….
So yes, we are up and running on iTunes.  You can grab the album digitally right HERE.  Now that the album is officially out, the final hurdle is getting everything prepared and ready to go for this massive release show on Friday.  You gotta come out to this show.  The Ensemble of Legendz has been practicing nonstop, and I can't believe how pro we sound.  We have basically completely rearranged the entire album to be played live by an eight piece band.  Check out THIS VIDEO that we recorded at The Current to give you a better idea of what I'm talking about when I say pro.
I mean seriously, this night is gonna rule so hard.  Check out all the details here: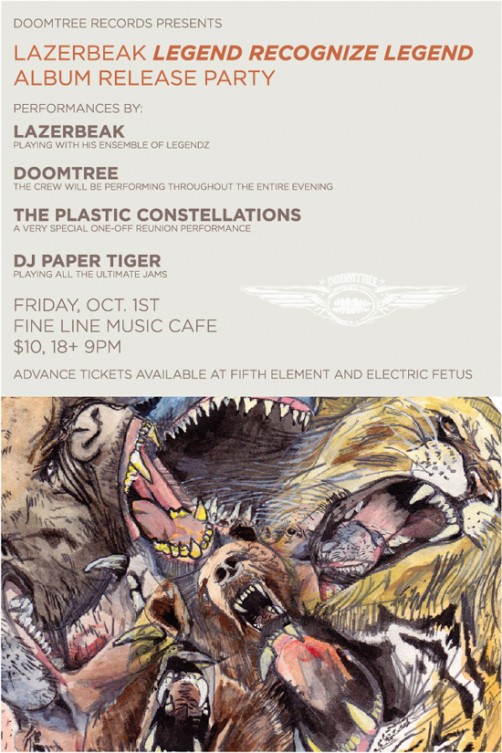 And here is an extremely kind video the guys put together for me to promote the show.  Brought a little tiny man tear to my eye the first time I watched it.  Best crew ever.
[vimeo]http://vimeo.com/15357887[/vimeo]
Anyways, now that that's all outta the way we can get down to another week-in-review-style slideshow.  This has been one of the craziest weeks in my long legged life, and so I'll try to spare you too much detail and just get into the visuals.  Here goes nothing.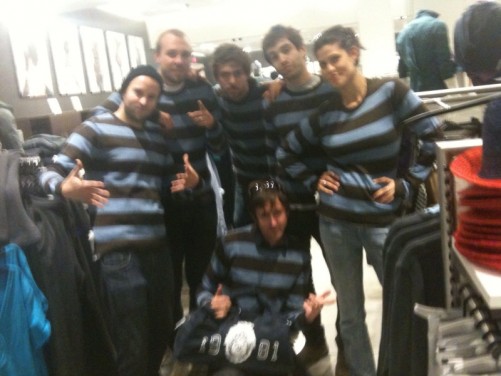 On Tuesday the Mall Bros descended upon the Mall of America for our second ever mall trip excursion.  We definitely popped several tags.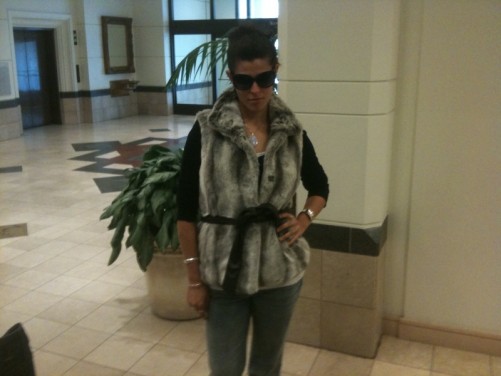 This time around we made Dessa an honorary Mall Bro guest, and she wasted no time in trying on this outrageous fur joint.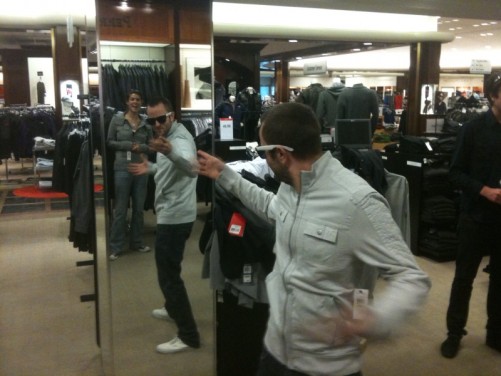 Sims is a straight up mall beast.  He will try any jacket on in any store like it's nothing.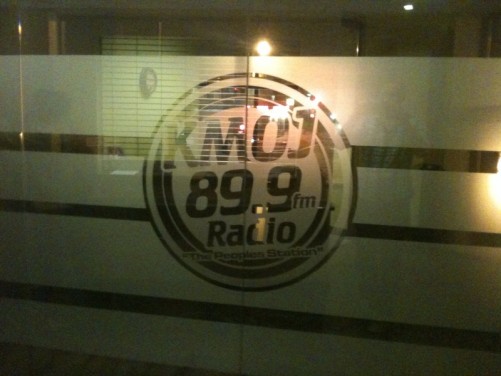 Later that night, Dessa and I hit the KMOJ studios for an interview with CrStyles.  KMOJ has been my favorite radio station for over a decade now, and it was an absolute honor to get the tour of the new offices and see where it all goes down.  Thanks to everyone there for everything you do.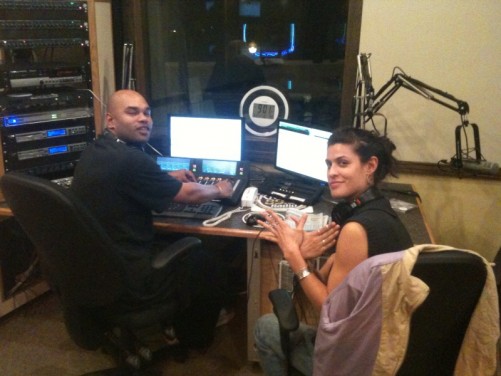 Dessa and Styles, moments before weighing in on the Rush It or Flush It verdict.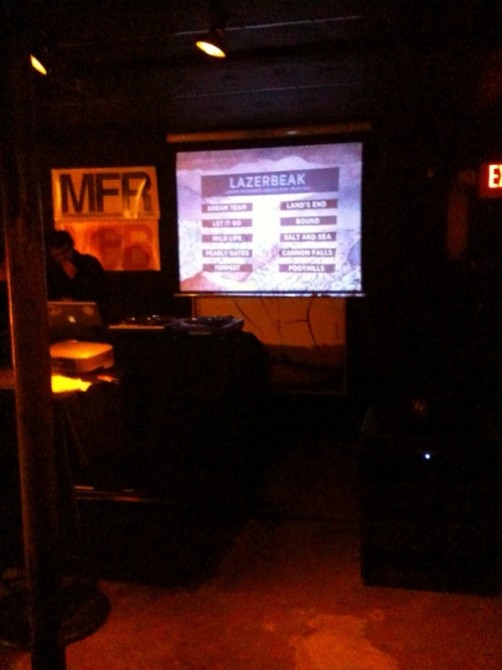 Left the studio and headed to Honey for the album listening and video watching party.  This was the moment when I realized that the album was actually really gonna come out.  Thanks to everyone who made it down.  It was awesome to see everybody enjoying the videos so much.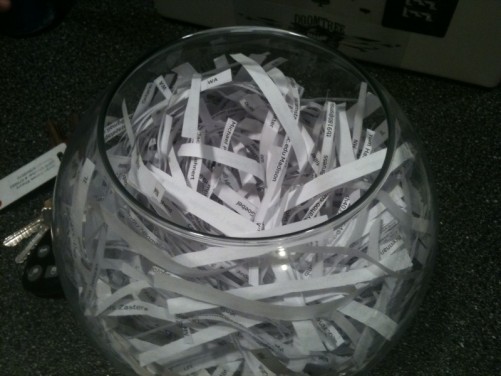 The next day I spent the afternoon cutting out all the preorder names for the big Blowout drawing.  We aired the webcast at night and it actually was a blast.  Probably gonna have to do these Ustream things more often.  Thanks to everyone who logged in and asked questions.  And congrats to Amanda Winegarden on winning the big prize (and Clint Drake who won the runner up prize).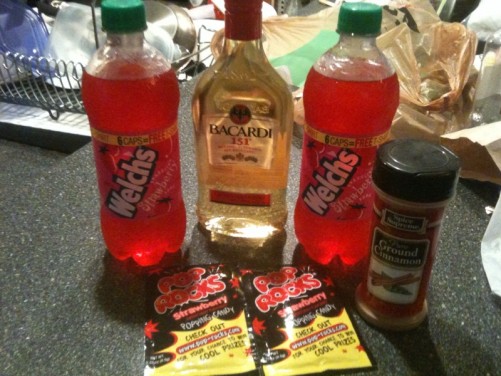 We ended the webcast by taking Lava Banger shots.  This is what it looks like pre-shot.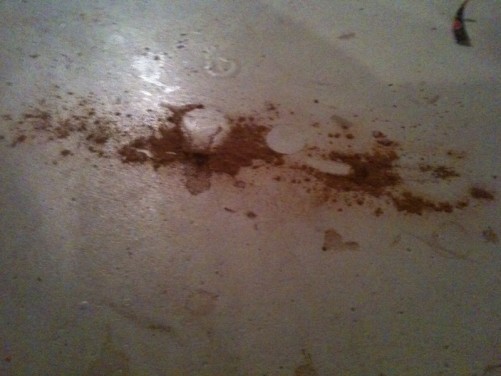 And here's the crazy cinnamon storm aftermath.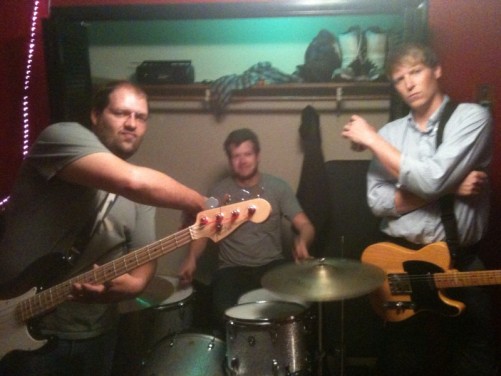 Thursday was all about getting the band back together.  Here is a picture of TPC! mid jam sesh in Jordan's new basement room.  After a nine month break we still blazed through all the songs with ease like the true legendz that we are.  Bam!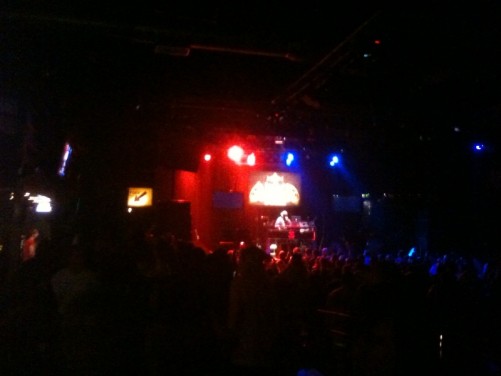 Friday was the Big Tune Beat Battle.  One of my favorite nights in a long time.  I got stomped out in the first round by my guy Young Federal, who ended up providing some serious heat all night.  It was a joy to be around that many hungry producers.  A lot of these dudes are still in highschool!  Made me consider retiring from the game for a brief second.  Congrats to G-mo and Nicademus on advancing to the Chicago finals, and shouts to all the producers who contributed.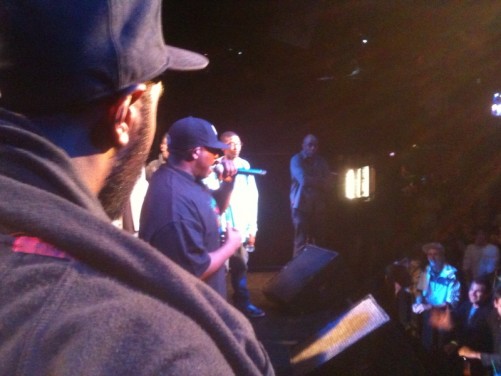 Highlight of the night had to be when DJ Premier came out.  I danced like I've never dance before when Ten Crack Commandments and that Jay-Z intro came on.  That man has such a serious track record, you almost forget sometimes how much he's done.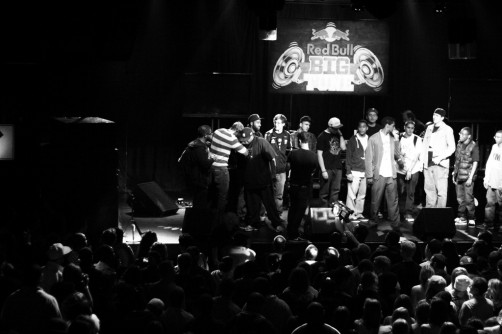 Here's a shot that Bennie snapped of Premo going down the line and shaking hands.  Legend Recognize Legend!  What an honor.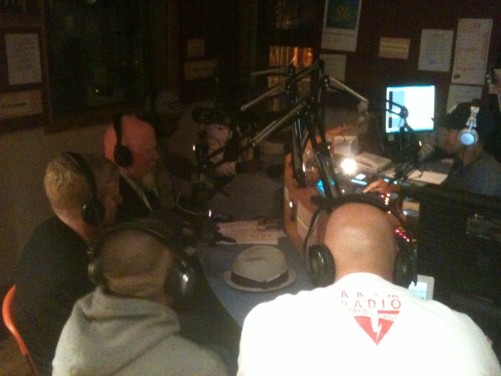 Saturday I headed down to KFAI to talk about the album with Siddiq on RSE Radio.  I had a blast.  Plus at the end of the night a legendary rap cypher popped off with Brother Ali, M.anifest, Mike Mictlan, P.O.S, and Astronautalis.  Good times.  I threatened to jump in and kick a hot 17, but I didn't really wanna put it on them like that and take away from any man's shine time (jokes).  Shouts to the big homie Zeke for having me down.
Well, that about does it.  It truly was an incredible week.  From here on out it's just practice, practice, practice til Friday's release show.  Tell a friend to tell a friend.  I'll leave you with a couple Bonus Jams.  This might be a repeat, but I gotta give it up to the ultimate legend Luther Vandross for getting me through this month in one piece.  As hectic as everything ever gets, I just remember to put on his essential collection in the car from time to time and everything is all good.  Rest in peace to one of the greatest voices to ever grace the game.
I hope you have the best Tuesday of your long legged life.  Thank you so much for sticking with me.  I'll see you Friday at the show and we will do it real big!
— Beak