It is my great honor to present to you the brand new music video for "One Dimensional Man" off of Bad Time Zoo, courtesy of Alternative Press, who are world premiering it at their site right HERE.  The video is directed by the undeniable powerhouse that is Isaac Gale and David Jensen (of "Burn It Down" and "Let It Go" fame), and edited/colored by the one and only JoLynn Garnes (of Winnebago Man and Fearless Freaks fame).  BOOM!  This one is pretty crazy, hope you like it.
Haha, the Plain Ole Bill cameos steal the show for me.  One of the great actors of our time, a true visionary.  Please help us get the word out about this if you can.  Huge thanks to everyone that helped out with the shoot, and to CO Gallery for letting us use the space.  First time I've ever: had huge fake sores applied to my face in makeup; been a part of an infomercial studio audience; drank Black Label at noon (to my knowledge at least); and the list goes on.
Sims has been out on the east coast with Astronautalis for close to a week now, and it sounds like the tour is off to a phenomenal start.  The guys sent over a few pictures from the road to give you an idea of what they're getting into.  I'll post a few below, and you can check out the rest of them right HERE (courtesy of Ricardo Zapata).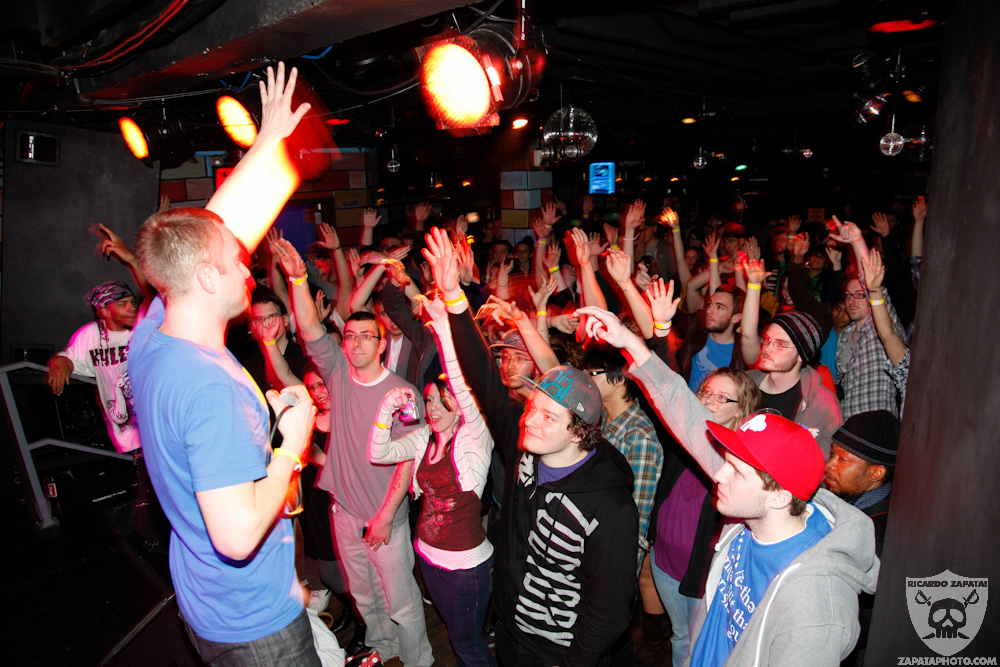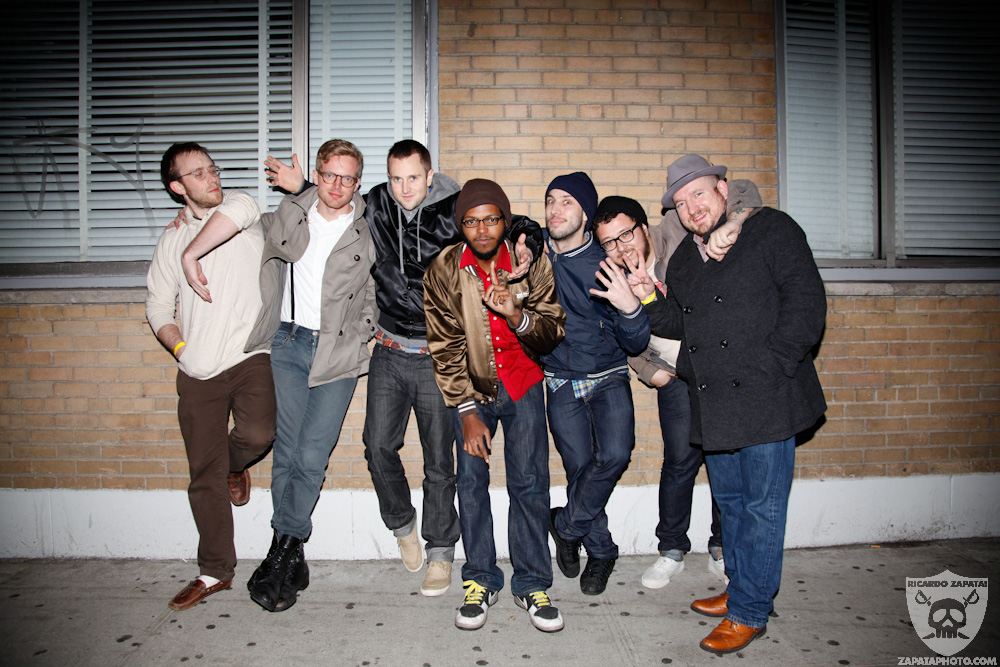 In other show news, we had quite the insane gathering at First Ave on Sunday night.  It was the huge Gayngs takeover that included us and about 20 some other bands.  Such a beautiful night.  I couldn't help but feel extreme pride for my friends and for my city.  60 plus musicians sharing stages together throughout the night and not a single ego getting in the way ever.  Can't begin to tell you how extremely rare that is.  There were a ton of different photographers in the building to document everything.  You can check photos out HERE (by Stacy Schwartz), HERE (by Erik Hess), and HERE (by Ben LaFond).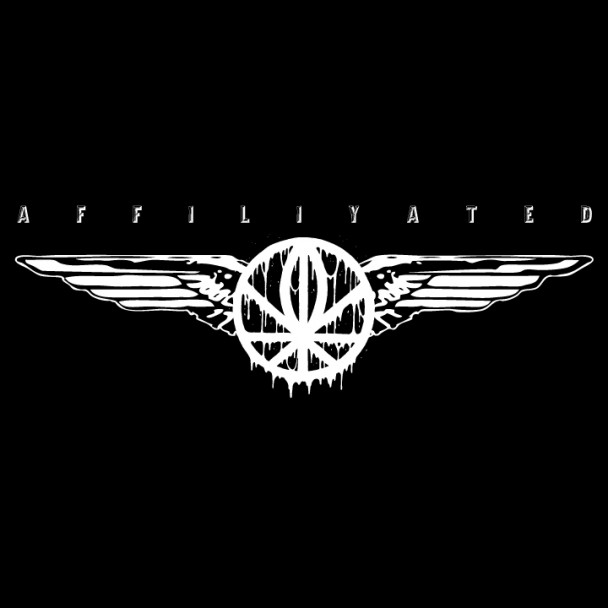 In other Gayngs/Doomtree news (if you missed the post from Friday), we just dropped this Affiliyated remix EP with seven reworkings of songs off the Relayted album.  I'm so pumped about how this all turned out.  Listened to it all the way through for the first time this weekend, and I gotta say that everyone really brought their A-game to the table (and I don't even usually like remix albums).  You can download the whole thing for free over at our bandcamp page right HERE or just click the cover above.  We'll all be heading down to Austin for SXSW next week.  The official Doomtree showcase is on Wednesday (with solo and crew sets all night long) at Flamingo Cantina, and then we'll be doing another official crew set on Thursday for the Gayngs showcase at Mohawk.  Many more day party shows to be announced in the coming days as well.  I should have a full on SXSW updated schedule up here by Friday.
Now on to the second installment of Bonus Classic Album Jams.  I don't know if I'm finally starting to feel nostalgic for turn of the millennium semi underground hip hop, but I've been revisiting my favorite rap albums from back in highschool over the last couple weeks and am finding it thoroughly enjoyable.  Simpler times or something I guess.  This week I'd like to talk about the album that truly and abruptly got me back into hip hop.  Things Fall Apart by The Legendary Roots Crew.
Like I said last week, I grew up listening to R&B and rap mostly via the local radio stations, but around 7th grade wound up getting way into indie rock (blame it on Pavement I guess), something that I basically listened to exclusively up until senior year of highschool (with the exception of It Takes A Nation Of Millions).
Things Fall Apart dropped in the beginning of '99, and I caught the video for "You Got Me" after school one day.  Totally blew my mind, especially the crazy rapid fire Questlove drum part at the end.  I'm not sure if it was the fact that they were actually playing instruments (this is at the beginning of TPC! really starting to play out in the city and me being a super snobby band dude), or the Badu hook, or just how cool the video was, but I loved it all.  Went out  and got the album and listened to it for at least a year straight.  Instant classic.  I remember even trying to have serious arguments with people back then about how Black Thought was the greatest rapper of all time, haha (he's nice, but not quite that nice).
It became my gateway into the current rap music of the time, and also gave me the desire to go back over the last decade and re-educate myself on all the albums, artists, and events in hip hop that I had missed out on.  Anybody that had a guest verse on this album, I'd do my research and buy their albums too.  Which got me into Mos Def, Common, and really the whole OkayPlayer circle of artists (I was a serious OkayPlayer dude back then too, had all the gear and everything).  Beanie Sigel had a guest verse, which slowly got me into Jay-Z and the Rocafella roster, and more mainstream stuff in general.  It's weird, but I can basically trace the start of my entire involvement in and love for hip hop to this one album.  Not The Chronic or Reasonable Doubt or Illmatic or 36 Chambers or Southernplayalistic, all of which I would learn to adore after the fact.  It was Things Fall Apart.  So strange.  A case of the right place at the right time I think more than anything.
I could go on and on about this, but I'll spare you any more of the sentimental "I love this culture so much" mushiness for the time being.  Suffice it to say that when I fell back in love with hip hop in senior year, I plummeted hard.  And it is because of that falling that I ever decided to pick up an MPC a year later in the hopes of contributing a little something to this artform that I gained so much joy out of.
I can't really tell how well this thing has aged, since at this point it holds so much more importance to me than just the music, but I still know every word to every song (interludes, hidden tracks and all).  Definitely worth pulling out again if you've got it in your collection.  Below are a few of my favorite tracks, beginning with that awesome video for "You Got Me" that started it all for me.
http://www.youtube.com/watch?v=lmrYnvl29Jw
As a Roots bonus, here's a link I just got put up on where Questlove breaks down a million different celebrity encounters that he's had over his years in the industry.  It is both a hilarious and extremely intimate look into celebrity culture, and I definitely wasted  several evenings last week getting caught up to speed on all of these.  Highly recommended, check it out HERE.  There are some serious gems in there.
Well, that about does it.  Hope you all have a great week.  I'll see you next Tuesday with a special SXSW send off post.  Don't forget to show everybody that Sims video!
— Beak