In this edition:
8th Grade Talent Show Relived
SXSW Reviewed
Road trips, Radio, Snowboots and Dress Shoes
FAIR.
Every year P.O.S and I visit the 8th graders at the FAIR school. It's a remarkable place where young people beat the snot out of national averages and teachers all but eradicate the achievement gap.  P.O.S and I talk about finding your voice, turning off your TV, race relations in America, buying reasonably priced clothing, and living as an artist. Then we do a little performance in the auditorium.
After our visit this year, a former student sent me a little video she'd shot. I don't remember the circumstances precisely, but judging from the footage, P.O.S and I must have had some technical difficulty on stage and decided to try a song a cappella. I don't know if this clip will amuse you, but I was stifling laughter at the coffeeshop while watching it: P.O.S starts a soul-clap and when it completely falls apart, he just sort of…glides away as if he's unassociated with anything that may be happening on stage.
SXSW.
Metro Magazine invited a few musicians to submit their perceptions of the SXSW experience. Doomtree has been indie for a long time, and we've managed to make our way using business strategies that–to say the least–aren't industry standard. For me, SXSW is always a look into an alien model: the dominant one. You can click on the image below to read the whole article, it's about a page long.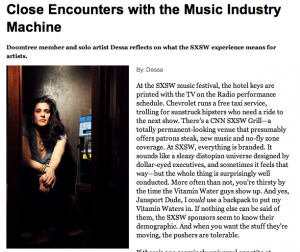 On the 23rd of April, Sims, Lazerbeak and I set out for the Into The Spin Tour, my first headlining run up the West Coast. You can get tickets or just check out the routing here. In the meantime, there are a few hometown shows I'm unusually excited about.
GIGS.
Rochester with The Current
On April 2nd, I'll head to Rochester as part of The Current's Road Trip series. The band and I will play a set at the Rochester Art Center and participate in a Q&A conducted by Mark Wheat.
Live Radio Performance on Midmorning
On April 4th, I'll play a new song, Anabel, on MPR with Kerri Miller. In the Twin Cities, you can tune in at 91.1 FM. You can also log in here to stream the broadcast. Just click on 'Listen Now.' You never can anticipate the exact moment that Kerri will fix you in her laser gaze and command "Sing!", but I'd guess about 10 am Central Time.
Party at the Bunny Hill
On April 8th, P.O.S and I will head to Lutsen Ski Resort to do some face-melting (no snow will be affected). He will probably snowboard and I will probably drink whiskey, waving occasionally in the direction of the lift. Cheap ticket, good show. Details here.
Opera at the Riot House
On April 9th, Jeremy Messersmith is curating a night at the Fitzgerald Theater in Saint Paul. He kindly invited me to make a cameo; I'll be singing a couple of tunes in the company of a bunch of other talented dudes, including Chris Koza. Tickets and info here.
Songwriting, Strings Attached.
On April 14th, I'll be performing two songs as part of the Southern Theater's installment of their Songbook series. This time around all the songs will be arranged for strings (get it? get it?). I'll be doing a little bit of new material as part of an evening formatted to showcase a myriad of talented songwriters. Other participants include members of Arcade Fire, Dirty Projectors, and Devotchka. Info here.
Until next time,
Dessa.