Hey there!  Welcome back to Tuesdays With Lazerbeak.  Finally getting a chance to catch my breath after last week's crazy NY trip out to CMJ (plus a one off jaunt to Red Wing).  We wound up shooting two brand new music videos and playing two crew shows over the three day stint we were all in NYC.  Not too shabby at all.  Here's a brief rundown of the festivities: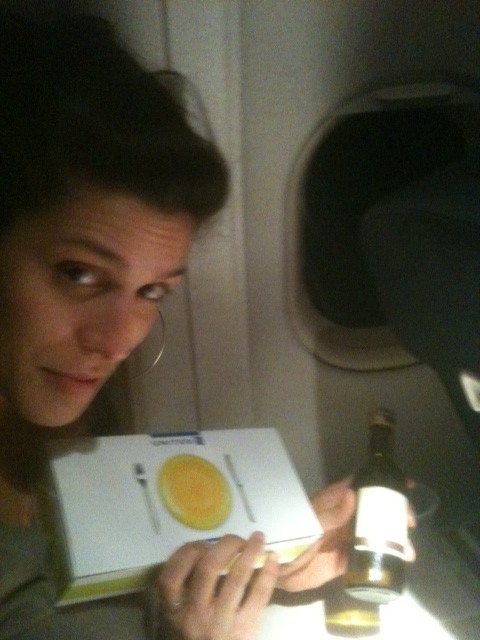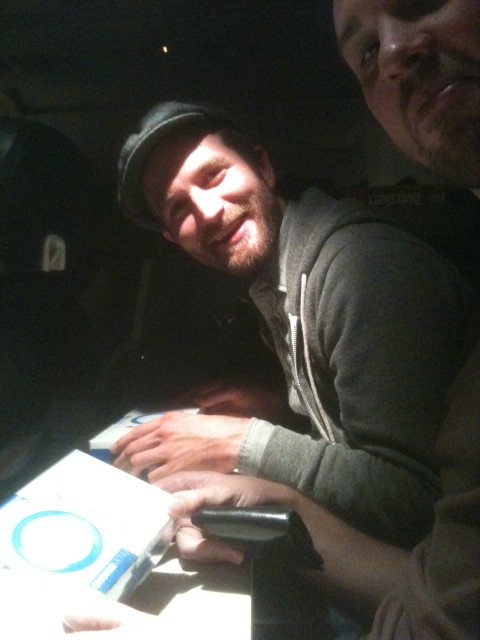 After barely making our connecting flight out of Chicago, we decided to celebrate by splurging on snack packs and tiny bottles of white zinfandel.  So bawse.  We flew into LaGuardia and took a cab straight to our first No Kings video shoot at a studio in Manhattan.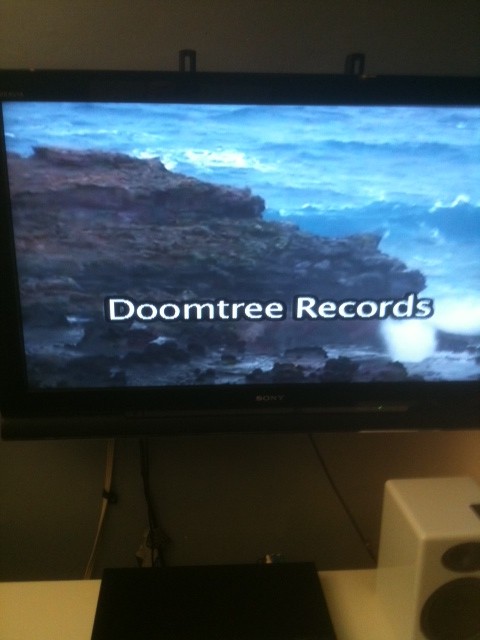 Didn't get many pics from the shoot cuz I don't want to ruin the surprise.  Let's just say that that may or may not be the end credits to a Doomtree karaoke track.  The next day we kicked it at Paper's place for a bit.  What looks like a productive meeting is actually three grown men watching another grown man play Saints Row 2.  Total gamers.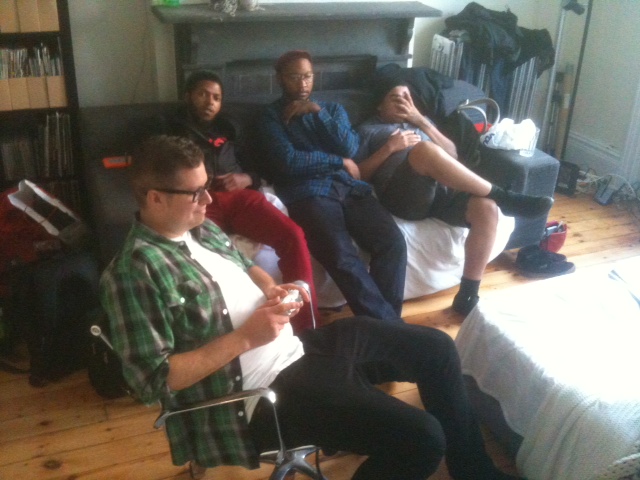 Dessa has never been that good around pets in all the time I've known her, but Mo (the neighbors dog) really took a liking to her and I'm pretty sure the feeling may have been mutual from this picture below.  I think we might be really making some serious progress here.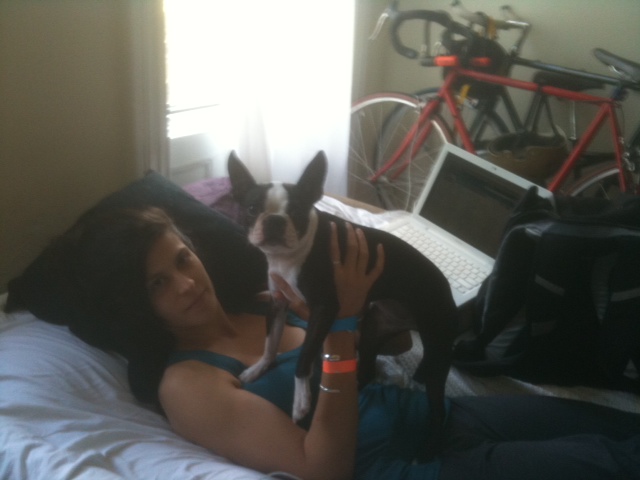 Speaking of Mo, check out how effortlessly she pulls off this awesome banana split Halloween costume.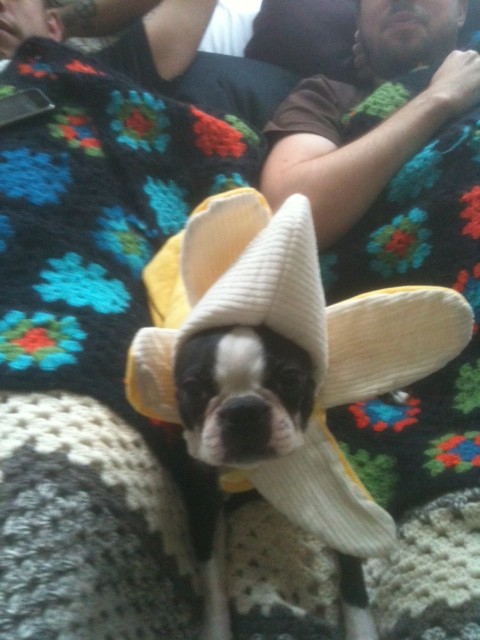 Unreal.  That night we played a late night crew set at the Knitting Factory that also doubled as Sims' birthday party (happiest of happys to you big homie).  It was the best, although I kept having some pretty intense deja-vu due to the fact that the Good Time Zoo Tour had rolled through that exact same packed room not even two weeks prior.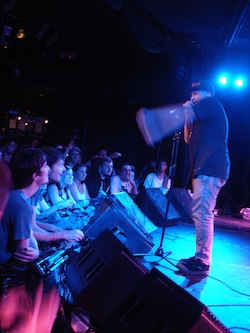 The next day we walked around the city and got some grilled cheeses.  I think the guys might've finally gotten a little annoyed with me constantly nagging them to pose for my camera phone.  That or they really were not feeling those grilled cheeses.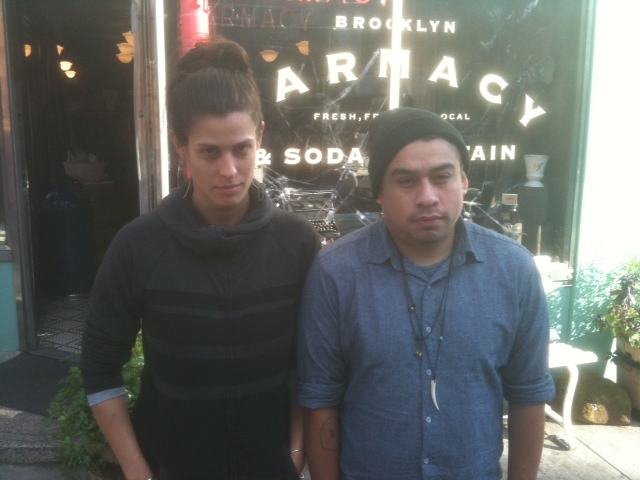 We ended up filming an impromptu second music video later that evening out in Bushwick and also played a super last minute show at the Cake Shop with Trash Talk at around 1:30 in the morning.  I know it's been said a million times before, but I honestly don't know how anyone gets any sleep in that town.  I think I got about 8 hours over those three nights and I wasn't even really going for it.  Major shouts to all the old friends and familiar faces we ran into out there.  I think I may have finally completely warmed up to New York after this trip.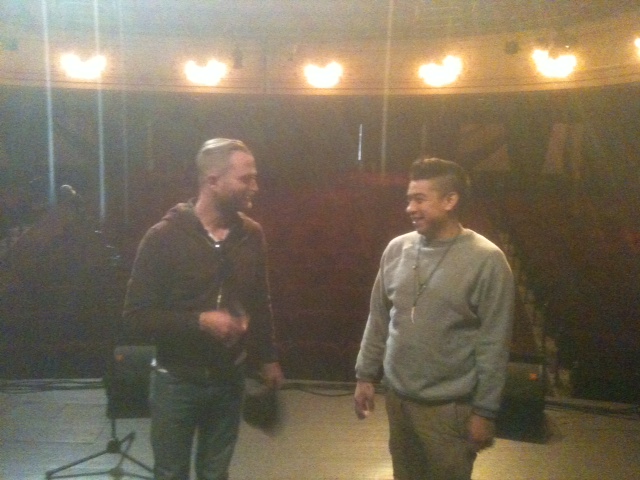 We traveled from CMJ to a music workshop and theatre performance in Red Wing, MN in just under 24 hours (that's a population dip of about 7,992,000 people if you were curious).  The show in Red Wing was part of the Minnesota Music Coalition's Caravan du Nord tour, which brought bigger Minneapolis bands into smaller Minnesota towns that often get skipped over.   I had never stepped foot in Red Wing before Saturday, and I gotta say I think I'm pretty sold on it.  Total relaxing vacation getaway spot.  Definitely need to take the wife out there for a weekend once No Kings finally drops.  Here's Sims and Cecil posing in front of some awesome hometown murals.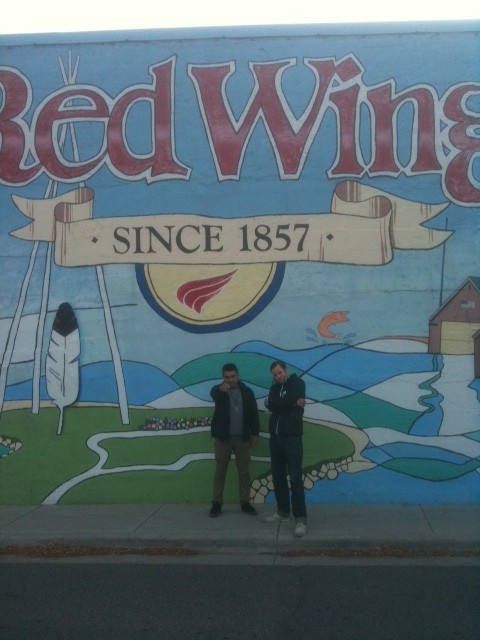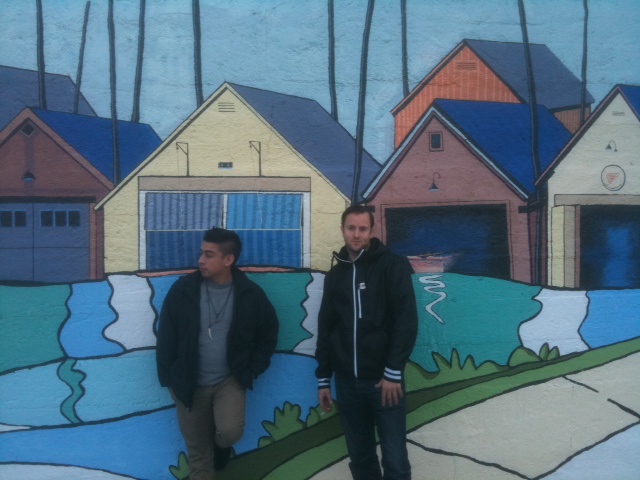 Almost looks like these dudes really own boat garages.  Pretty sweet.  Here's me hanging out with my new friend The Tree Joker.  Not really sure how this guy managed to squeeze his way into the mural.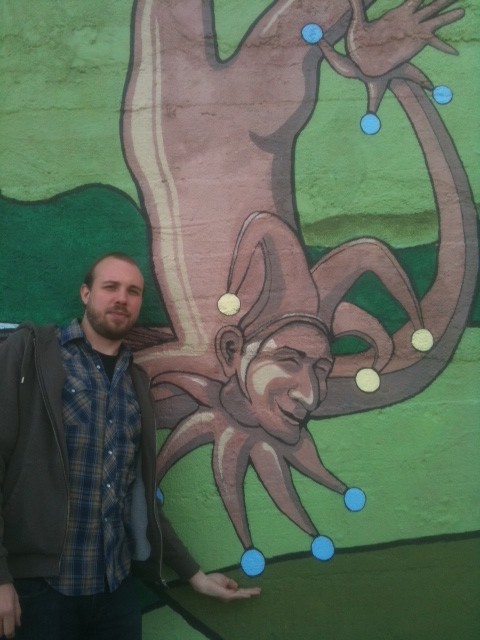 We got to walk around the main strip for a bit after the panel discussion.  Here's us standing next to the largest Red Wing boot in the world.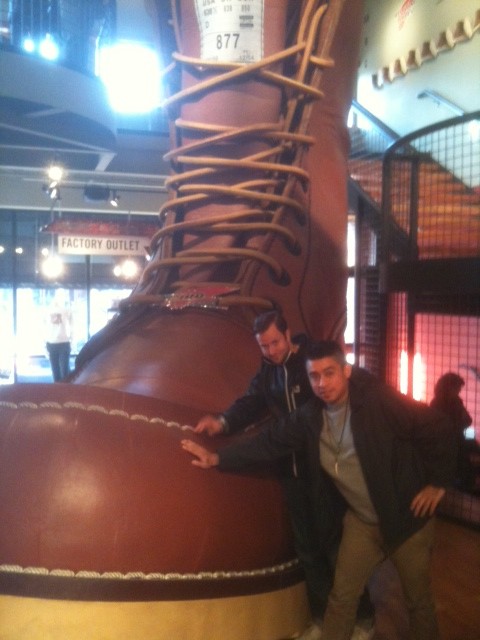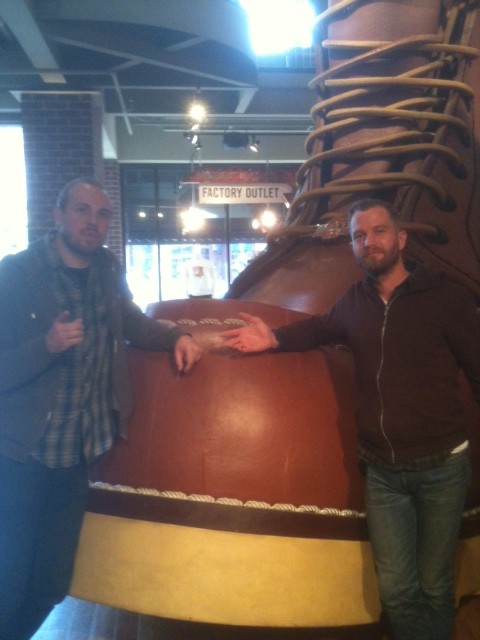 Those boots were definitely NOT made for walking (ka-BOOM!!!).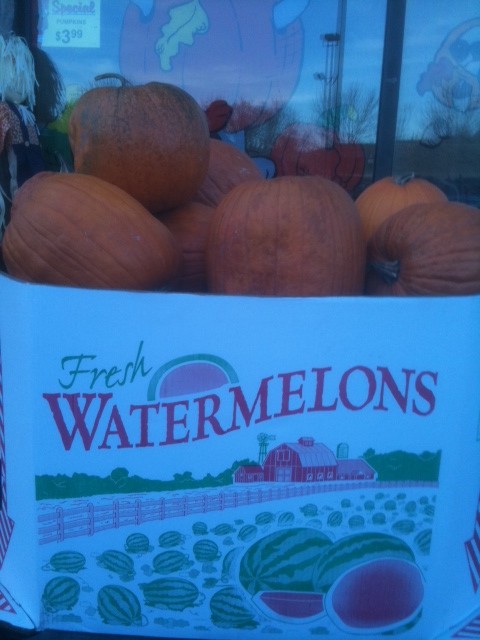 Stumbled upon this extreme case of false advertisement on the way back to the venue.  Absolute trickery.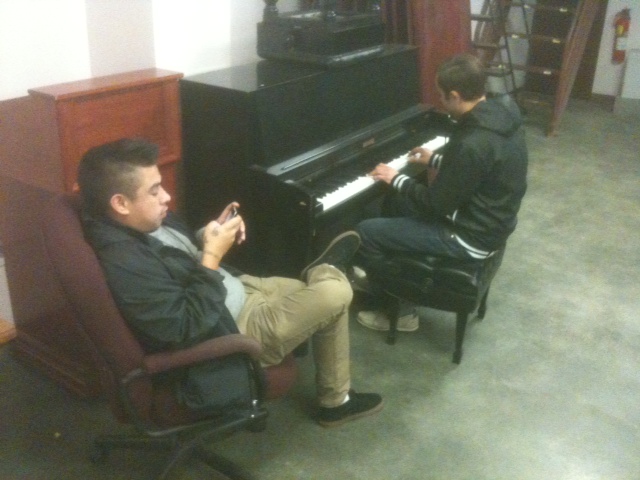 In case you ever wondered what goes on backstage before a show, here's Mike and Sims gearing up for the concert by trading off Scott Joplin-esque riffs on the green room piano.  Masterful musicianship.  Thanks to Mark Wheat, Jade, the MMC, and the fine people of Red Wing for having us down.  Good times had by all.
That about does it for this week.  I'll leave you with some sweet new Bonus Jams before I go though.  This new M83 record, Hurry Up We're Dreaming, has been blaring non-stop out of the Camry for about the last week or so now.  It may be one of the only justifiable double discs in the history of the world.  So good.  Beyond epic.  Here's a couple of my favorite jams right now, but the whole thing slays from front to back.
http://www.youtube.com/watch?v=nwZR0CFbJ4M
Going right along with that 80's synth vibe, I've gotta put a couple tracks from the Drive soundtrack below as well.  If you haven't seen Drive yet, you are seriously slipping.  It is the best.  Reminds me a ton of Heat (which is in my top 3 ever) with it's weird zoned out pacing and LA heist vibe.  The music is pretty incredible too.  Below are the two tracks that refuse to leave my head.
http://www.youtube.com/watch?v=XkHoPmDnRbA
There you have it.  Hope you all have a great week.  I'm sure I'll see a bunch of you down at the Fitzgerald this Friday for Dessa's sold out release show.  If not, next Tuesday for sure.  Final shameless No Kings pre-order and Doomtree Blowout plugs below (just click images for more info).  Sorry, couldn't help myself.
— Beak