Hello and welcome to the first Tour Days With Lazerbeak of the No Kings Tour.  I'm writing you from the luxurious and ever accommodating Radisson hotel (ahem, year of the endorsement deal) in beautiful Salt Lake City.  We've been out on the road since Thursday and so far things are shaping up to be supremely bawsed out.
This time out we've been fortunate enough to bring our very own camera guy to capture a ton of footage from the road.  The dude's name is Chris Hadland, and even though he may be too young to have any idea who Barry Sanders is, he does take some really awesome photos.  Chris has been updating the site daily with tons of action shots from each show, and today he posted a new tour video from the first five dates out on the road.  Check out the first edition of the No Kings Tour Video Diaries (man, we gotta come up with a cooler name for that ASAP).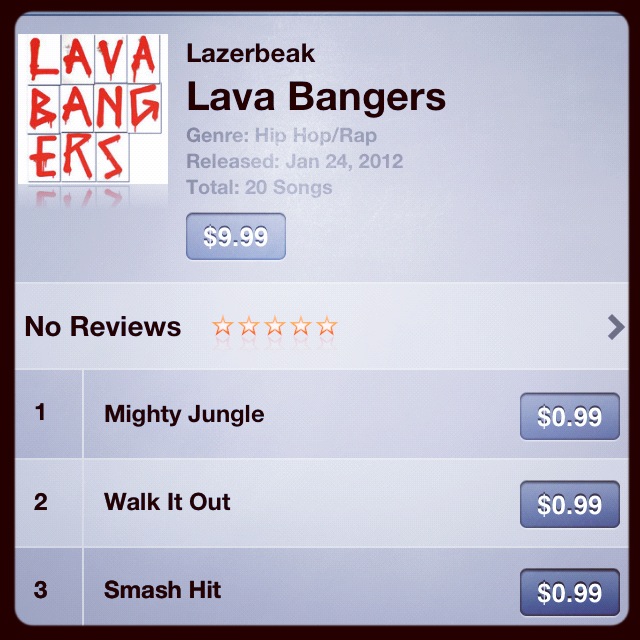 In other noteworthy news, LAVA BANGERS was officially released out into the world this morning!!!  I breathed a ginormous sigh of relief last night at the Urban Lounge when I saw it had made it's way to iTunes and Amazon successfully.  You can pick up the album digitally right HERE.  I'm extremely grateful for all the support everyone has already shown Bill and I with this release.  Here's a little backstage video to celebrate the real deal debut of the album.  Shouts to Chris for throwing this together super last minute.  And shouts to Plain Ole Bill forever.  LAVA BANGERS 4 LYFE.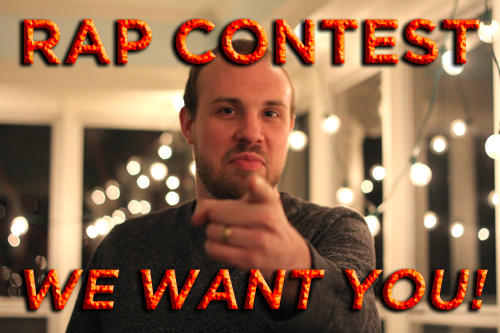 Speaking of LAVA BANGERS, I suppose it's finally time to unveil our Top 15 picks from Doomtree's first ever rap contest.  First off, I want to thank every single one of you that submitted for this.  When it was all said and done we had over 80 entries, several from other countries even.  I really appreciate you all taking the time out of your busy lives to be a part of this thing.  Hopefully we can do more stuff like this in the future.  Below are the 15 winners, in no particular order, that will be entered into the public voting poll today.  If you didn't make it, I promise you are not a loser.  We had a super hard time picking this thing, and below is just what Bill and I were immediately feeling at the time.  Congratulations to the following artists:
Homeless
C-Silence
Sheeped
Guante
Soulcrate Music
Verble Spears
Seany Richfield
Baby Jayne
Analyrical
ft (the shadow government)
Ill P.O.E.
Jimmy Spits
Ashley Fedorchak
Scott Vance
Ben Field
So here is how this thing works now.  Listen to the submissions in the player below, then, just VOTE RIGHT HERE for your favorite one. Boom.
Pretty simple actually.  We will hold the contest until this coming Monday night (1/30) at midnight (12:00 PST, technically the beginning of Tuesday morning).  One vote per IP address will be allowed.  Then on Tuesday morning (1/31) we'll announce the big winner.  So yeah, go spread the word about this thing and make sure to vote for you favorite.  Let's make this thing as interesting as the NFL Playoffs.
Oh one more thing.  We just announced the Snow Kings tour yesterday, our first ever week long tour of Colorado (I may finally have to learn how to 760 shred that gnar gnar pow pow).  Just click on the banner below for tons more details and ticket info.  We're super excited to have an excuse to finally buy some snow tires for MOUNTAIN.  Really looking forward to this thing.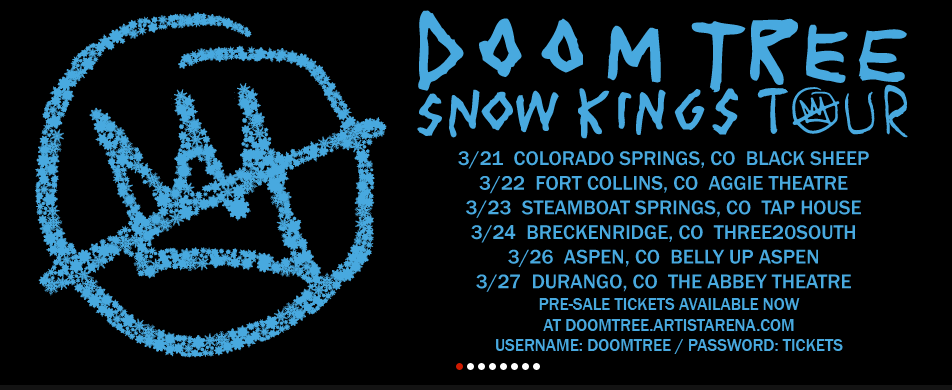 Alright, it's officially van call time.  We got Boise, Portland, Seattle, and Vancouver coming up before we make our descent through the West Coast.  It's been amazing to see so many of you out on the road already.  Hope to see a ton more of you real soon.  I'll leave you with a couple Video Bonus Jams from two of the Rap Contest finalists that went the extra mile and made real deal music videos for their tracks.  Not playing favorites at all, just wanted to highlight them since there was no way to post the videos to the contest site.  Hope you all have a wonderful week.  LAVA BANGERS 4 LYFE.
Homeless
Verble Spears
— Beak