Well, we survived another SXSW and we have the pictures to prove it.  It's hard to really recap the blur that was last week in words, so I'll let the young photographic gunners Chris "still thinks the original Batman is Christian Bale" Hadland and Ricardo Zapata do it for me.  Click any of the photos in the gallery below for a closer look.  You can also check out Ricardo's Flickr page for even more shots right HERE.  Shouts to them both for documenting the trip.  And huge shouts to the millions of homies we got to kick it with and share the stage with down in Austin.
Chris also put together a new Tour Recap Video of our week long trek down to SXSW.  This one includes an amazing multi media unveiling of Mike, as well as a Shreveport show that we performed out of the back of our two vans.  Check it out below, and make sure to come back later in the week as we'll have the SXSW Takeover Video up real soon.
We just have one more show in Wichita tonight before we start our week long Snow Kings Tour in Colorado.  Click on the flyer below for all the details and ticket information.  Can't wait to don my robe and drink brandy ciders in a grip ton of different ski resorts while Paper Tiger shreds gnar gnar 960 flip slammers all over some fresh pow.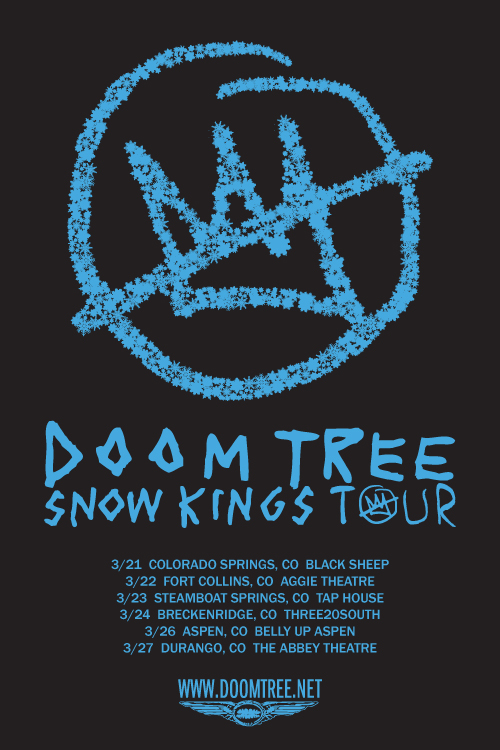 OK, van call again.  I'll leave you with a Bonus Jam by none other than the Doobie Brothers.  This song has been stuck in my head ever since Papes played it on the first day of tour.  It is completely undeniable, even if there are only about three recognizable words in the whole song.  Michael McDonald does it again!  Hope you all have a great week.  See you next Tuesday!
— Beak
http://www.youtube.com/watch?v=CDWGKQcQ8zw