The wait is finally over!!!  SNAXXX, the brand new 15 track album from Mike Mictlan, is now available for absolutely FREE!!!! Click the album cover below to download it RIGHT NOW!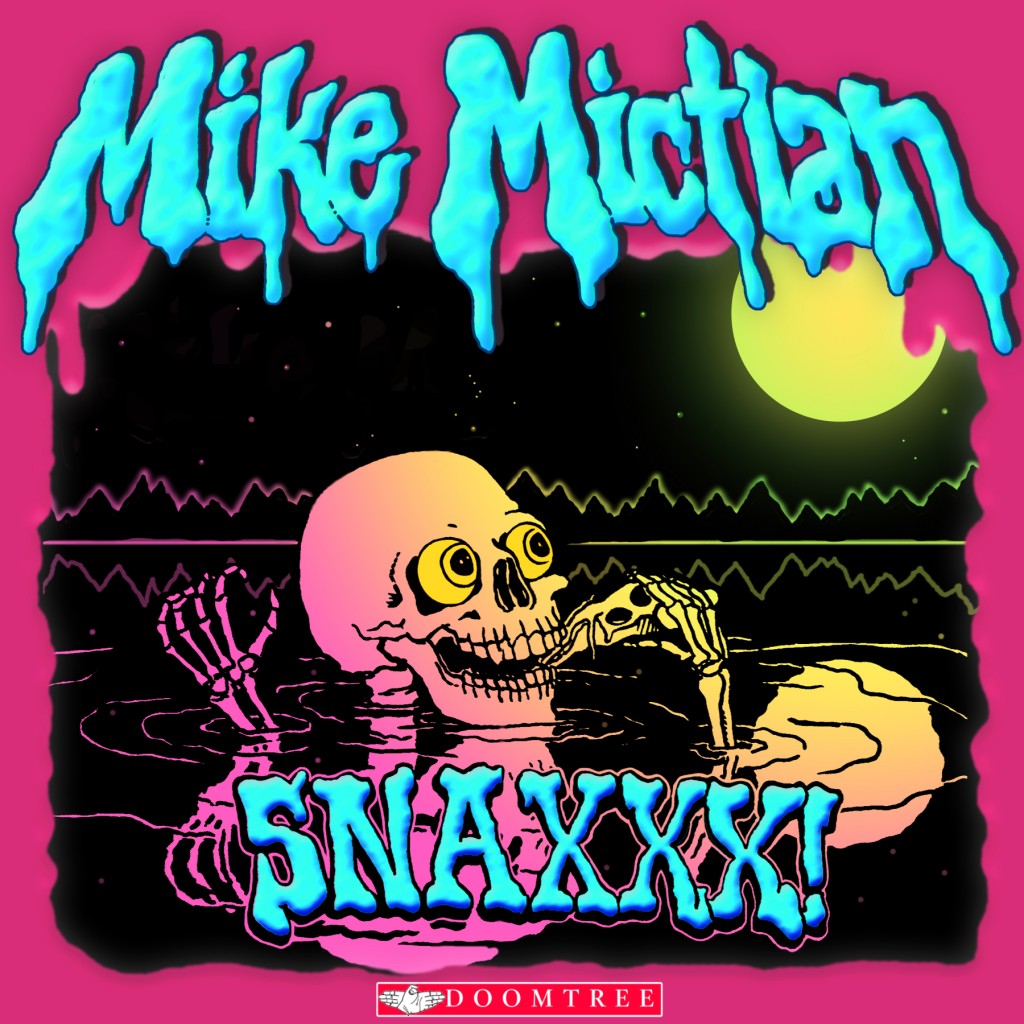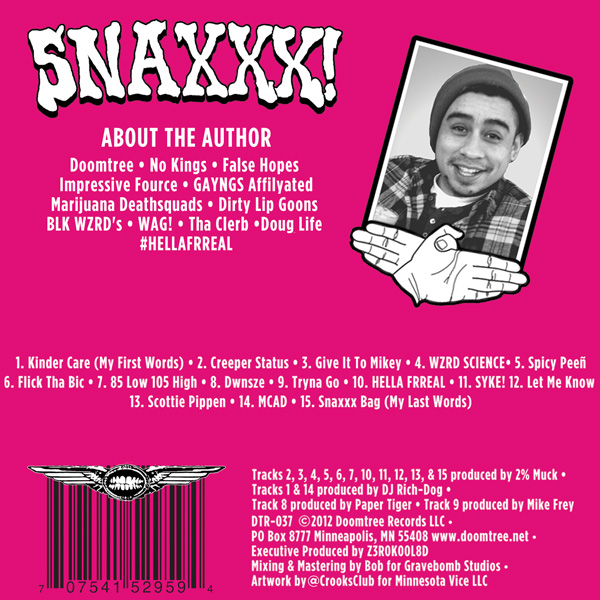 SNAXXX features production by 2% Muck, Paper Tiger, DJ Rich-Dog, and Mike Frey, plus awesome guest verses from the likes of Lizzo, Greg Grease, Freez, Spyder Baybie Raw Dog, La Manchita, and P.O.S.  You can stream the whole thing below from Soundcloud if you wanna get a feel for the album before downloading (might need to refresh the page if it isn't showing up).
In addition to SNAXXX being available for free digitally, we've also made up a very limited edition physical bundle that we're calling SNAXXX PAXXX.  Clever, right?  There have only been 300 PAXXX created, and once they're gone, they're gone for good.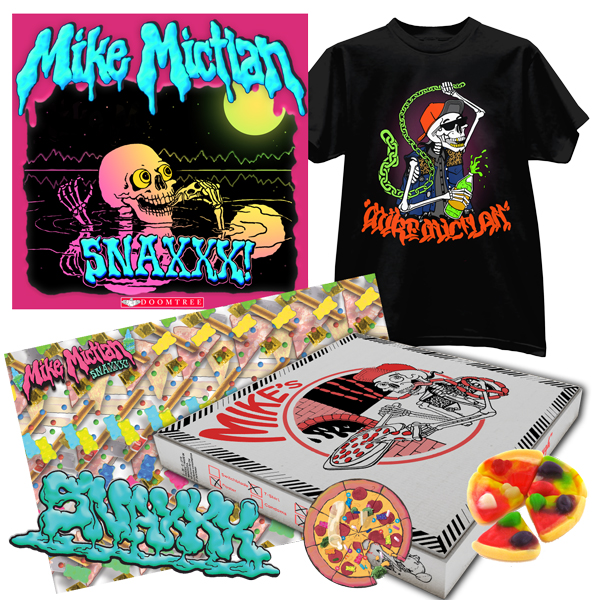 Every SNAXXX PAXXX contains an autographed physical copy of the CD, multi-colored screen-printed T-shirt, 11×17 3D SNAXXX Poster, 2 different stickers, and a gummy pizza candy, all packaged inside of a special screen-printed "Mike's SNAXXX" pizza box.  Definitely one of the crazier bundles we've ever put together, and the whole thing is available for only $29.99.  Click the image above or go to the Doomtree Webstore HERE for more details and ordering info.  If you're still not sold, check out this insanely awesome SNAXXX promo video from the immensely talented Young Baby Ander Other for some mind blowing vizualz and highly informative content.
Again, only 300 PAXXX are being made available ever.  Get em while you can right HERE.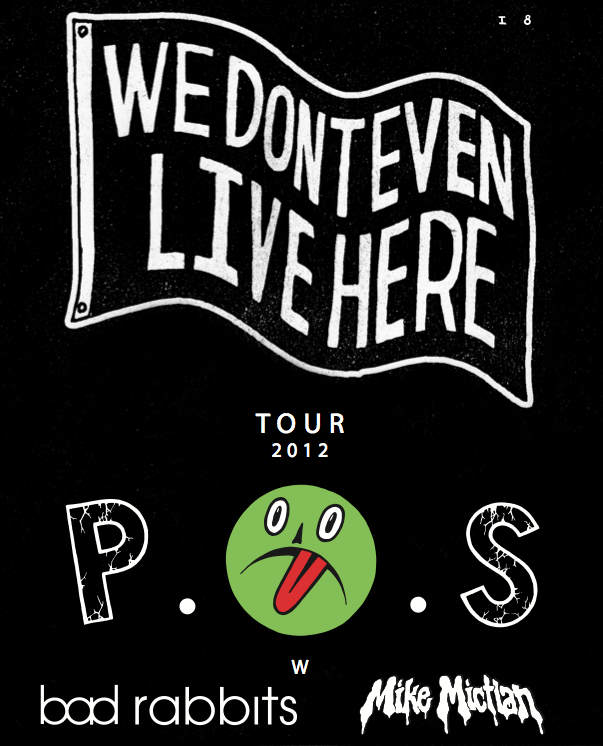 In even crazier news, Mike has just been added to the entire P.O.S We Don't Even Live Here Tour!!!  Mike will be hosting and performing solo songs throughout the duration of every show, as well as backing up Stef on stage during his headlining slot.  Not to mention Bad Rabbits on the bill too, this tour is gonna be insane!  Check out the first leg of dates below to grab your tickets now.  And for the left half of the country, don't forget that there will be tons more dates announced in the coming months.
DATE  // LOCATION — VENUE TICKET LINK
10/26/2012 // Minneapolis, MN — First Avenue – BUY TICKETS 
11/1/2012 // Milwaukee, WI — Turner Hall – BUY TICKETS 
11/2/2012 // Chicago, IL — Bottom Lounge – BUY TICKETS
11/3/2012 // Detroit, MI — Magic Stick – BUY TICKETS
11/4/2012 // Cleveland Hts, OH — Grog Shop – BUY TICKETS
11/5/2012 // Pittsburgh, PA — Altar Bar – BUY TICKETS
11/7/2012 // New York, NY — Irving Plaza – BUY TICKETS
11/8/2012 // Boston, MA — Royale – BUY TICKETS
11/9/2012 // Philadelphia, PA — First UU Church – BUY TICKETS
11/10/2012 // Washington, DC — Rock & Roll Hotel – BUY TICKETS
11/11/2012 // Carrboro, NC — Cat's Cradle – BUY TICKETS
11/13/2012 // Orlando, FL — The Social – BUY TICKETS
11/14/2012 // Tallahassee, FL — Club Downunder
11/15/2012 // Baton Rouge, LA — Spanish Moon – BUY TICKETS
11/16/2012 // Houston, TX — Fitzgerald's – BUY TICKETS
11/17/2012 // Austin, TX — The Mohawk – BUY TICKETS
11/18/2012 // Dallas, TX — The Loft – BUY TICKETS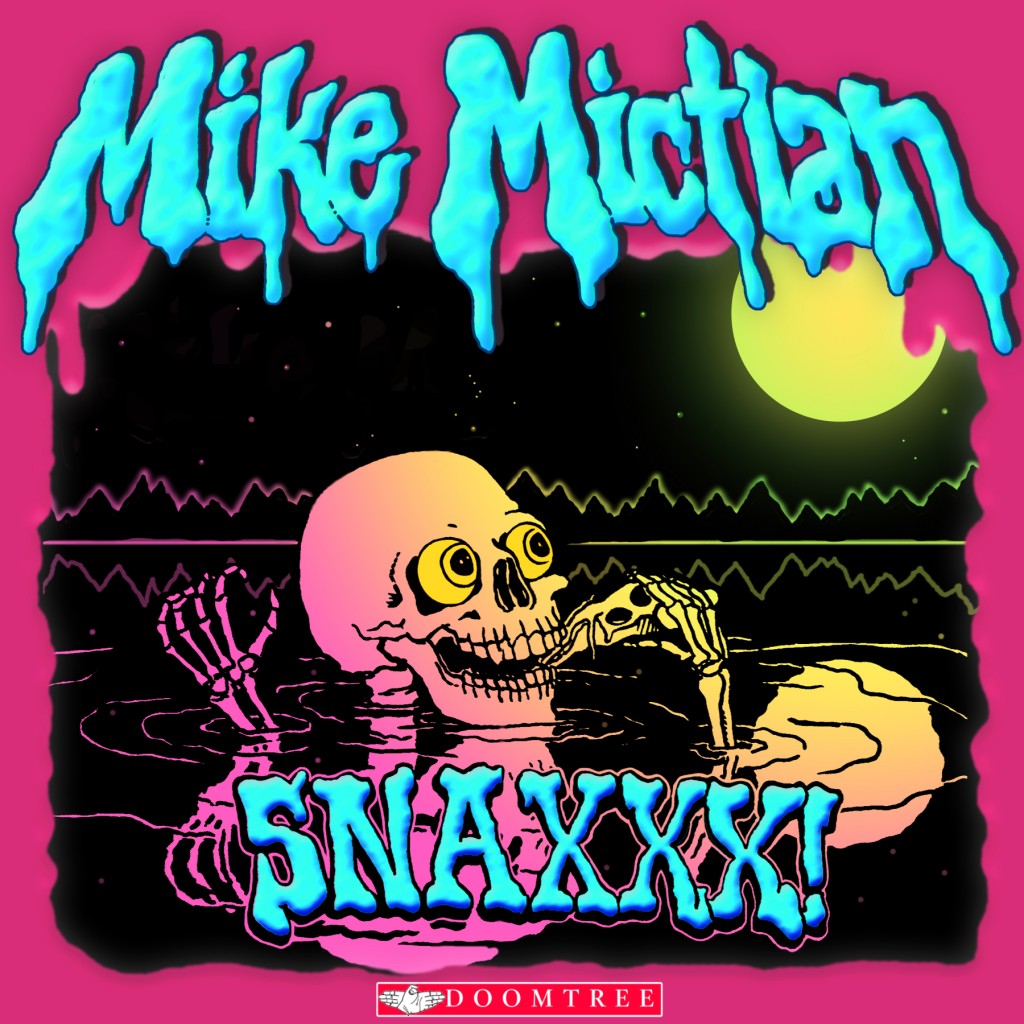 Well, that's probably enough info for one post.  If you've forgotten to up to this point, make sure to download SNAXXX for free RIGHT HERE, and please help us spread the word about the album far and wide.  Thanks for all your support.  SNAXXX!!!!!!!!
— Beak