It's that time of year again!  We are thrilled to announce the details of the eighth annual Doomtree Blowout!!!!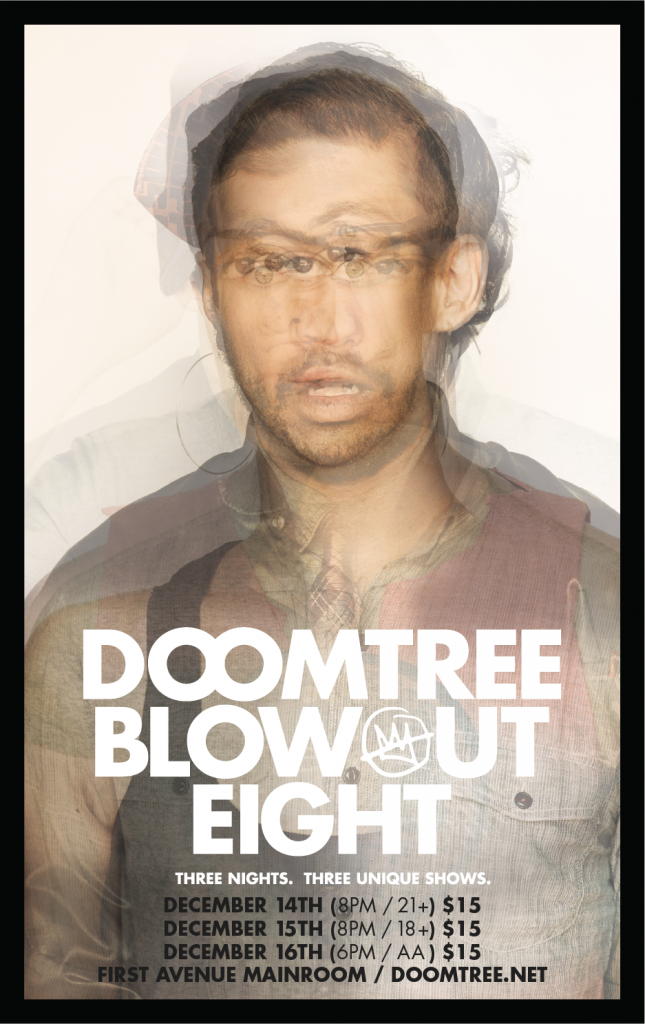 That's right: THREE NIGHTS!  December 14th, 15th, and 16th in the legendary First Avenue Mainroom.  Now watch this epic Blowout 8 movie trailer courtesy of Young Baby Ander Other, and get seriously AMPED!!!!  Check it out:
Tickets go on sale this Friday (10/26) at 12:00pm.  If you're going to the sold out P.O.S release show later that night you can pick some up at First Avenue.  Otherwise members of the crew will be hanging out next door at The Depot this Saturday from 3:00-5:00, drinking off our We Don't Even Live Here hangovers and selling Blowout 8 tickets hand to hand.  Come down, grab some tickets, and a crush a couple mimosas with us.
No shows announced at the moment.
Man it's gonna be a busy couple months over here.  One quick final note for all the people who've been contacting us wondering how they can help donate a kidney to Stef.  First off, thank you so much for your incredible kindness.  For real.  At this point in time Stef's doctors have told us that there are enough potential matches between family and friends here in Minnesota for them to feel confident moving forward with the transplant plans. If for any reason throughout this more detailed evaluation process they feel it's time to put out an open call to fans for more help with kidney matches, we will absolutely make sure to let you know.  If you'd like to help financially, we've set up a PayPal fund for Stef at [email protected]. Any contributions will go directly to him.  And seriously, thank you again for all of the tremendous support.  To say it has been overwhelming doesn't even begin to do it justice.  It means the world.
— Beak