Welcome back to another Tuesdays With Lazerbeak!  Last week got a little insane (in a good way).  Thanks to every single one of you who supported Stef by picking up a copy of We Don't Even Live Here, donating to the Stef Needs A New Kidney fundraiser, or rolling through First Avenue for the epic release show.  That was an absolutely incredible evening.  If you weren't able to make it, you can read a couple great recaps HERE and HERE.  Otherwise just watch this performance of "Get Down" to get a glimpse of the totally nutz vibez.
We've just added a bunch of the new P.O.S merch from the release show to the Doomtree Webstore too.  3 shirts, a hoodie, and a real deal FLAG!  Plus a new version of Mike's SNAXXX shirt and a special "Two Bum Kidneys" screen-printed poster designed by the homie Emmanuel Mauleon and printed by our good friends over at Burlesque.  All proceeds from that one will go directly to Stef.  Click the pictures below to check out all the new gear.
Oh yeah, and don't forget about Doomtree Blowout 8!  Tickets went on sale last Friday and are moving faster than ever before.  The Friday night 21+ show is nearly sold out, so if you were planning on hitting that one up I would cop your tickets not now but right now (tickets HERE).  Check out this sweet promo video below for everything  you'll need to know.
In other show news, Sims is gearing up to head out on his November weekend warrior tour throughout the Midwest.  This weekend he's hitting Sioux City with Soulcrate (Thursday, tix HERE), Iowa City (Friday, tix HERE), and a college show in Madison (Saturday).  Click on the tour flyer below for all the details and ticket links.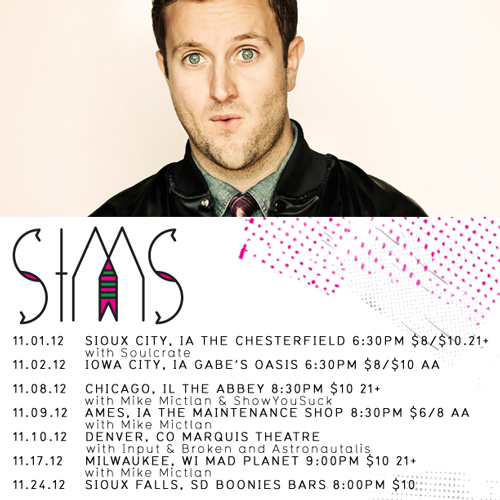 And finally, I'll leave you with a very special Bonus Jam from my new group Mixed Blood Majority, comprised of Crescent Moon, Joe Horton, and myself.  Check out our real deal serious press photo as proof that we are in fact a band that is not to be messed with.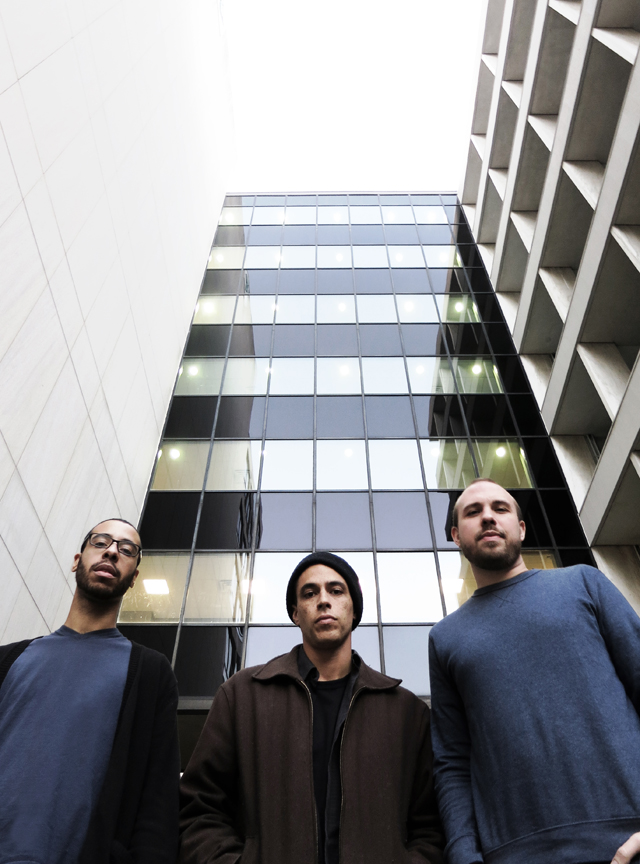 The Current just debuted our first track, "Fine Print," last Friday.  You can read about it HERE or click the Soundcloud player below to listen.  I'm super pumped about the way this whole project is turning out.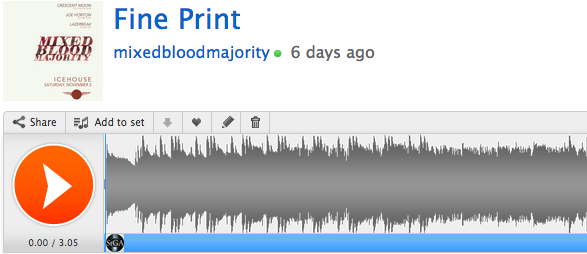 We'll be playing our very first show as Mixed Blood Majority this Saturday night (11/3) at Icehouse in Minneapolis with Ostracon, Mike 2600, and Kristoff Krane.  Should be a very special evening, definitely come through if you're close by.  Click the flyer for more details.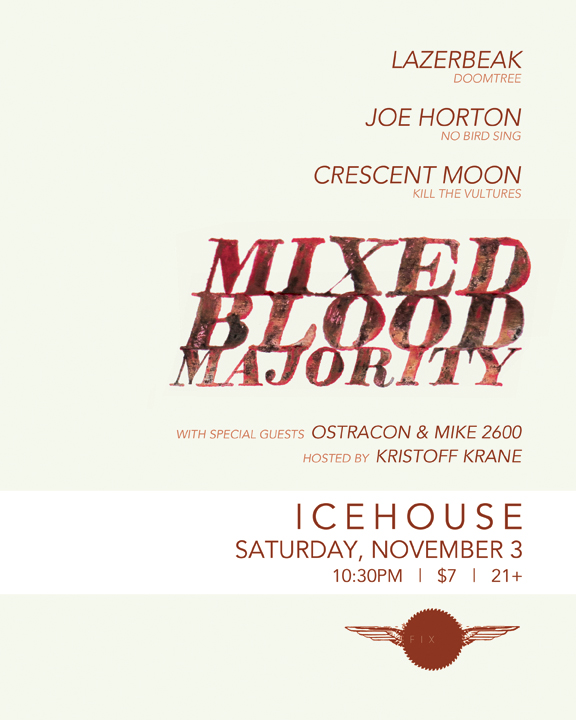 Ok, that's probably enough shameless promotion for one week's blog post.  Sorry for the constant SELL, SELL, SELL vibe lately.  This time of the year always gets a little out of hand for us with that kind of stuff.  Trust me, it's better than me doing 17 posts in a row on how I feel The Killers are the greatest rock band of this century (or any other century!).  Here's a few Penny pics to close everything out on a little more personal note.  This first one is of her at The Current last week helping us announce the Blowout.  She definitely got a few screams in before I had to rush her out of the studio.  First on air appearance at only four months old: the kid is going places.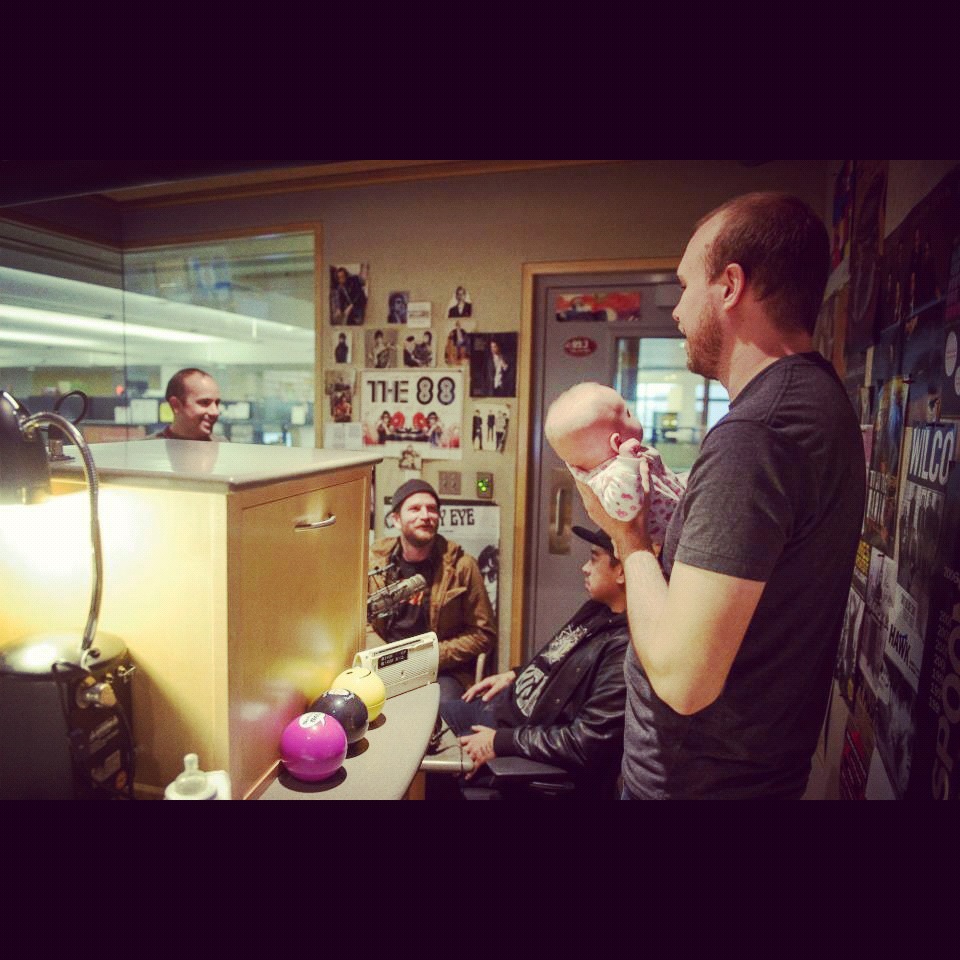 And here she is in real time, simultaneously sleeping and slapping her toy worm bass as I write this.  Can't say enough about her talents.  To all you parents out there, I cannot recommend the worm bass shaker toy enough.  A true game changer.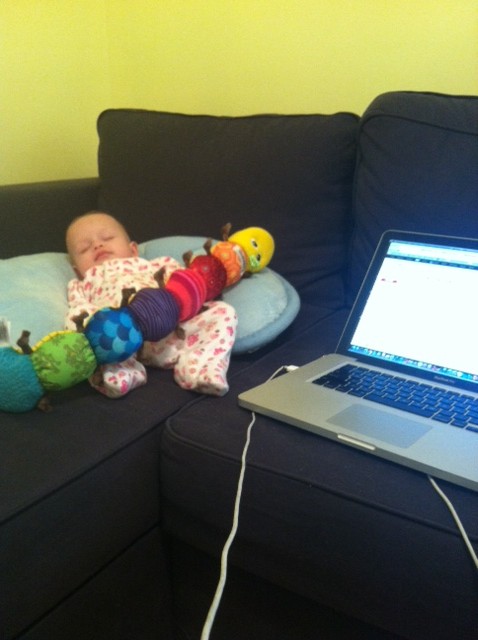 Alright, that's it for me.  I hope you all have a wonderful week.  See you next Tuesday for sure!
— Beak