Welcome to a very special Wednesdays With Lazerbeak: Huge News Day Edition.  I am totally thrilled to announce that we are releasing our very first feature full length Doomtree documentary!!!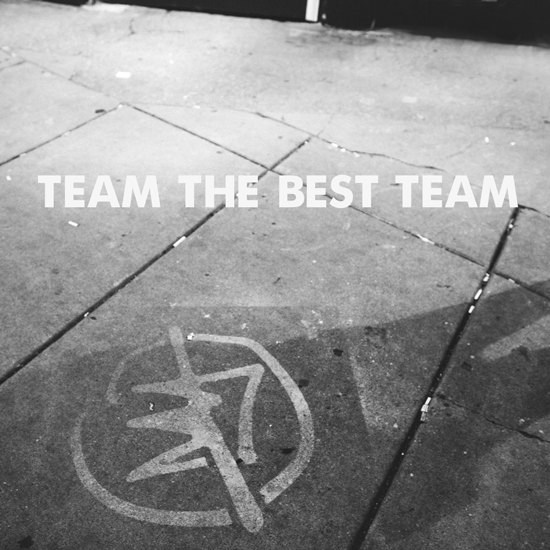 Team The Best Team is a 70 minute film that chronicles the past completely insane year in all seven of our lives (The Year of No Kings, or something like that).  Basically the movie follows Doomtree from the making of No Kings, through the week long Blowout 7 and subsequent whirlwind world tour, and back home on the ground in Minnesota, to get an insight into how the family, crew, and business operate behind the scenes.  To me it kind of sums up the eternal question "Just what is Doomtree?" better than any album ever could.  Anyways, that's my best attempt at explaining it.  We'll have the real deal movie trailer for you next week, but for now check out this quick teaser trailer to learn a little more.
Directed by Chris Hadland (the dude who spent the last year on the road with us), edited by Jay Anker, and produced by Picture Machine Productions in association with Doomtree Records.  Man, that sounds official doesn't it?  We're gonna release the DVD on December 11th (same week as the Blowouts), but the pre-order has officially begun starting right NOW!!!!!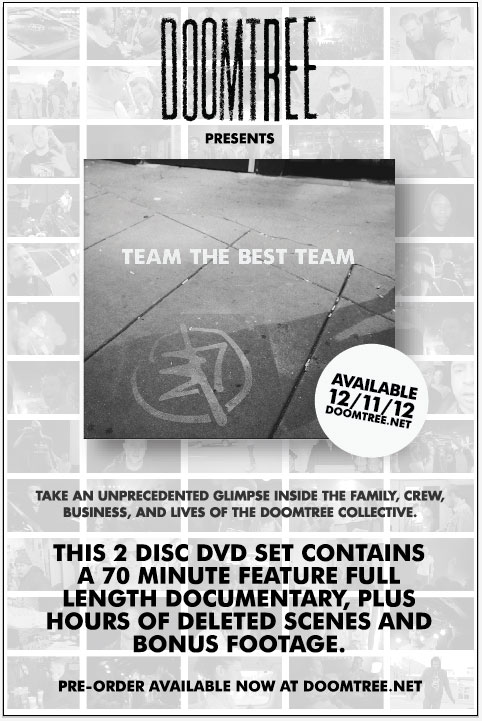 Team The Best Team is up for sale at the Doomtree Webstore right now, and comes with an extra bonus DVD containing an insane amount of bonus footage and deleted scenes (possibly even our very own gag reel?).  All pre-orders placed by December 1st will ship out on December 5th (almost an entire week before street date), plus you'll receive your very own specially customized bag of Doomtree microwavable popcorn!  Haha, yep, you read that right.  You really can't make this stuff up.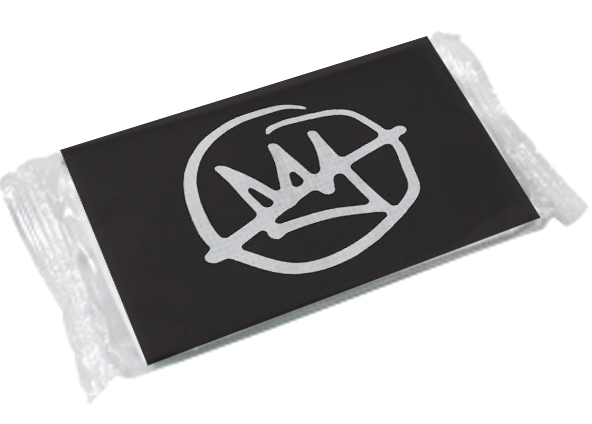 You have no idea how long I spent googling "custom microwavable popcorn" over the last few weeks.  We were hoping to get some 2D glasses as well but the minimum order was 5,000.  Dah well, maybe next time.  Anyways, make sure to pre-order a copy right HERE.  We'll be putting up more info and short clips from the film over the coming weeks too, so stay tuned.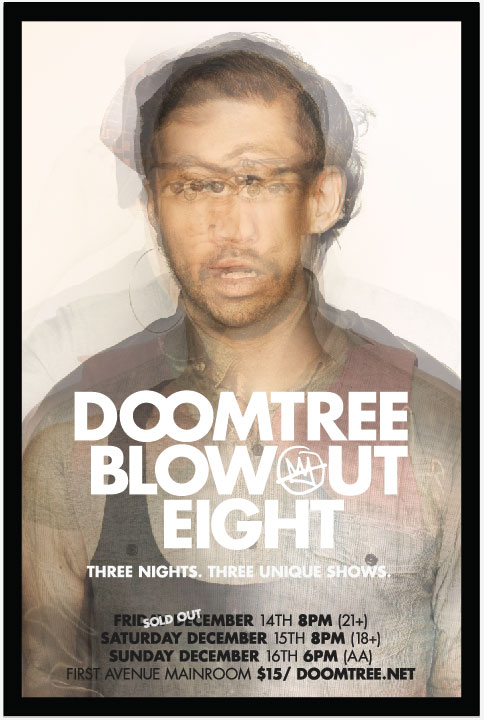 In other awesome news, the first night of the Blowout officially sold out last week, and there are only a couple hundred tickets left for Saturday as well.  So pumped for these shows!!!  Grab tickets HERE before they're gone.  As in previous years, we'll be donating 10% of Blowout profits to charity, and we've picked a different Minnesota charity for each night this year.  Click on the links below to learn more about these great organizations: Southside Family Nurturing Center, Sexual Violence Center, and the Bryan Coyle Center.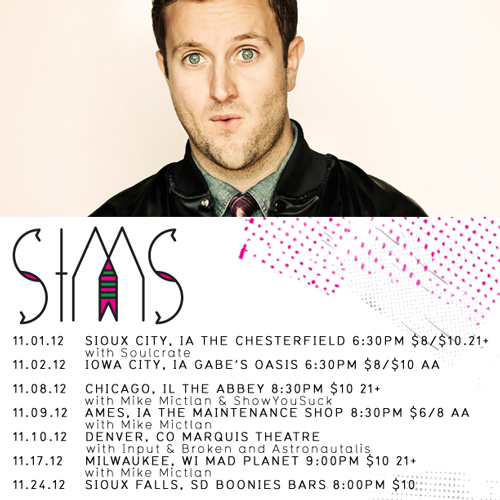 And don't forget about Week 2 of the Sims weekend warrior tour.  He'll be playing Chicago on Thursday (tix HERE) and Ames on Friday (tix HERE), both with our very own Mike Mictlan, then flying to Denver on Saturday for the Input & Broken CD release show w/ Astronautalis (tix HERE).  Make sure to go check these out if you're in the area.

And finally, Dessa recently interviewed Minnesota Vikings punter Chris Kluwe as part of an ongoing interview series she's been doing with Growler Mag.  They talked football, music, gay marriage, and much more over a box of Mike and Ike's.  Click HERE to check it out.  And here's a Bonus Football Pic  of Dessa rocking a Vikings shirt and holding both my favorite beverage and my favorite movie AT THE SAME DAMN TIME.  Truly incredible.  Go Vikes!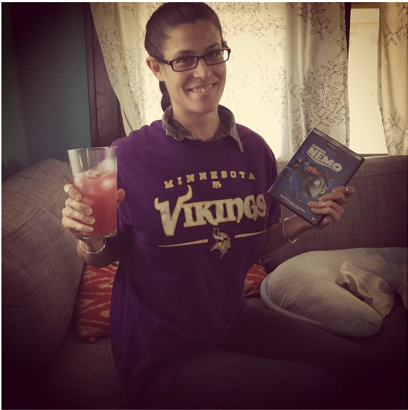 OK, that's enough news for this week.  Remember to grab your Team The Best Team DVD pre-order over at the Doomtree Webstore.  I'll leave you with a quick Baby Bonus Pic of Penny doing her best Spicy Peeñ impression on her first Halloween.  You know it's PEEÑD UP!!!!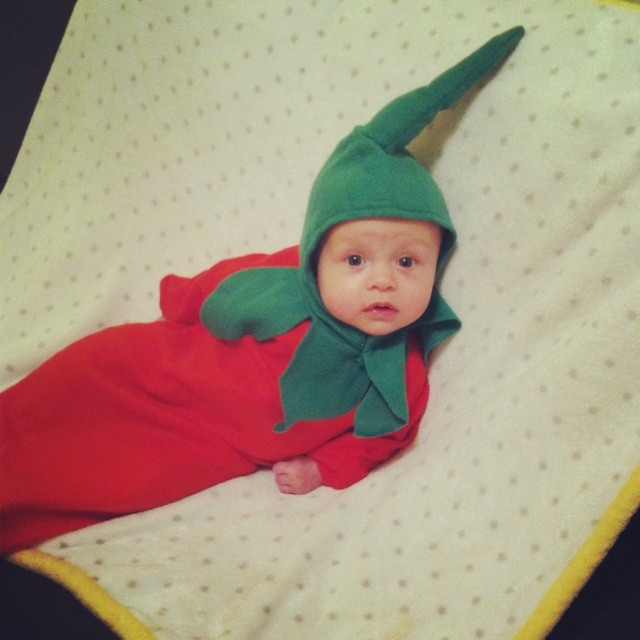 Haha, it was either that costume or the ketchup packet one.  I feel pretty good about our deciison.  Anyways, I hope you all have a great week.  See you next Tuesday for sure with that real deal movie trailer!
— Beak