OK, let's kick off the end of the year with some big time news. I am beyond amped to announce the details of the debut Mixed Blood Majority full length!!!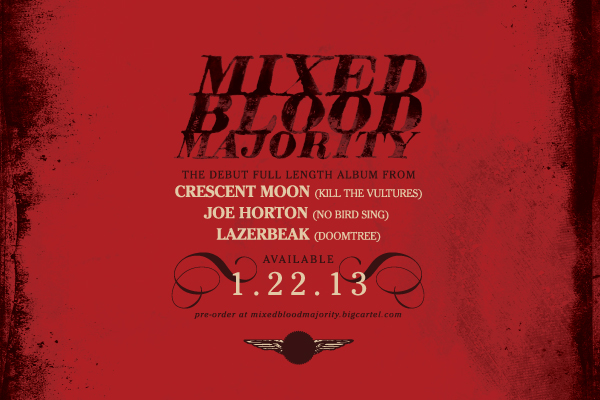 We are going to be self releasing the album on January 22nd, and you can pre-order it HERE right now to get in on some pretty sweet deals (and help us cover the out of pocket costs of making this thing at the same damn time). The album is available in standard and deluxe editions. All orders will receive an 11×17 glossy poster signed by all three of us, but the deluxe edition also includes a totally sweet MBM t-shirt and a random bonus CD from one of our other main projects (Kill The Vultures, No Bird Sing, or Lazerbeak).
Here's "Fine Print," the first single from the album, to give you a better idea of what we're working with.
[soundcloud url="http://api.soundcloud.com/tracks/64692446″ params="" width=" 100%" height="166″ iframe="true" /]
And if you prefer your album announcement news delivered in a more visually compelling format, check out this motion graphics packed promo video, courtesy of the undeniable Young Baby Ander Other.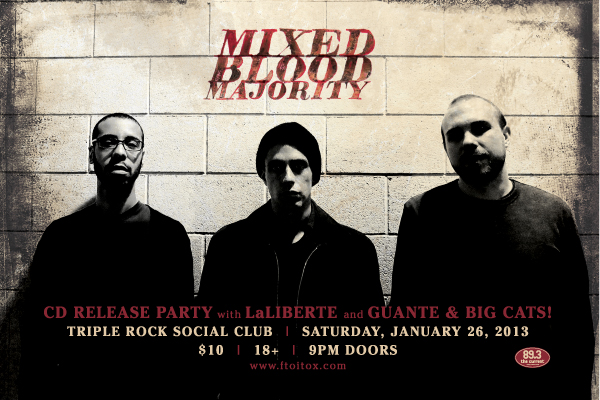 That's right, what's a CD release without a CD release party?! We're gonna be doing it real big Saturday January 26th at the Triple Rock with special guests Guante & Big Cats! and LaLiberte (Cecil's new group with Maggie Morrison). This night is going to absolutely rule the hardest. Tickets available HERE.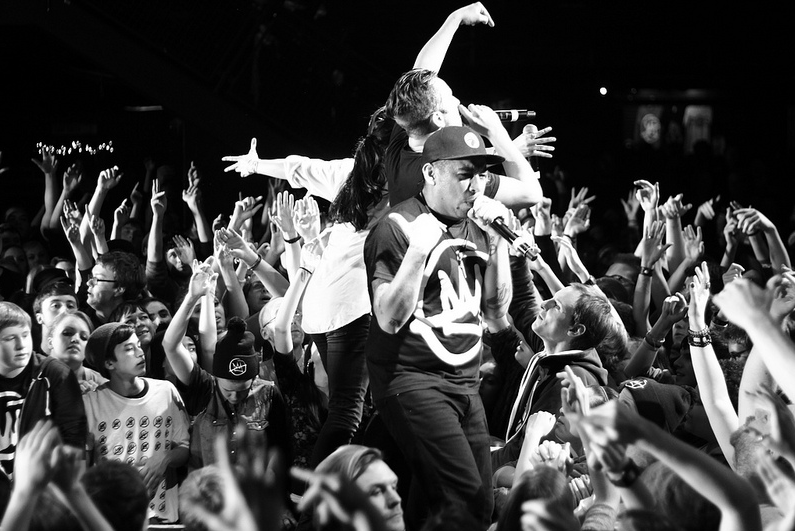 Speaking of big shows, last weekend we played three awesome sold out nights in the First Avenue Mainroom to celebrate Doomtree Blowout 8. If you missed it, there have already been some great recaps written about each night. Check those out:
Day 1 Recap courtesy of City Pages
Day 2 Recap courtesy of The Current
Day 3 Recap courtesy of the Star Tribune
Mayor RT Rybak declares Doomtree Day in Minneapolis
Our good friend Zoe Prinds-Flash was posted up each night and got some great candid shots of the whole ordeal.  Check out her photo albums here: Day 1, Day 2, Day 3. And you can view the ultimate homie Ben LaFond's photo album right HERE. All in all it was a pretty unforgettable weekend. Thank you to First Avenue, the city of Minneapolis, and every single person that came out over the course of those three days. TTBT 4 LYFE.
Continuing on with the big show info: we've just announced a New Years Eve party in Fargo with Stef, Sims, Mike, Cecil, and myself. Should be a total blast.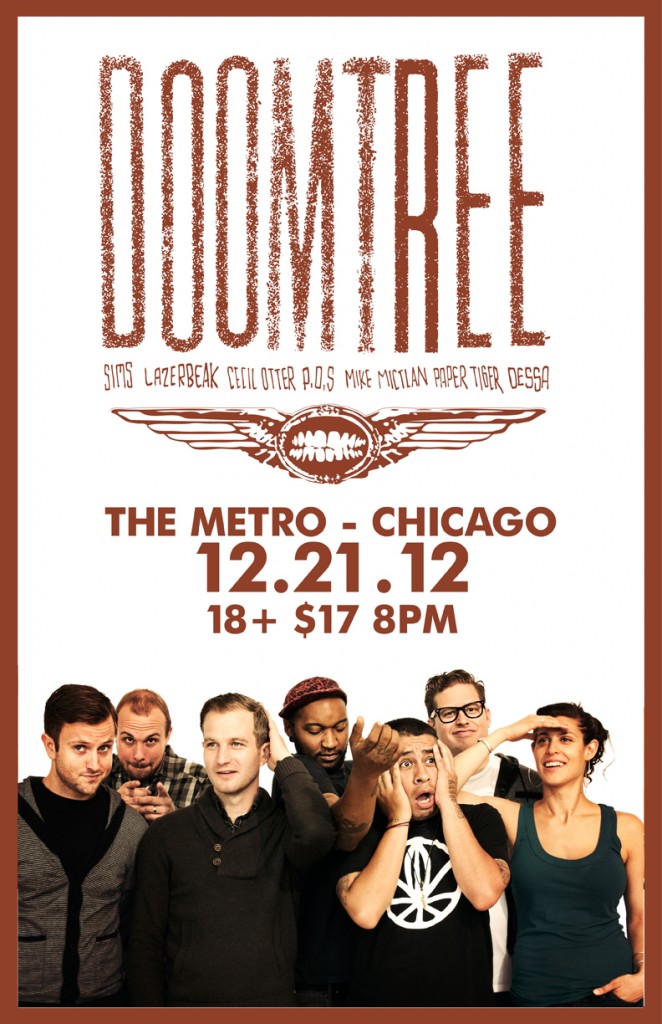 And don't forget about the all crew End of the World show this Friday in Chicago at The Metro with Buck 65 and ShowYouSuck! Tickets are still available right HERE. This one is gonna be totally nutz.
Check out this week's Video Bonus Jam above courtesy of Prof. It's for "Moron," the total roller rink anthem off of Kaiser Von Powderhorn 3, and it's got yours truly on the beat. Watching this kind of makes me think all music videos should be shot at roller skating rinks.
I'll leave you with a few Bonus Pics from the rest of the week. Here's a shot of Lizzo, Sophia Eris, and Quinn backstage at the 2 Chainz concert for the debut of LIZZO BANGERS.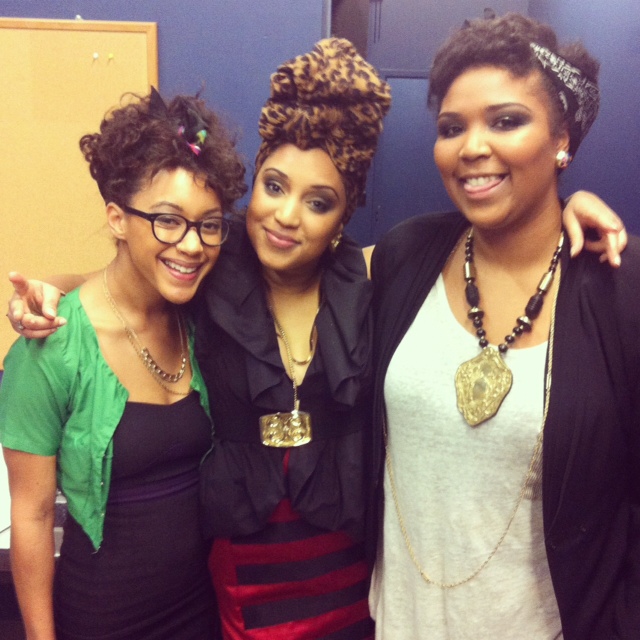 That ended up being a really fun night, despite Myth being one of the strangest places on earth. Note the coordinated two chainz that everyone was rocking.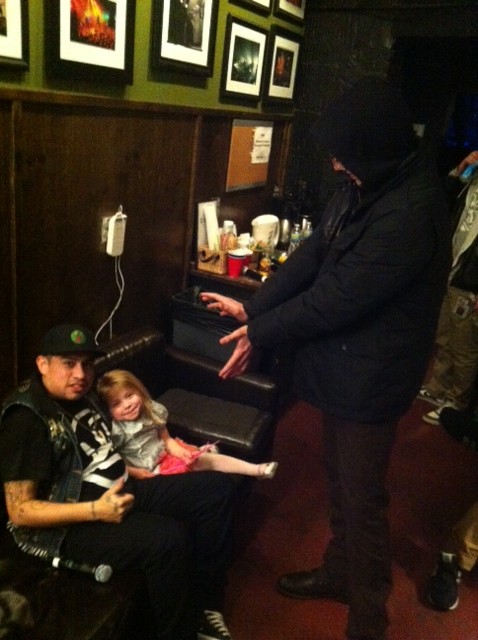 Here's a dark shadowy Ryan Olson shooting invisible fireballs at Mike and his amazing daughter LaLuz backstage at the all ages Blowout. To all my graphic designers out there, somebody PLEASE make a version of this with Ryan actually shooting insane flames or lasers or cats or whatever out of his hands. I'll post the best ones next week and give you some shine (send to [email protected]).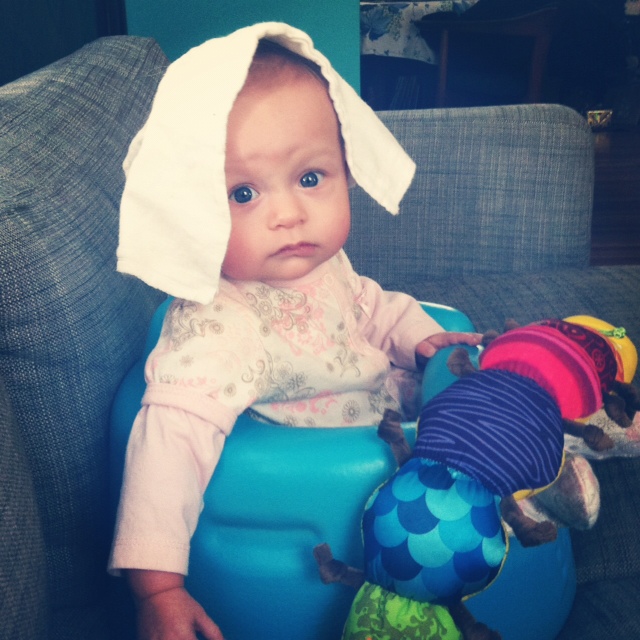 And we'll end it all with a Bonus Penny Pic. I call this one "Daughter of Towel Man: Towel Man's Revenge." Pretty self explanatory.
I'm probably gonna go light on the posts through the next couple of holiday weeks. I hope you all have a wonderful time spent with family and friends and brandy ciders. See you real soon.
— Beak