Hey, welcome back to Tuesdays With Lazerbeak. It's a very rare slow news week over here at Doomtree, so I'm gonna take this opportunity to highlight an amazing documentary and a bunch of my favorite Classic Deep Cut R&B Bonus Jams. Think of it as an early spring break from me constantly pushing shows and albums on you. Enjoy it while it lasts.
First up is that documentary I was talking about. It's a 10 minute short called Sweet Crude Man Camp, and you pretty much have to see it. Made by acclaimed photographer Alec Soth and our very own UTLIMATE homie (and Mall Bro) Isaac Gale, this doc focuses on the crazy oil boom that's been taking place over the last several years in North Dakota. The New York Times just ran a big cover story last week with Alec's pictures from the trip, and now there is this amazing documentary to accompany it. Bonus points: it has a great original score by engineer extraordinaire BJ Burton and Solid Gold's Adam Hurlburt. OK, just watch it.
So intense. Super proud of Isaac (aka Ice Man Cometh). He is absolutely crushing it. Alright, let's sweeten things up a little with a ton of Classic Deep Cut R&B Bonus Jams. Today is the wifepiece's official birthday, and she might be the only person in my immediate circle that loves this music as much as I do (slowly working out the idea for a cheesy husband and wife duets album someday). So Brittany "Killa Cam" Mader, this is for you. HAPPY BIRTHDAY. Everyone else that doesn't love R&B: Brace yourself. I'm about to get into some serious deep cutz. Gonna start things off with some older hitz courtesy of the legendary band Switch (first DeBarge Family band fronted by James Ingram's brother). You might recognize this first song "I Call Your Name" from Rich Boy's monster rap anthem "Throw Some D's."  This song slays so hard.
And here's "There'll Never Be." Pro tip: put these two songs back to back on repeat whenever you're cleaning the house or doing the dishes. There may truly never be a better cleaning combo in all of the world.
Next up is Troop doing a great New Jack Swing cover of Jackson 5's "All I Do Is Think Of You."
http://www.youtube.com/watch?v=OhNFUT0PX9M
Guy's classic "Let's Chill." TEDDY 4 EVER.
Speaking of Guy, here's my favorite Aaron Hall song of all time: "I Miss You."
And now for a little Anita Baker. Everything about this song reminds me so much of Luther Vandross. It's the best.
Here's Stacy Lattisaw's "Let Me Be Your Angel." One of the best album covers ever created AND one the hugest drum fills into a chorus I've ever heard. I'm not a huge Nas fan, but I gotta give him credit for using this on the Stillmatic intro.
And to wrap it all up, here's Ready For The World with "Love You Down." The slap bass on this one is truly out of control.
OK, there you have it. Another edition of Lazerbeak's Classic Deep Cut R&B Bonus Jams. Still trying to convince The Current to give me a late night Quiet Storm slot in their programming, haha. I'll leave you with a couple Bonus Penny Pics from her recent weekend getaway over at my mom's place (THANK YOU MOM). Introducing the newest member of *N SINK!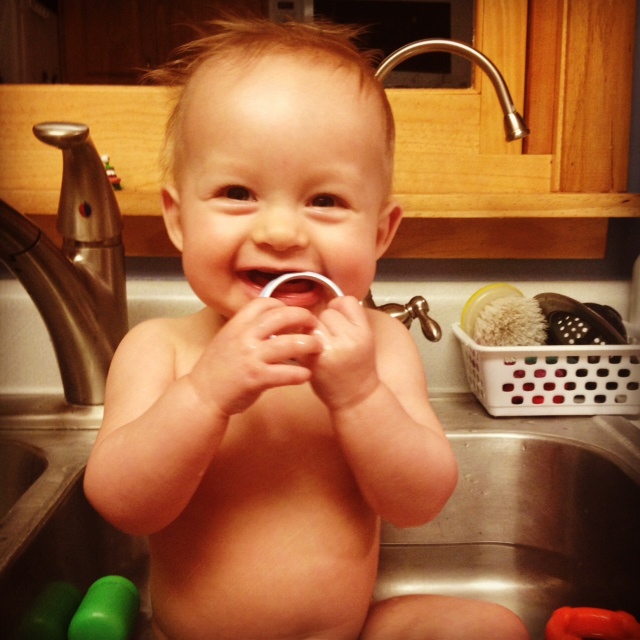 I'm seriously really proud of that 'N Sync joke guys. And here's Penny in her first pair of skinny jeans. It was only a matter of time I guess. They grow up so fast.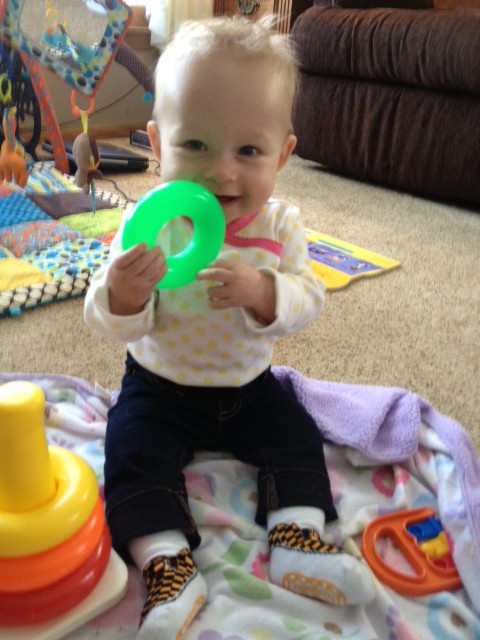 BAM! I hope you all have an awesome week. See you next Tuesday when we get back into some real actual Doomtree news. Promise.
— Beak