Hey! Welcome back to Tuesdays With Lazerbeak. There's a grip ton of things to talk about this week, so let's just dive right in. The lineup for Soundset 2013 was announced this past week, and it is a doozy (people still say that, right?). We're extremely happy to report that both P.O.S and Mixed Blood Majority are on the bill, alongside Snoop Dogg, Atmosphere, Tech N9ne, Busta Rhymes, Aesop Rock, and one million others. It all goes down on May 26th at Canterbury Park. Click the image below for all the details and ticket info.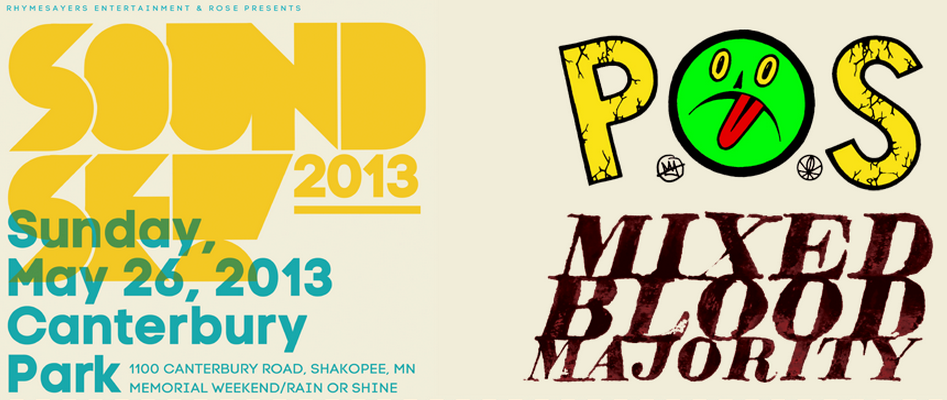 Speaking of P.O.S, last week it was announced that he will begin hosting his own weekly radio show on The Current! It's called "P.O.S is Ruining The Current" (get it?), and starting March 30th it will be on every Saturday night from 11:00pm to midnight. Click that sweet picture of Stef playing air guitar to learn more about the show, as well as a few other great new shows that are being added to the rotation. Photo courtesy of Nate Ryan.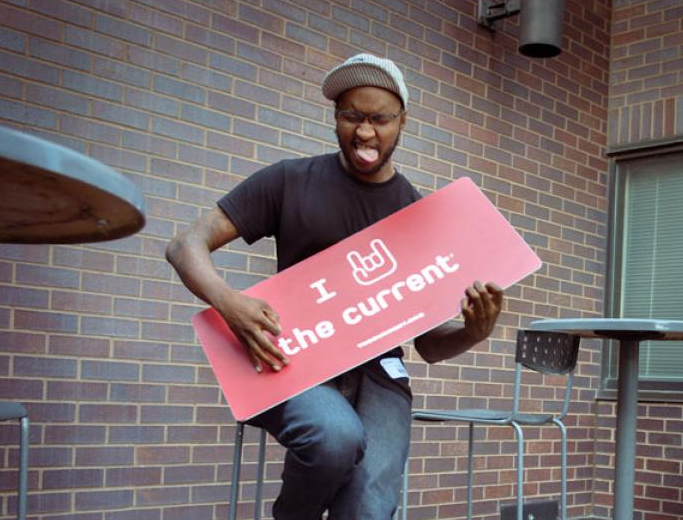 Stef is also gonna be hanging out for a day or two down at SXSW this week, playing a few shows with Marijuana Deathsquads. Their big showcase night is this Thursday at Mohawk with The Drum and Supreme Cuts. Squads hit the stage at 1:00am sharp. Should be nutz. In perfect correlation with that show, Rolling Stone has just offered up a free download of "All of It," the We Don't Even Live Here standout produced by Deathsquads' own Ryan Olson, as their Song of the Day. So if you've been living under a rock for the past six months and don't own WDELH yet, make sure to click the image below and download that, my man. Might learn you something.

Continuing on with the SXSW theme, Dessa and her full band hit the road last Saturday to begin their pilgrimage down to the annual Austin, Texas music conference mecca. Here's Doomtree's trusty tour van, MOUNTAIN, all loaded up and ready to go.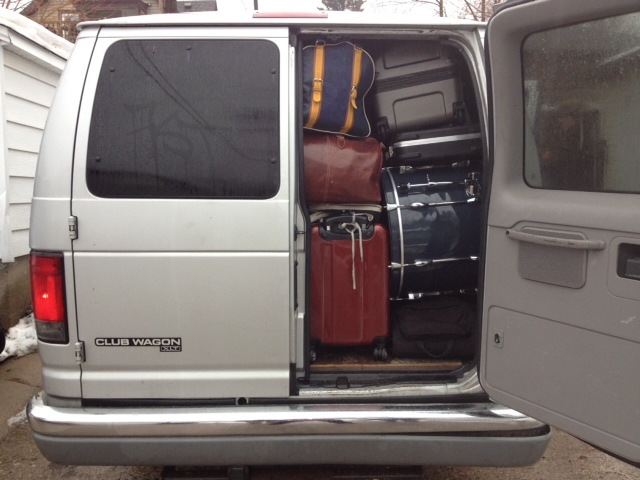 And here's merch man extraordinaire Young Baby Ander Other and newest full time band addition Aby Wolf kicking it backstage before the first show in Sioux Falls.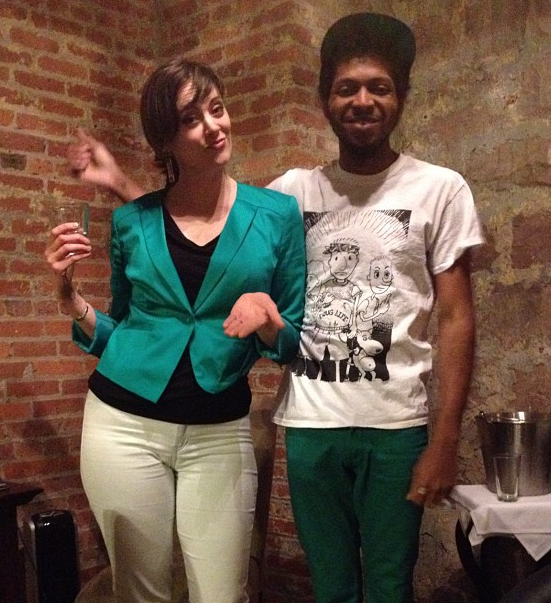 Good to see the sleeping arrangements haven't changed much since the No Kings tour. Shouts to Coupon Man out there killing the Priceline game.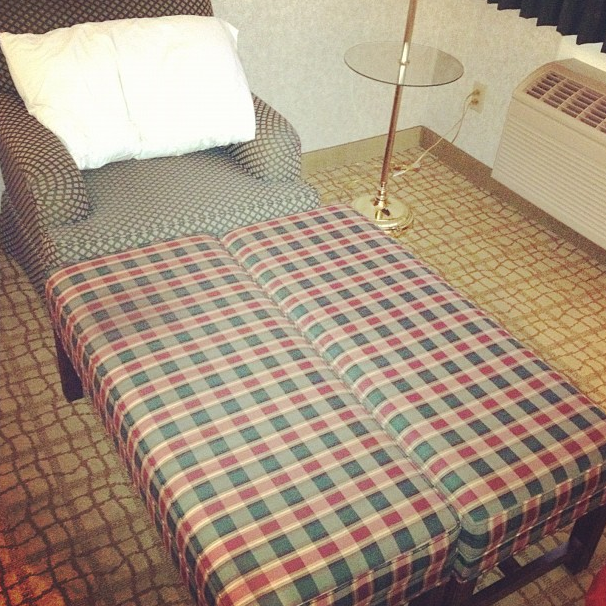 The gang is currently knocking out a drive day to SXSW as we speak. Dessa is playing a total of four shows in Austin this week, so if you're in the area you definitely have ample opportunity to catch her testing out some of the brand new songs from her upcoming full length. Check the official schedule below, and click the image for details and ticket info on these shows, plus the rest of the tour dates following SXSW.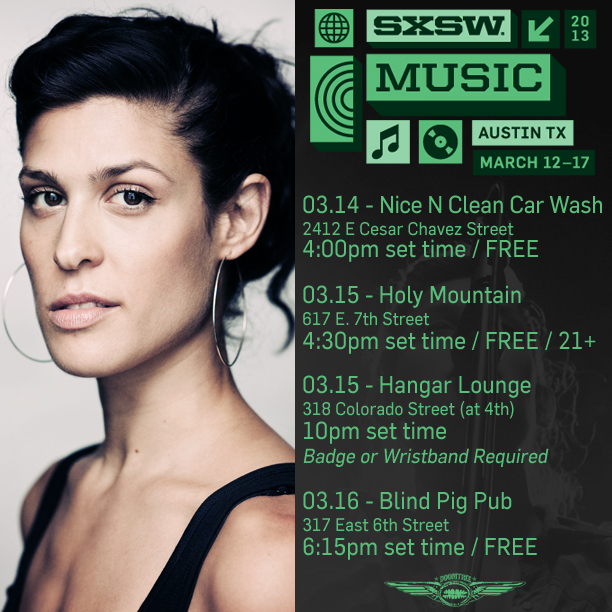 Oh, and speaking of touring (note how well the topic transitions are being executed today), don't forget that our very own Mike Mictlan will be hitting the Midwest for a week in April with the homies Toki Wright and B. Dolan, as part of the Strange Doom Sayers Tour. Click the image below for all the details and ticket info. This one is gonna be out of hand.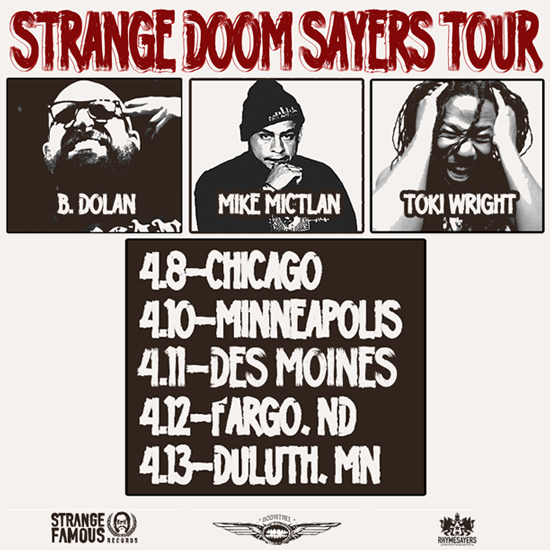 OK, nice work. You've endured an insane amount of show posts. Your patience will now be rewarded with another very special Mixtape Bonus Jam from International Touring DJ (and one half of the legendary Sick Trim)….PAPER TIGER!!! Papes is continuing his weekly 20 MIN MIX MARCH series with a tribute to the late Notorious B.I.G. (aka the black Frank White).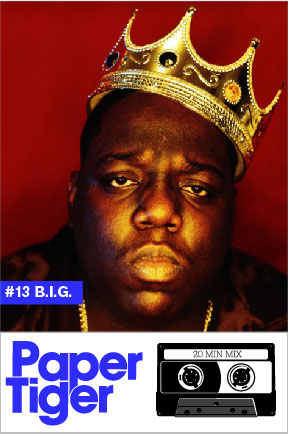 Hard to imagine it's already been 16 years since Biggie's passing. Pay your respects to the King of NY (no kings) by checking out the Soundcloud player below and bumping 20 minutes of straight fire. Streaming and free download options are both available.
[soundcloud url="http://api.soundcloud.com/tracks/82560919″ params="" width=" 100%" height="166″ iframe="true" /]
So good. I'll wrap up the music portion of this post with some serious Deep Cut R&B Bonus Jams. Apologies to more than likely the majority of you who don't necessarily love this type of music. I can't get enough of it these days. First up is Mother's Finest with "Love Changes." Absolute classic.
http://www.youtube.com/watch?v=0ivtekjf7iw
And in that vein, here's The Brothers Johnson with "I Want You." Possible my favorite bass line of ALL TIME, hands down. Also, their album Winners (that this song is off of) has the greatest album artwork you will ever see in your life.  Several shots of these two bros winning in all different kinds of sporting events, as the cover alludes to. Definitely worth a couple hours scouring the dollar bins in order to catch a glimpse of it.
I'll close this week's Deep Cut R&B Bonus Jams with Atlantic Starr's "When Love Calls." 100% heater. To all my up and coming producers out there: these three songs are officially off limits. Don't even think about trying to speed up and loop these joints. They are perfect just the way they are. Man, I feel old saying that.
OK, I'll leave you with a couple Bonus Penny Pics. Here she is playing with her new favorite pop up animal toy. Still getting the hang of this very tricky concept, but we're definitely making some progress.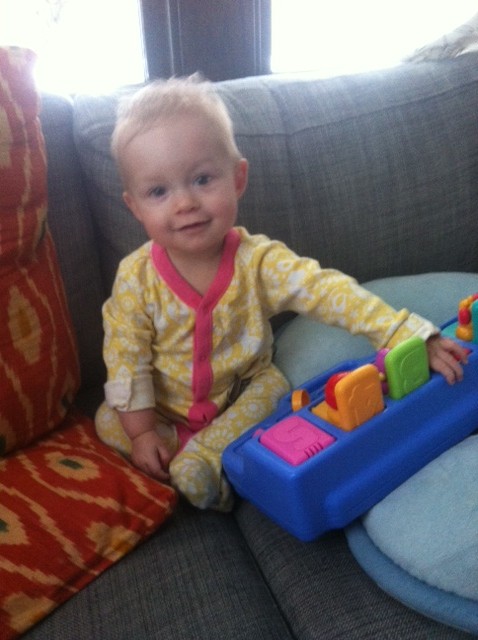 And here's Penny doing her very best of impression of a camera shy Elton John. I really think she may have a long and prosperous career in professional impersonations if she keeps this up. You may recall she also does a dead on Don Rickles.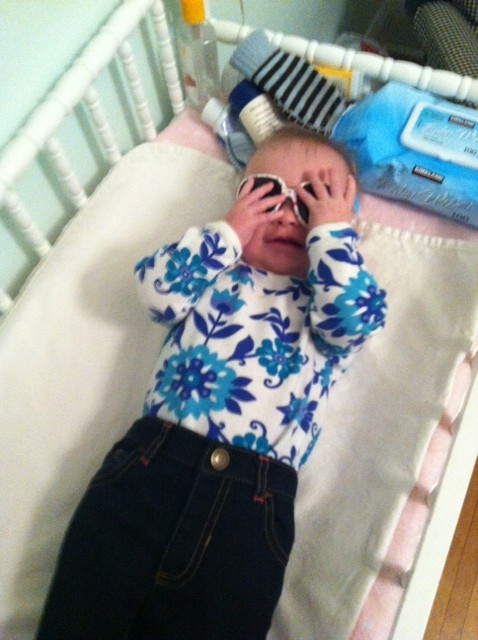 In closing, here's a glimpse at some Tuesdays With Lazerbeak blogging in (almost) real time. This is what Tuesday mornings look like over here at the Mader household. Huge shouts to Strawberry Apple Puffs for keeping the kid's attention for this long.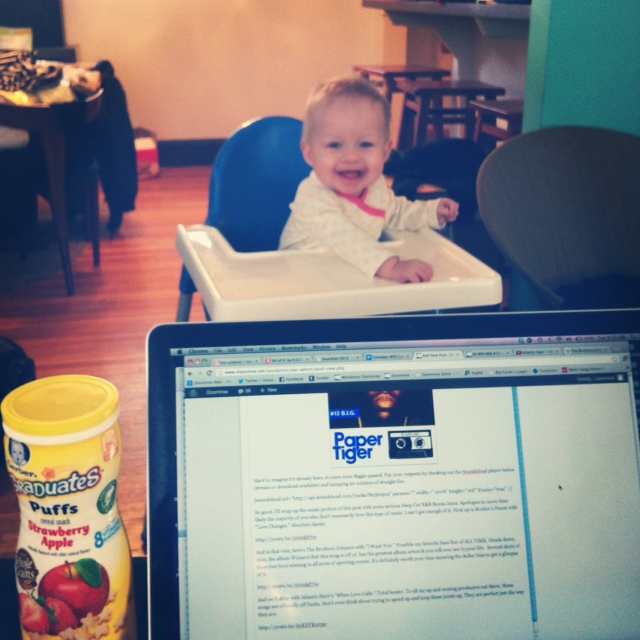 OK, I hope you all have a truly wonderful week. If you're down at SXSW: make sure to eat 17 plates of free BBQ for me and bring back whatever free sponsorship stuff you don't want. The Year of the Endorsement Deal marches on. See you next Tuesday for sure!
— Beak