Our very own Mike Mictlan is about to kick off his Midwest tour run with the homies B. Dolan and Toki Wright this coming week! Things get started in Chicago on Monday, and continue through Minneapolis, Des Moines, Fargo, and Duluth from there. You DO NOT want to miss this legendary trifecta sharing the stage on the same bill. Click HERE for more details and ticket info, and check the flyer below for all the sweet deeets. It's gonna be the best.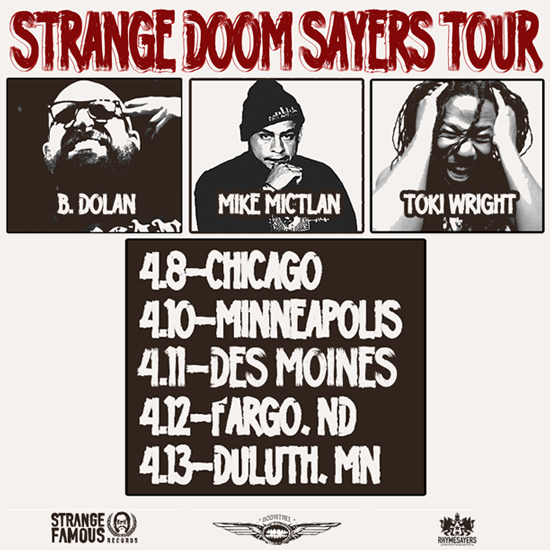 In other tour news, Dessa announced the Early Words Tour last week on the heels of her triumphant return from SXSW. She's gonna be hitting the East Coast with her full band in May to further test out this new material and knock out a three week residency in NYC. Check out all the dates on the flyer below, and grab your tickets right HERE. There's still a couple shows waiting to be confirmed, so we'll definitely keep you posted as those roll in.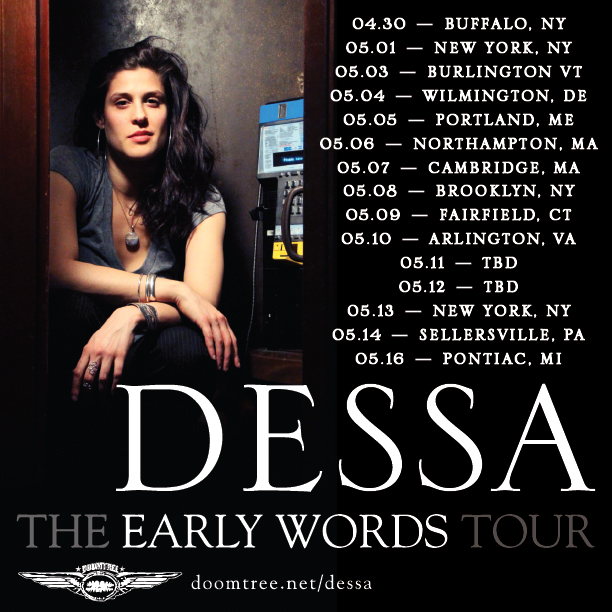 Last Saturday night Stef knocked out the very first episode of P.O.S is Ruining The Current, his new weekly hour long radio show on The Current (duh). It's on every Saturday night from 11:00pm to midnight, and you can listen on 89.3FM in MN or stream at thecurrent.org. Click the player below to stream the entire first show. There are some serious gems on here (Jay-Z into Kill Sadie!), and more than anything it is just kind of hilarious to hear what Stef's radio voice actually sounds like.
This past weekend I got to sit in on the recording of a new project that I am beyond amped about. My Number One Dun, Jeff Allen (guitarist/vocalist from TPC!, you may know him by Nedrick Lamar Top Rapper), has been working on some solo jams for the last year or so, and the time has come to lay down some serious trackz in the studio! Here's Jeff (aka TYTE JEFF) at the Sound Gallery last Saturday, along with our other ultimate homie, MJ (him Jay fadeaway perfect), manning the boards.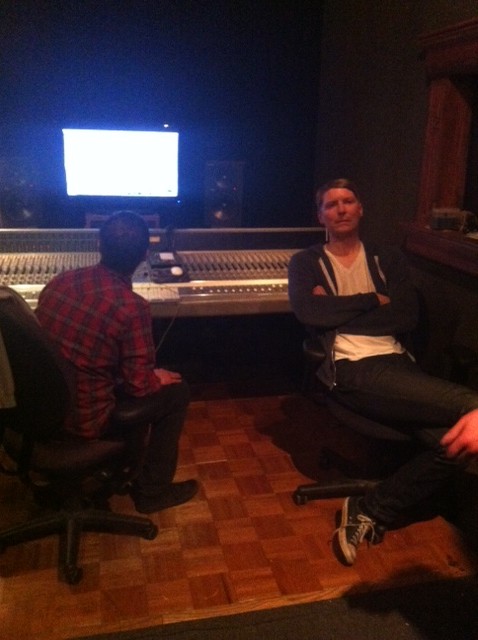 And here's Matt Scharenbroich (alsoTPC! alumni, you may know him by The Greatest Drummer of ALL TIME) laying down some super tyte drum beats, as he is known to do. This iPhone action shot doesn't do it much justice, but trust (bruv), there were some extreme power fills taking place.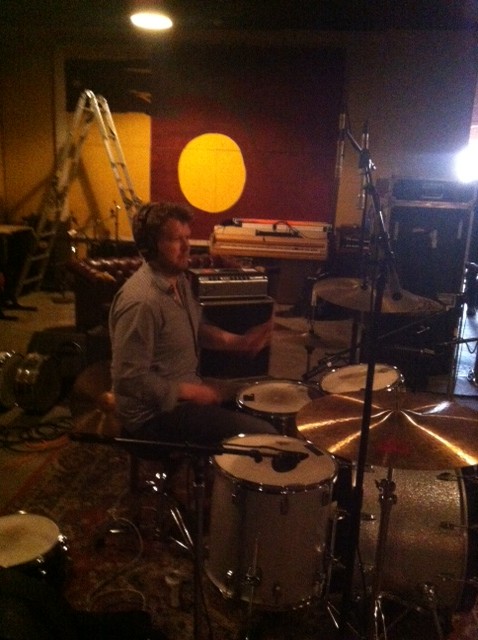 Really excited that Jeff is nearing the finish line on these heat knockers. It has been awesome getting to watch everything come together under the thinly veiled guise of "Project Manager" (aka Beer, Pizza, and Funny YouTube Videos Manager). More on all of this stuff coming much sooner than later. TRULY TYTE.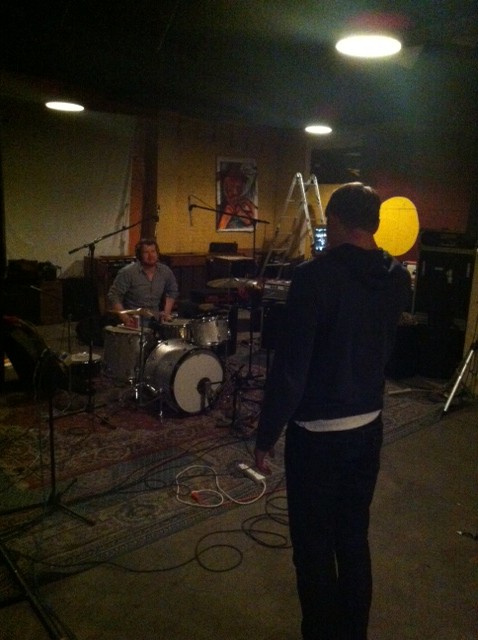 Since we're on the subject of rock music, I figured it might be alright to take a week off from the constant pummeling of Deep Cut R&B Bonus Jams, and instead pay tribute to one of TPC!'s secret favorite rock bands: My Chemical Romance (My Chemmy Romo for short). These dudes finally called it quits last week, but their Three Cheers for Sweet Revenge album will live on forever (as will at least half of The Black Parade). So many great memories of bumping these records on nearly every TPC! tour throughout the Mazatlan and Crusades campaigns. I like to think that they sound just like Queen, if Queen all worked at the same Hot Topic in the early 2000s and decided to start a mall punk band. Certainly not for everybody, but these guys wrote some pretty incredibly technical and massive songs if you can get past the look and some of the lyrics and the videos and….you gotta get past quite a bit, I'm not gonna lie. Truly rewarding though if you can make it out on the other side. Here are a few of my all time favorite jamz. R.I.P My Chemmy Romo. Legendz Recognize Legendz.
http://www.youtube.com/watch?v=PQR5lxIlx_I
I'll leave you with a possible overdose of Bonus Penny Pics. Sunday was her very first Easter, and she got this very Easter-y dress in the mail from her awesome GG in Florida. Bear with me anyone who is not directly related to us, we got a lot of out of town family requests for these pics. So without further ado, let the fashion show begin!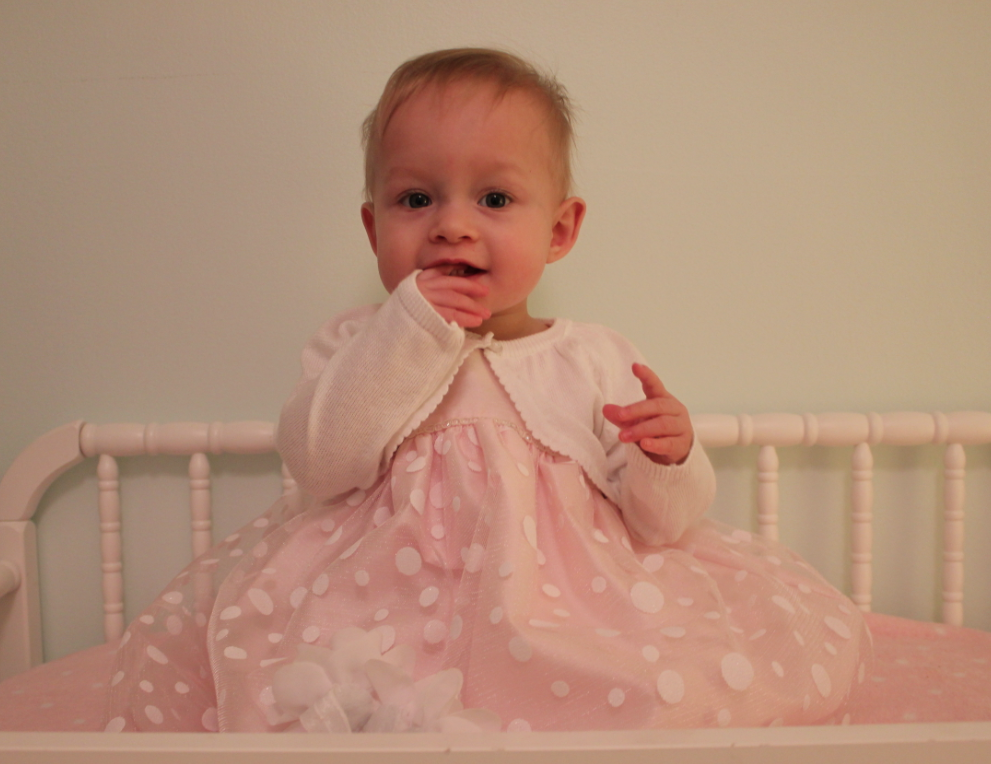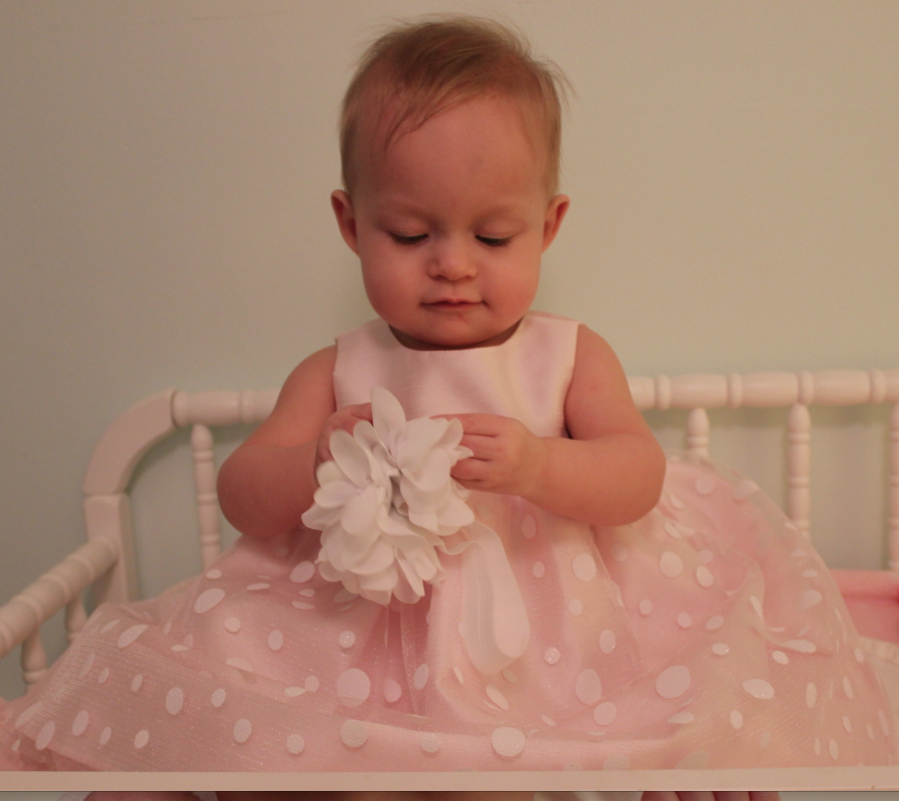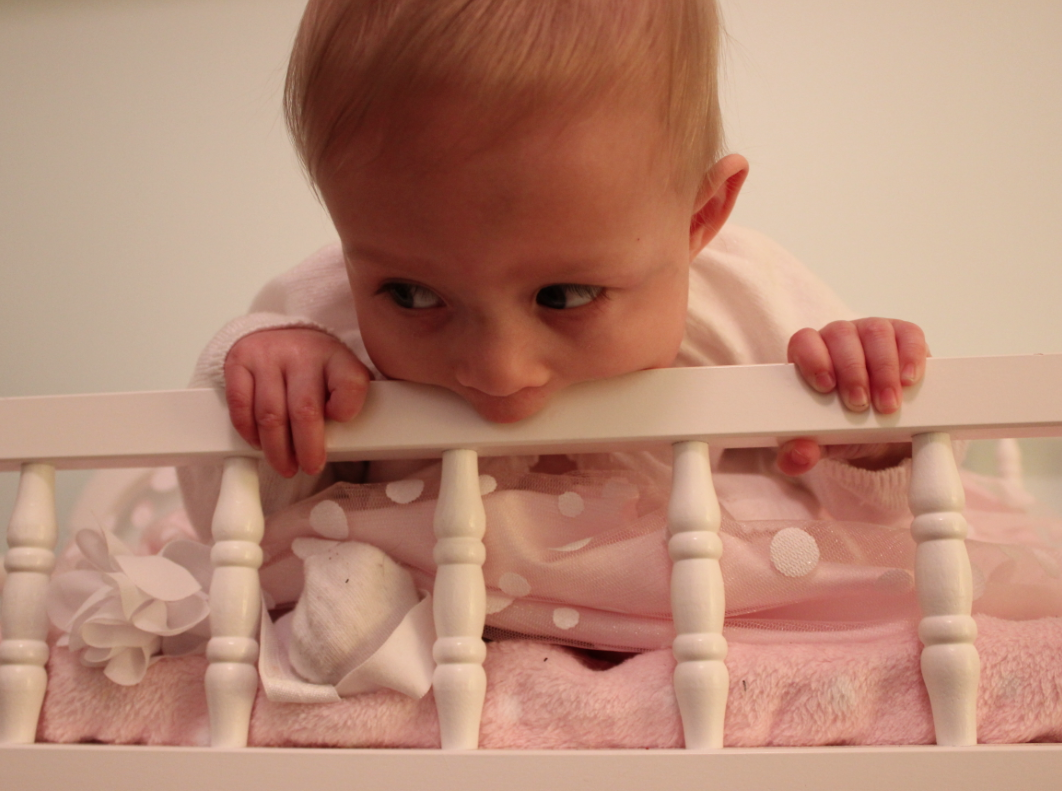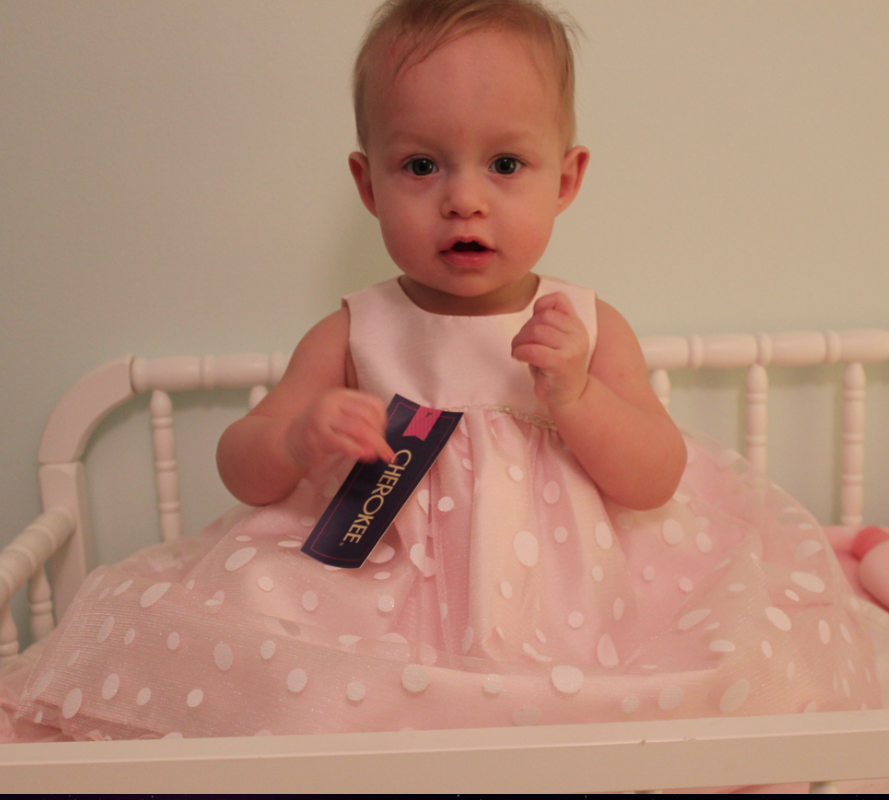 The Year of the Endorsement Deal rages on! Cherokee, I see you, and I'd like to propose a hip, young new spokesperson for your next clothing campaign. Let's talk college funds. Here's one final pic of Penny hanging out with this very sweet care package that just came in the mail from the Minnesota RollerGirls (thanks Jay!). Getting Penny started early, gotta toughen her up a bit. She's already taken a liking to the RollerGirls trading cards. Potential future statistician?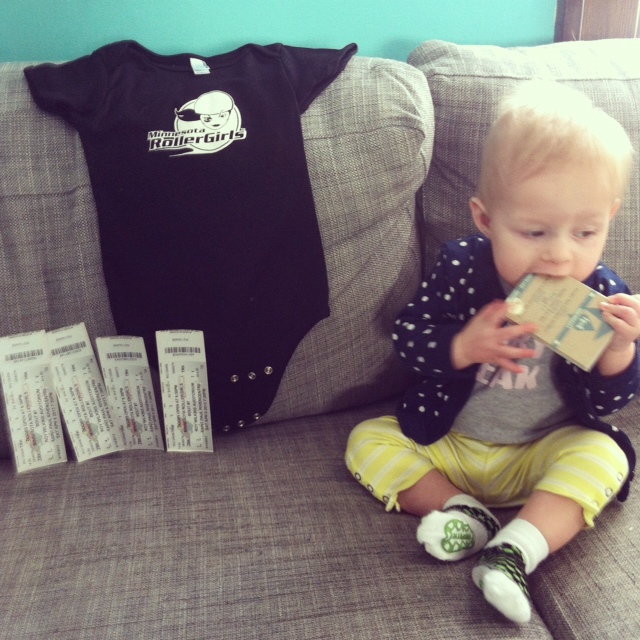 OK, that about does it for this post. I hope you all have a wonderful week. See you next Tuesday! It's gonna be a blog post for the ages, true story.
— Beak