Maaaaaaan, it's been a jam-packed week over here at Doomtree HQ. So much sweet news to talk about, let's just dive right into it. Dessa just dropped "Call Off Your Ghost," the smash hit second single from Parts of Speech!!!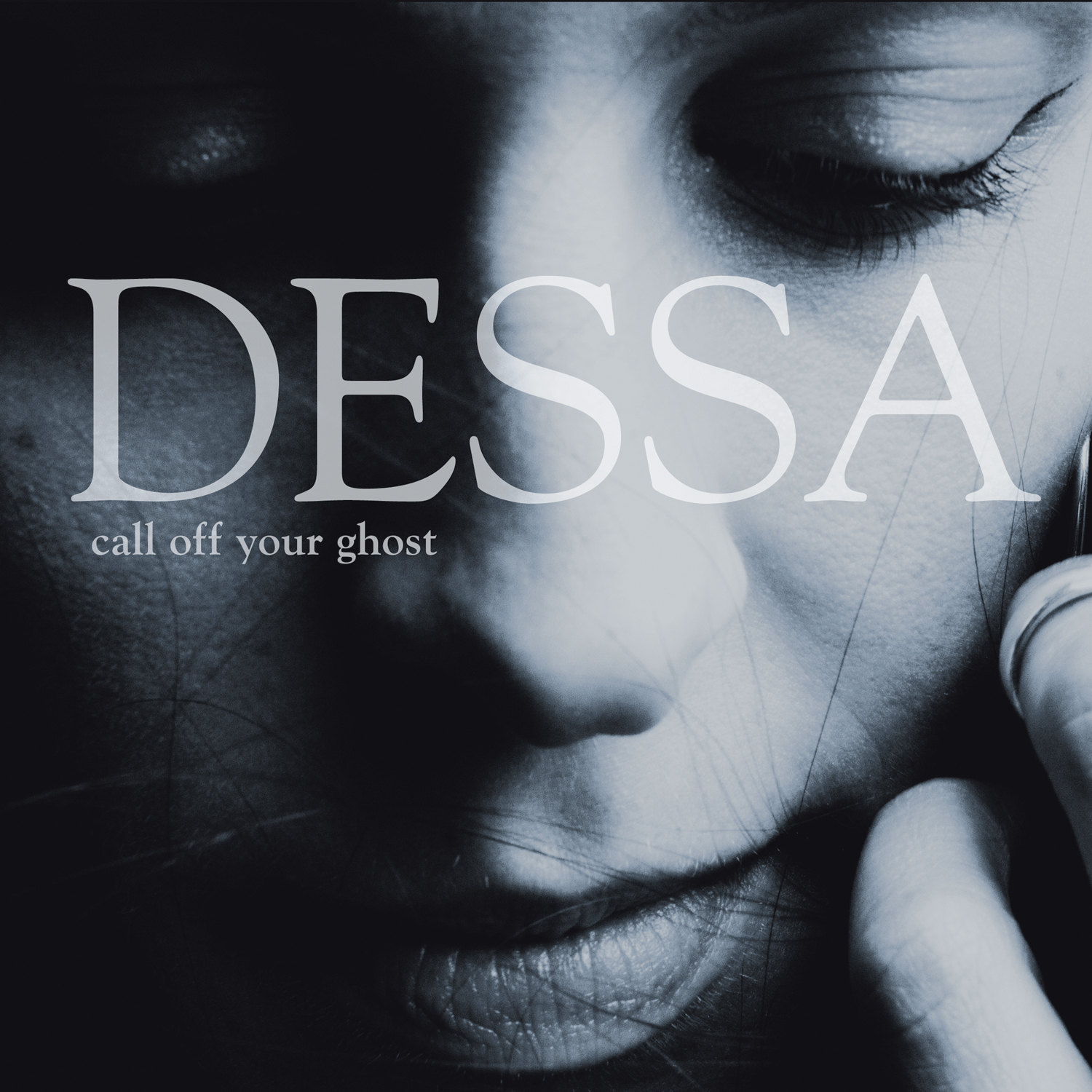 The good folks over at Wall Street Journal and Speakeasy premiered the track yesterday (read their kind write up HERE), and today it's available for purchase digitally through iTunes (HERE). Click the Soundcloud player below to stream the whole song. Dessa on the vocals, Paper Tiger on the beat. Always such a great pairing. You are gonna like this one, promise.
[soundcloud url="http://api.soundcloud.com/tracks/92674824″ params="" width=" 100%" height="166″ iframe="true" /]
SO GOOD! And it gets even better: Last week Dessa announced the dates for the first leg of her Parts of Speech Tour. West Coast, it's your turn. Click on the flyer below for all the major deetz and ticket link information. Des Moines and Sioux Falls were just added yesterday. Oh, and don't forget about the Parts of Speech pre-order, available at the Doomtree Webstore (HERE) and now Fifth Element as well (HERE).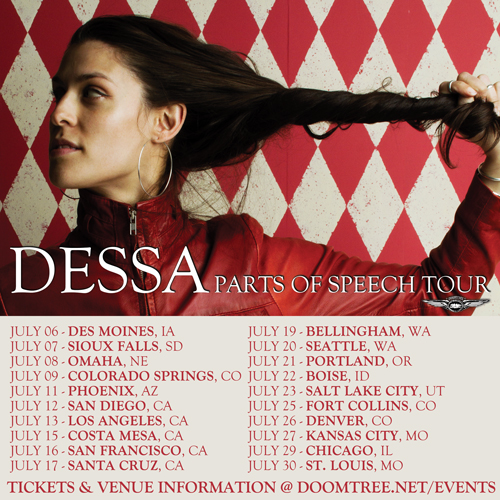 Last week also saw the arrival of the brand new Sims & Astronautalis collabo single "This Is The Place," produced by the one and only Cecil Otter!!!
You can purchase the track from iTunes (HERE) or Bandcamp (HERE), all for less than the cost of a small frosty. Once again, click the Soundcloud player below to stream the song in its entirety. It's a monster.
[soundcloud url="http://api.soundcloud.com/tracks/91447887″ params="" width=" 100%" height="166″ iframe="true" /]
Man, I love that track. You can see the dudes perform "This Is The Place" live for the very first time June 14th at the First Avenue Mainroom for their one-time only joint co-headlining concert. Mixed Blood Majority and Greg Grease round out the completely stacked line-up. Bill of the summer, hands down. Click the flyer below to grab tickets while they're still available.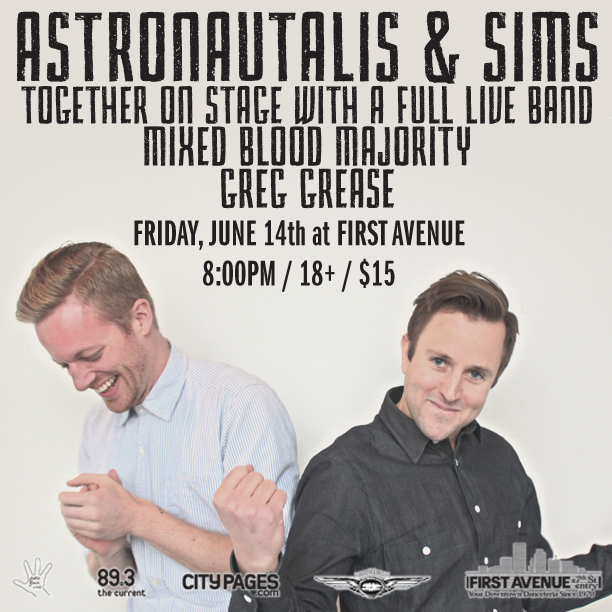 In more big show news, the sixth annual Soundset Festival is going down this Sunday in Shakopee, MN. P.O.S and Mixed Blood Majority are both on the insane line-up, along with Snoop Dogg, Busta Rhymes, Juicy J, Atmosphere, Brother Ali, Tech N9ne, Mac Miller, Aesop Rock, and about one million others. Click HERE for tickets and info, and check out the promo video roll call below to get completely amped.
And speaking of Doomtree related summer festival promo video roll calls (these segues are seriously reaching new heights), Summer Set Festival just put out this sweet video yesterday. The entire Doomtree crew will be performing there this August, along with Passion Pit, Girl Talk, Big Boi, Diplo, and tons more (apparently we only play festivals that have the word "Set" in them). Click HERE for tickets and info, and check out the roll call video below.
For the Bonus Jam today I wanted to talk a little bit about this new Daft Punk record that just dropped. I've been a pretty huge fan of these guys since Discovery, and I definitely bought into the masterful marketing campaign that led up to this release. Spent the last week streaming the album from iTunes and trying to digest it as much as possible. At this point I feel like I could write 100 pages on it, but I've already outstayed my welcome at a few parties this past week rambling on and on about it, so I'll spare you the details. Let me just say that I can't remember the last time a new release made me think and talk about and analyze music for more than just a day or two. I feel like I'm in junior high all over again nerding out about Sonic Youth records and Woody Allen movies. In 80 minutes this thing runs the gamut between amazing, challenging, hilarious, jaw-dropping, even frustrating and pretentious, but it really is a front to back insane ride and I can't say enough about their unwillingness to cut any corners in the process (not to mention the way they made everything sound like a Steely Dan album). I absolutely do feel like this is an IMPORTANT record (there I said it), as old as that might make me sound, and I think you should hear it if you haven't yet (iTunes HERE). Pitchfork's review actually kind of hit the nail on the head too if you really wanna read more about it (HERE). Anyways, here's "Get Lucky" for the millionth time, along with the cool unboxing video and snippet of the intro track (yet another amazing hype building marketing example). Hopefully you'll be into it even a fraction as much as I am. If nothing else you'll at least be treated to the completely flawless Michael McDonald/Doobie Brothers homage of "Fragments of Time."
Alright, enough music talk for one week. I'll leave you with a couple Bonus Penny Pics to tie this whole thing together. My mom sent over a couple cool shots when she was watching her last week. Here's Penny really getting in touch with nature and, more specifically, tulips. Is there a trademarked Flower Whisperer title out there yet?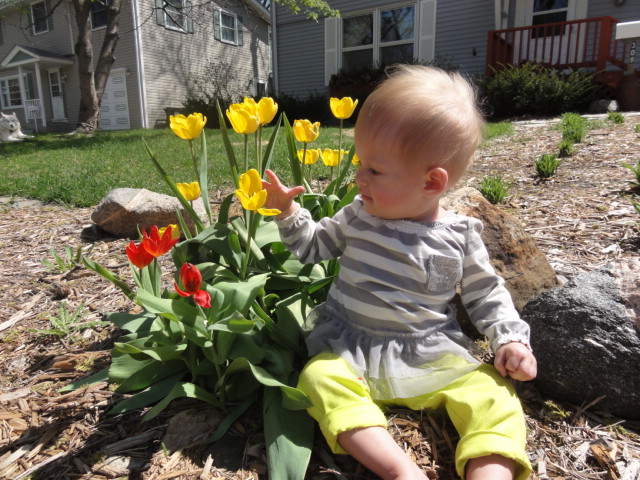 And here's Penny demonstrating some kind of crazy lightning fast shape shifting hummingbird freak out arm scenario. Pretty cool move actually. I'm into it.
As you can see, she's getting really close to being able to walk. My favorite photo happened last night when I was trying to get a good pic for the blog. My goal was to capture her pushing around her favorite toy cart, but about halfway through she just stopped and did this: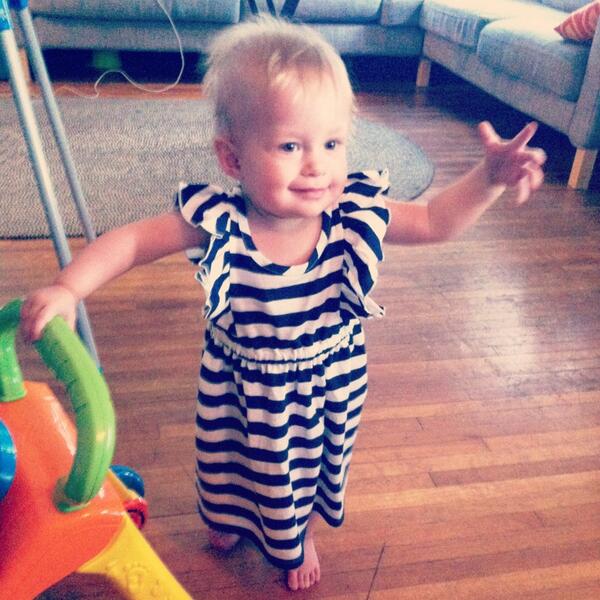 I can only imagine that this is some sort of display of ancient magic wizardry, judging from her stance and the look on her face, not to mention the Gandalf-like robe she chose to don. If you're at all familiar with my TPC! lyrical background, you know that I am pretty into ancient magic wizardry, so I put out a call to the internets to assist me in a Photoshop contest, in order to convey the great levels of mysticism that my daughter so clearly possesses. Here are a few of my favorites: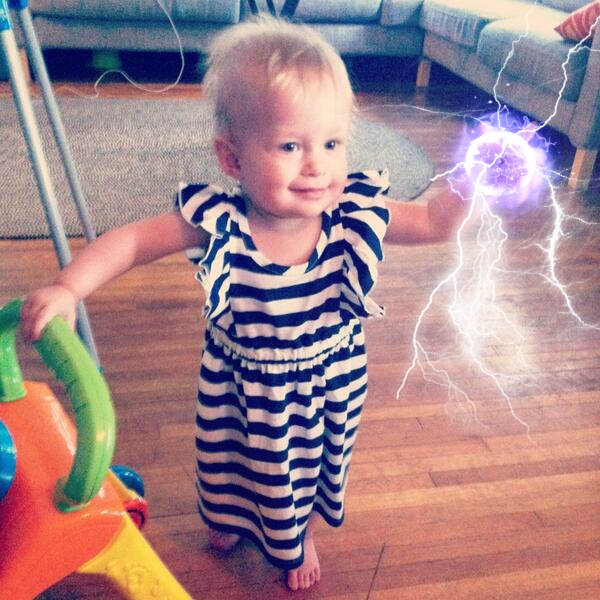 Lightning Mage Penny courtesy of Elizabeth Simmons.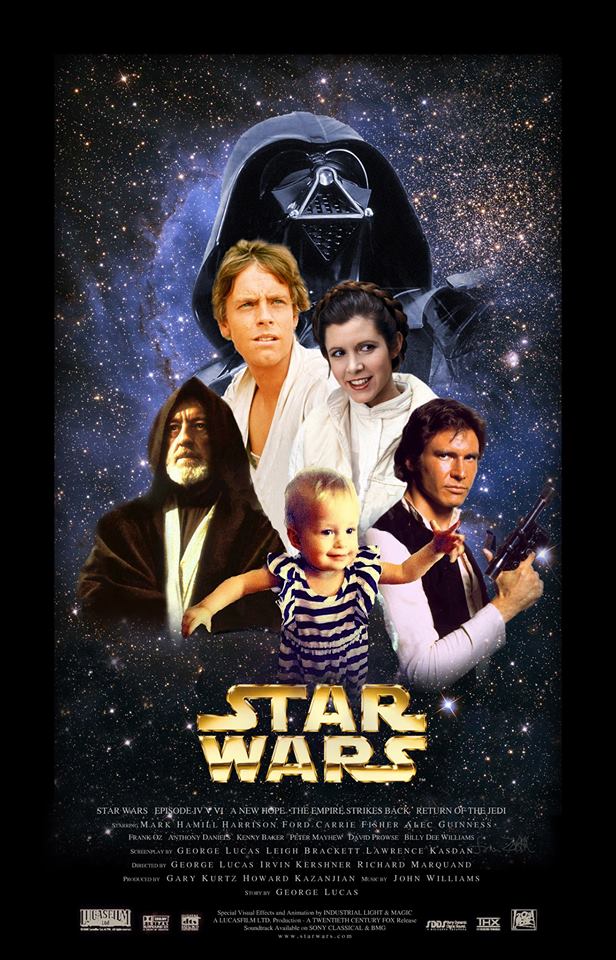 May the Force Be With Her courtesy of Ben Cohen.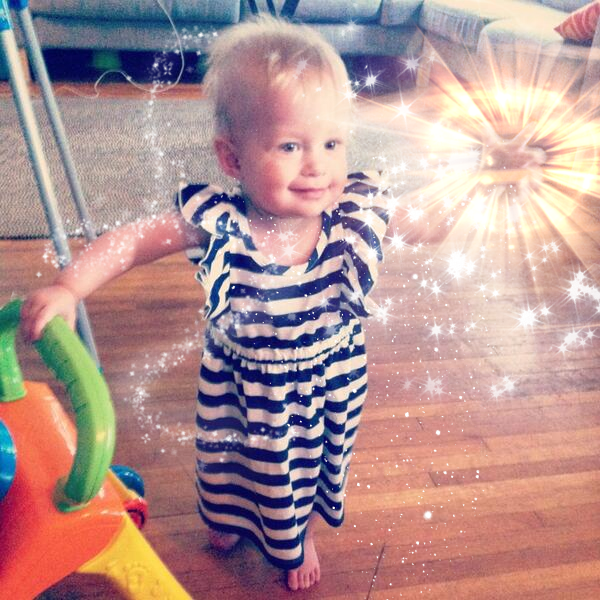 And my absolute favorite: Healer Penny courtesy of Elizabeth Simmons. Thanks so much for sending these over everybody. Photoshop pics make me laugh harder than about anything else out there (and yes I've seen The Big Lebowski AND The Hangover).
OK, that's about it for this post. Make sure to spread the word about the new Dessa and Sims singles if you can, and I'll hopefully see a ton of you out at Soundset this Sunday. If not, next Tuesday for sure. Hope you all have a wonderful week!
— Beak
Twitter: @_LAZERBEAK_
Instagram: @lazerbeak
HA! And this just in, a few final Photoshop offerings: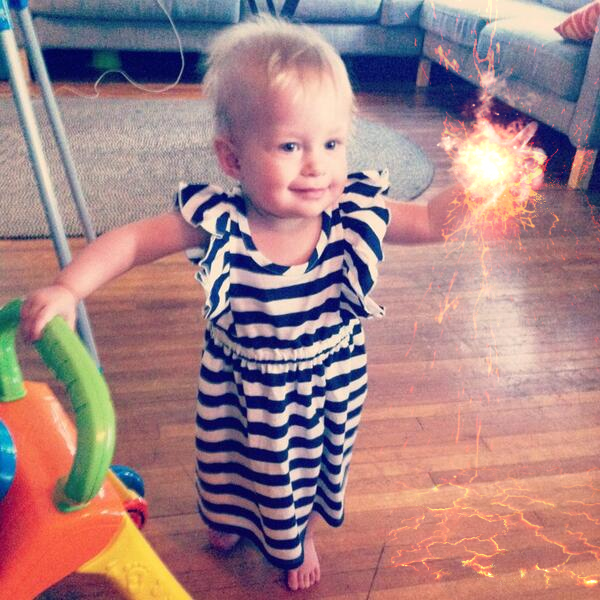 LAVABANGER Mage Penny courtesy of Elizabeth Simmons, aaaaaaaand………….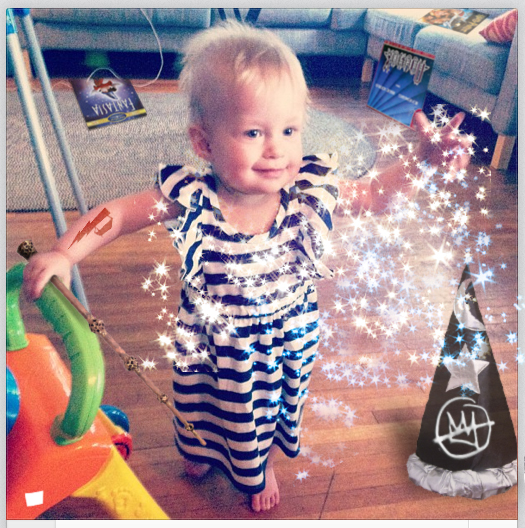 Penny Magic courtesy of Arlo Guthrie (who you might remember from previous Photoshop contest victories, as well as the infamous Stevie Nicks picture). Thanks again everybody!