Hey! Welcome back to another Tuesdays With Lazerbeak. Things are ramping up again over here, so I'm just gonna jump right into it. Yesterday ELLE Magazine world premiered Dessa's brand new video for "Call Off Your Ghost," directed by Daniel Cummings for Picture Machine Productions. Read what ELLE had to say about it right HERE, and check out the "Call Off Your Ghost" music video below:
Awesome. As if that wasn't enough Dessa vizualz for one week's post, she also just dropped off this brand new episode of Direct Flight, her very own fake interview show about artistic process. This week she talks to bandmates Joey Van Phillips (drumz) and Dustin Kiel (guitarz/keyz) about a myriad of topics, including (but not limited to): why jazz dudes say the word "hang" so much, and whether it's appropriate for guitar dudes to refer to their instrument as an "axe." Shouts to Young Baby Ander Other for another fine filming/editing job. Check out Episode 3 of Direct Flight below:
In final Dessa news, this week marks your last chance to get in on the super awesome Parts of Speech pre-order, meaning this is also the very last time you have to hear me give this sales pitch (trust me, I'm excited about that too). First of all, I want to thank every single one of you who have already placed orders. Your support has been tremendous, and we appreciate you tenfold. Feel free to skip to the next section of the blog now. For anybody left who might still be on the fence, here's the deal in a nutshell: Doomtree is a super indie label with shoestring budgets. Pre-orders are a way for us to see the most direct money from album sales right away, so that we can handle the substantial upfront expenses of putting out a record (manufacturing/publicity/videos/radio/etc), plus continue to fund future projects that are currently in the works (production/recording/mixing/mastering/etc). In return, we try to make it worth your while by offering tons of exclusive and bonus items with your purchase. Here's what we're dealing with for the Parts of Speech pre-order:
Every pre-order (standard and deluxe) will receive a copy of the album personally signed by Dessa. Here's the proof: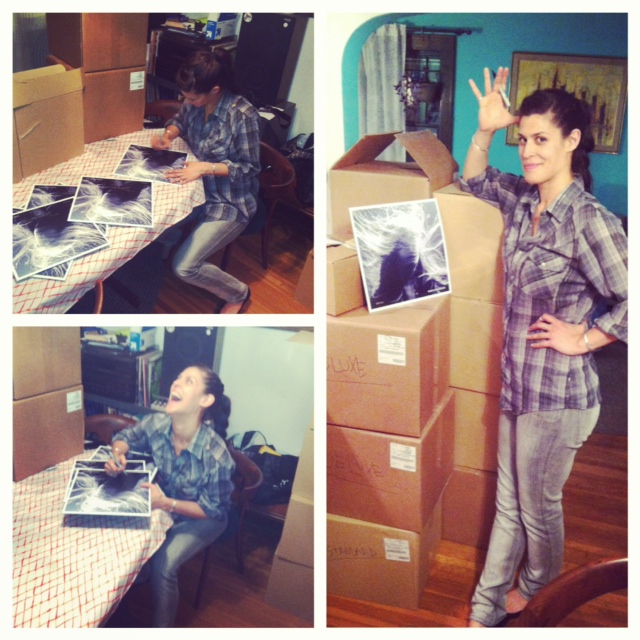 In addition, you will also receive immediate download of first single "Warsaw," album B-side "Icing Burns" (this will be emailed out at the end of next week), and access to a private Ustream with Dessa and special guests on the evening of June 19th.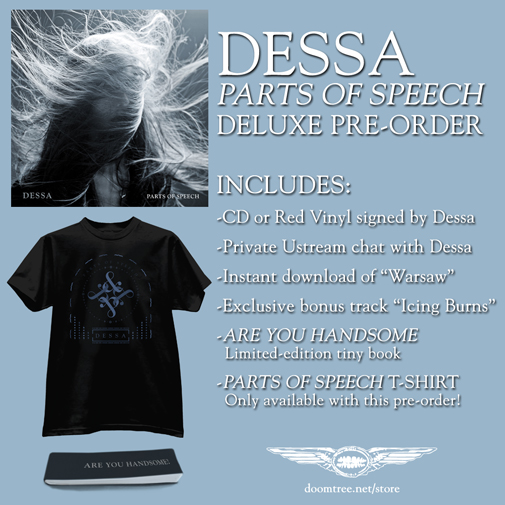 The deluxe Parts of Speech pre-order includes all of the above, plus limited edition bonus album packaging (CD comes with crazy foiling and O-card wrap, LP comes with red opaque vinyl), an exclusive Parts of Speech t-shirt designed and available only with this pre-order, and a copy of the Dessa penned tiny book/short story "Are You Handsome?" (only 2,500 ever made).  They are seriously tiny. Check it out: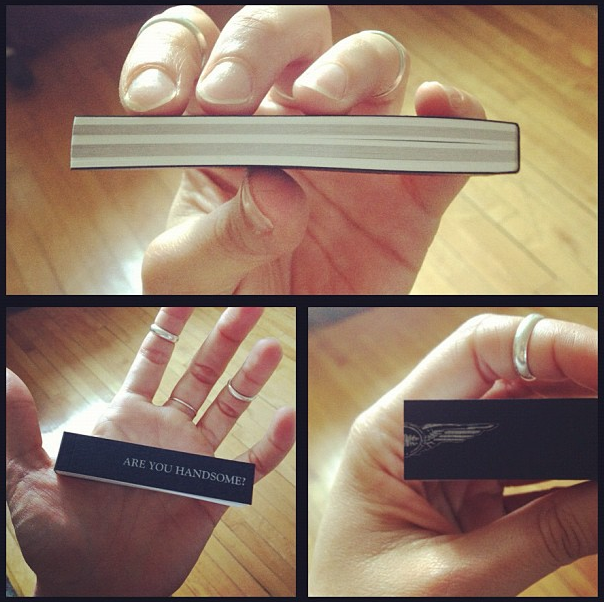 BAM. There's the pitch. The pre-order officially ends this Saturday (end of day). If you're interested, you can check out the Doomtree Webstore right HERE to pick up a copy. Thank you all for putting up with these last few months of pre-order posts (I sort of feel like I work at a public radio station at this point). Anyways, like I said earlier, your support is truly appreciated. We couldn't do this without you, no lie (no lie, no liyeeeeiiiiyeeeeiiii). Now for some sweet news on what I have deemed The Show of the Summer: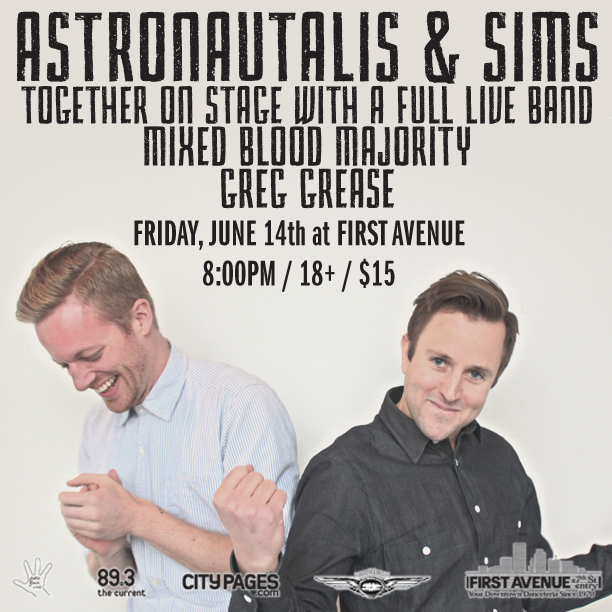 THIS FRIDAY Sims and Astronautalis will be performing a very special one-off collaborative set at First Avenue in Minneapolis, backed by a one-time only crushing live band (I'm playing in said live band, it's gonna rule). Greg Grease and Mixed Blood Majority will be warming things up, making this ONE OF THE MOST STACKED LOCAL BILLS OF ALL TIME. There, I said it. If you live anywhere remotely close to the Twin Cities, you should be at this show. Ticket and more info are available right HERE. In the meantime, check out the new Sims and Astronautalis collabo track "This Is The Place" (produced by Cecil Otter) and get seriously amped!
[soundcloud url="http://api.soundcloud.com/tracks/91447887″ params="" width=" 100%" height="166″ iframe="true" /]
Aaaaaaaand now for this weeks Bonus Jam. I'm gonna focus on a recent new release that may end up giving Daft Punk a run for their money when it comes down to my album of the year pick. The Dream just dropped IV Play a few weeks back, and it is the only thing I have been able to listen to since. While it's hard to say if anything he ever does will be able to top his insanely good sophomore album Love Vs. Money, this one comes pretty damn close, and ups the ante substantially from his last few competent but unmemorable full lengths. A bit of a warning though: The explicit lyrics tag is definitely on this album for a reason, so you gotta be prepared to tolerate a pretty high level of R&B subject matter from the jump if you really want to get into the music. I've included a couple of the tamer tracks below, since TWL is for the children. I love this record, and its knock factor is 1000% Camry approved.
I'll leave you with a few Bonus Penny Pics for good measure. We've had a couple "breakthroughs" happen in the past week. Yesterday she walked up her very first flight of stairs, in pursuit of that almighty and elusive nightlight. Such a motivating force in a young child's life.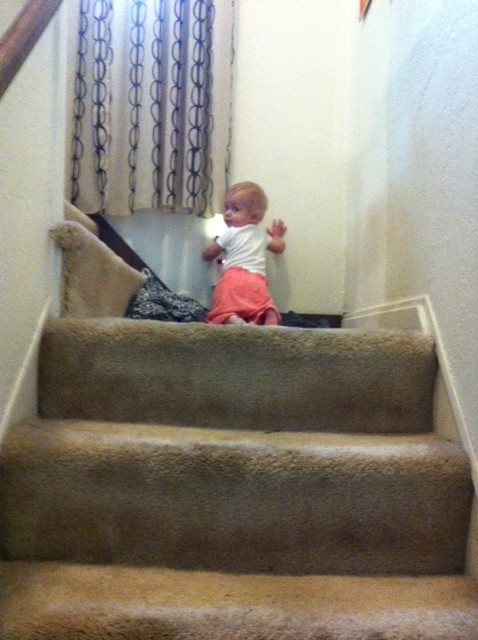 And recently the hair on the back of Penny's head has started growing straight up in the air. It's almost as if she's auditioning for the eighth member of Doomtree role or something.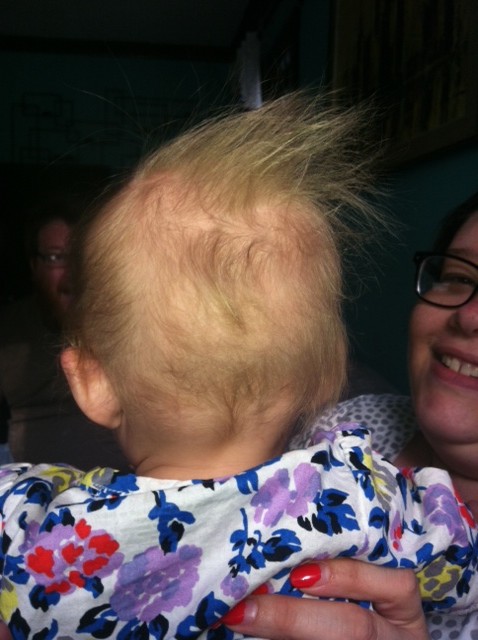 Here is the proof that she still loves to eat food and make crazy faces AT THE SAME DAMN TIME. Strawberries are her favorite.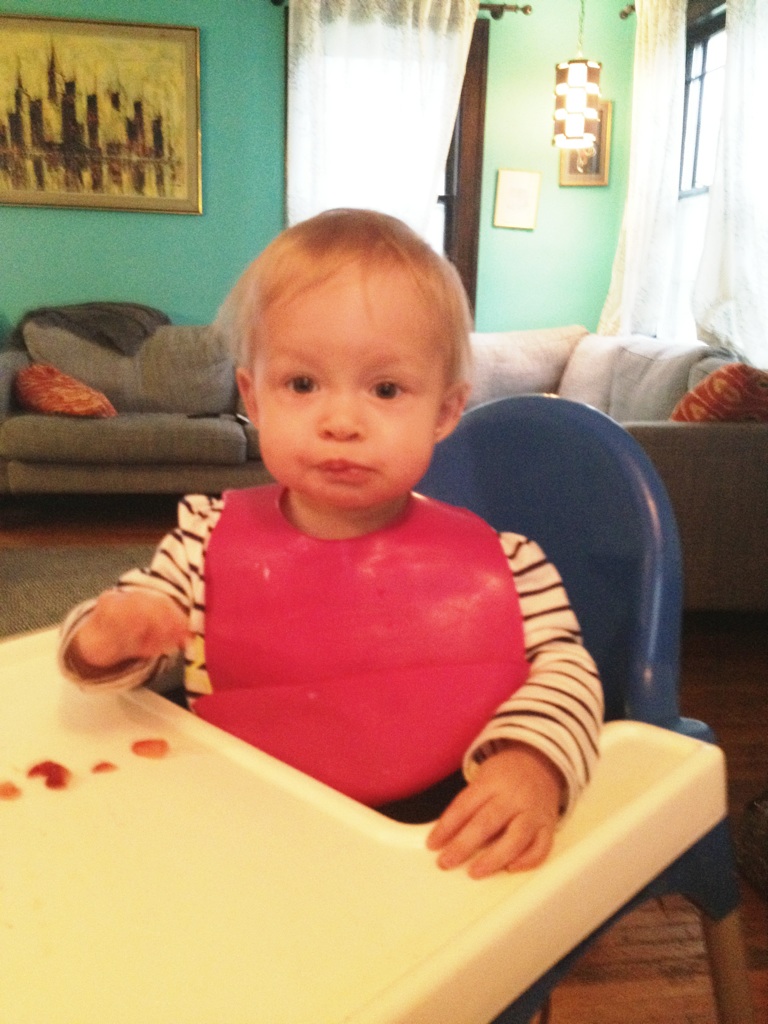 Alright, that about does it for this post. I hope you all have a great week. Wishing all good dads worldwide a very happy early Father's Day. I hope that when Sunday comes you put on your best pair of Dad Shorts, crush a "frew brews," and revel in the splendor that is this Dad Lyfe. And if you feel like doing a little recreational light reading on top of all of that, check out this essay Dessa recently wrote about her own dad  for this month's Minnesota Monthly (HERE). See you next Tuesday!
— Beak
Twitter: @_LAZERBEAK_
Instagram: @lazerbeak