Hey! Welcome back to another Tuesdays With Lazerbeak. It's a pretty quiet news week compared to the last two action packed posts, but there's still a ton happening around here. The Four Fists pre-order barrels onward. Thanks to everybody who has picked up a 7″ so far. Last week Stef and Andy got together to sign all 2,000 copies of the colored vinyl. Here's Stef with the official proof that this thing is really real.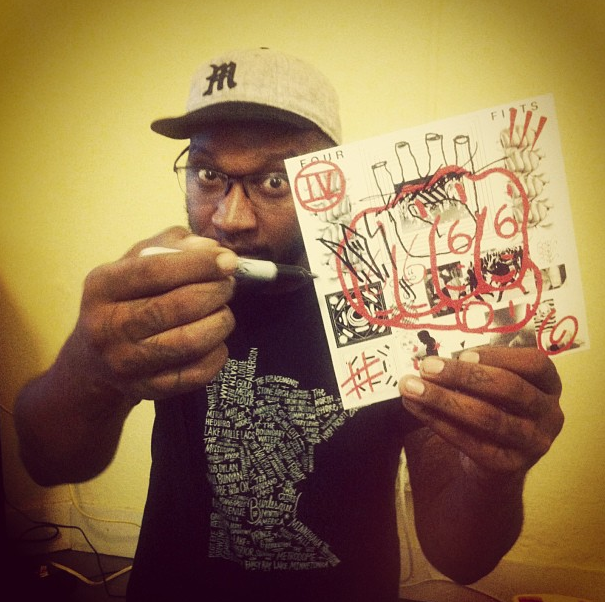 And here's a Bonus Pic of Stef and Andy laughing in a kiddie pool, because it really doesn't get much better than that. Photo by Graham Tolbert.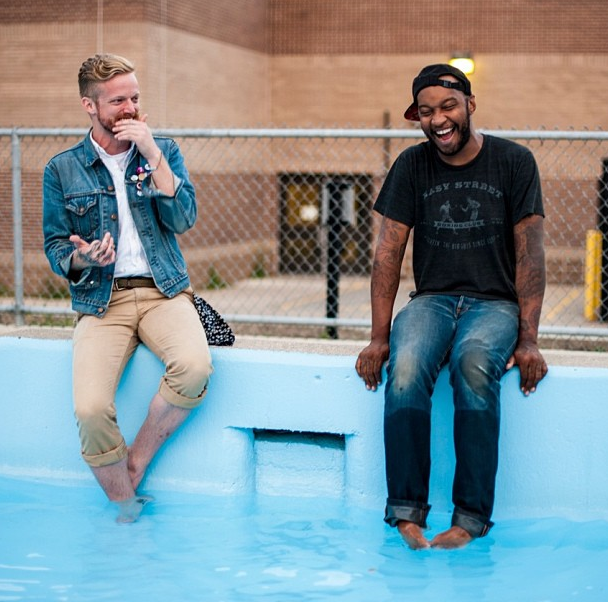 There's still 11 days left on the pre-order. If you haven't grabbed a copy yet, make sure to check out the Doomtree Webstore for all of the highly limited AND extremely exclusive stuff that comes along with it. Click the photo below for all the details.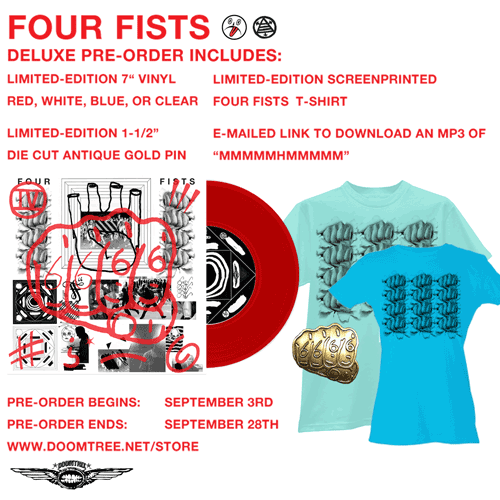 Dessa and the band have officially arrived on the East Coast, despite a tiny automotive setback on the first night of tour. The van may have been down for a few hours, but one little flat tire is not gonna stop the whole show. Here's MOUNTAIN taking a quick breather before heading back out on the open road. TOTAL CHAMP.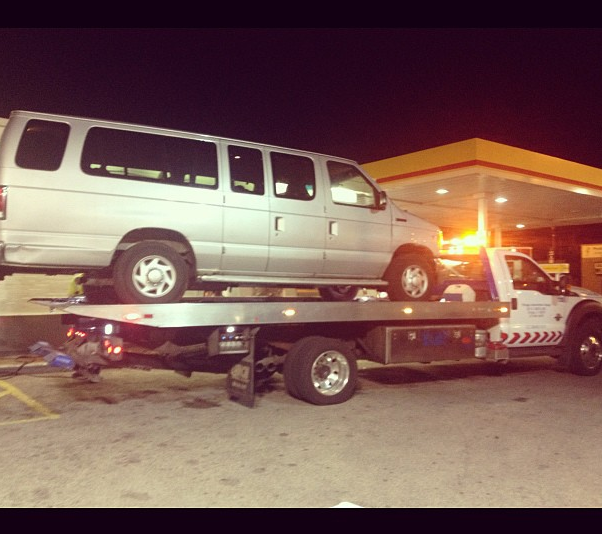 The Parts of Speech Tour hits Boston tonight (Tuesday), and then all the big East Coast cities throughout this week. Make sure to check the schedule if you live anywhere near those parts, and click the flyer below for more details and ticket info.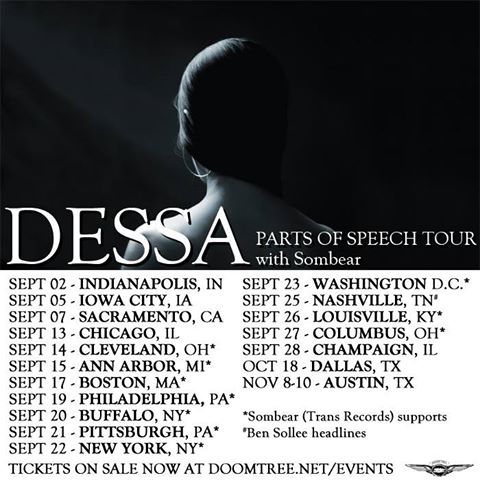 In other Doomtree news, our very own Mike Mictlan is hard at work on his next solo full length. All the demos he's been sending over have been ruling extremely hard. I'm super excited for this one. To tide you over, he just dropped a fire verse on our homie Steddy P's new album. Below you can check out "Vicious Cycle Circles" from Steddy, Mike, and Tef Poe, off of Steddy P. and DJ Mahf's new Breakfast With Dr. Gonzo album. And if you're feeling the track you can cop the entire thing HERE for FREE.99! Check it out.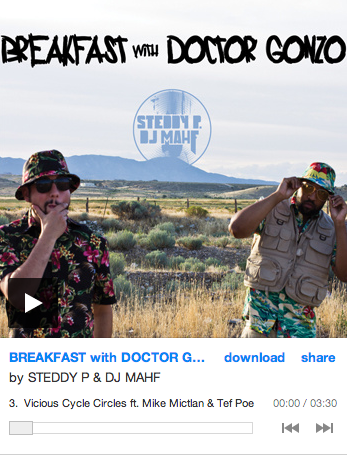 Since we're on the subject, here is a Bonus Pic of Mike holding a giant fake subway sandwich at Summer Set a month back. It is the best.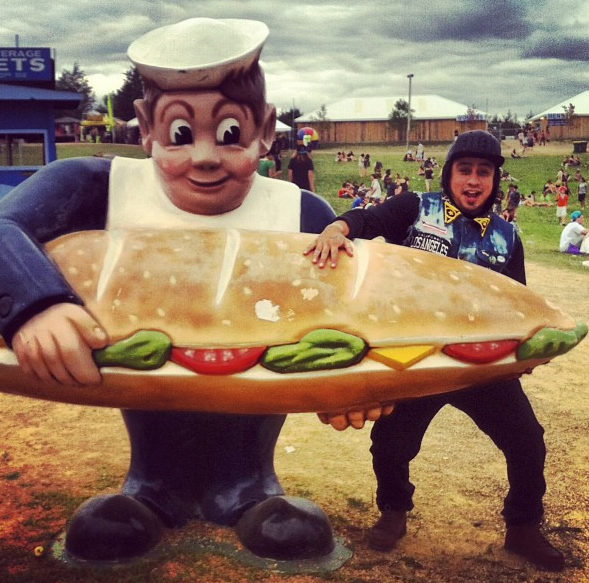 In LIZZOBANGERS news, last week we announced the album and subsequent lead single/music video for "Batches & Cookies." Check out the video below if you missed it. For what it's worth, I make a brief cameo wearing glasses made out of real glazed donuts, so there's that. You can now purchase "Batches & Cookies" from iTunes right HERE. Do it!
This Saturday Lizzo and I will be playing the second annual Hip Hop Harambee festival on the West Bank in Minneapolis. I got to play this thing last year with Sims and it was a total blast. This year's lineup is pretty insane. In addition to LIZZOBANGERS, there will also be sets by Big K.R.I.T., Devin the Dude, Shabazz Palaces, the debut of Toki Wright & Big Cats, and tons more. Plus our very own P.O.S is co-hosting the entire event. Check out the details below.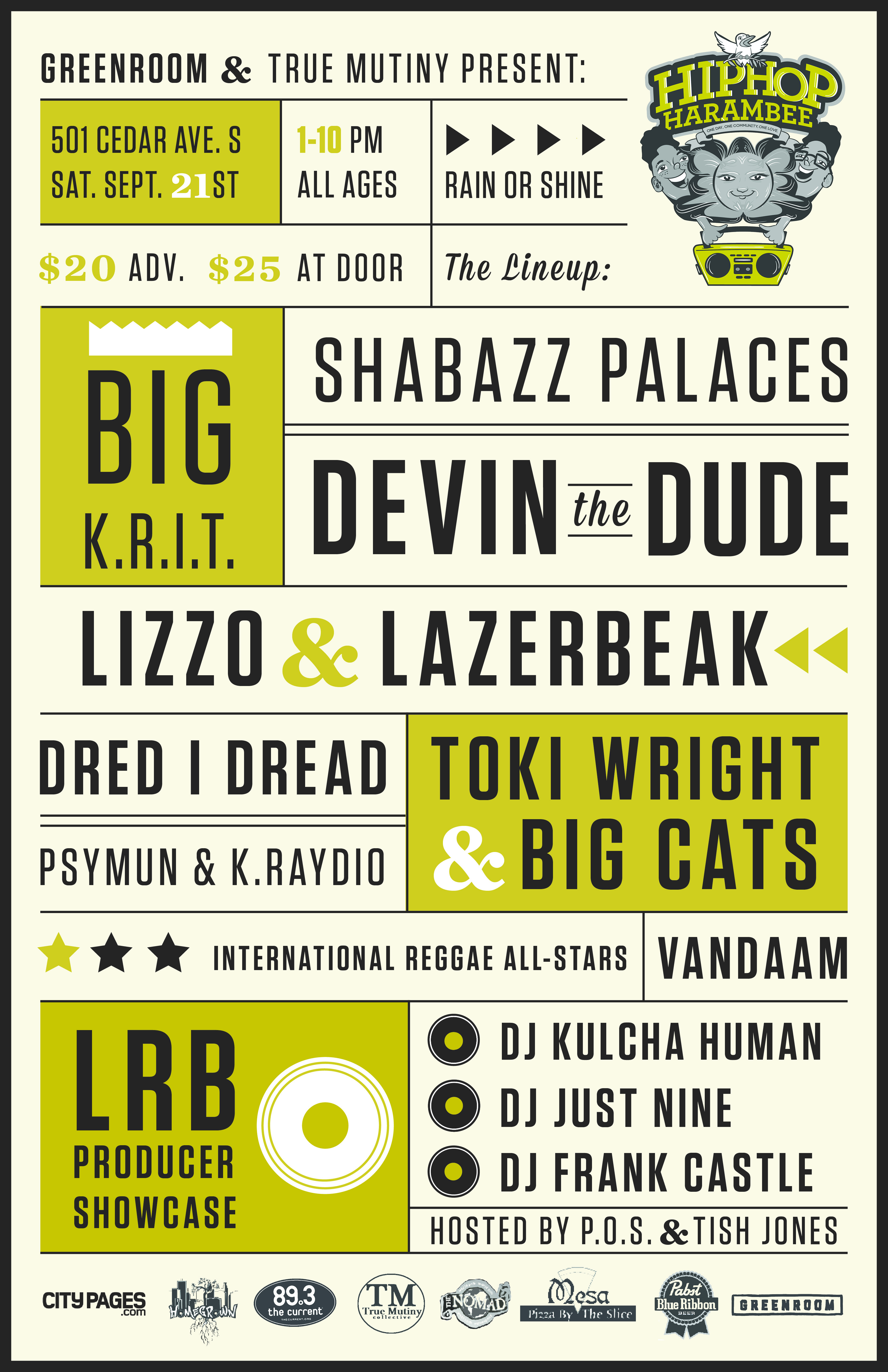 The folks at Hip Hop Harambee just kicked me two sets of free passes to give away on the blog today. If you want to check out the festivities for FREE, just be one of the first two people to answer the following question correct:
Name the local Minneapolis donut shop featured in the "Batches & Cookies" video.
Email your answer to [email protected] and if you are one of the first two people to respond correctly they will hit you back with free passes. Otherwise you can grab cheap tickets right HERE and still enjoy the concert. Here's a picture from the stage of last year's show to give you an idea of what we're dealing with. Should be a great time.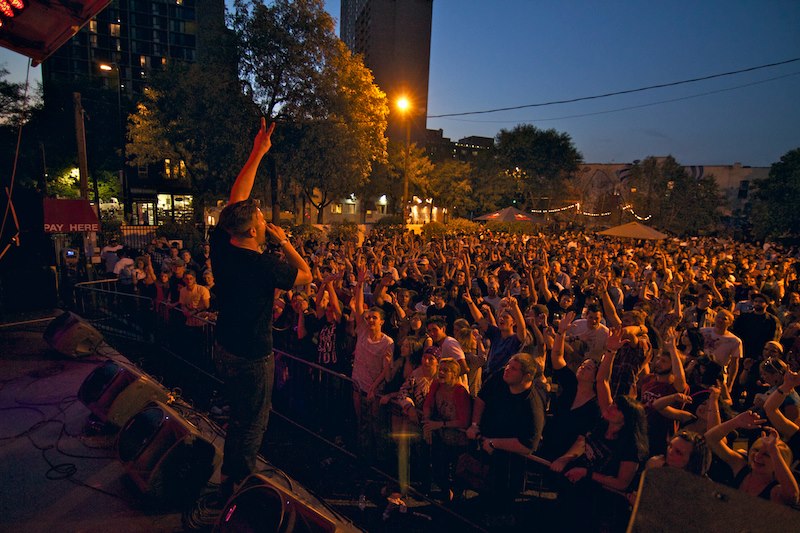 Alright, that about does it for the news part of this post. I realize it's been awhile since I've done a big Bonus Jams section, so below are a bunch of random songs that I've been feeling as of late. Kind of all over the place, but when is it ever not? Consider this a sort of Bonus Jams Mixtape for the week.
Volcano Choir – "Byegone"
Allan Kingdom – "Mediocre"
Blood Orange – "Chamakay"
The Killers – "Shot At The Night" (prod. M83)
Pusha T – "Nosetalgia" (ft. Kendrick Lamar)
Polica – "Chain My Name"
Janelle Monae – "Electric Lady" (ft. Solange)
Danny Brown – "Side A (Old)"
http://www.youtube.com/watch?v=HXzQEeS9eAo
Ginkgo – "Faded Glory"
Delorean – "Spirit"
BAM! I'll leave you with a couple Bonus Penny Pics before I call it for real. Football season has officially begun, and Penny has taken to standing in silence directly in front of the TV every time the national anthem is sung. Very patriotic of her.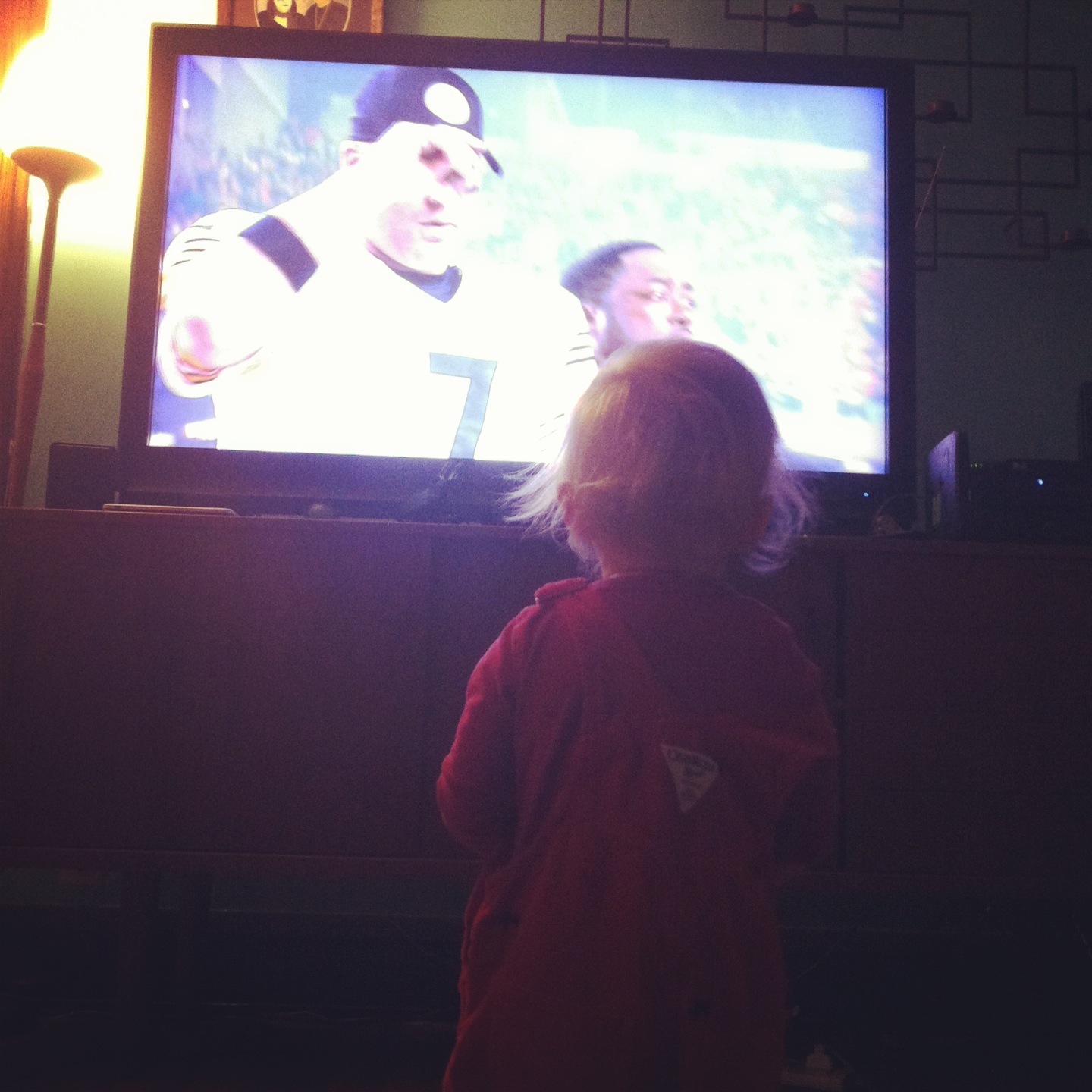 Here she is all dressed up in her favorite swimsuit, back when the weather was a little bit warmer. Apparently deep in thought pondering the classic tortilla chip vs. water bottle debate.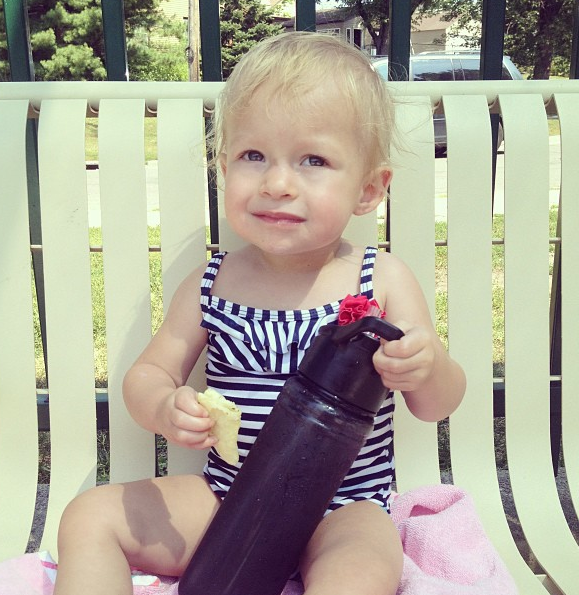 And one last shot at the park rocking her favorite personalized First Ave hoodie. Still can't believe that thing exists. THE BEST.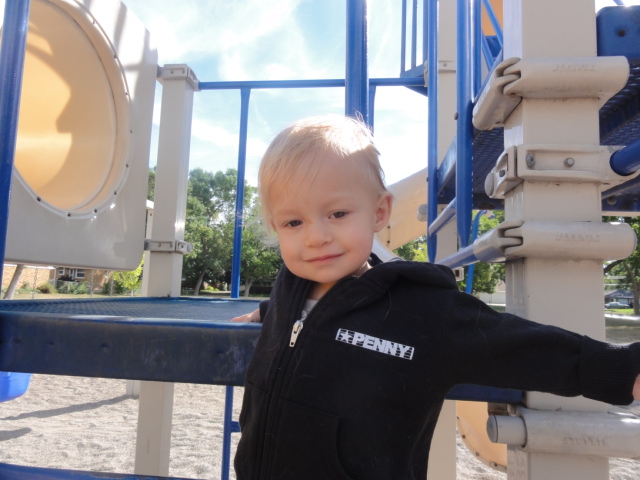 OK, hope you all have a great week. Maybe I'll catch some of you out at Hip Hop Harambee this weekend. Otherwise next Tuesday for sure!
— Beak
Twitter: @_LAZERBEAK_
Instagram: @lazerbeak