Hey! Welcome back to another Tuesdays With Lazerbeak. Can't believe we're now just over two weeks out from the NINTH ANNUAL DOOMTREE BLOWOUT!!! The Thursday, Friday, and Saturday shows are now all officially SOLD OUT, which means that Sunday, December 15th is your last opportunity to catch all seven members of the crew together on stage in 2013. Check out the flyer below for more details, and grab your tickets HERE.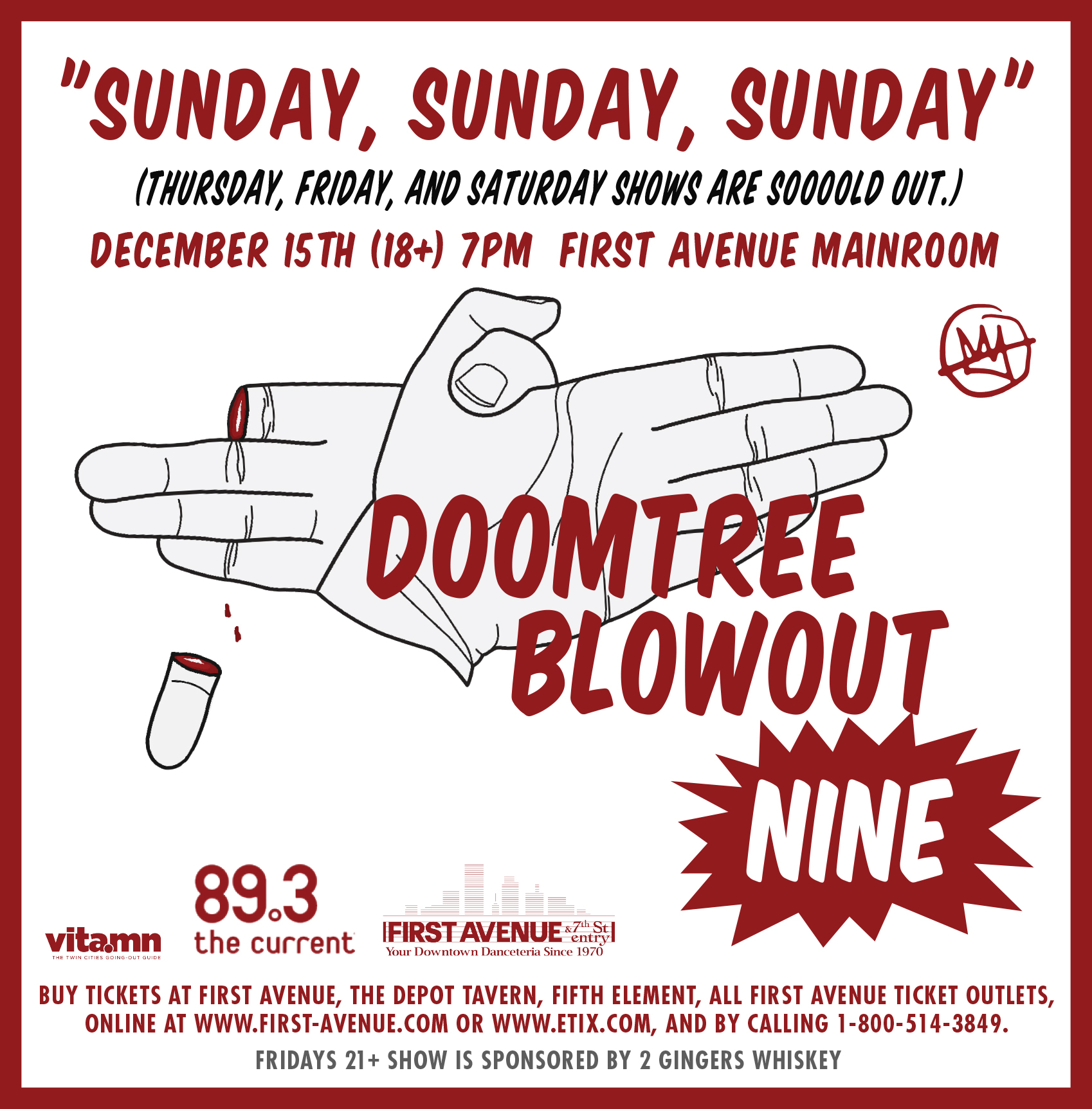 Speaking of Blowouts (I cannot even begin to tell you how long the current segue streak is): This year we've decided to take our own spin on the mayhem of Black Friday shopping, and offer a special Blowout Sale on all Doomtree crew-related items at the Doomtree Webstore!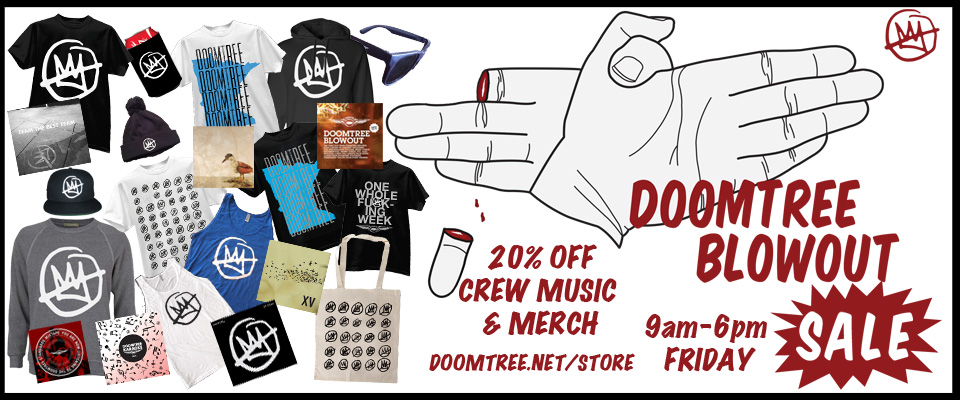 Here are all the glorious details:
If there's one American tradition that we can all get behind, it's the tradition of getting behind each other to push our writhing bodies through the doors of a big box retailer in the predawn hours Black Friday.
 Doomtree will be throwing our very own Black Friday sale this year. We've decided to let the other vendors lure the early birds—regular birds are good enough for us. In light of the fact that this year's Blowout will be our ninth (!), our Black Friday sale will begin at 9am and end at 6pm: nine glorious hours of savings on Doomtree crew-related gear.
 For the real Black Friday devotees, online sales can sometimes lack the thrill of the stake-out: the huddled lines, the press of deal-seeker against deal-seeker, the occasional collapsed lung. If you're a fiend for the rush, we invite you to log onto the site a few minutes early then leave the apartment, pulling the fire alarm on the way out. As your neighbors flood out, push your way through them, back up the stairs and into your unit. In the midst of all the screamed abuses, you'll find yourself breathless, disheveled, and saving 20%. Almost as good as the real thing.
BAM! So to paraphrase: This Friday from 9am-6pm (CST) you can get 20% off all Doomtree crew-related merch over at the Doomtree Webstore. Just load up your cart and enter the discount code "blowout" before checking out. EASY!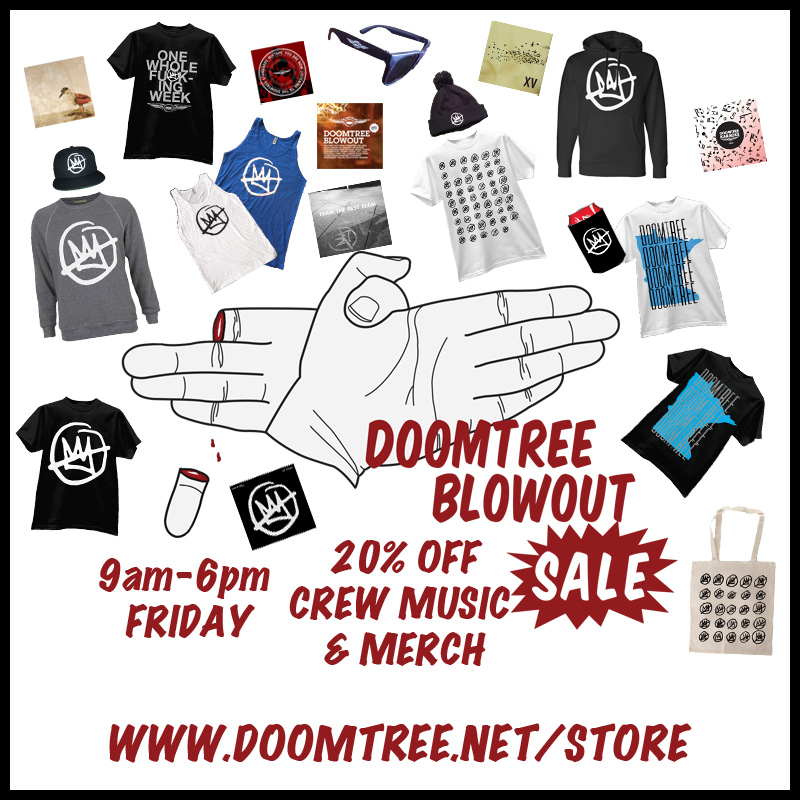 And when you're done with all that shopping you can head on down to Honey in Minneapolis to celebrate the end of Black Friday with a Young Baby Ander Other DJ set! Check out the flyer below for all the party details. SGLD will also be DJ'ing, and MaLLy will be hosting.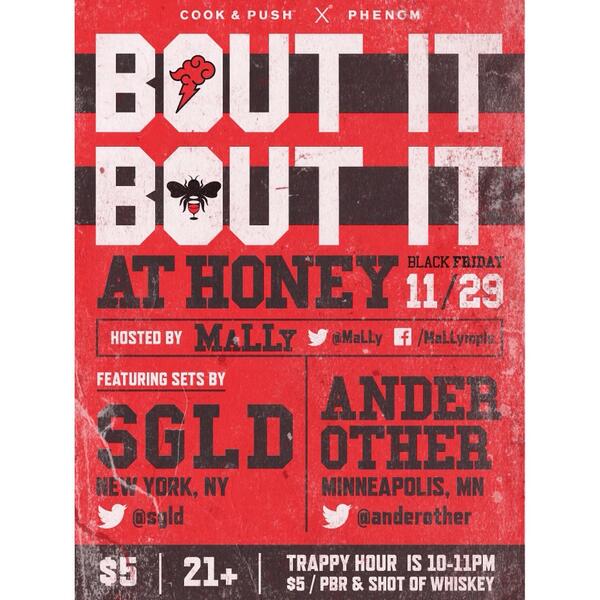 Alright, that about does it for this week's news. Pretty slow with the holiday weekend coming up (and we're in super crazy hustle mode to get everything together for the Blowout), so let's jump right into the Bonus Jams of the Week. This week I've got a pair of Local Bonus Jams for you. The first one is from MaLLy and Last Word, off their new Strange Rhythm EP that just dropped earlier this month. I like these guys working together quite a bit. Check out the first single, "Dead Art Painting," below, and stay tuned for their full-length collabo album dropping next year.
[soundcloud url="https://api.soundcloud.com/tracks/114232977″ width="100%" height="166″ iframe="true" /]
Next up is Metasota with a new take on Drake's "Wu-Tang Forever" beat. This one is more of the ode to Wu-Tang that a lot of people (ahem, New Yorkers) were hoping for from Drake in the first place. I like Drake beats, Wu-Tang homages, and Metasota, so this is kind of a perfect trifecta for me. Shouts to Sway Heavy on the vizualz. Here's "Wu Forever":
BANG. I'll leave you with one totally awesome Bonus Penny Pic before calling it a day. We watched the AMAs together this past Sunday (Pitbull was hosting, COULD NOT MISS IT), and Penny did a pretty amazing job of upstaging Just Timberlake and the Tennessee Kids live performance with her very own groundbreaking Suite for Toy Whistle and Toy Xylophone. It was extremely moving. Also, please note my restraint in not going for the easy Penny Whistle joke. I wouldn't do that to you.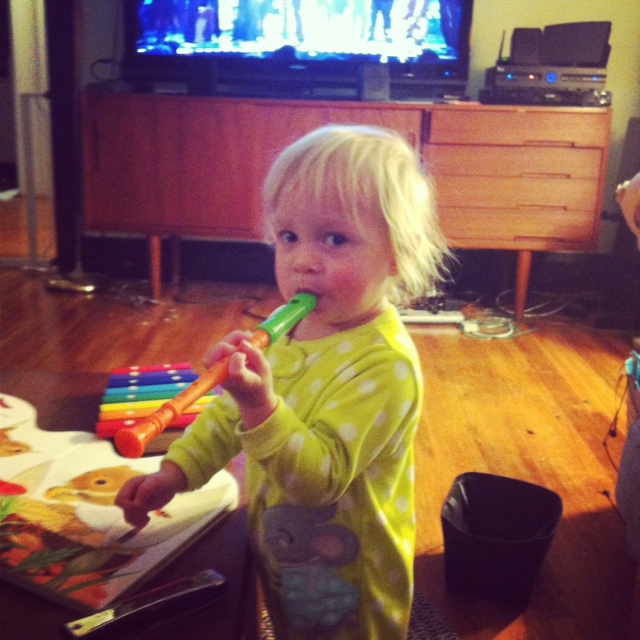 Ok, I hope you all have a wonderful Thanksgiving weekend filled with all of the foods and all of the naps. See you next Tuesday with another big announcement!
— Beak
Twitter: @_LAZERBEAK_
Instagram: @lazerbeak