First, let me assure you that Monsieur Lazerbeak is safe and making sounds: he's on a music-writing retreat with a certain Mr. Ryan Olson. As you might imagine, Beak's got a lot of work to do before the Twinz arrive—sort of a bucket list for expecting parents. So, kids, I'm afraid you're stuck with me: the substitute teacher who shows up in last night's mascara, a cheek full of Reeses Pieces, and a lesson plan she wrote on her palm in the car.
Speaking of mascara, I had the chance to host the last installment of the GRRRL PRTY residency at the Icehouse last Friday. The show sold out before doors and the ladies slayed it. For their grand finale, GRRRL PRTY invited a mess of rappers stage (P.O.S., Spyder Baybie, and Sean Anonymous among them) to perform an extended version of their single "Wegula." This extended version was called–wait for it–the "Wemix." Brilliant. The picture below comes courtesy Mark Hanson; click on the image to check out his whole album.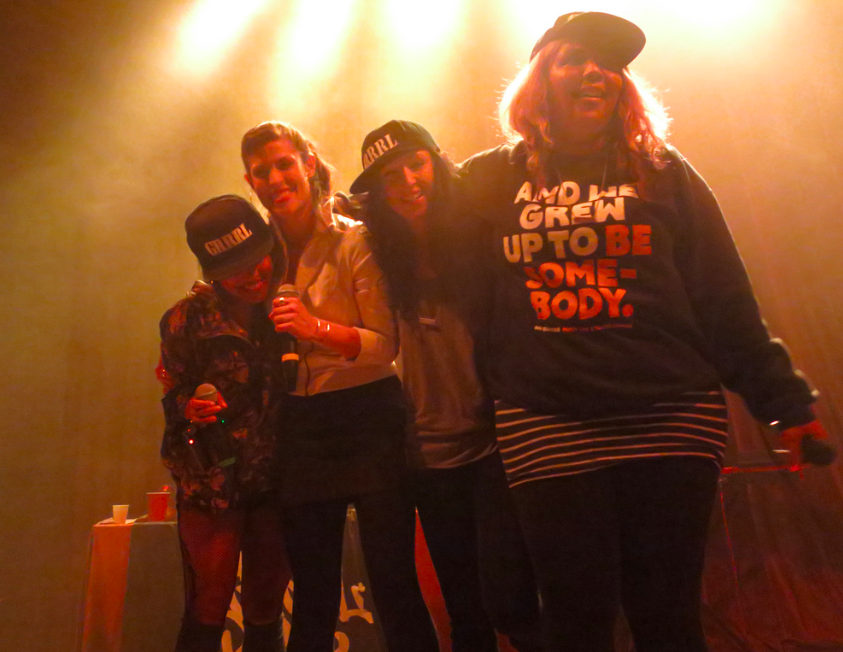 Apart from Friday's revelry, I spent most of my week at home, huddled against the radiator in the bathroom. (For those of you logging on from far away: most of this country has been engulfed by what our usually mild-mannered meteorologists are calling a 'polar vortex.') Thus huddled, I received an email from Magers & Quinn Booksellers asking me for a list of books that I'd recommend. I selected 10 titles that vary wildly in style and subject matter, but that all landed like little bombs in my brain. If you're in the market for a literary suggestion, the books I chose are on display at M&Q. I also posted the list on my blog at the Star Tribune site. 
On the 20th of this month, I'll be visiting the jurisdiction of the Chicago Tribune (BOOM), to make an appearance on The Dinner Party show. I'll be part of an episode in which a chef, a film critic, a rapper (ahem), and the lead singer to a cover band are conducted in conversation by the show's host, Elysabeth Alfano. Guests are served a glass of wine and a dinner of risotto and escargot (whaaat?!). I've been practicing a devastating stare, just in case I need it. I'll also be playing a little unplugged version of "Call Off Your Ghost" with Matthew Santos. You can score tickets here: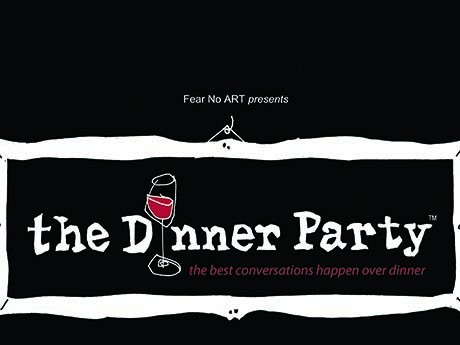 Next month I'll be switching from wine and escargot to a lovely pairing of Jameson and ice; the band and I are heading back to Lutsen Mountains for our annual melee. The Lutsen shows—charged up by the adrenaline that attendees didn't spend on the slopes—are always unpredictable. I've been practicing a devastating stage dive, just in case I need it. Tickets are still available HERE. Last time the band and I played at Papa Charlies, Dustin, Aby, and I woke up early the next day to record this performance in a gondola made of solid ice:
Alright, that's it for today, kids. But before your full attention returns to Snapchat, I'm leaving you with one bonus jam. You may have seen this one on my Facebook page, I think this woman's got something special (and no, its' got nothing to do with the bizarre convergence of her name):
Okay, everybody keep it down and I'll tell Lazerbeak we covered binomial equations and that you all aced the quiz, deal? Deal.
-Dessa (@dessadarling on Twitter)