Welcome back to another Tuesdays With Lazerbeak! There's a ton of stuff to talk about today, so let's jump right in with a few Doomtree-related shows going on in the Twin Cities this week. First up: P.O.S will be playing with Marijuana Deathsquads for three consecutive nights as part of their string of Icehouse shows this week. Wednesday they'll do their Euro set with openers Pony Bwoy, Thursday is the Organ Failure set with Droppers, and Friday will be a rare live performance of the WDELH MDS RMX project (get that album HERE if you haven't yet). Check out the flyer below and click HERE for all the show info.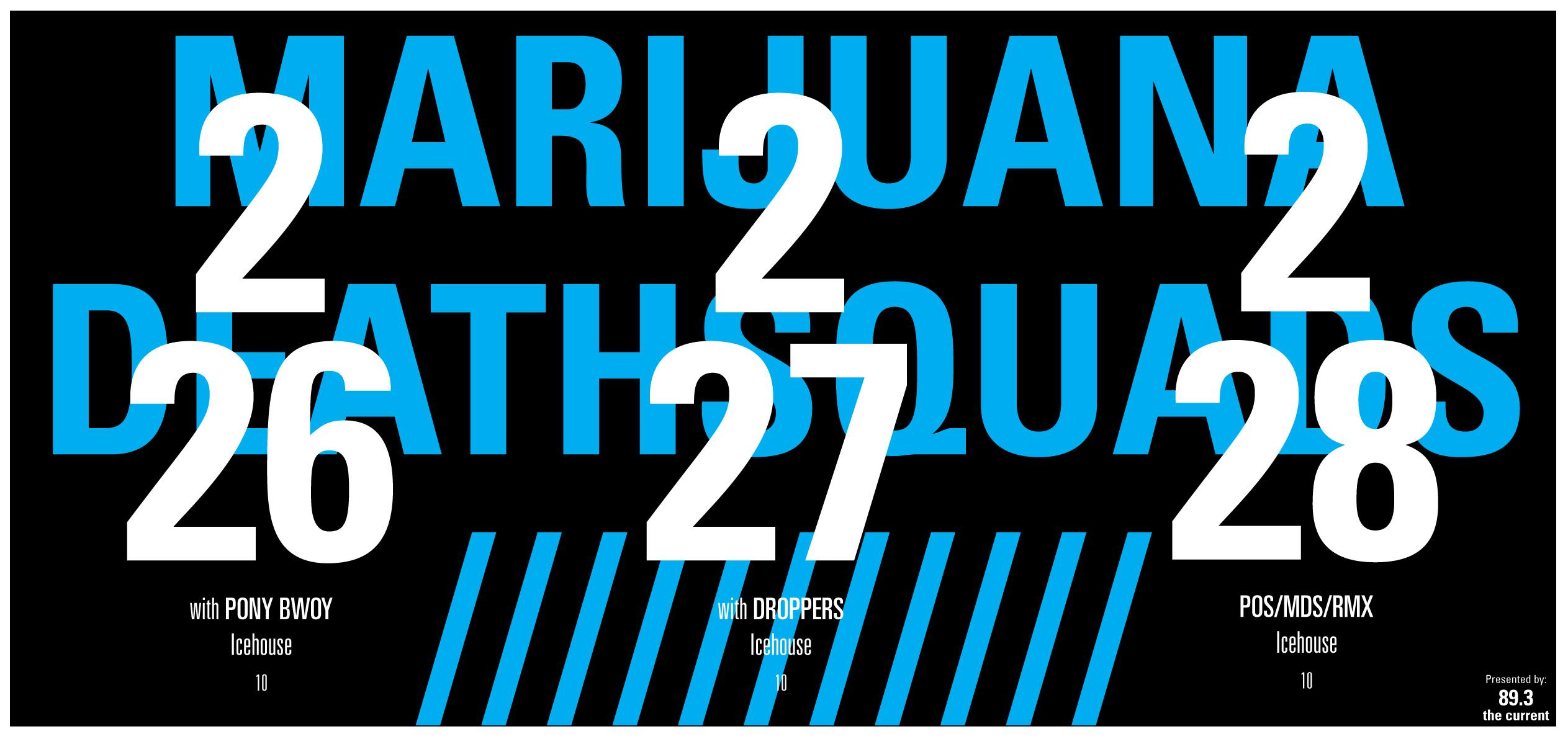 That same Friday night (2/28), our very own Mike Mictlan will be headlining the Reach For The Sky party at the Skyway Theatre in downtown Minneapolis. There are a ton of great rappers and DJs rounding out the event. Definitely something for everyone. Click HERE for more details and ticket info.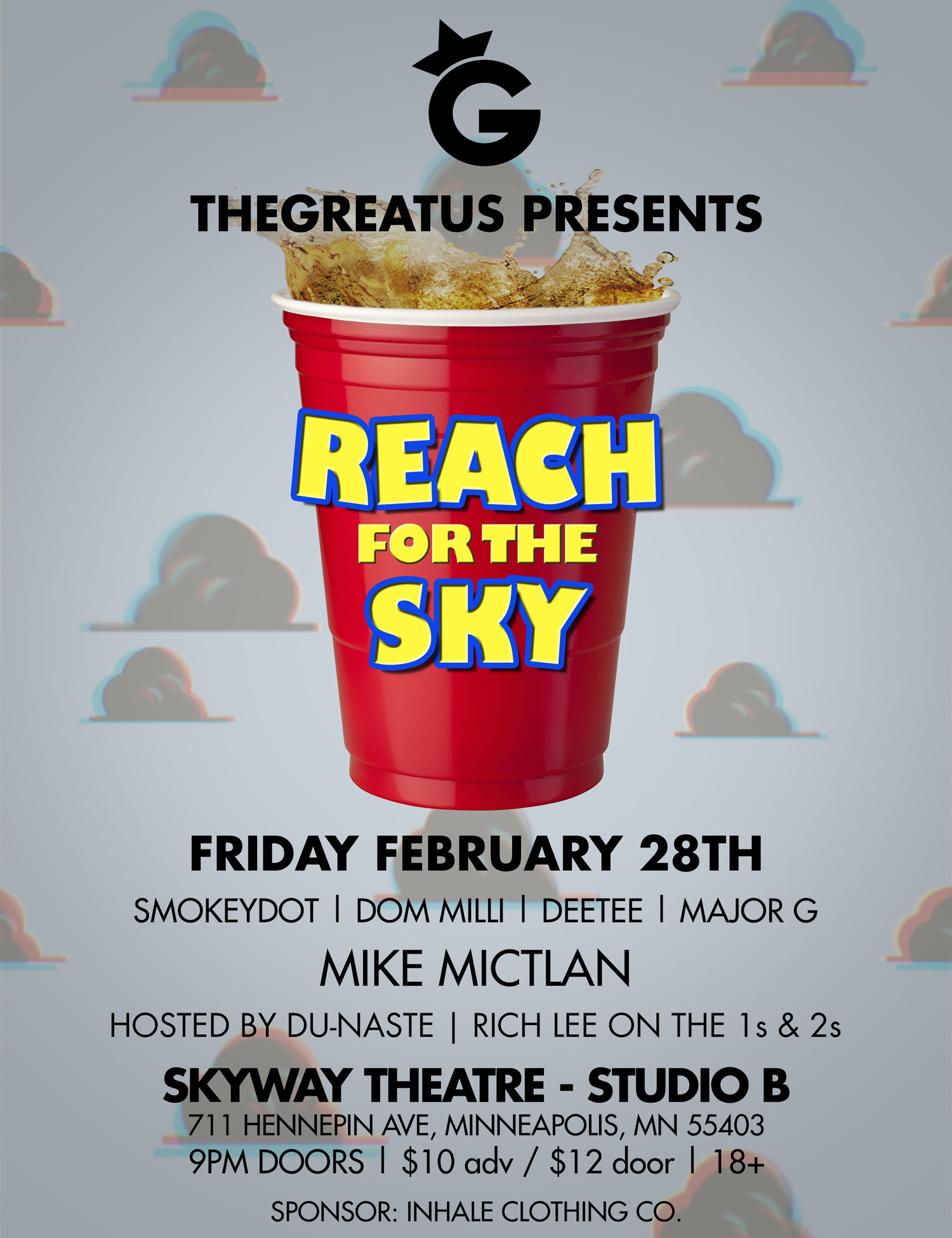 And don't forget the weekly Commanders Handsome residency every Thursday night at the Loring Pasta Bar with Cecil Otter and Zach Coulter. Word is things have been going so well that the dudes will be extending this improv beat set into the month of March as well! Click HERE for more details.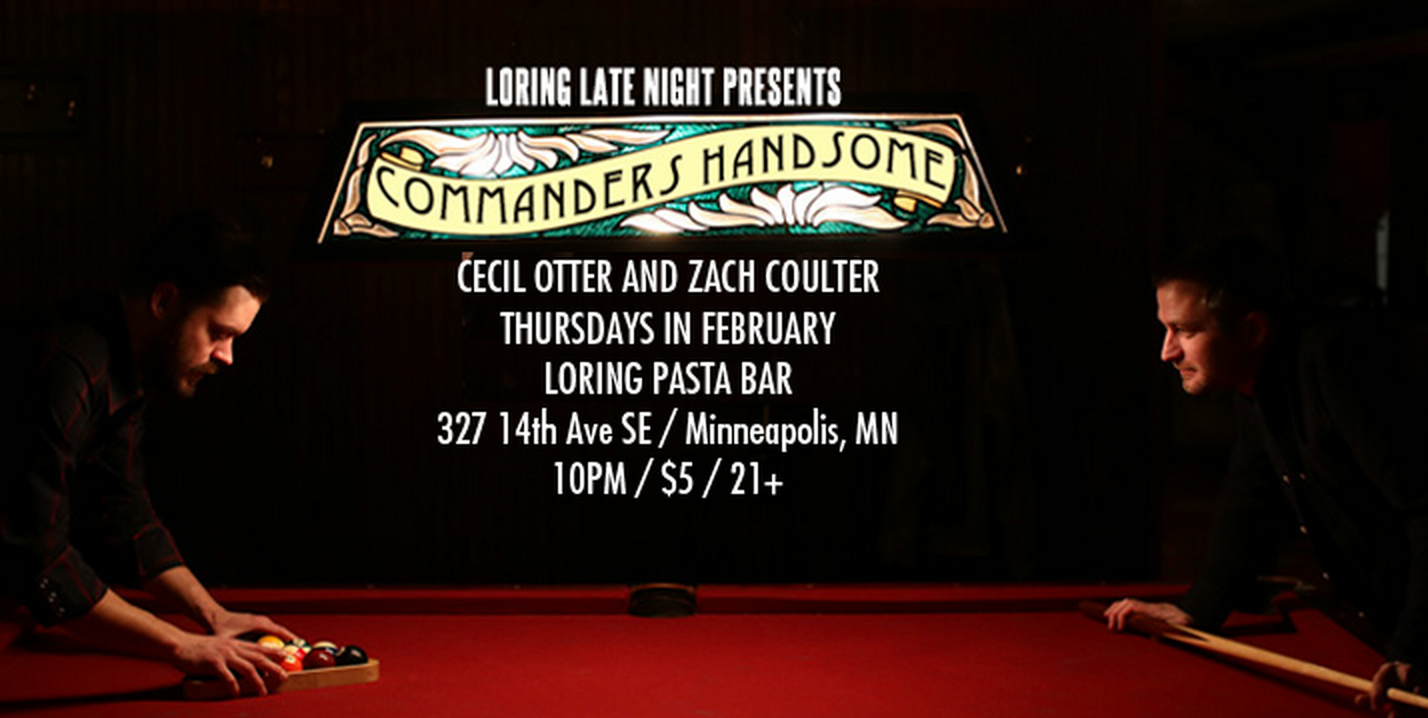 Finally, to round out the week (and continue the Segue Streak into infinity) let's bring it full circle back to P.O.S. Stef will be playing in Milwaukee on Saturday March 1st for the second annual Eastside Music Tour. There are literally one million other bands playing as well. Sounds like a crazy time. Click HERE for all the sweet deets.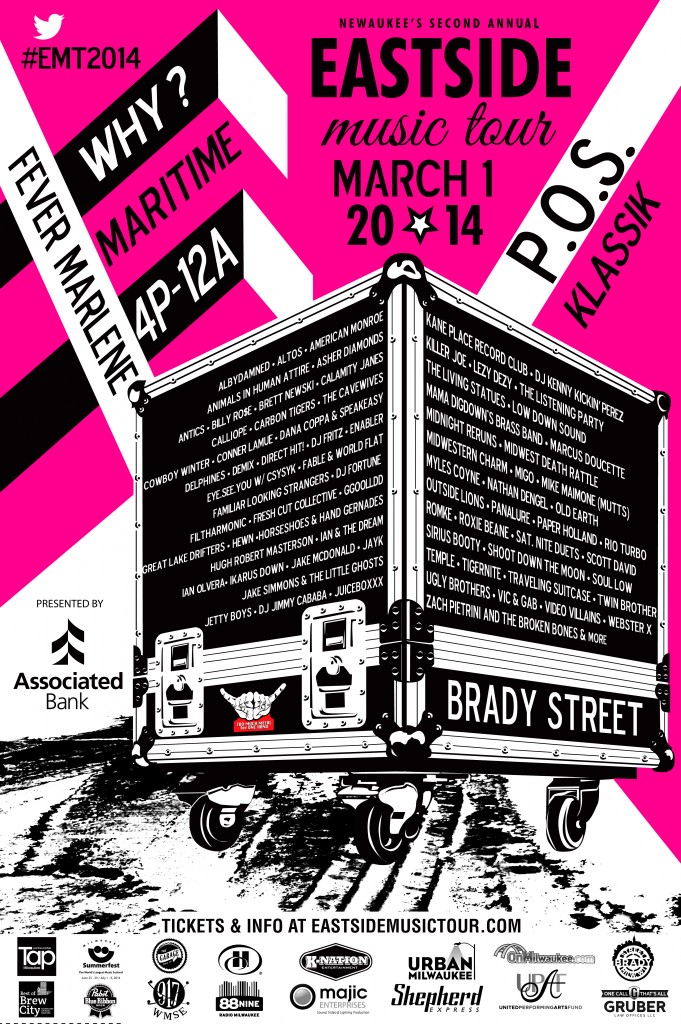 OK, I think we've got your week booked out (and then some). That should do it for show updates, now let's get into some brand new Doomtree-related music! The LIZZOBANGERS international takeover continues to roll on. Lizzo and Sophia Eris have been out in the UK this past week promoting the record and playing a bunch of shows in the area. Lizzo called into BBC1 last week to  world premiere "Faded," the next single off the album (produced by yours truly). Check out her interview with the legendary Mista Jam AND the newly revamped version of "Faded" below. So excited about this one!
Fresh off the heels of his newest 20 MIN MIX (grab #16 HERE), Paper Tiger just dropped a sweet new dance remix for our good friend Astronautalis' song "Dimitri Mendeleev." Check out the track below and grab Astronautalis' entire three-song This City Ain't Just A Skyline EP right HERE.
[soundcloud url="https://api.soundcloud.com/tracks/136213521″ params="auto_play=false&hide_related=false&visual=true" width="100%" height="300″ iframe="true" /]
Alright, before I get into this week's Bonus Jams I want to give a quick plug to our photographer friend Zoe Prinds-Flash, who has been nominated for Best Twin Cities Music Photographer in a recent City Pages poll. Zoe is behind most of the live show and backstage shots that you see on this site during  the Doomtree Blowout each year, and she's been working with us for years now. If you've got a spare second, definitely go vote for her right HERE. You can check out a cool interview with her (and even more photos) right HERE.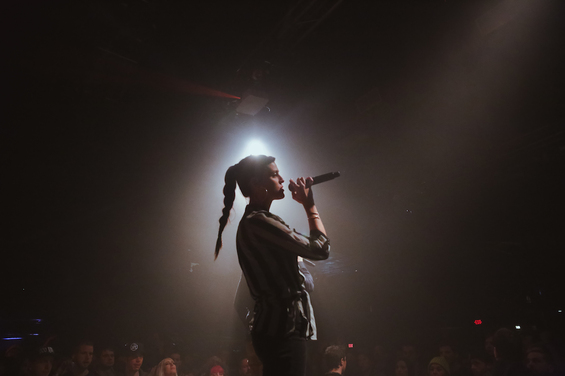 OK! Time for some awesome Local Bonus Jams. Jack Spencer just dropped his second installment of the Gimme Noise Beat Tape, a monthly mix that highlights a ton of great local producers from this part of the world. February's edition includes beats from the likes of PC, Bobby Raps, Mike Frey, Mic Titan, Rich Garvey, Mike the Martyr, Tek, and G Mo. I can personally vouch for the insane amount of heat contained in this mix. Check it all out below.
[soundcloud url="https://api.soundcloud.com/playlists/24433320″ params="auto_play=false&hide_related=false&visual=true" width="100%" height="300″ iframe="true" /]
For the rest of this week's Bonus Jams I'd like to feature a couple of hometown R&B heroes that were running the game back in the early and mid 2000s. I recently dug up a couple of my favorite soundtracks from that era (The Wood and The Best Man specifically) and was reminded of RL, the lead singer of Next (of "Too Close" fame). RL had a short lived but fairly high profile national solo career, which led to his debut album RL:ements (I know you see what he did there). Hadn't heard it in over a decade, but after revisiting it yesterday I can confirm that it definitely stands the test of time. Still thoroughly confused why the song "Good Love" from The Brothers OST never made the cut. That's probably my favoritye RL or Next song ever. Anyways, here's a couple tracks from the album, plus "Good Love" and the Destiny's Child/Next collabo "If You Leave," because that song will forever be the best.
RL – "Good Man"
RL – "Ghetto"
RL – "Good Love"
Destiny's Child featuring Next – "If You Leave"
http://www.youtube.com/watch?v=KOA5jSWbx5U
NEXT up (ha), is a little lesser known name outside of this region: J. Isaac. I remember hearing him on KMOJ a bunch in the mid-2000s, and grabbing a mixtape of his at Cheapo around that time as well, but it was his 2006 solo album Welcome To The Planet that seemed to have the biggest impact nationally. It's probably best known for the track "How I Roll" which featured Juelz Santana (Dipset was on top of the world at that time) – one of the only songs by a local artist that I ever heard B96 (our big rap/R&B station at the time) give a serious push. Anyways, I listened to the whole record yesterday and aside from being incredibly solid, it also contains some of the best kid skits I've ever heard. Check out a couple songs below. In my opinion, both Welcome To The Planet and RL:ements are certified MN classics.
J. Isaac – "Do Or Die"
J. Isaac featuring Juelz Santana – "How I Roll"
J. Isaac featuring Slum Village – "Baby Ez Up"
J. Isaac – "Happy 2 B Here"
Alright, that ends this installment of Classic Local Bonus Jams. Hope you enjoyed it. I'll leave you with a couple Bonus Penny Pics to round things out. We are officially about two weeks out from the TWINZ due date and things are getting pretty out of control here at the Mader household. I think Penny can sense the impending arrival of her brothers because she has been acting out like never before, taking the DIVA nickname to a whole new level. Case in point: She totally chipped my tooth on Sunday with her toy flashlight while we were playing the "flash a light at Dad's face" game. NOT COOL PENNY.
I of course (begrudgingly) forgave her, and we seem to be cool again for the time being. Just gotta stay on her good side I guess. Here's a couple pictures of Penny in happier times last week. She loves playing this crazy whistle/flute thing over at my mom's place. Note the fashion forward pink rope chain around her neck. TRENDSETTER.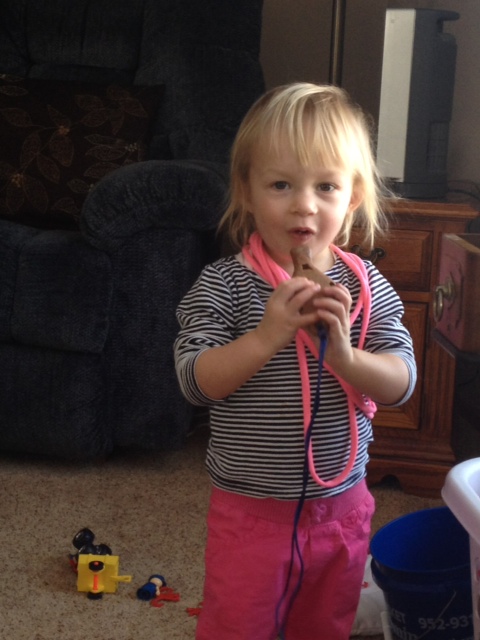 And here she is continuing to work on her world famous Goldfish Cupcakes. These still need some tweaking, but she seems determined to perfect the recipe.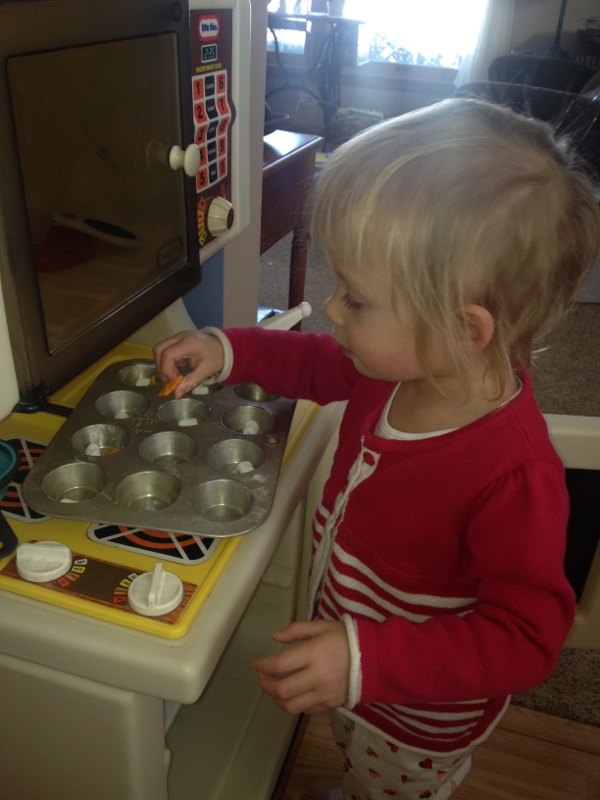 BAM! OK, that for real does it for this post. I hope you all have a wonderful week, and I'll see you next Tuesday for sure!
— Beak
Twitter: @_LAZERBEAK
Instagram: @lazerbeak
TUESDAYS WITH LAZERBEAK T-SHIRTS AND POSTERS AVAILABLE NOW!!!