Hey! Welcome back to another Tuesdays With Lazerbeak. I've got a lot of cool ground to cover today, so let's just jump right into it. This Saturday is Record Store Day, and to celebrate we're releasing Dessa's Castor, The Twin album on vinyl for the first time ever!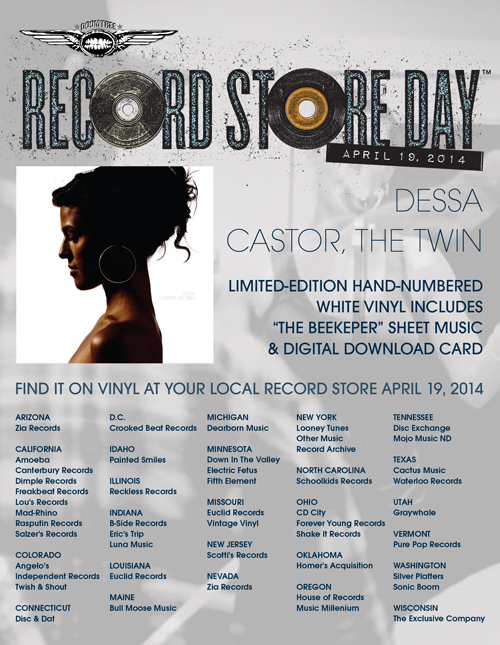 So pumped to be adding this release to the Doomtree vinyl catalog. Check out the flyer above for a list of the stores we've been told will be stocking it. Probably still a good idea to call your local store in advance to double check that they're carrying it, as this list doesn't include all of the stores participating, and quantities are fairly limited at each location. This initial pressing is limited to 1,000 hand-numbered pieces on white vinyl, with bonus "Beekeeper" sheet music inserts transposed for piano and vocal. Check out the awesome packaging video below for all the sweet deetz, plus some intriguing evidence leading me to believe Dessa is controlling her keyboard through the art of telekinesis. Shouts to Ander Other on the vizualz!
So cool. Oh, and if you don't live near any of those record stores, don't fret: We've saved a handful of copies for the webstore. Just make sure to keep your eyes peeled here over the weekend for more info on all of that.
Dessa and the band continue their April Weekend Warrior run this Thursday with a show in Eau Claire (tix HERE), Friday in Duluth (tix HERE),  and Saturday in Rochester (tix HERE). They'll be capping everything off next weekend with a headlining slot at the big Mid West Music Fest in Winona. Click the flyer below for all the details.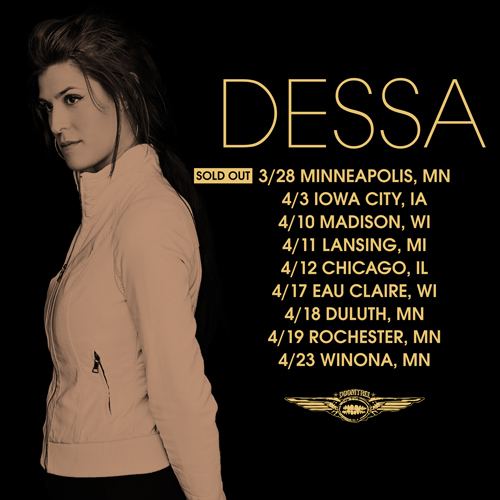 OK, now let's move on to a big time album announcement: The brand new six-song TYTE JEFF EP just dropped this morning and I could not be more excited!!!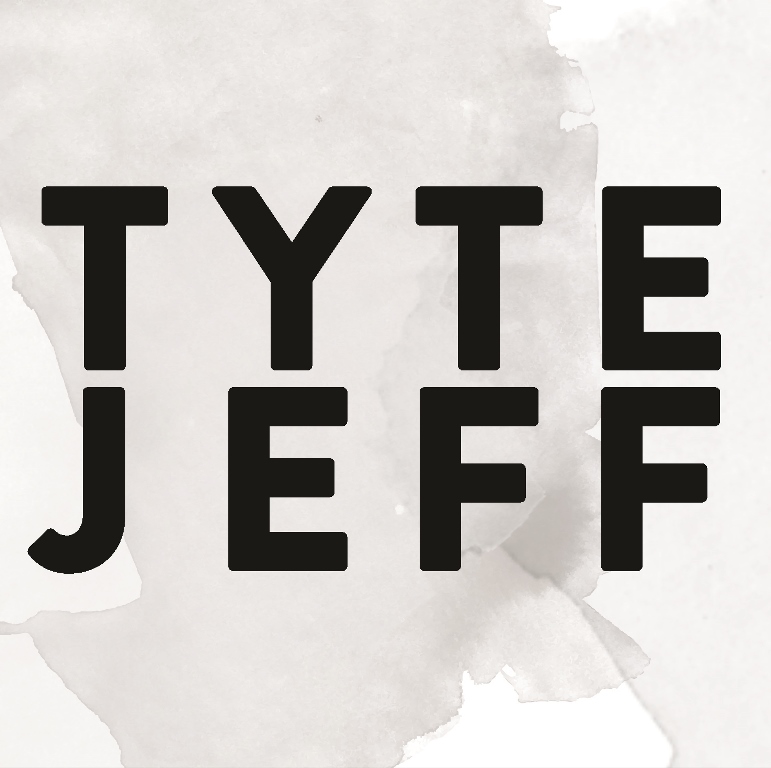 TYTE JEFF is Jeff Allen from The Plastic Constellations' new group, and they are truly 2TYTE. Love this band. You can stream the entire EP for FREE.99 on the Soundcloud player below, or grab it from iTunes HERE if you're more of a digital file ownership proponent. Either way, it is THEEEE BEST! So amped for these guys.
[soundcloud url="https://api.soundcloud.com/playlists/30628462″ params="auto_play=false&hide_related=false&visual=true" width="100%" height="300″ iframe="true" /]
The TJ dudes will be celebrating in style this Saturday with a big record release show at the Turf Club. Valet and The Ronnie Buxtons are also on the bill, and the whole night is guaranteed to rule super hard. Grab tickets right HERE and check out the flyer below for all the details.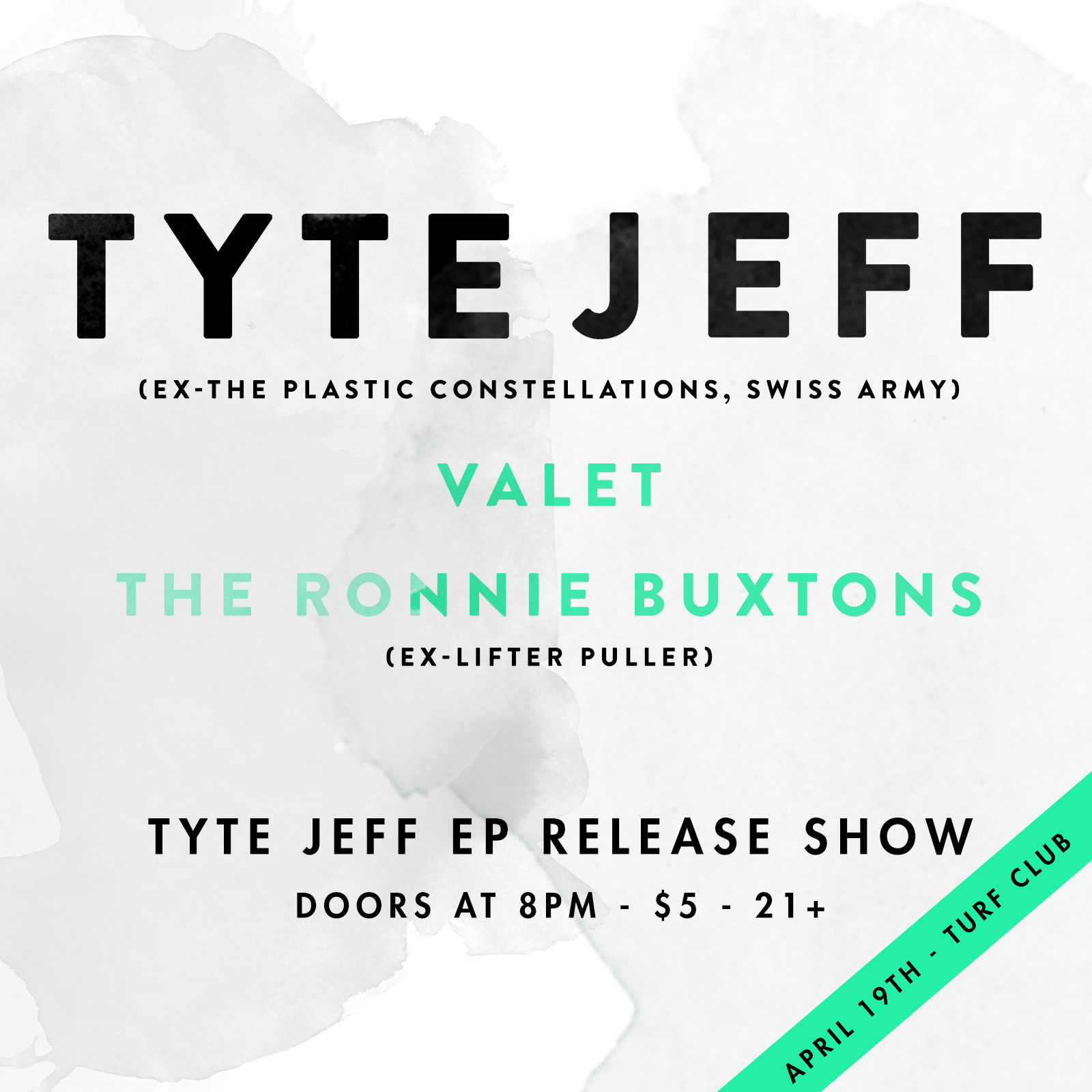 Now for a truly mind blowing SEGUE STREAK that will tie in shows happening this Saturday AND Record Store Day related events: I will be playing a mini set with Lizzo this Saturday afternoon at Fifth Element's Record Store Day extravaganza. BAM! Come through to catch a bunch of other guest performances, in addition to tons of crazily discounted records and merch. This is always a great time. Hope to see some of you there!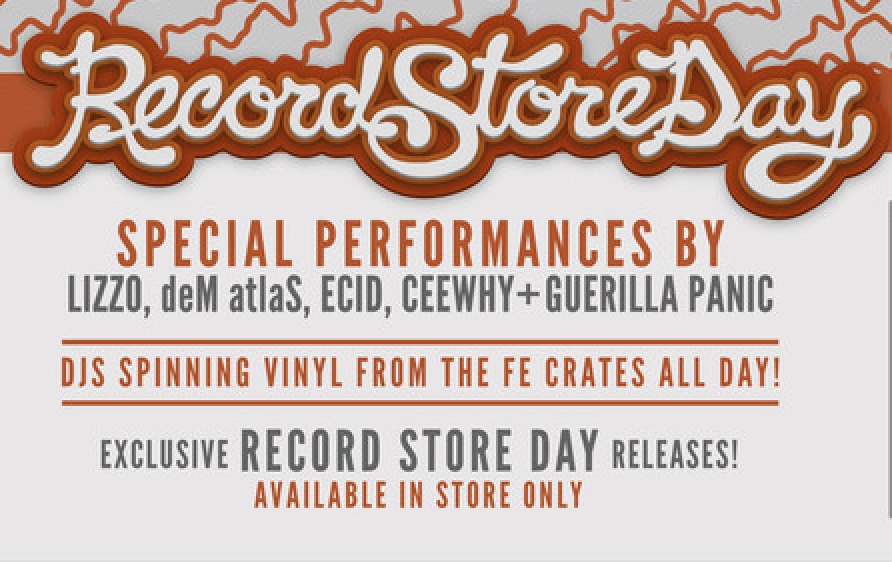 Alright, that about does it for Doomtree-related music news. Let's get into the Bonus Jam Album of the Week! This one comes from Norwegian producer Todd Terje, who's debut solo LP It's Album Time (best album title since Malkmus' Wig Out at Jag Bags?) has been playing non-stop over here. Hard to fully describe the range of styles on this one, but it somehow encompasses the best elements of disco, 70's film scores, elevator music, and house into something that sounds way funner than it reads. A perfect driving around with the windows down Springtime type of record. Check out some standouts below and grab the whole thing from iTunes HERE if you're feeling it. Legend God approved and HIGHLY recommended.
I'll leave you with a couple of quick Bonus Baby Pics. I gotta be honest, the TWINZ don't really do anything super cool yet (picture wise I mean – they're still definitely cool). They kind of just lay around sleeping and eating all day like the Two Princes to the throne that they are. Here's a picture of Penny attempting to rock them both to sleep and watch a 92nd screening of Frozen at the SAME DAMN TIME. Babies raising babies, man.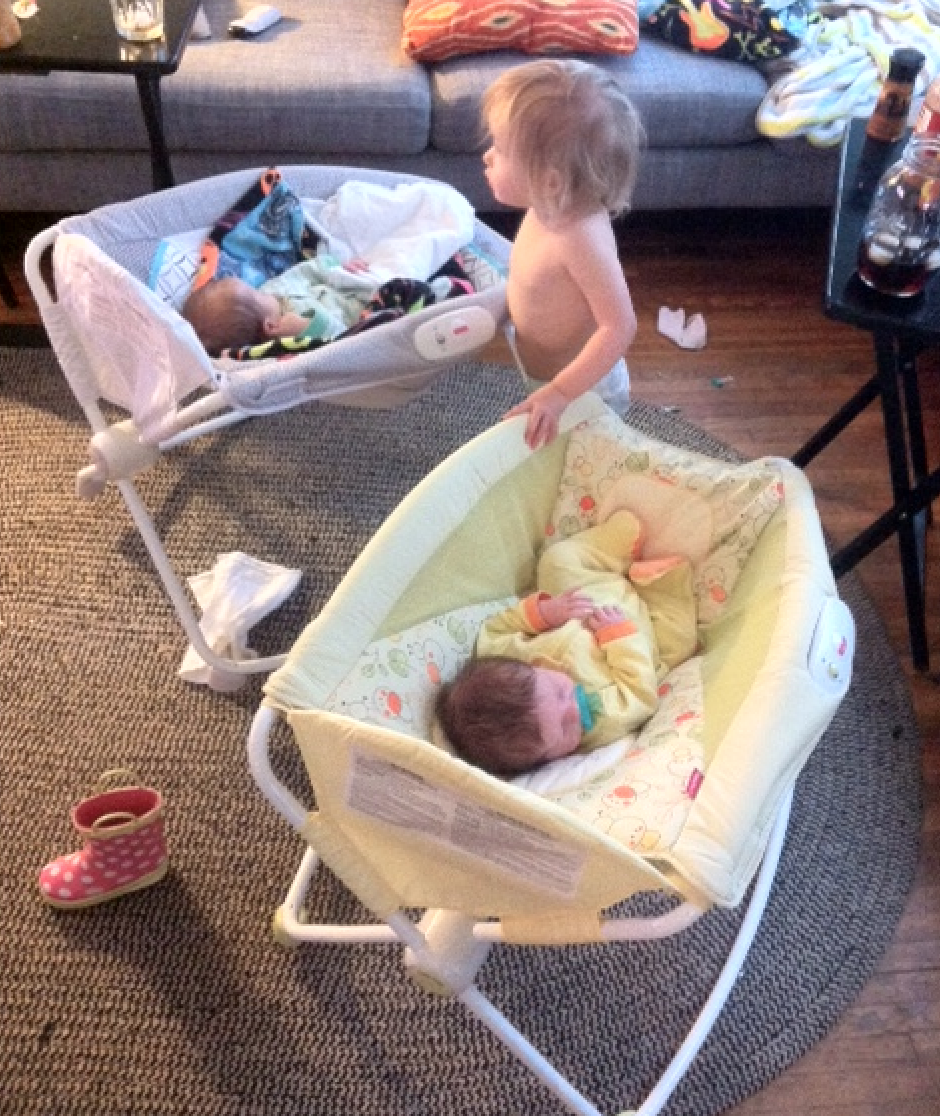 Speaking of Penny, she totally lucked out and somehow managed to score trips to TWO different zoos last week. Huge shouts to Grandma Rosemary and Auntie Roons for the day trips. Here's Penny kicking it with her favorite tiger.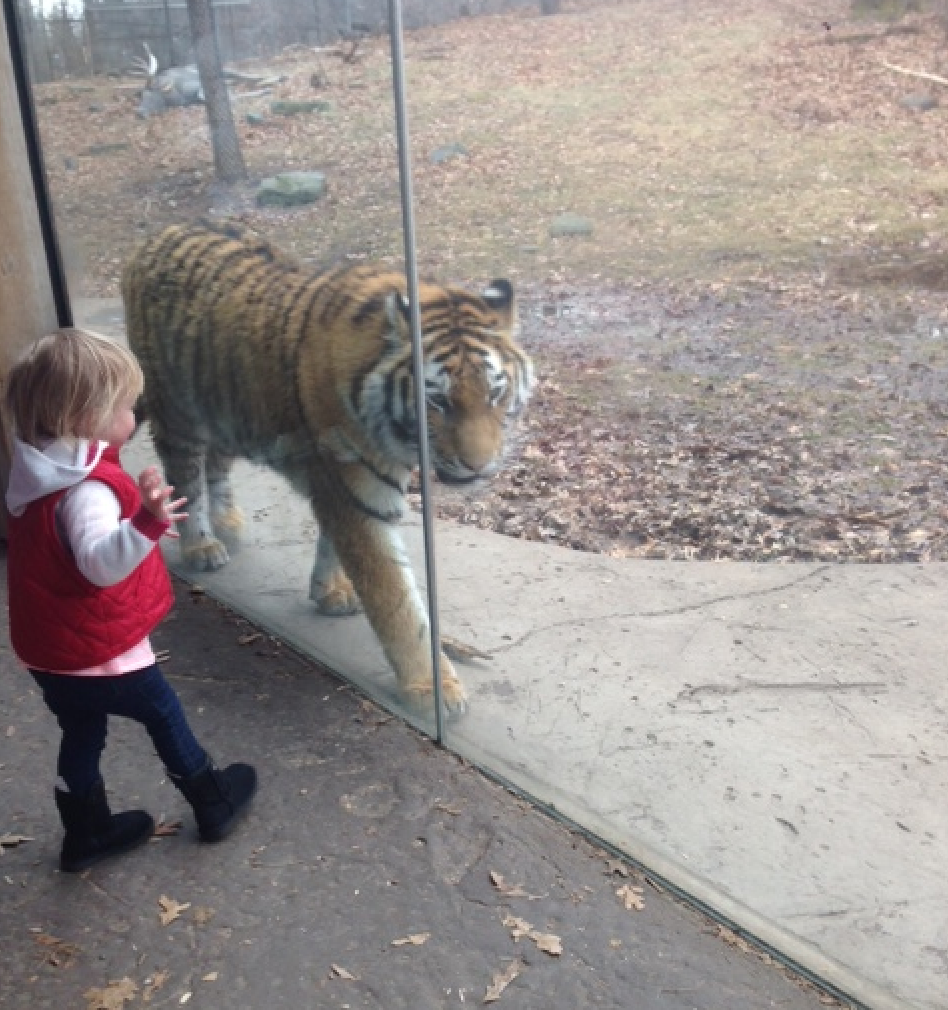 Aaaaaaaaaand pointing at said tiger just in case you forgot she was totally just hanging out with it.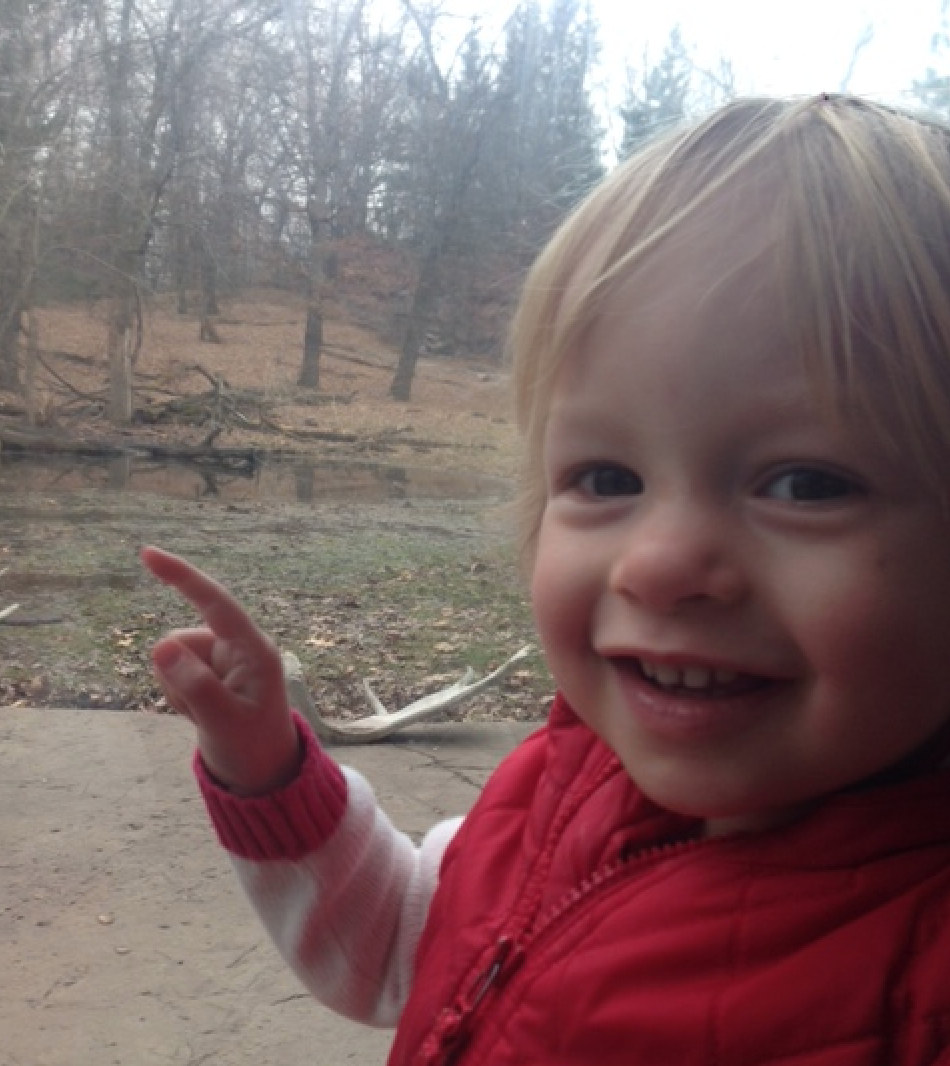 It's hard to maintain that type of extremely active animal interaction for long though, especially when you're not even two years old. Bear witness (ANIMAL PUN INTENDED) to the exhausting aftermath of back to back zoo trips. Bonus points for rocking a cool DIVA Pose even in her sleep. Nicely done.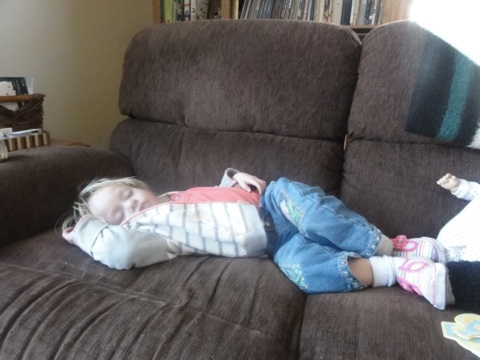 Alright, that does it for real. I hope you all have a truly wonderful week. Looking forward to seeing some of you out on Saturday for the Fifth Element afternoon show and the TYTE JEFF night rager. Otherwise next Tuesday for sure!
— Beak
Twitter: @_LAZERBEAK
Instagram: @lazerbeak
SUPPORT THIS BLOG LYFE. TUESDAYS WITH LAZERBEAK SHIRTS AND POSTERS AVAILABLE NOW!!!