Welcome back to another Tuesdays With Lazerbeak! We've got some BIG TYME show news for you this week, so let's jump right into it: The entire Doomtree crew will be co-headlining the Minnesota State Fair Grandstand this year with Brother Ali!!! It all goes down on August 30th, and we'll be joined by an insane local lineup consisting of Bob Mould, Har Mar Superstar, Cloud Cult, and The Cactus Blossoms! This is gonna be NUTZ. Go HERE for more sweet deetz and ticket info. Shouts to The Current and the State Fair for putting together such a cool event. End of Summer Madness. SO PUMPED.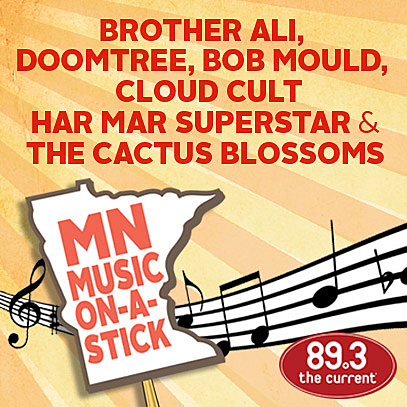 In tour news, Dessa just announced a big East Coast run supporting inde rap/indie rock vets WHY? this September! She'll be weaving her way through Michigan and up into Canada before hitting the major cities on the coast and winding back down for two big shows in Chicago. Check out the flyer below and click HERE for more info.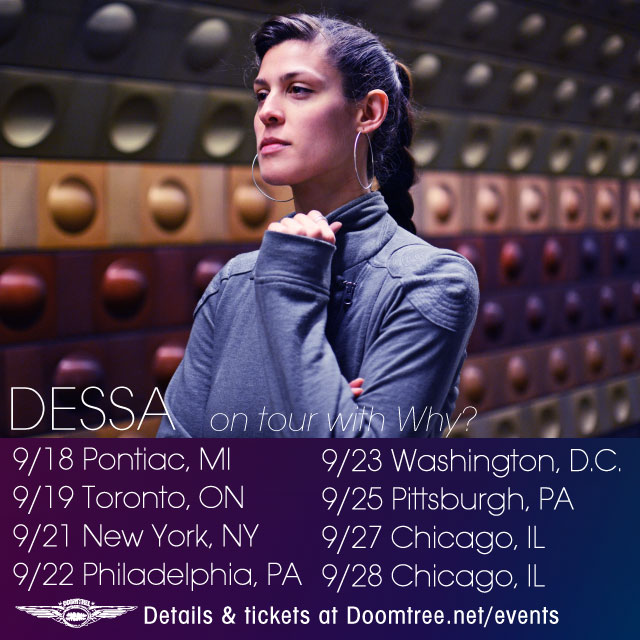 And if you're in the New York area, Dessa will be at Town Hall tomorrow night (Wed) as the special musical guest for extremely popular podcast Welcome To Night Vale's second anniversary taping. The 7:00pm show is beyond sold out, but there are still a handful of tickets to the 10:00pm slot. Click that weird blinking eye below for more details, and we'll keep you posted once the podcast actually airs for those of you not in NYC.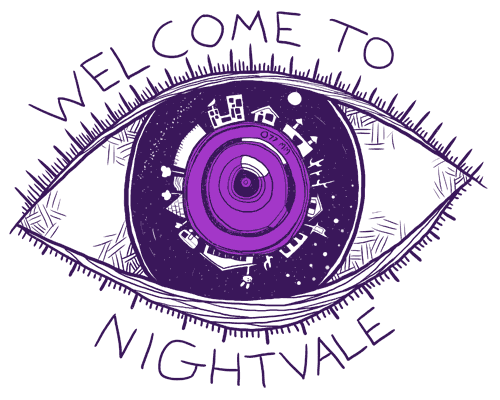 (GIF created by schwagirl)
On Saturday our very own Cecil Otter will play a rare solo show opening up for the god Sage Francis at First Ave in Minneapolis. Sage just dropped his brand new album Copper Gone today (cop that right HERE), and Cecil produced two serious heat knockers on it. Click the image below for show details, and check out a portion of monstrous single "Pressure Cooker" at around the 3:00 mark of the YouTube press conference vid. Cecil on the beat!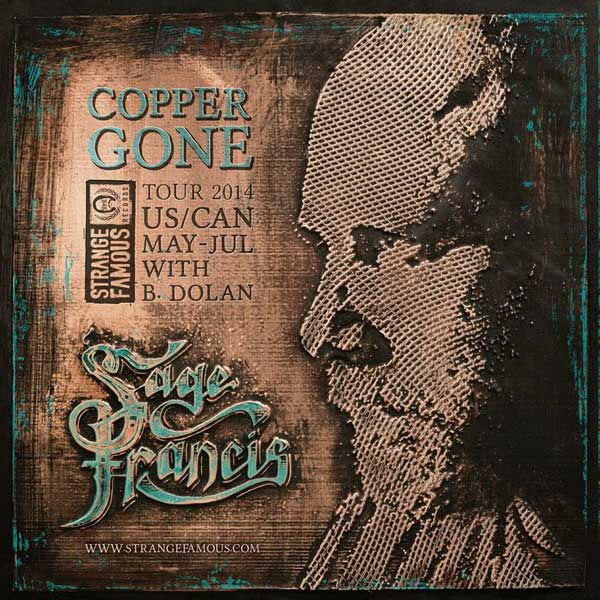 OK, I think that does if for show announcements this week. Now for some exciting merch news: We've brought the Doomtree Mystery Grab Bags back for an extremely limited time only!!!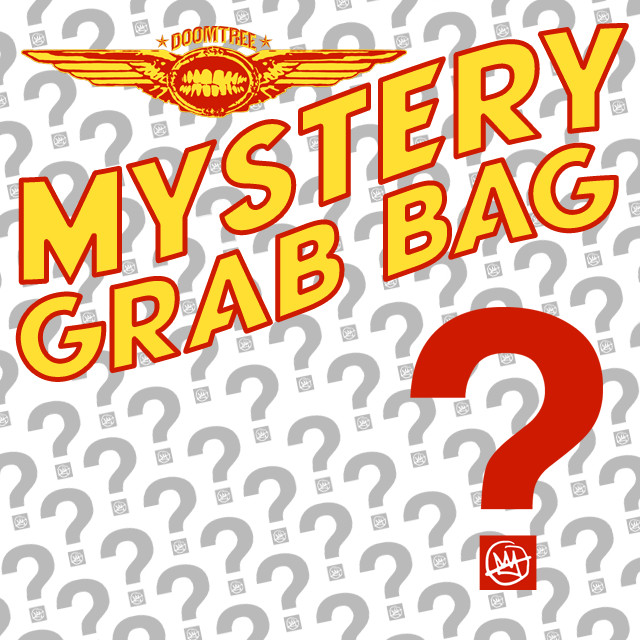 Man, I had no idea how much people like mystery grab bags. We flew through 300 of these suckers in the first week and had to take them off the site to make sure we had enough cool stuff around. After re-counting inventory we've been able to make some more available, but shirts are all pretty limited (we've already sold out of a couple sizes), so you'll wanna act fast if this is something you're into. This new version of the grab bag comes with 3 random CDs from the Doomtree catalog, 1 random t-shirt of your size, a Wings & Teeth temporary tattoo, tons of stickers, and an awesome metal pin. Click HERE to graaaaab (HA!) yours before they're gone. And don't forget to check out the webstore for more brand new seasonal options right HERE.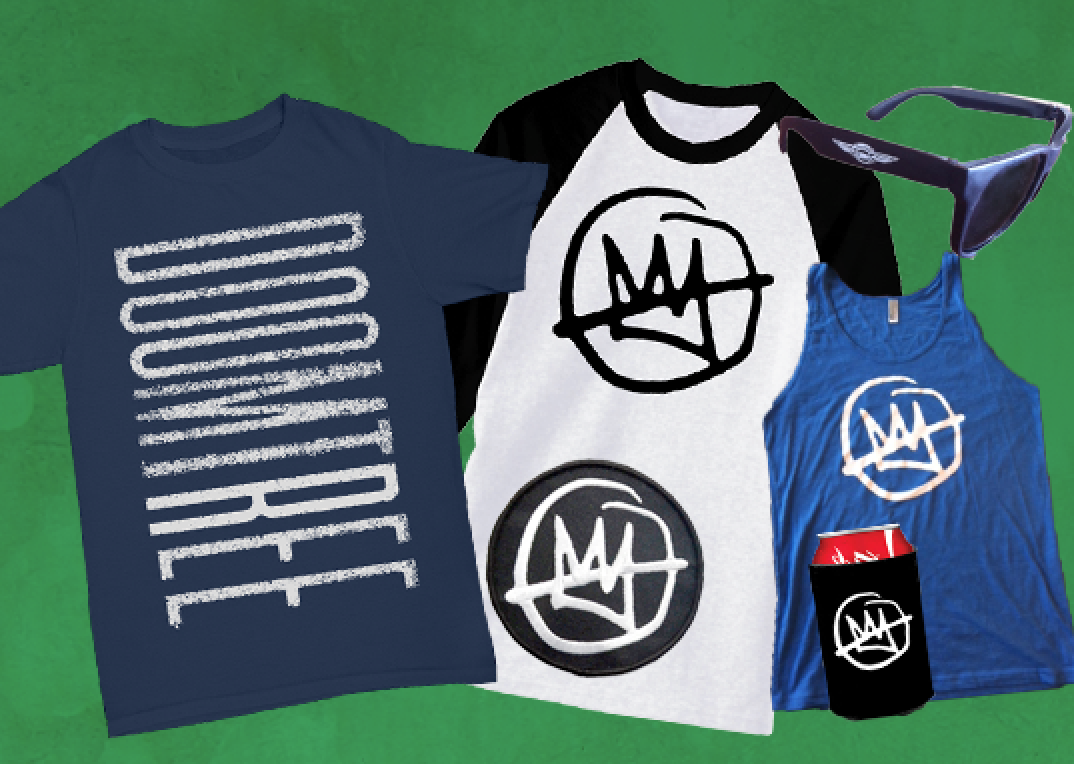 And now for some Bonus Jams from my current favorite rapper. Look, I know Drake is a dork. I get that he looks ridiculous and is truly soft as baby thighs. But in my opinion he really is the best rapper out there right now (probably the second best male R&B artist out right now), and he's already three for three in the classic albums department. So have a really good laugh when you see pictures like this, because they are seriously hilarious….
But then listen to these newish leaker tracks he's been throwing out recently (not to mention the onslaught of great guest verses popping up everywhere), BECAUSE THEY ALL TOTALLY RULE. Best in the game right now by a long shot. BAM!
[soundcloud url="https://api.soundcloud.com/tracks/152366920″ params="auto_play=false&hide_related=false&show_comments=true&show_user=true&show_reposts=false&visual=true" width="100%" height="300″ iframe="true" /]
[soundcloud url="https://api.soundcloud.com/tracks/142630619″ params="auto_play=false&hide_related=false&show_comments=true&show_user=true&show_reposts=false&visual=true" width="100%" height="300″ iframe="true" /]
[soundcloud url="https://api.soundcloud.com/tracks/142830556″ params="auto_play=false&hide_related=false&show_comments=true&show_user=true&show_reposts=false&visual=true" width="100%" height="300″ iframe="true" /]
Ok, that ends my defense of Drake. I'll leave you with some pretty amazing Bonus Baby Pics. Penny turned two whole years old last Wednesday, and has pretty much been having the best week of her life. We started things out at the Mall of America with a trip to the Disney store (FROZEN!!!), some cool rides at Nickelodeon World, and our first family trip to the Rainforest Cafe (not for the faint of heart). Here's Penny hanging out with Mom and that Blue's Clues guy.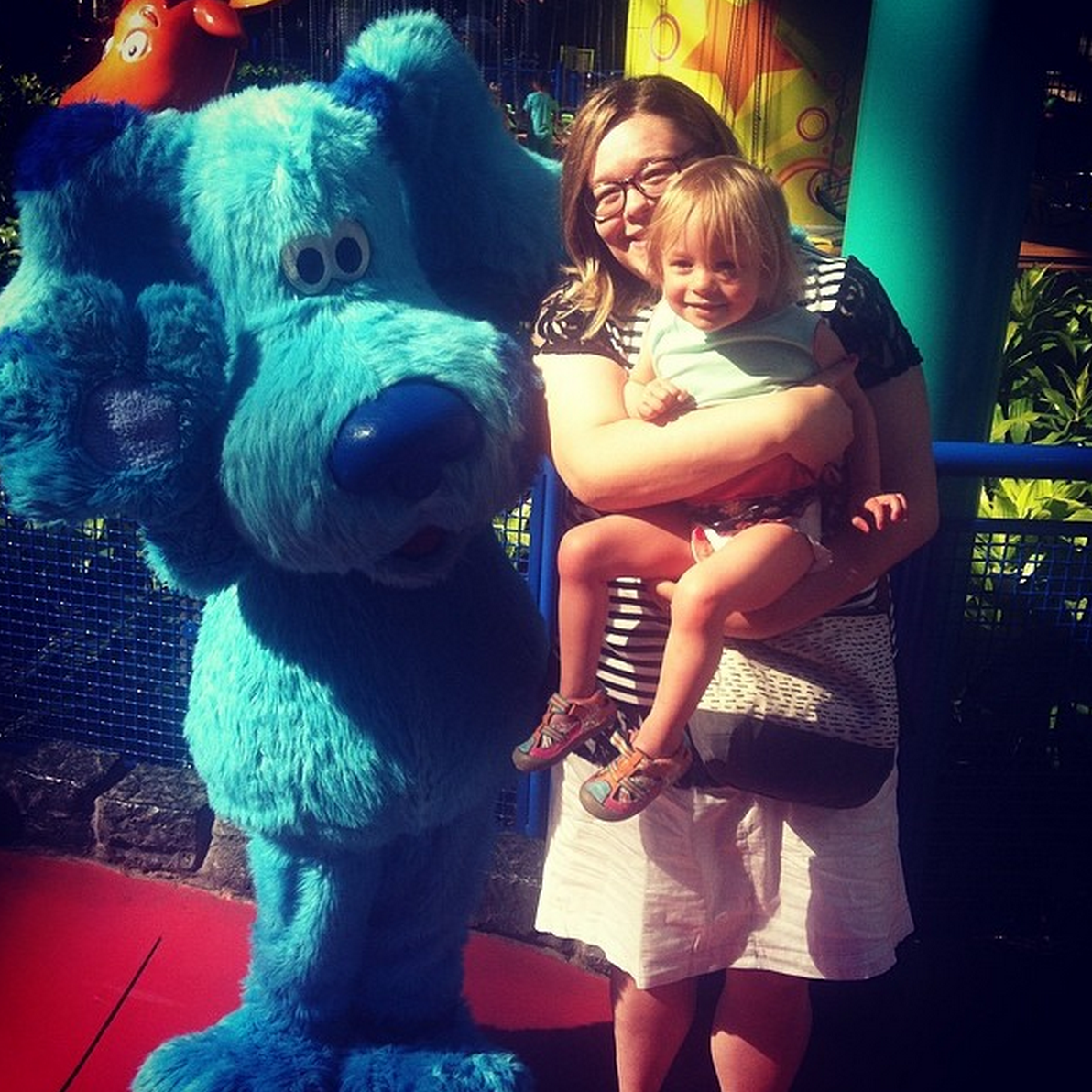 On Friday Stef took Lincoln and Penny to the zoo. I'll try to refrain from getting too sappy here, but these two kiddos are becoming BFFs super fast and I can't tell you how happy I am to see them get so pumped every time they see each other. This picture man.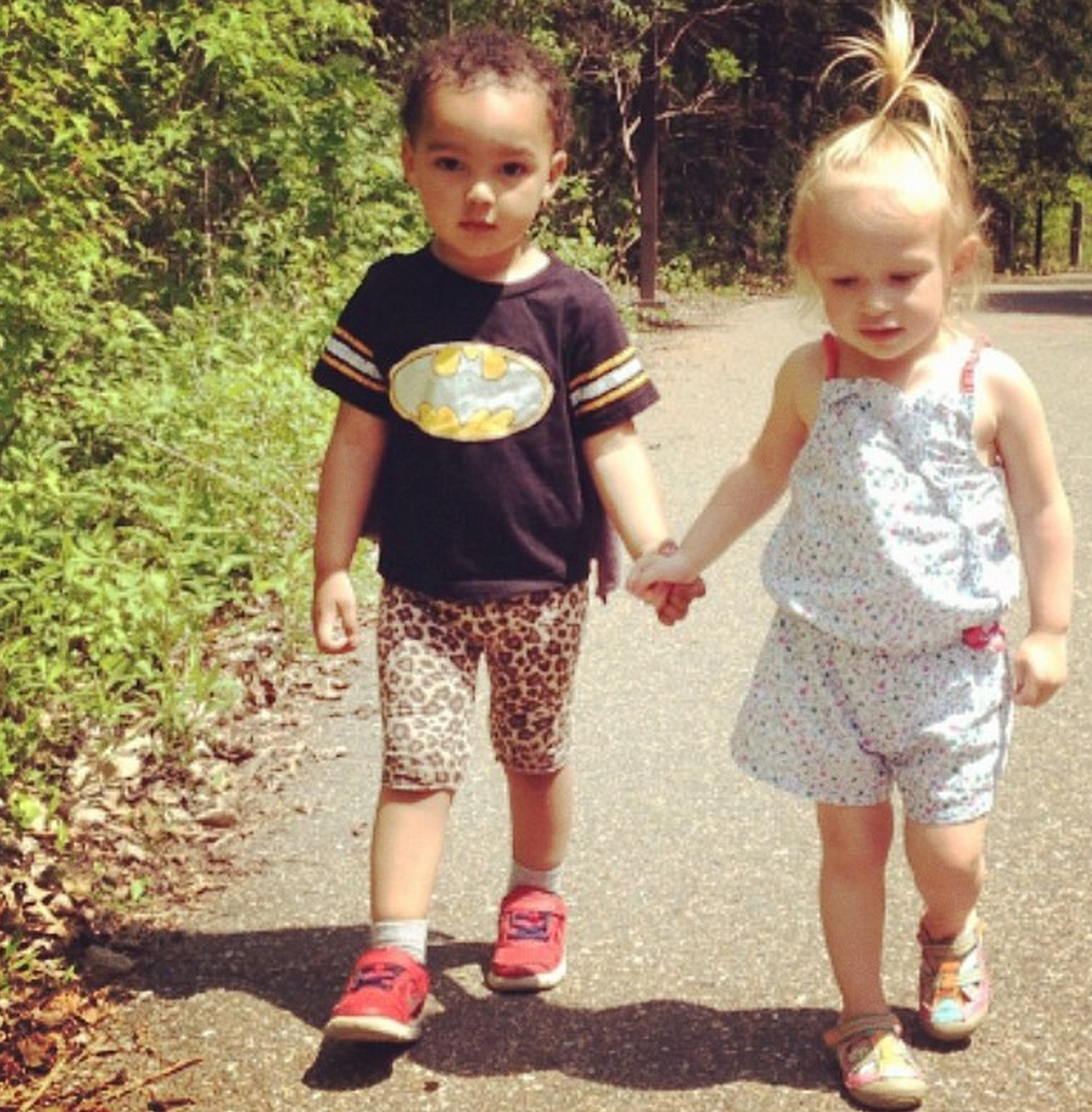 Then on Saturday we threw the big time family party at our place, and it was truly one for the ages. I'm talking zebra pools, bubble blowers, and about one miiiiiillion presents. Probably gonna need to tone it down next year. Anyways, here's Penny in her princess party dress, belting out the chorus to "Let It Go" from the Frozen soundtrack. Note the "one arm out at all times for dramatic effect" DIVA tactic that she's employing. Total pro.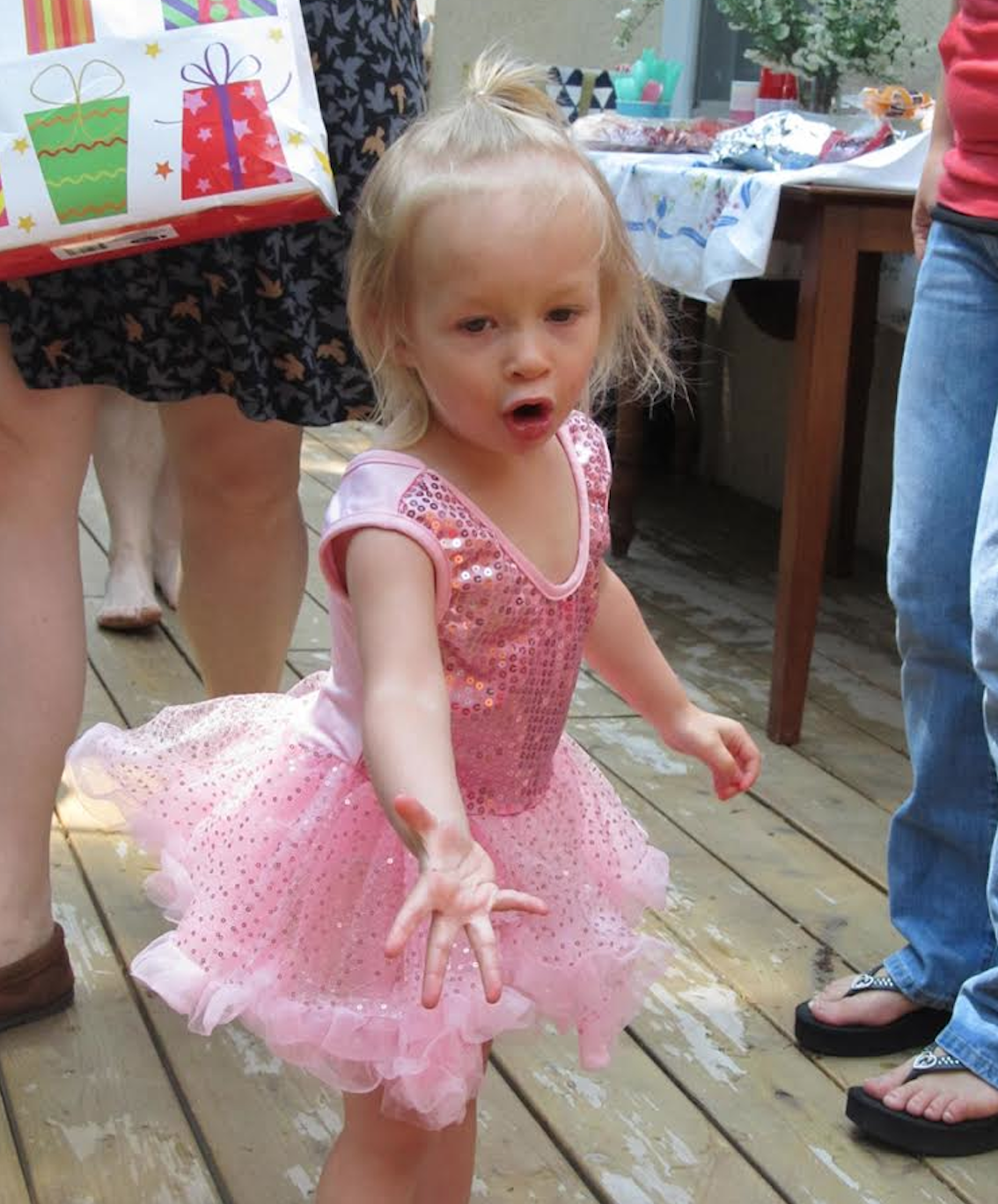 Oh, and here's my contribution to the party. Coolers can get confusing. You're welcome.
Happy Birthday Young Nelpz! Now here's a couple TWINZ pics so no one feels left out. After several years of blood, sweat, and tears, I've officially mastered the art of the no-handed bottle feeding. Started from the bottom now we here!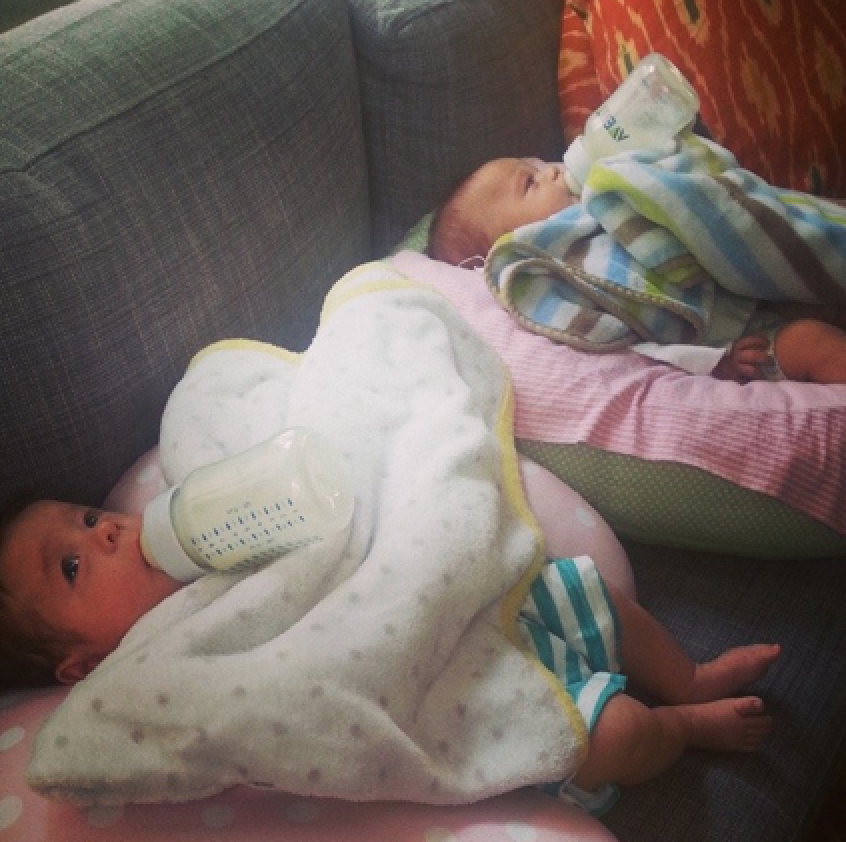 These dudes are growing up fast. They'll be three months old in a couple weeks, and they're really starting to come into their own lately, smiling and cooing up a storm. Here's their latest rendition of Good Cop, Bad Cop. Love these guys.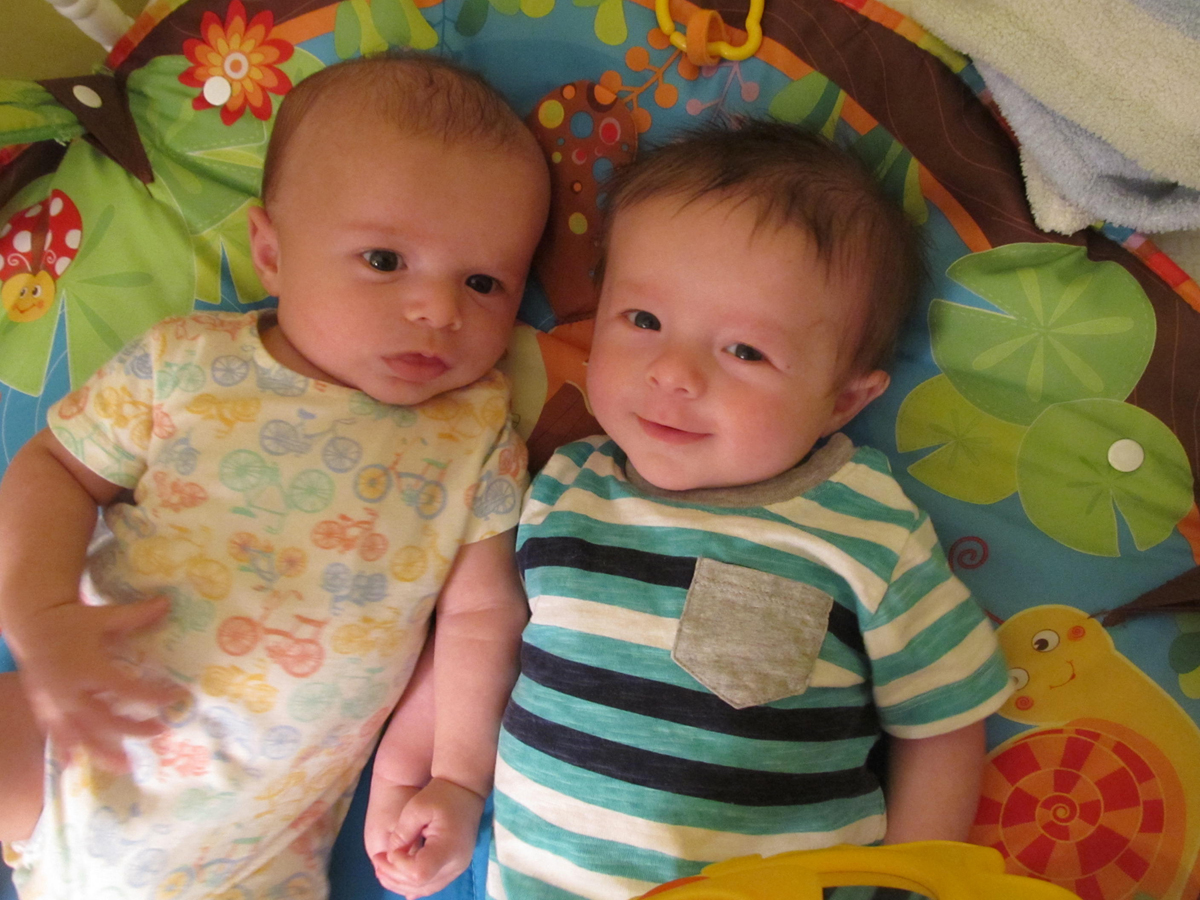 Alright, that for real does it for this post! To the people that come just for the music news, thanks for enduring the baby pics. Same thing goes tenfold on the vice versa. I hope you all have a great week, and I'll see you next Tuesday for another round of TWL!
– Beak
Twitter: @_LAZERBEAK
Instagram: @lazerbeak
SUPPORT THIS BLOG LYFE. TUESDAYS WITH LAZERBEAK SHIRTS AND POSTERS AVAILABLE NOW!!!