ASTRONOMICALLY HUGE NEWS DAY: Yes, you read the heading correctly. This December will mark the tenth and final Doomtree Blowout.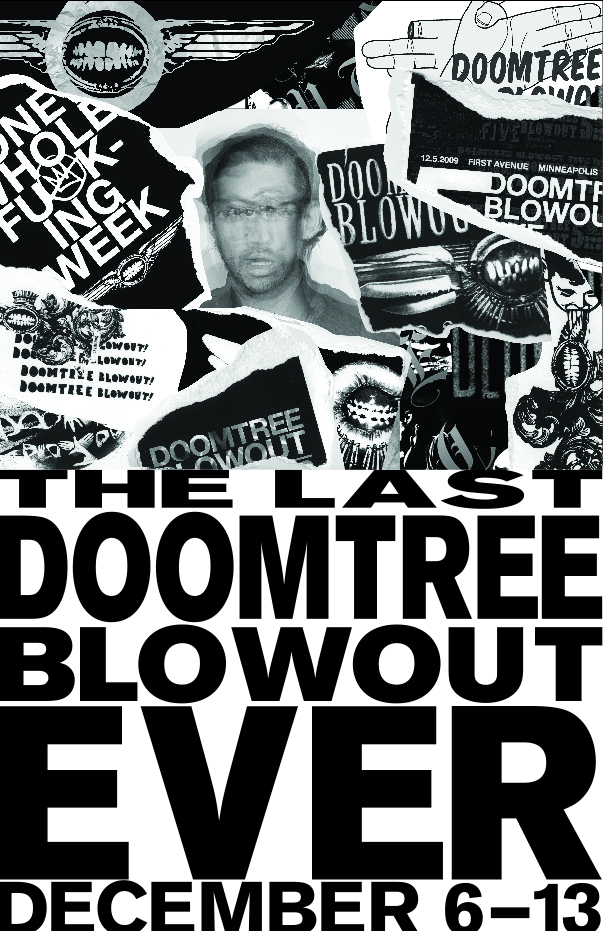 Before the rumors ever have a chance of flying around, let's make one thing clear: This in no way marks the end of Doomtree. When we all met up earlier this year to start planning the big Blowout X, we got to thinking about how incredibly lame and boring the idea of ever throwing a Blowout 11 sounded (let alone a Blowout 18). We've been talking for awhile now about wanting to switch things up a bit and challenge ourselves to create new traditions moving forward. With the retrospective Every Single Day book out this past summer and a brand new crew album on the horizon early next year, this just seemed like the perfect time to put an exclamation point on the last decade of awesomeness and close out an important chapter before gearing up for a truly insane 2015. So that's pretty much that in a nutshell. Now for the glorious details.
12/6-12/13. Saturday to Saturday. 10 events in 8 days. Every hour on the hour we'll be announcing the details of each unique day's schedule. For our first show we'll be taking it over the river to St. Paul and kicking things off  at the newly renovated Turf Club!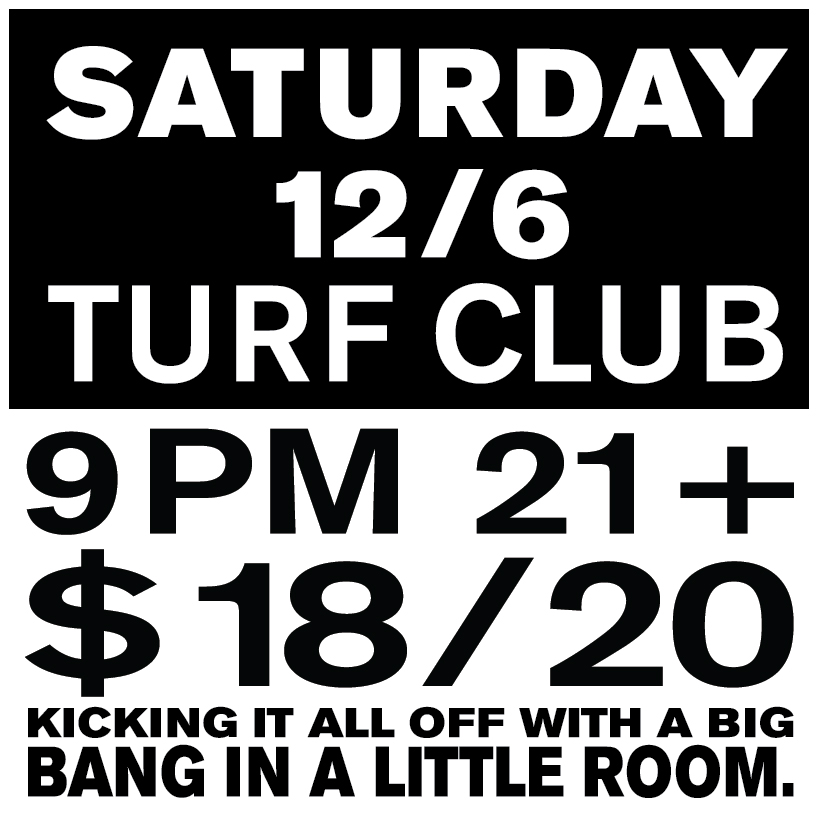 Keep coming back every hour for new details on all eight days! Huge shouts to our sponsors at The Current, Vita.mn, and Surly. Equally huge shouts to the great organizations that we'll be donating a portion of all Blowout sales to: Southside Family Nurturing Center, Animal Humane Society, Hope Community Center, Domestic Abuse Project, and Kicker Project. Sign up for the Doomtree Mailing List HERE to get a shot at ticket pre-sales this Thursday. Otherwise, the public on-sale starts at noon this Friday, and a bunch of us will be at The Depot at 4:30 on Friday selling tickets hand to hand.
10:00am UPDATE: Sunday is Surly Doomtree Day! We're keeping the details on this one pretty close to the chest for now, but here's the gist. For those that don't know, Surly is a local beer company that has been killing the game for quite awhile now. We hung out with these guys a lot over the summer and realized how similar the Doomtree and Surly build-it-from-the-ground-up stories are, so we decided to use one of the Blowout days to showcase and bring together our two different worlds of music and beer. Full details coming soon. Stay tuned!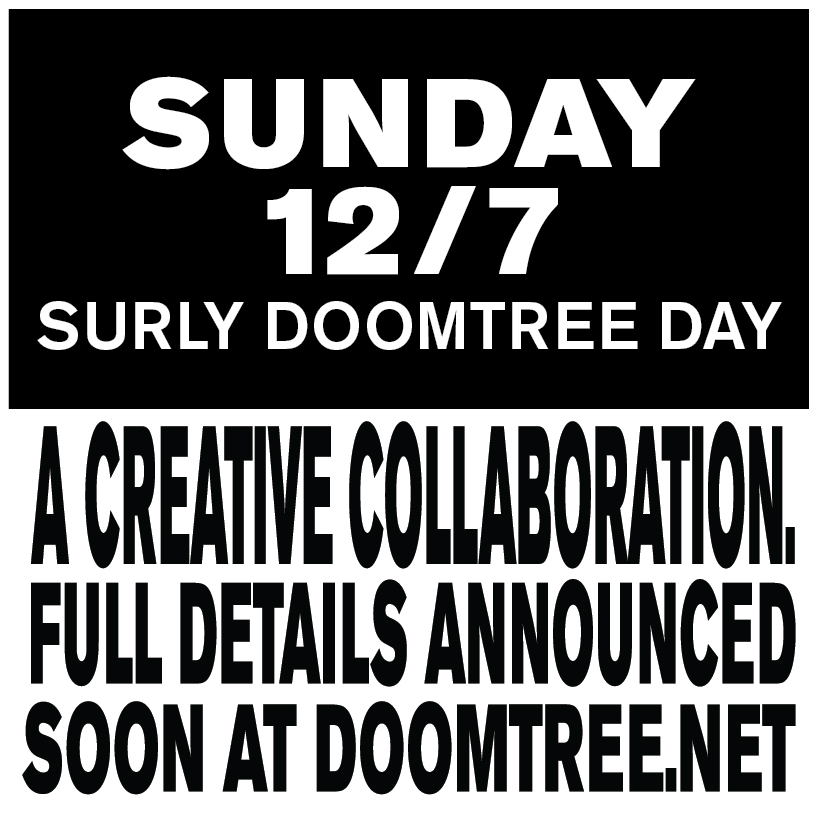 11:00am UPDATE:  Monday 12/8 we'll be rocking a super small and intimate show at Icehouse! This night will be a big showcase of all the different musical endeavors our individual members get into when we're not working on a new crew record. Side projects, tomfoolery, and tons of friends. Anybody's guess really. Going to be insane.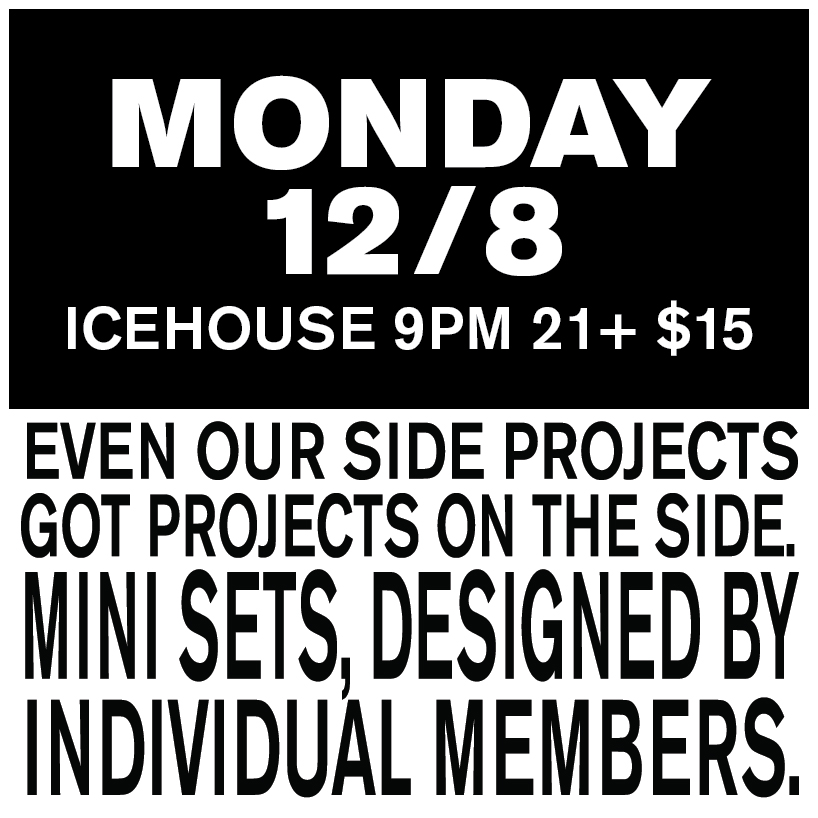 12:00pm UPDATE: Doomtree loves the kids! On Tuesday 12/9 we're christening it Kids Day. Members of Doomtree will be visiting various schools throughout the Twin Cities in the morning and afternoon; reading books to pre-schoolers, teaching workshops with junior high kids, and writing raps with the big high schoolers. Then at night we take it back to the Triple Rock for a huge all ages show. A show for the (all) ages if you will. Dad jokes!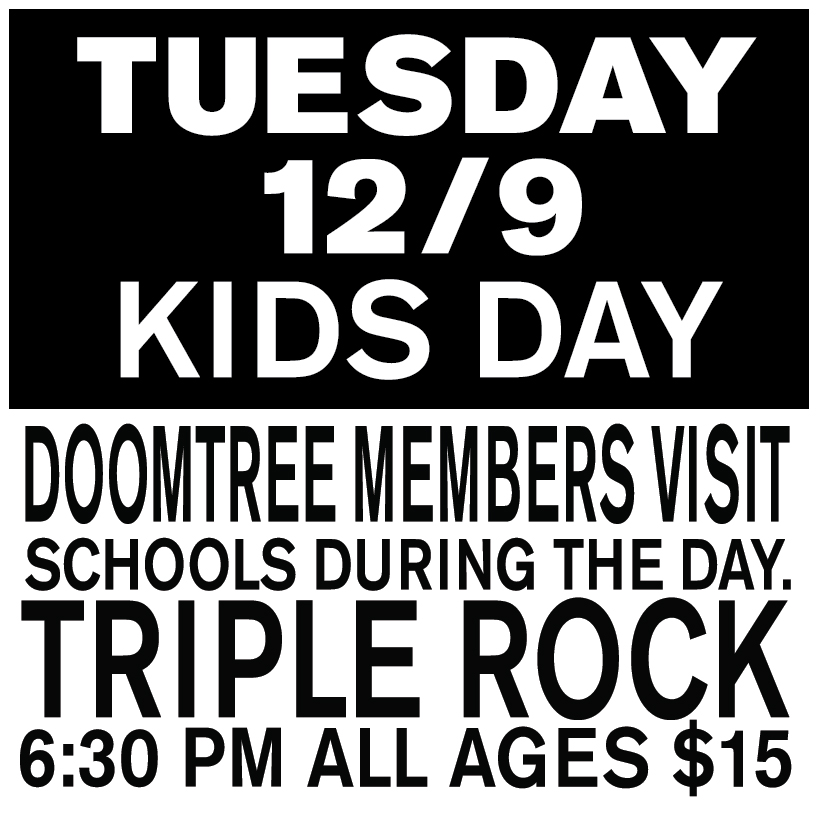 1:00pm UPDATE: This is a special one. Wednesday 12/10 marks the exact ten-year anniversary of the very first Doomtree Blowout (to the date!). So it only made sense to take things back to the Varsity Theater where everything began. It's real sentimental for us right now. Our friends at TPT will also be filming this event for a special episode of their Lowertown Line show. TEN YEARS! Crazed.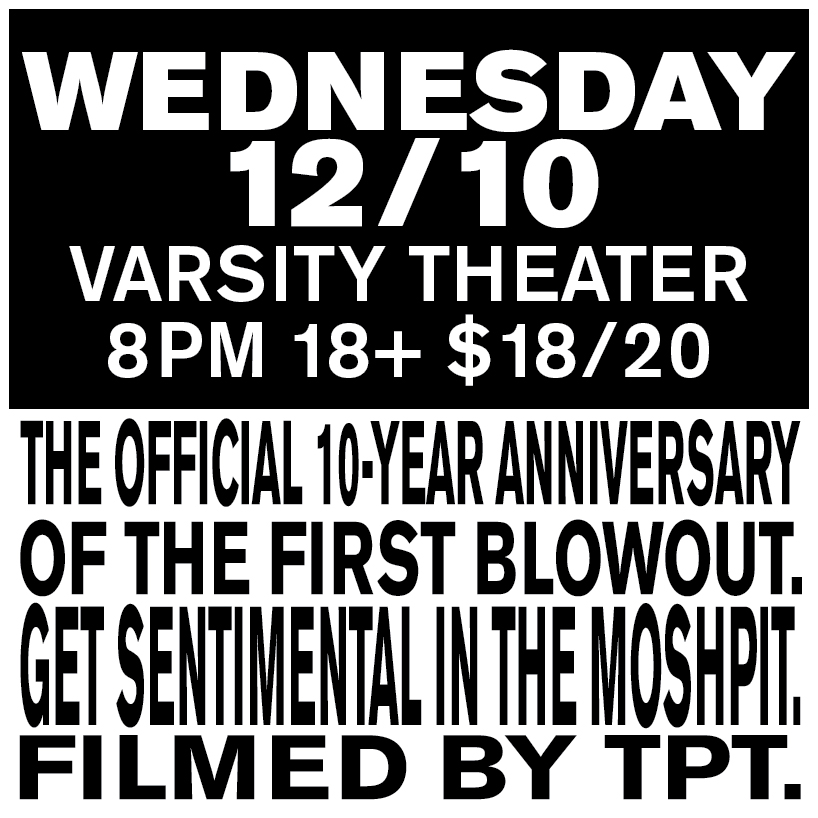 2:00pm UPDATE: Now it's time to bring it all back home to First Avenue, our favorite venue in the entire world and the prime location of every Blowout since our second one. Thursday 12/11 will be an 18+ show in the First Avenue Mainroom. It will be guaranteed NUTZ.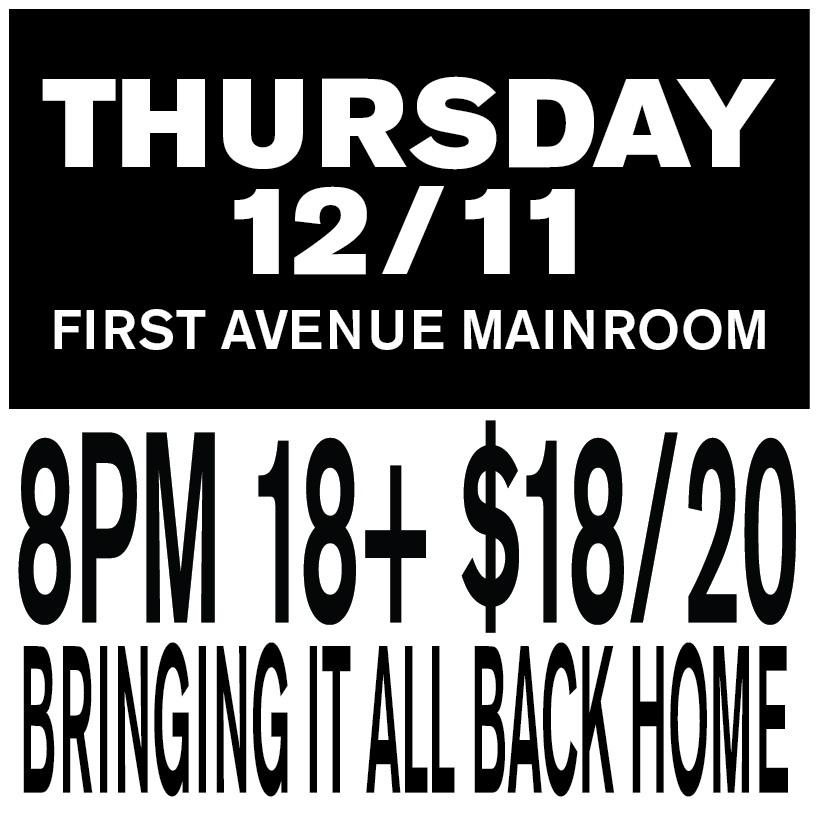 3:00pm UPDATE: Day 7 of the #LastBlowoutEver will be an epic doubleheader. We'll start things off at The Current at noon for a live taping, performance, and interview in the acclaimed UBS Forum (more details on how to score passes to that event coming real soon). Then we take things right back to First Ave for our second 18+ show over there before Saturday's final event. Maaaaaaan this is gonna a fun week.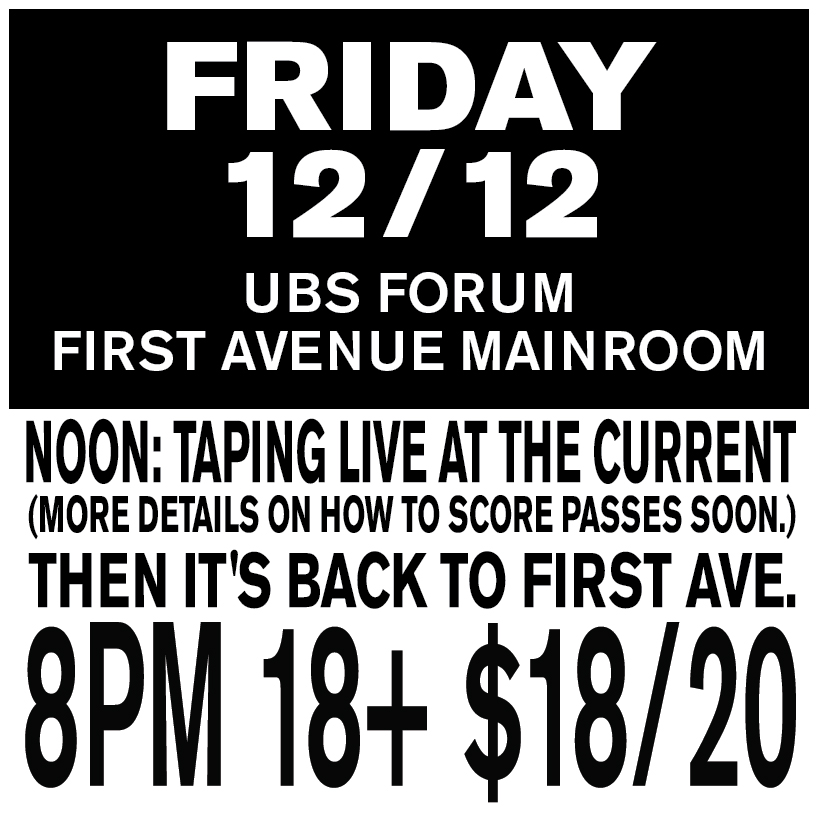 4:00pm UPDATE: THE GRAND FINALE! Our tenth and final event will conclude with the last night in a three-night stand at First Avenue. In my opinion the Doomtree Blowout and First Ave are pretty much synonymous with each other at this point. We basically grew up at this venue. I couldn't imagine closing out the #LastBlowoutEver anywhere else. This one's for the grown folks. 21+ and I'm sure plenty rowdy. Going out with one hell of a bang.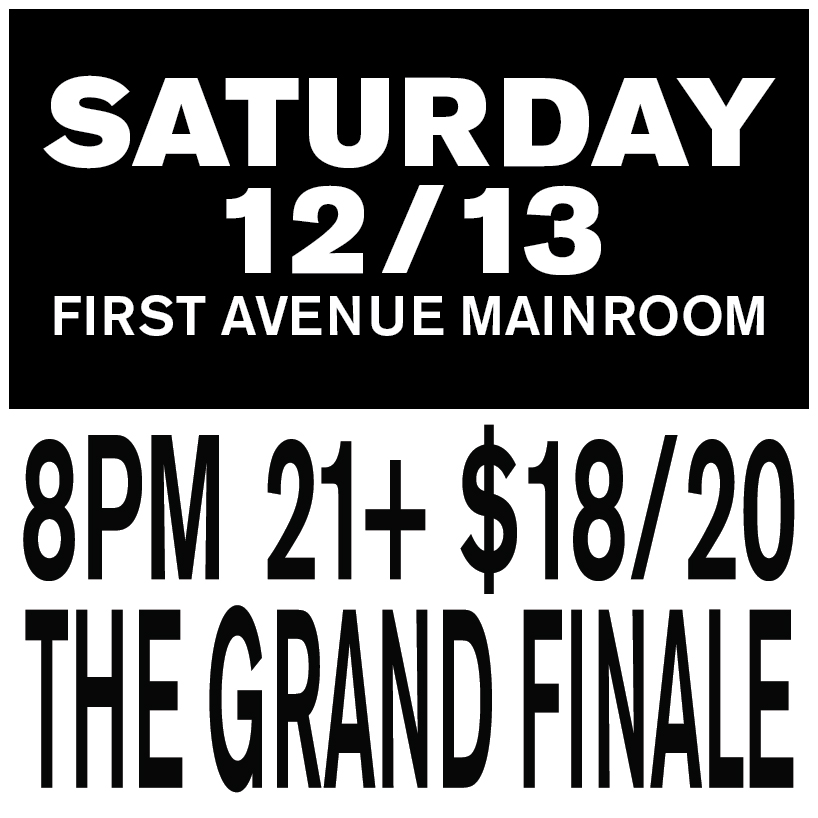 BAM! So there you have it. 10 events in 8 days. The last Doomtree Blowout ever. Thanks for following along all day to the hour by hour announcements. If you've already signed up for the Doomtree Mailing List, expect an email shortly with special pre-sale ticket information. Otherwise tickets will officially go on sale to the public at 12:00pm CST on Friday. If you're in the Twin Cities, come on  down to The Depot at 4:30pm on Friday and buy your tickets directly from us. We'll have 50 "ALL IN" passes that will grant you access to all of the ticketed events, if you're looking to make a real week out of it (must be 21+, only available in person at The Depot). So excited to have all this news out into the world. Here's a quick rundown just in case your head is spinning like mine right now.