COLOSSAL NEWS DAY: Welcome to the most glorious and action-packed Tuesdays With Lazerbeak of all time!!! It brings me supreme joy to announce that on January 27th Doomtree Records will release All Hands, the brand new full-length crew album from all seven members of Doomtree. Maaaaaaaan that feels good to finally type out loud. Check out the sweet album cover art below!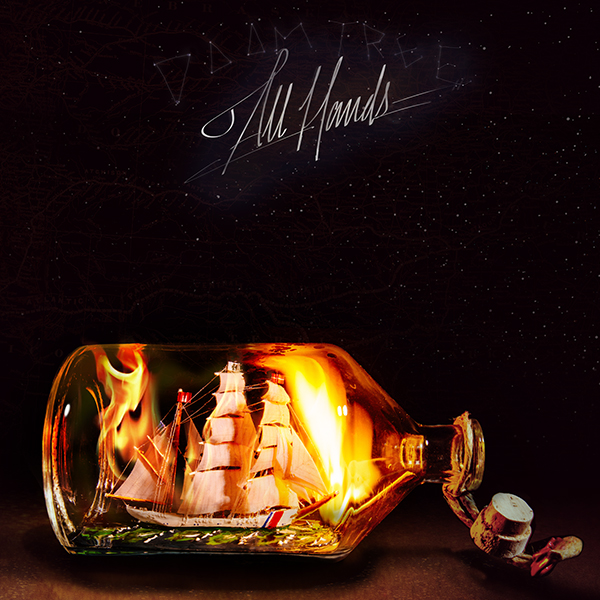 You can't announce a brand new album without a blazing hot, heat knocking, lava banger of a new single. Check out "Gray Duck" in the Soundcloud player below and get seriously AMPED OUT OF YOUR MIND for All Hands!
[soundcloud url="https://api.soundcloud.com/tracks/176168371?secret_token=s-dOrjH" params="auto_play=false&hide_related=false&show_comments=true&show_user=true&show_reposts=false&visual=true" width="100%" height="450″ iframe="true" /]
Here's "Gray Duck" in a YouTube player format just in case you have a serious vendetta against streaming audio services.
Alright, you can't announce a brand new album and a blazing hot, heat knocking, lava banger of a new single without also announcing the most crushingly over-the-top pre-order in Doomtree Records HISTORY!!! Let me attempt to break down all of the amazing gifts that will be bestowed upon you when you pre-order All Hands directly from the Doomtree Webstore. The Standard Pre-Order option includes the following insanity: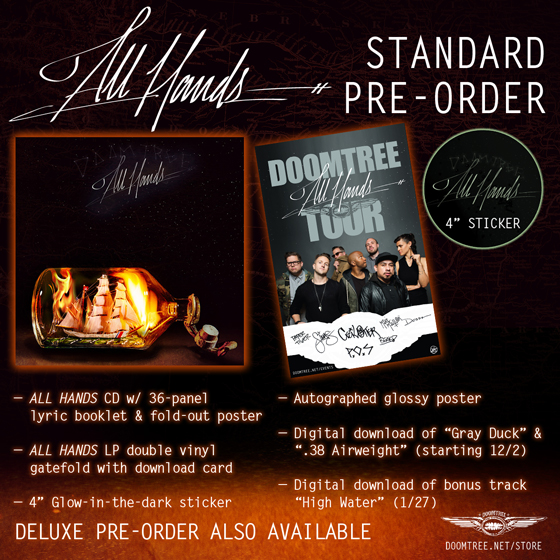 – Immediate download of "Gray Duck" and ".38 Airweight"
– Digital download of bonus track "High Water" (delivered on 1/27)
– Glossy poster autographed by all seven members of the crew
– All Hands 4″ glow-in-the-dark sticker
– CD version includes a 36-page lyric booklet and a fold-out poster
– Vinyl version includes double LP gatefold packaging and a digital download code
All of that for just $12.99 on CD and $24.99 on LP. OUTRAGEOUS. That's basically somewhere in the realm of what Paper Tiger spends on just one lunch at the airport Arby's. But that's not all….. If you're really looking for the most incredible pre-order option in all of Doomtree Records history, look no further than the All Hands Deluxe Pre-Order. CHECK. THIS. OUT.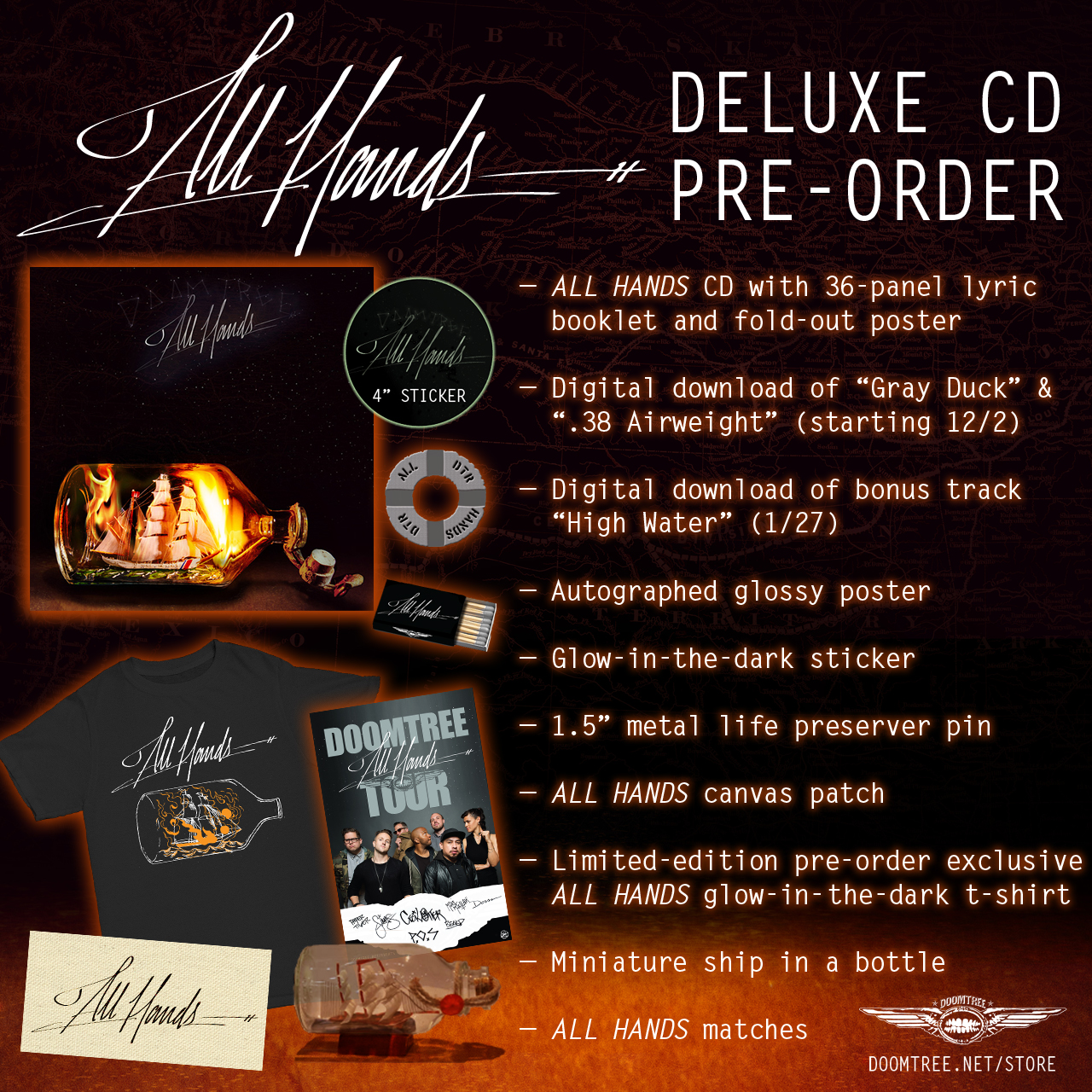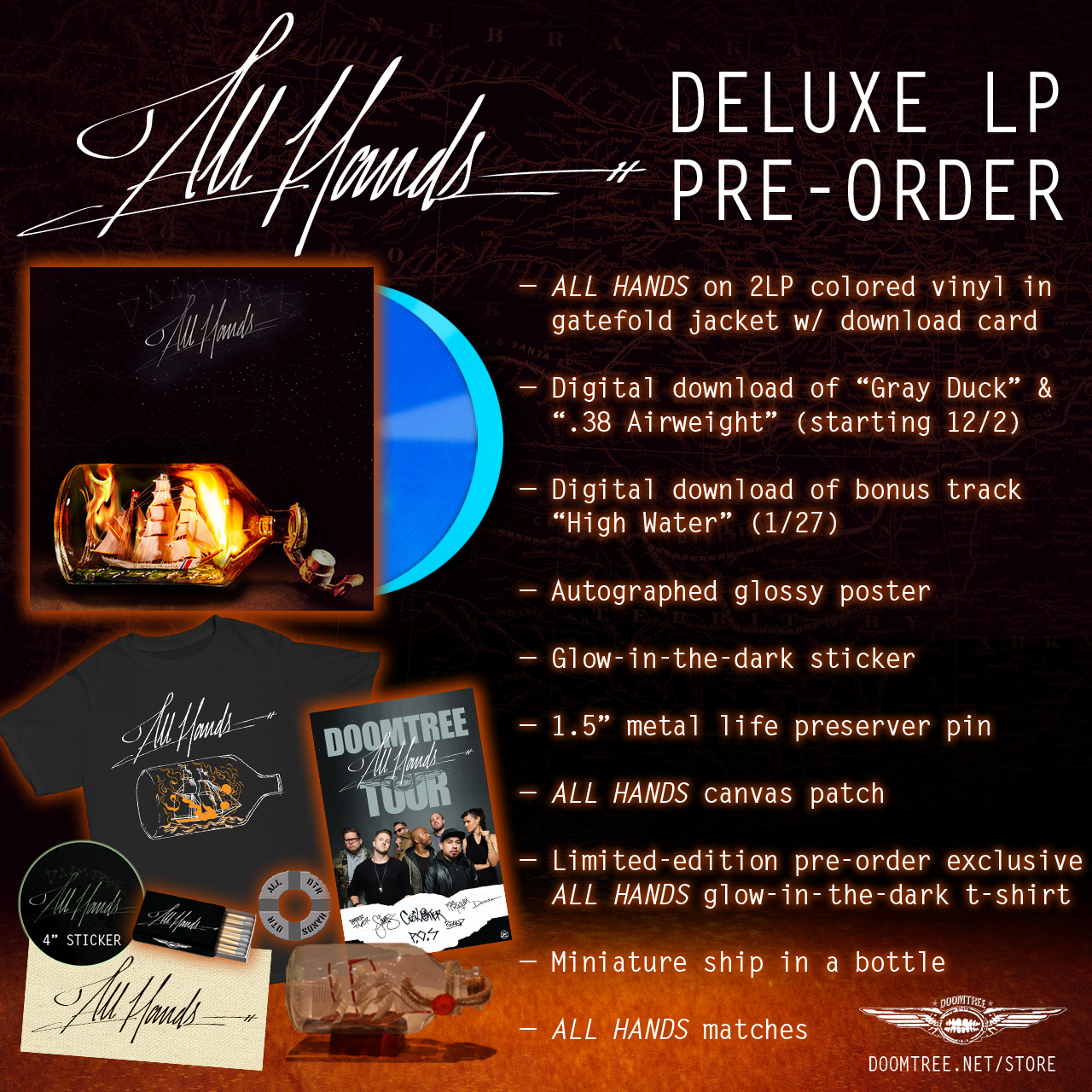 That's right. You get every single item mentioned in the standard pre-order, plus the following awesomeness:
– Limited-edition glow-in-the-dark All Hands t-shirt (available only in this pre-order)
– Miniature ship in a bottle (like the album cover)
– All Hands branded matchbox (to recreate the album cover)
– 1.5″ metal DTR life preserver pin (to add to your No Kings and Four Fists pin collection)
– All Hands screen-printed cloth patch
– Vinyl version includes limited-edition color vinyl (A/B is light blue, C/D is dark blue)
DAAAAAAAAANG. Truly increíble. Go grab your standard and deluxe pre-orders at the Doomtree Webstore right HERE, right NOW (just like that Jesus Jones song).
And if you're more of the digital type, you can pre-order All Hands from iTunes (HERE) or Bandcamp (HERE) and still receive "Gray Duck" and ".38 Airweight" instantly, as well as bonus track "High Water" when the album drops on 1/27.
OK for real, you can't announce a brand new album, blazing-hot-heat-knocking-lava-banger of a new single, and the most crushingly over-the-top pre-order in Doomtree history without also announcing the ALL HANDS TOUR!!!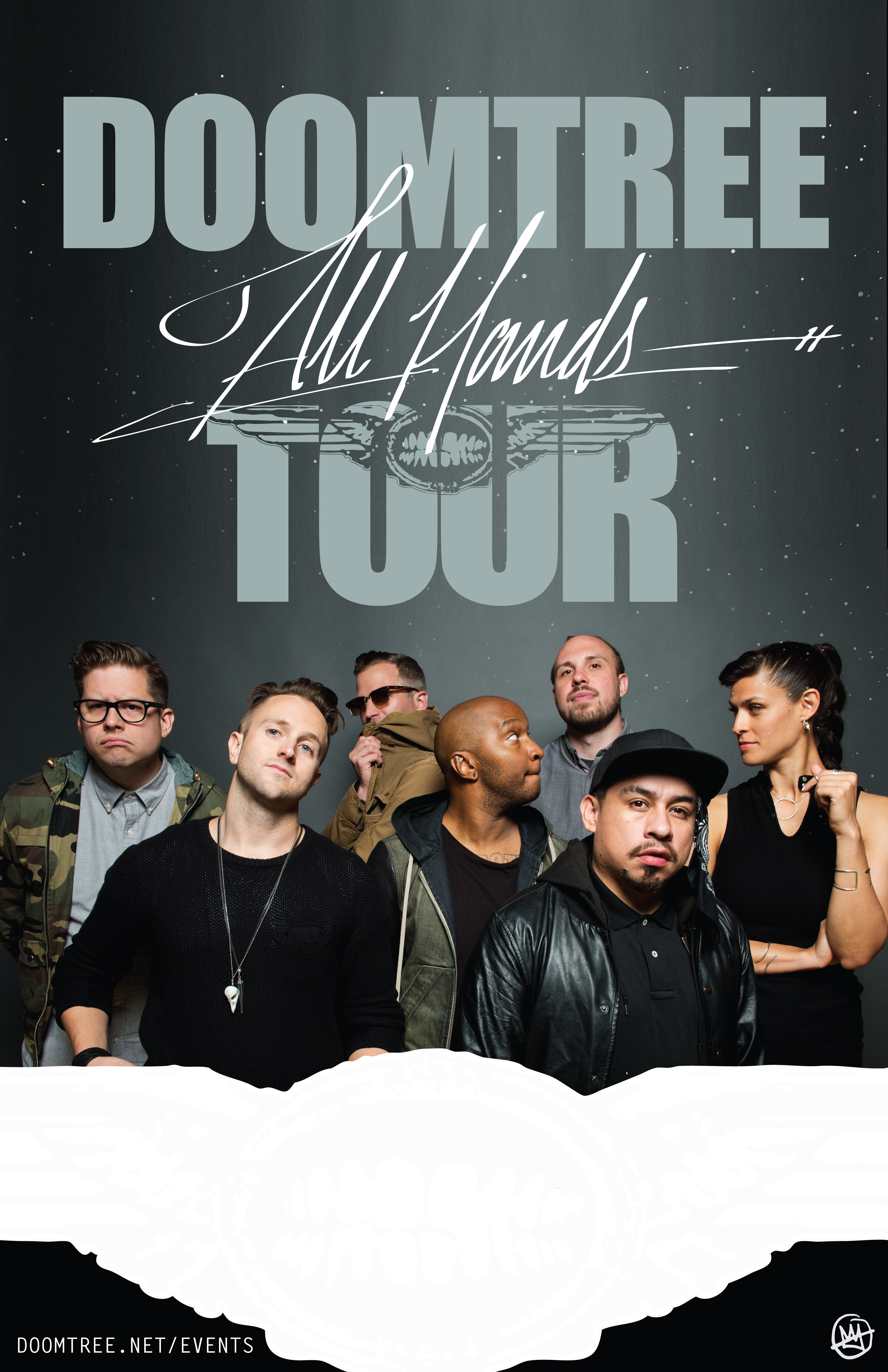 BAM! The dudes will be hitting the road this February and March for a full-on US tour. Check out the complete list of initial tour dates below and sign up for the Doomtree Mailing List HERE to be notified of the early ticket pre-sale that starts this Friday. Tickets will then go on sale to the general public next Monday, December 8th. You can find all of those sweet tour deetz and more right HERE.
Doomtree Tour Dates:
12/6-13 – Doomtree Blowout – Minneapolis, MN – SOLD OUT
2/4 – Mojo's – Columbia, MO
2/6 – Trees – Dallas, TX
2/8 – Fitzgerald's Downstairs – Houston, TX
2/9 – One Eyed Jacks – New Orleans, LA
2/11 – The Earl – Atlanta, GA
2/12 – Motorco Music Hall – Durham, NC
2/13 – Boot & Saddle – Philadelphia, PA
2/14 – U Street Music Hall – Washington, DC
2/16 – The Sinclair – Cambridge, MA
2/17 – Highline Ballroom – New York, NY
2/19 – Blind Pig – Ann Arbor, MI
2/20 – Abbey Pub – Chicago, IL
2/21 – Majestic Theatre – Madison, WI
3/4 – The Waiting Room – Omaha, NE
3/5 – Aggie Theatre – Fort Collins, CO
3/6 – Gothic Theatre – Englewood, CO
3/7 – Urban Lounge – Salt Lake City, UT
3/9 – Neumo's – Seattle, WA
3/10 – Hawthorne Theatre – Portland, OR
3/12 – Slim's – San Francisco, CA
3/13 – The Roxy Theatre – Los Angeles, CA
3/14 – The Glass House – Pomona, CA
3/16 – Club Red – Mesa, AZ
3/17 – Launchpad – Albuquerque, NM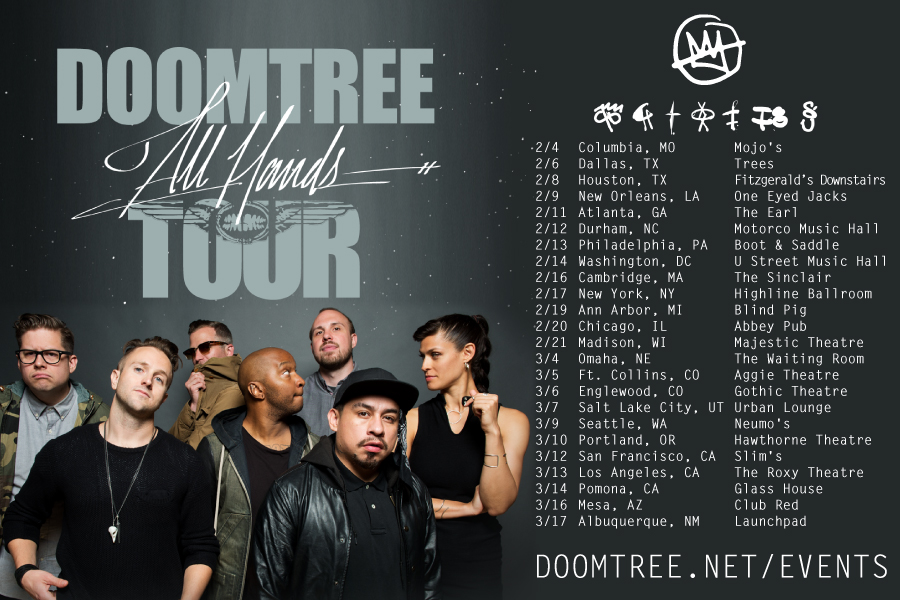 And just in case reading about all of this incredible news wasn't enough for you, we brought in the Legend God of Promo Videos, Ander Other, to really drive home the point in a succinct, informative, and vizually stunning All Hands promo vid. SYNERGY!!!! Check it out below (animated flames, dude).
Alright, I think that's probably enough excitement for one post. Don't forget that all of this big tyme news is just the beginning. The Last Doomtree Blowout Ever kicks off this Saturday at the Turf Club, followed by Surly Doomtree Day on Sunday, and the Icehouse show on Monday. All the concerts are sold out for the entire eight-day Blowout run, but everyone is welcome to come and hang out with the Doomtree and Surly crews this Sunday for our big crawl around the Twin Cities. Come kick it with us and celebrate the release of the new beer! You can try it for yourself at each location and enter to win tickets to various Blowout shows throughout the week, including the super private Surly Doomtree launch party later that night. It's gonna be awesome. Times and places are listed below.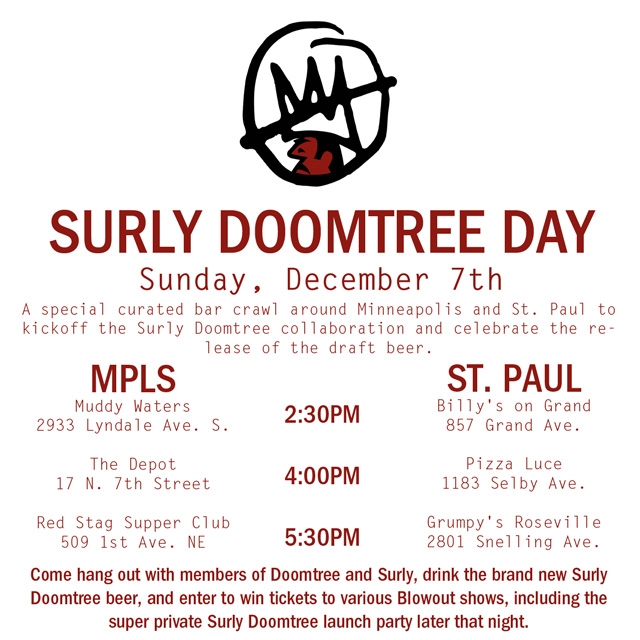 I'll leave you with a couple very special Bonus Jams just in case you got so excited at the start of this post that you forgot to click play. Check out "Gray Duck" and ".38 Airweight" below, and don't forget to grab your All Hands pre-order right HERE.
OK, I hope you all have a wonderful rest of the week. Can't wait to see a ton of you out at all the different Blowout events. Stay tuned all next week as we'll be posting pictures from every single night of the sold-out run, starting on Sunday morning. See you then!
— Beak
Twitter: @_LAZERBEAK_
Instagram: @lazerbeak
SUPPORT THIS BLOG LYFE. TUESDAYS WITH LAZERBEAK SHIRTS AND POSTERS AVAILABLE NOW!!!