Welcome back to another action-packed Tuesdays With Lazerbeak. We are now only one week away from the official release of All Hands! I cannot believe it's coming up so soon. To kick things off right, we've decided to create something called All Hands Day. In celebration of the epic day that is January 27th, the whole crew will be running all over Minneapolis from morning til night, hitting new destinations every couple hours, hanging with the people, and toasting to the culmination of these last three years of hard work. Check this out!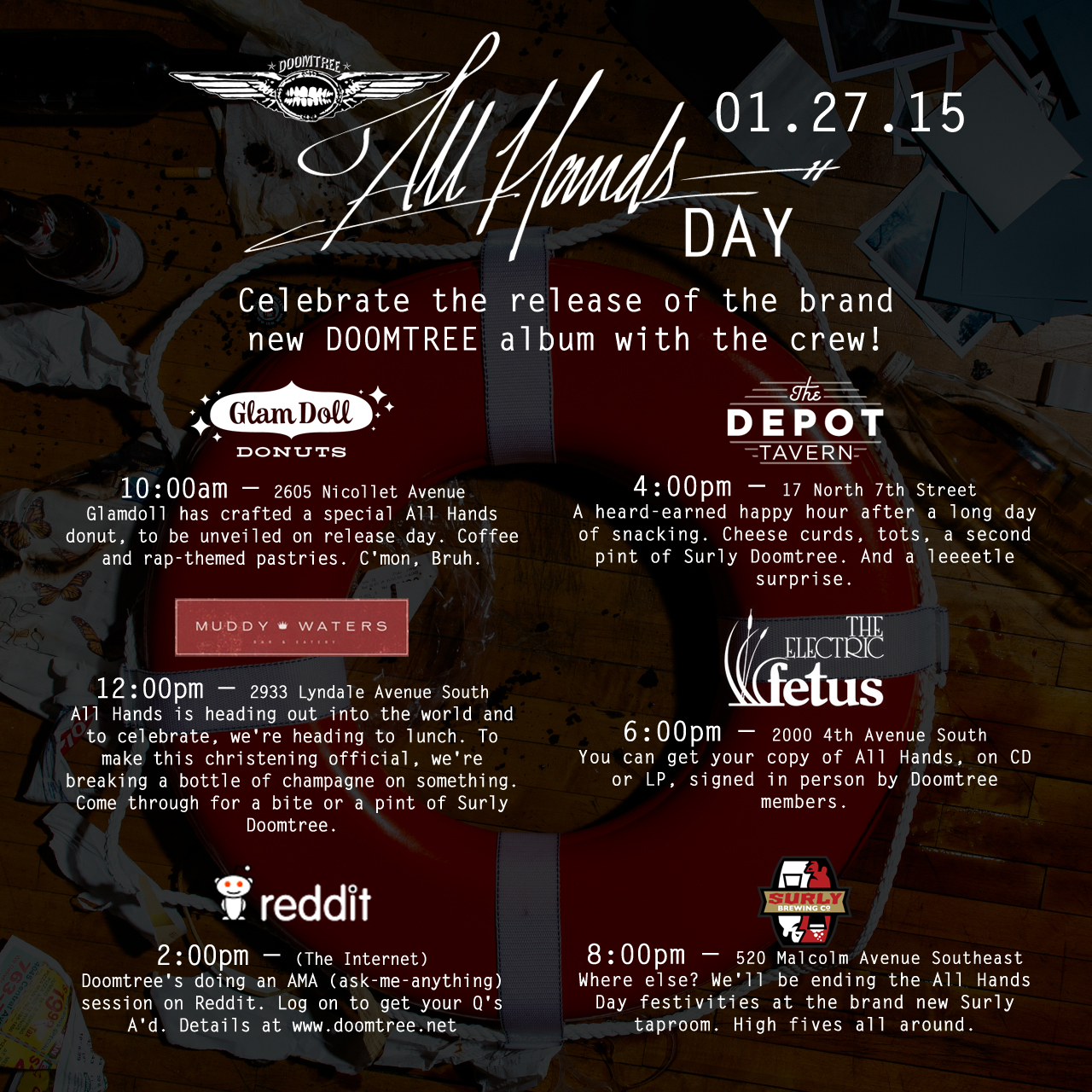 10:00am – Glam Doll Donuts
Glam Doll has crafted a special All Hands donut, to be unveiled on release day. Coffee and rap-themed pastries. C'mon, Bruh.
12:00pm – Muddy Waters
All Hands is heading out into the world and to celebrate, we're heading to lunch. To make this christening official, we're breaking a bottle of champagne on something. Come through for a bite or a pint of Surly Doomtree.
2:00pm – Reddit AMA (on the internet)
Doomtree's doing an AMA (an ask-me-anything session on Reddit). Log on to get your Q's A'd. Details at www.doomtree.net. 2:00pm CST.
4:00pm – The Depot
A heard-earned happy hour after a long day of snacking. Cheese curds, tots, a second pint of Surly Doomtree. And a leeeetle surprise.
6:00pm – Electric Fetus
You can get your copy of All Hands, on CD or LP, signed in person by Doomtree members. We did this for No Kings and had an absolute blast.
8:00pm – Surly Beer Hall
Where else? We'll be ending the All Hands Day festivities at the brand new Surly taproom. High fives all around.
Oh man, this is gonna be so much fun. I hope to see a ton of you out and about as we run around all day. And if you're not in Minnesota, consider dropping in on the Reddit AMA thing online and do some cyber hanging.
Well, the dust has finally settled on the Doomtree physical pre-order. The team is hard at work getting all the orders packaged up and ready for shipping this week. I can't thank everyone enough for the tremendous support shown to the pre-order, especially in those closing days. Dessa wrote up a really spot-on glimpse into why these pre-sales are so important to a little label like ourselves (read about that right HERE). If you missed the physical pre-order but would still like to help out, you can always pre-order digitally through iTunes right HERE. You'll get the first three singles instantly, and the rest of the album as soon as the clock strikes midnight on Tuesday morning.
Now let's run down some more events that are coming up super soon. Our good friends over at The Current are in the midst of celebrating their own 10 year mark, and to celebrate they're throwing a ton of insanely awesome events on throughout the city. This Thursday (1/22), we'll be taking part in a public music meeting and karaoke session at Amsterdam Bar and Hall in St. Paul. At 5:00pm, members of Doomtree and The Current will hold an open-to-the-public forum and pull the curtain back a bit on what it takes to program a radio station. Then at 6:30pm we're getting into some serious karaoke, run by none other than Grace aka Stef's Mom aka The Karaoke Queen. This is gonna rule. To hear more about our night, plus all the other big time festivities of the 10 year celebration, check out this truly hilarious video of Stef and Dessa attempting to read the details. I LOL'd for real.
On Friday (1/23) our very own Mike Mictlan will be headlining a show out in Fargo, ND at The Aquarium. Mr. Gene Poole and a ton of others will also be on the bill. Check out all the details and ticket info right HERE, and check out the flyer below.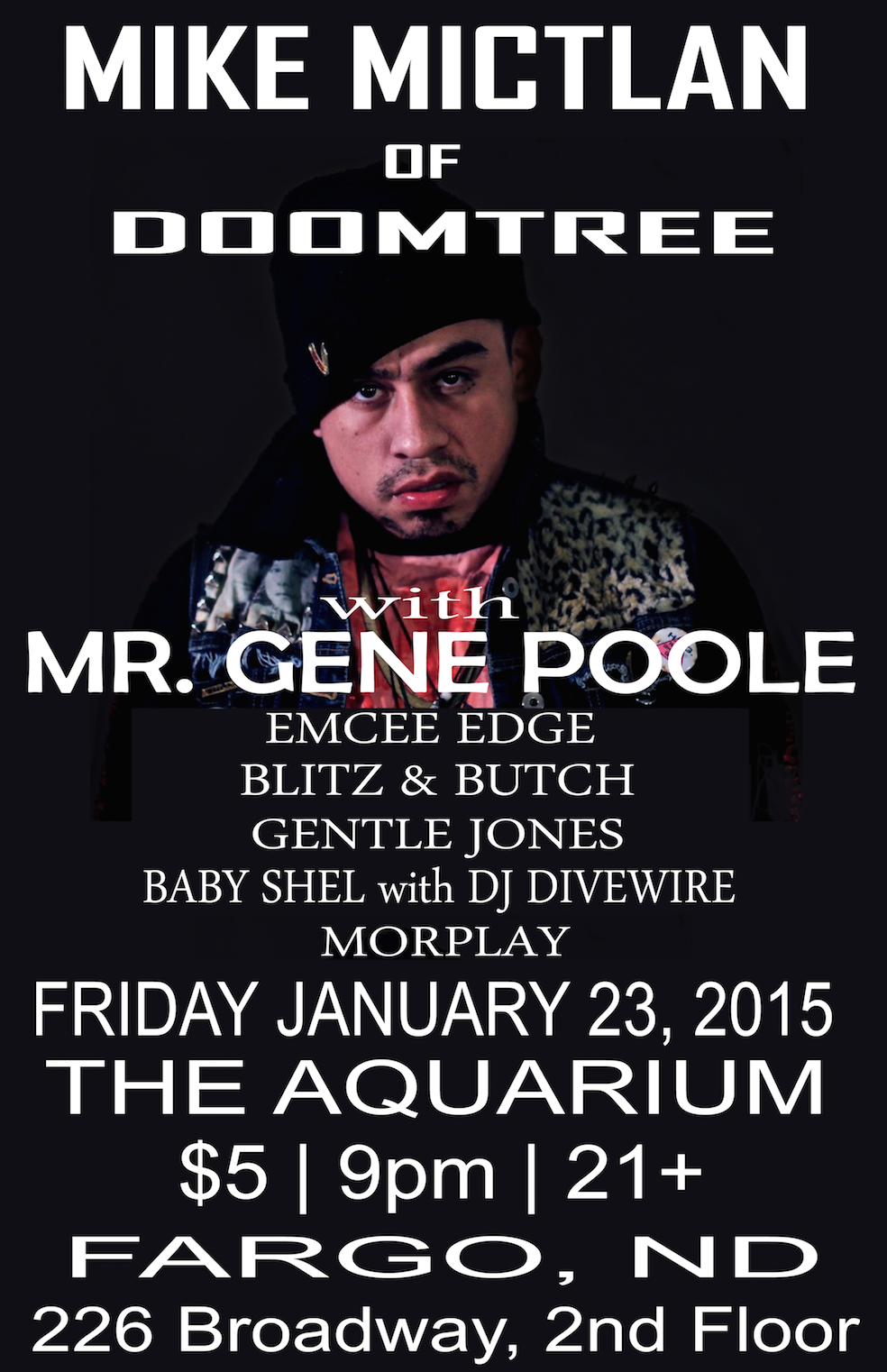 After the release of All Hands next week, Doomtree will be heading up to Duluth to celebrate with a big all-crew show at Grandma's Sports Garden on Thursday 1/29. We're bringing our friends Sean Anonymous and deM atlaS with us too! Check out ticket info and all the sweet deetz right HERE. This show is going to be the best.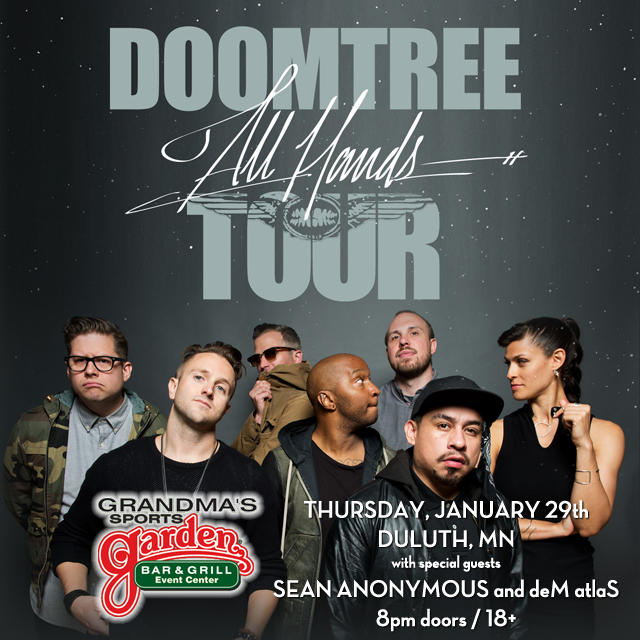 Then the following week it's off to the races with the start of the official All Hands Tour. Cecil, Dessa, Mike, Paper, Sims, and Stef will be heading all over the country throughout February and March. Check out the dates below and grab your tickets HERE before they're gone.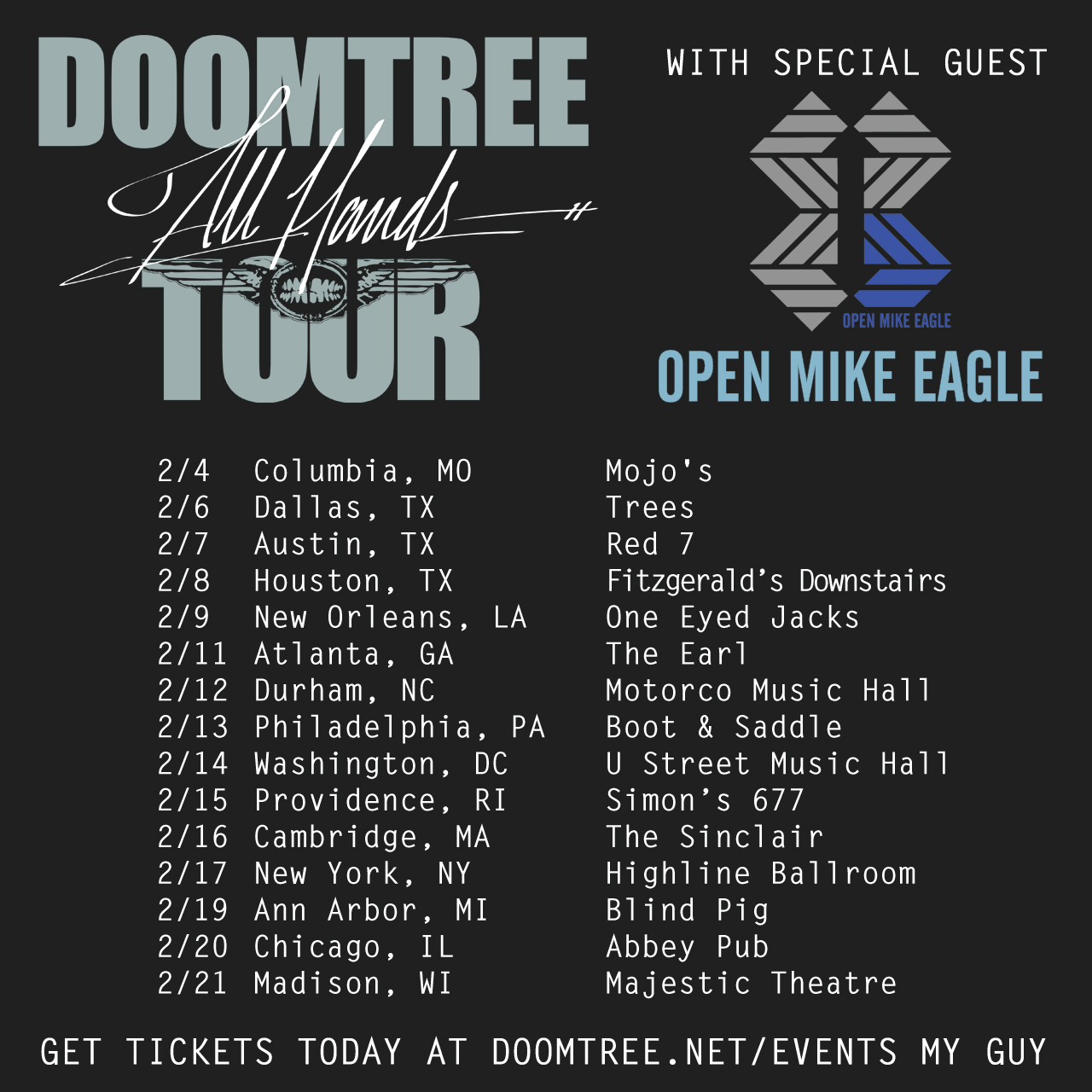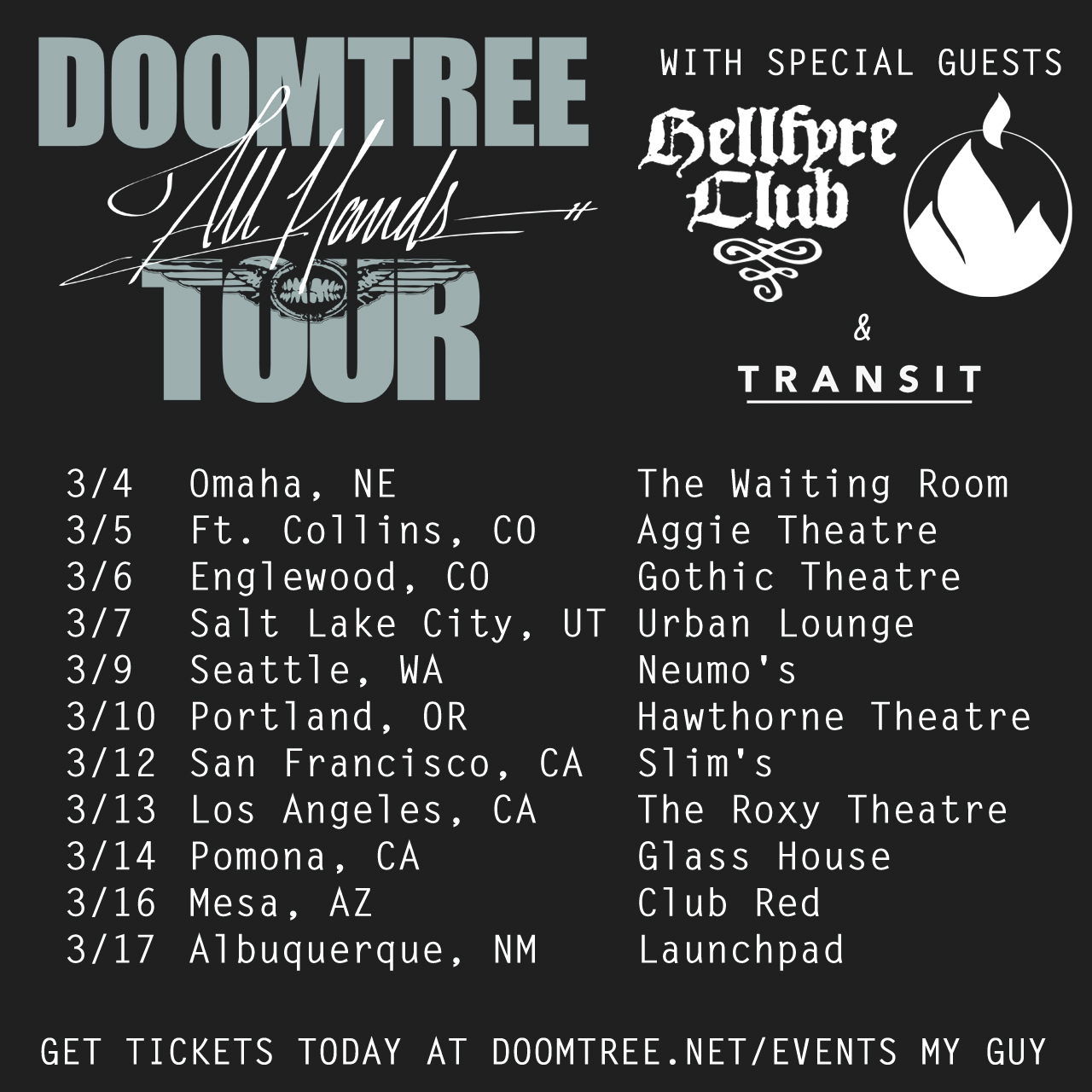 Speaking of awesome tours (SEGUE!), Dessa just announced that she'll be the special musical guest on hugely-popular podcast Welcome to Night Vale's upcoming March/April tour. Should be a great time. Check out all the details right HERE.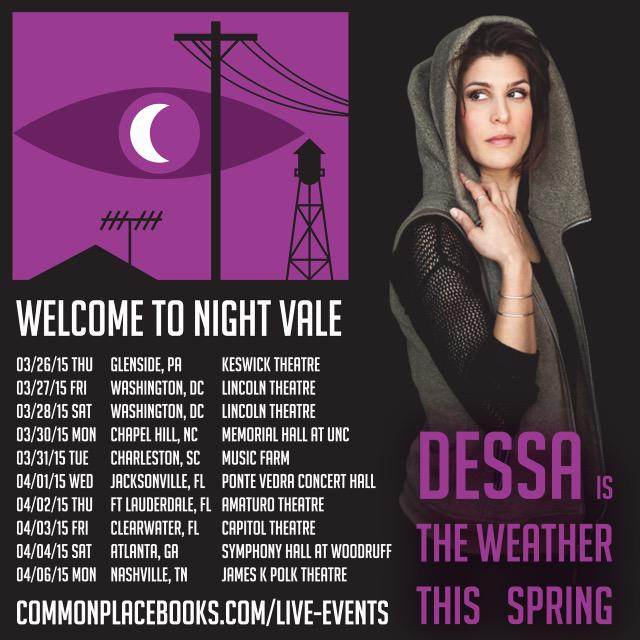 And if that weren't enough, Dessa will be dropping a super sweet video for "Sound The Bells" later on tomorrow. Check out the teaser trailer below and get AMPED.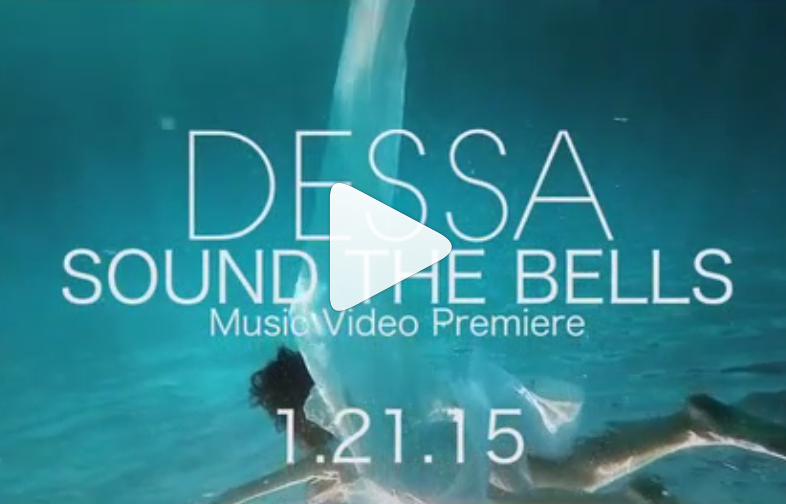 Let's continue on with the video theme and jump into some Doomtree-Related Bonus Jams as we count down the days til All Hands. First up is Mike Mictlan's latest visual for HELLA FRREAL standout "so so STRAYNGE." Shouts to director Adam Dunn for putting it all together.
Up next is the latest All Hands single for "Final Boss." We just premiered this track last week via The AV Club, and I'm so happy to have it out in the world. One of my favorites from the album for sure.
[soundcloud url="https://api.soundcloud.com/tracks/184834973″ params="auto_play=false&hide_related=false&show_comments=true&show_user=true&show_reposts=false&visual=true" width="100%" height="450″ iframe="true" /]
Now for the first music video from All Hands. Not to worry, many more are currently in the works. In fact, Stef, Sims, and Mike are all in LA right now shooting as we speak. Here's the video for "Gray Duck" to hold you over in the meantime.
And lastly, let's take it back to this summer when we dropped the first teaser from the album. Check out ".38 Airweight" below.
Alright, there you have it. So excited that we're now just one week out from sharing the entire new album with the world. Thanks again to everyone for all of the support leading up to this. Can't wait for you to hear it. Have a great week, and we'll hopefully see a ton of you out and about next Tuesday for All Hands Day!
— Beak
Twitter: @_LAZERBEAK
Instagram: @lazerbeak
SUPPORT THIS BLOG LYFE. TUESDAYS WITH LAZERBEAK SHIRTS AND POSTERS AVAILABLE NOW!!!