If we were to consult the framed Doomtree org chart on Lazerbeak's wall, Blogger in Chief is at the very top of the hierarchy. (For the curious: Blogger > President > CEO > Viceroy > Eagle Scout > Rook > Feudal Serf.) And while Lazerbeak's shoes are tough to fill, I have very large (yet still elegant) feet. Today the duty and the honor rests with me: Dessica, Vice Blogger.
We're exactly one week into this All Hands Tour. For those of you too busy to read entire web posts (but not too busy to keep up on the adventures of touring rap acts), here's the executive summary: we've made our way through Texas and we're now turning eastwards; Mike got a new face tattoo; we're loving the hell out of this bus.
First, a big thank you to those who attended our shows in Columbia, Austin, Dallas, Houston, and New Orleans. Here are a few images from our sold-out gig at Trees in Dallas courtesy of Central Track (you can read Ashley Gongora's review of the show right here).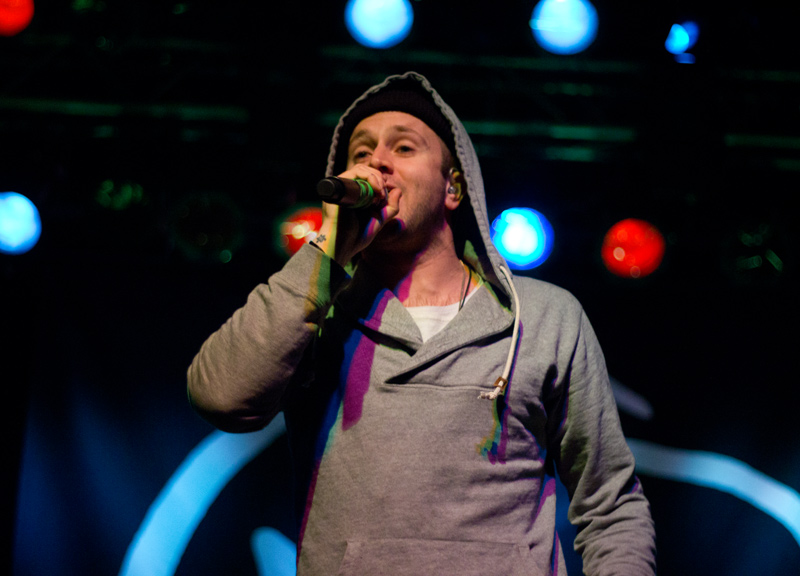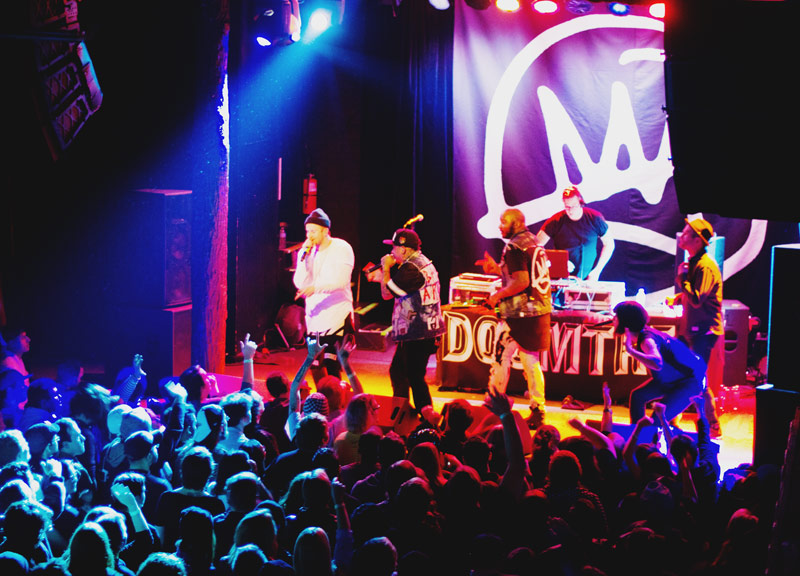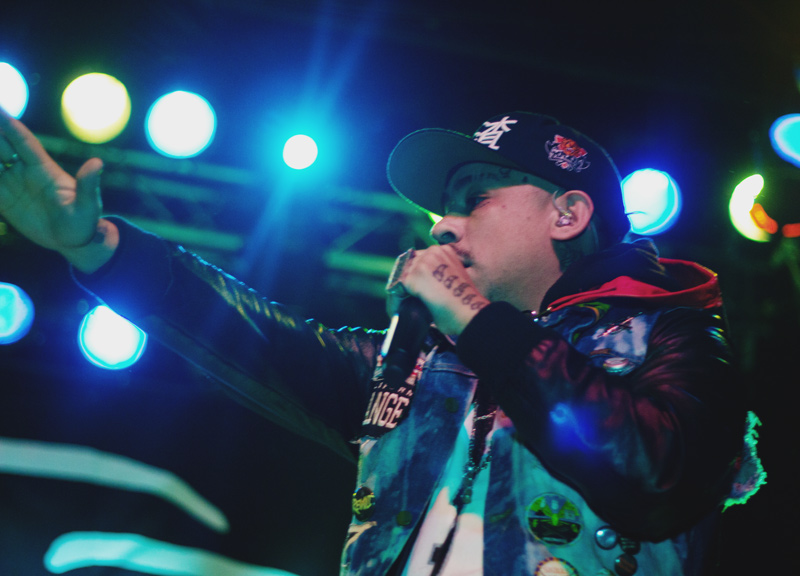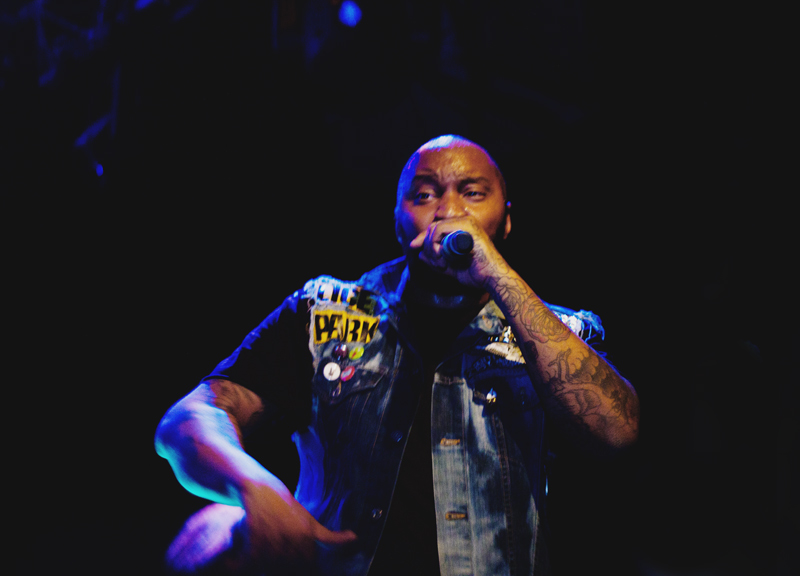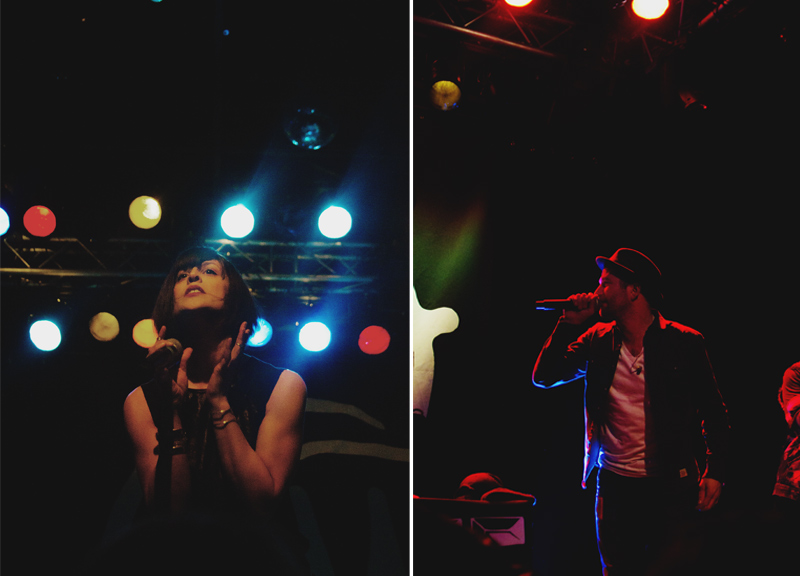 And here's a snap of Open Mike Eagle who's opening this entire run and impressing the hell out of everyone with his songs, considerable charm, and personal style.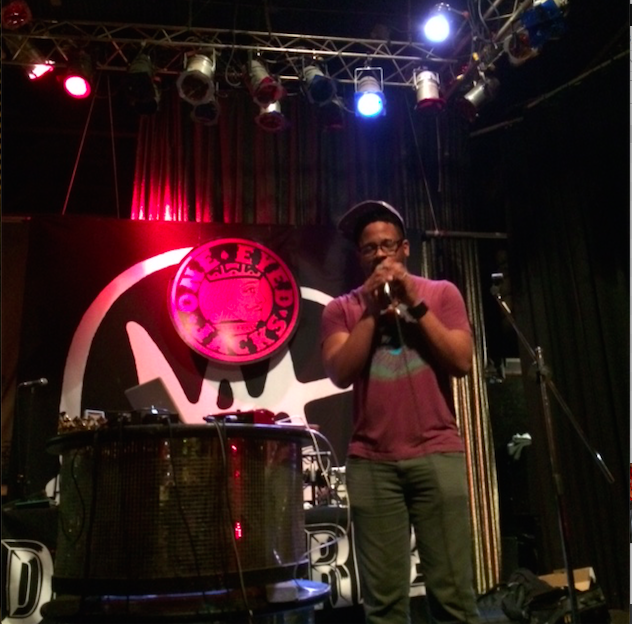 And here's a picture of Stef straightening my hair while I make an unflattering expression.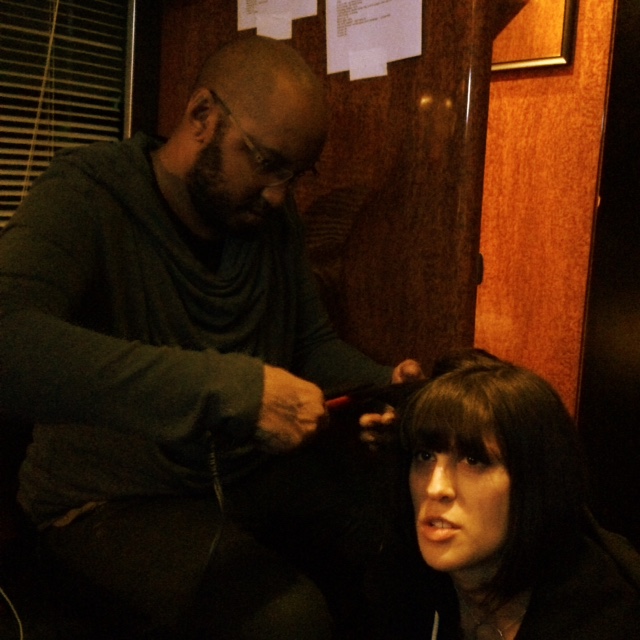 Billy the Tattoo Artist came out to our show at the Red7 (which was waaaay sold out—thank you, Austin), and set up shop in the back lounge of the bus. Stef got a tattoo on his side, which he'll probably flash you from stage very soon. Mike got this one, which he designed: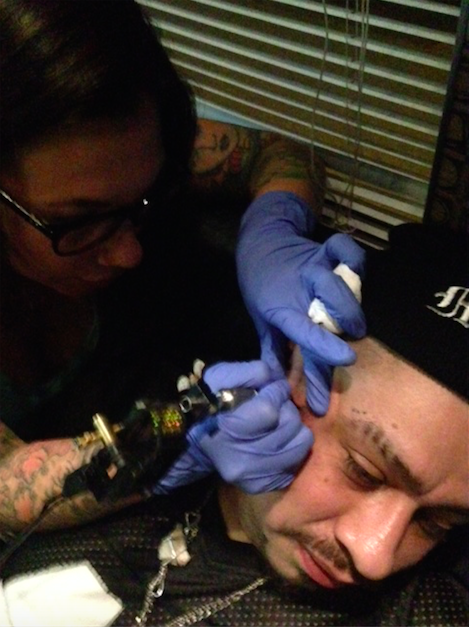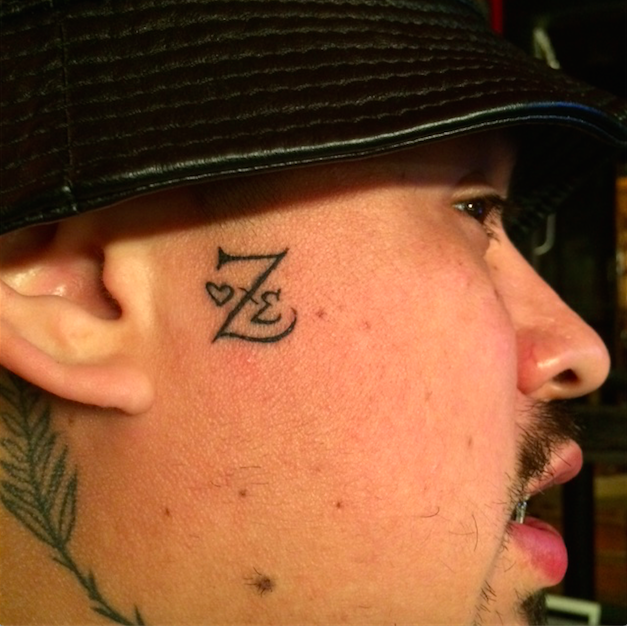 Most of us usually drink whiskey, but every once in a while we'll down a vitamin drink (to combat all the whiskey). Two of my favorite health nuts, going in.
Though you may not be able to tell as much from the photo above, both Sims and Paper Tiger are standing up in that shot—which would not be possible in tours of yore. (The bus, as you may have gathered, is a rap lyfe game-changer.) You can stand in a bus. The human bodies that we inhabit appreciate this luxury immensely. Also, the bus travels while you sleep and arrives in each city during daylight hours. In a van, in contrast, you spend your waking hours in transit, stopping just long enough to refuel the vehicle and the people in it. As someone who's spent her touring life pulling into town just in time to be half an hour late to soundcheck and then do her grocery shopping at a 24-hour Amoco, this benefit cannot be overstated. Now, I'm also well aware that many of you are concerned about the welfare of MOUNTAIN. I'd like to formally assure you that he is still very much a part of the Doomtree family and I'm happy to report that he's thriving during his sabbatical.
Speaking of thriving [doffs cap towards Lazerbeak and his long-standing segue streak], this first week of shows has been incredible, in part, because so many people already know the songs from All Hands, our new record. Thank you to those of you who pre-ordered, those of you who played the record for a friend, those of you who helped hang posters at the local record shop, and those who brought a newbie to a show. Word of mouth is, hands down, our most powerful tool. It's free (which aligns perfectly with the budget of an indie rap label), it's effective, and it's real. Doomtree's objective isn't to make music formulated to please every listener. Our objective is to make genuine music that moves us and then work find every listener who's gonna like that sort of thing.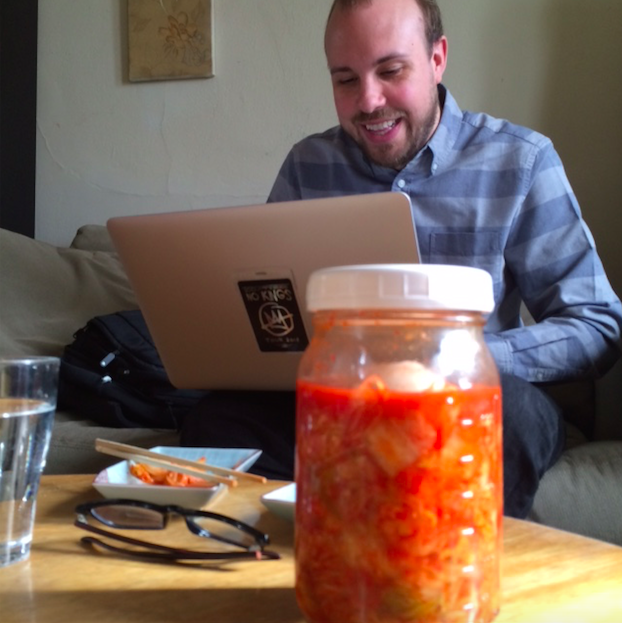 The day I left for tour, Lazerbeak came over to my apartment in Uptown. We ate homemade kimchi (thanks, Ma) and we talked about what we could do to support this new project. We'd already filmed some great videos (more on that soon), we'd booked a solid tour, and we'd made plans to play a bunch of shows at SXSW. We both agreed: word of mouth is best, but that's a variable that's out of our control–you can't ask people to share something organically, they just have to do it. Then I thought, wait—why can't we just ask? So here goes: Hey, if you like the record, would you mind texting a friend about it? Or if we're coming to their town, would you let em know?
In that general spirit, I'm sharing a few of the texts that Lazerbeak and I have shared when we're excited about music. Be forewarned: we're both about to forfeit some serious cool points.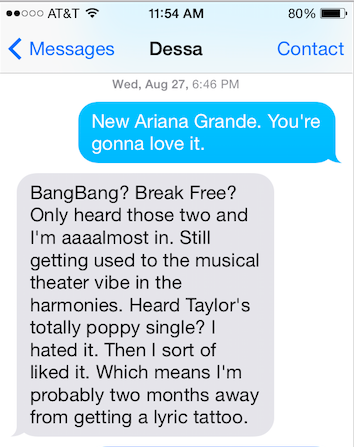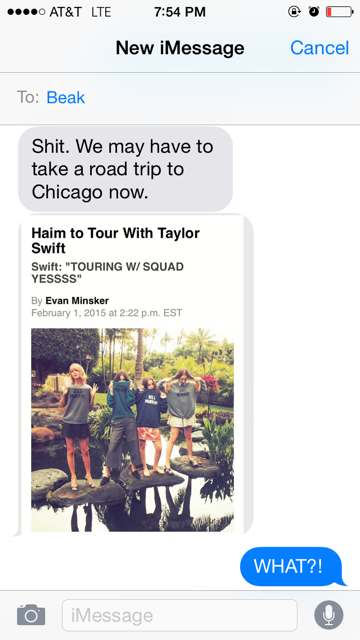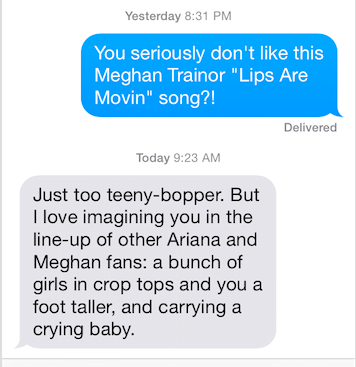 Thank you, in advance, for sharing the word. If you wanna screen grab your texts and put em up online, I'll be looking for em (hashtag: #AllHands). We've got a mess of tour dates ahead us, hitting both coasts in the coming weeks. With any luck we'll see you in person very soon.
Your friend in art and commerce,
Dessica.
******DOUBLE BLOG HIJACK TAKEOVER ALERT!!!!!!*******
This is Lazerbeak (the same kimchi-eating guy from the above texts) and I'm taking the blog back with some BREAKING NEWS:
We've just added another show to the All Hands Tour! Iowa, we did not forget about you. Our good friends at Surly Brewing Co. are beginning their Iowa Invasion starting March 3rd, and they're bringing Doomtree down to Des Moines to kick everything off. Tickets to the actual rap show at Wooley's that night will go on sale to the public this Friday at 10:00am CST (right HERE), but before we get ahead of ourselves, we wanted you to know about this awesome contest that could get you into the show and then some. Check this out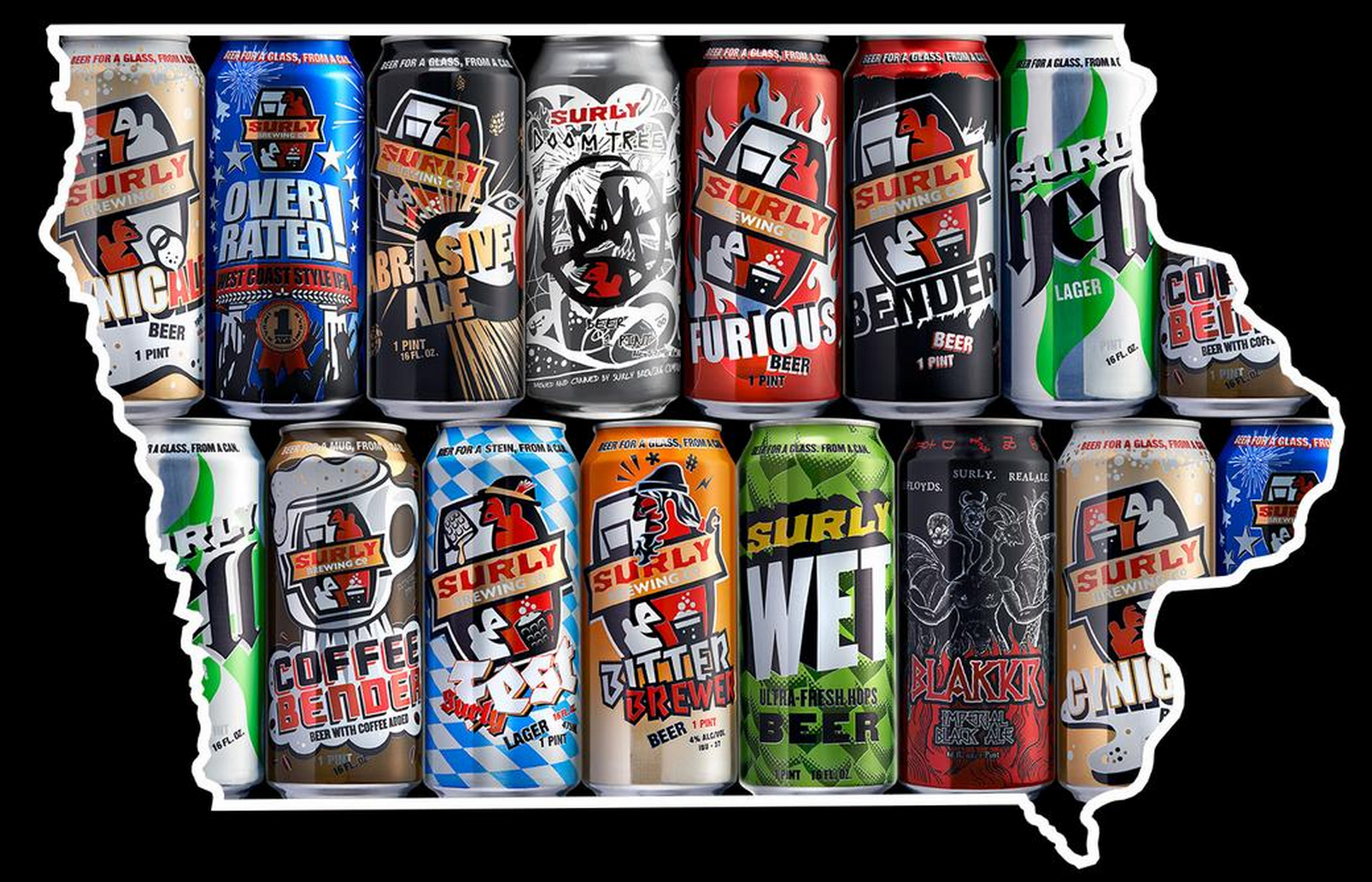 In honor of this special kickoff event, Surly is going to be loading up a bus full of people in Minneapolis and driving them down to Des Moines in style for the big show. You'll get to kick it with the Doomtree and Surly crews on the way down, run around to some different bars, and then have a blast at the rap show with us all. Think of it as an out-of-state bar crawl similar to what we did on Surly Doomtree Day. Here's how you can enter to win a spot on this glorious bus: Go to Surly's Facebook post right HERE and tell your awesome story of why you should be on the bus in the comments below. Surly will pick and announce the winners by this Thursday, and then the public on-sale will start on Friday morning right HERE. OK, now you know. Go doooooooooit!
OK, that's it. Huge shouts to Dessa for the fantastic guest blog appearance. I hope you all have a wonderful week, and we'll see you back here next Tuesday!
— Beak