Welcome back to another round of Tuesdays With Lazerbeak! I think we're all finally starting to catch our collective breath after the last two crazy months of tour and album release mania. All but one of us, that is. After just two days home from the road, Dessa took off on a solo tour last week supporting mega-popular podcast Welcome To Night Vale throughout the East Coast and the South. The squad have wrapped their way through Pennsylvania, DC, and North Carolina already, and will be hitting cities throughout South Carolina, Florida, Georgia, and Tennessee over the course of the next week. A lot of these shows have already sold out in advance, but check out the flyer below or click HERE for all the sweet deetz and ticket info.
Now is the time where I raid Dessa's Instagram and piece together a a beautifully narrated storyline about life on the road. Dessa brought her trusty friend and awesome-person-in-all-things bandmate Aby Wolf along for the ride this time around. Here they are in an elevator as proof of this full-fledged tour partnership.
And here they are backstage before the show scavenging for glassware. Guess which cup Dessa found?
If you know Dess at all, you know that her love for fine cupcakes is pretty much unrivaled by anything on this vast planet. She knows entirely too much about these things, and I'm pretty sure her favorite spot in the whole country happens to be CrunkCakes, a booze-infused cupcake shop located right in DC. I'm seriously starting to question whether this tour was booked as merely an elaborate ploy to get back to CrunkCakes after the All Hands Tour.  Here she is pre-show after scoring a pretty serious haul.
Dessa and Aby running through the newly stripped-down set. Aby has taken on the drummer/keyboard player/DJ/singer role this time around.
I've mentioned in previous tour updates how people can slowly start to lose their minds after a couple weeks or months out on the road. It appears that the ladies have jump-started this timeline by quite a bit already, showing signs of insanity after mere days on tour. Here's Dess rocking a strange new firefighter helmet, and Aby trying out some questionable eyewear.
Speaking of Dessa AND tours (do I even have to mention the eternal Segue Streak at this point?), Dessa and Aby will continue this party all the way over to Europe for a two-week run in late April and early May. Check out all the up-to-date details below, click HERE to grab tickets, and definitely stay tuned for more weekly photo updates on the blog.
The entire crew won't be too far behind either, as Cecil, Mike, Stef, Sims, Paper, and Dessa will all be headed overseas this Spring for the All Hands Europe Tour. Check out all the current dates below, and stay tuned for even more shows announcing way sooner than later. Grab your tickets right HERE.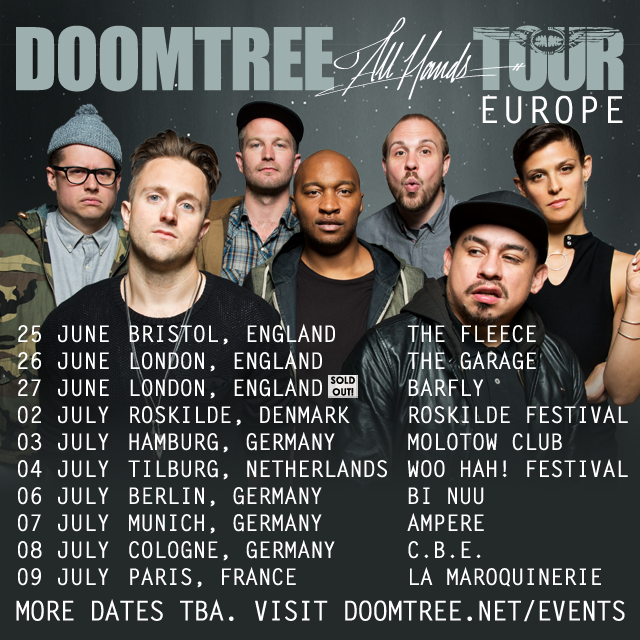 In a little more local news, the big annual Northeast Minneapolis tradition that is Art-A-Whirl will be taking place over the weekend of May 15th-17th. There is always a ton of stuff to do and see throughout the entire weekend, and this year there are even a couple Doomtree-related shows that tie-in with the festivities as well. Sims has just been announced as the headliner of the Grumpy's NE Art-A-Whirl party on May 16th, alongside Grant Hart (HUSKER DU!!!), The Cactus Blossoms, and a Hall and Oates cover band called PRIVATE OATES! Check out the full lineup right HERE.
That very same night I'll be performing down the street with Mixed Blood Majority at the 331 Club's Art-A-Whirl celebration, alongside Retribution Gospel Choir and Pink Mink. Both parties should be an awesome time, and with such close proximity you should definitely plan on hitting both.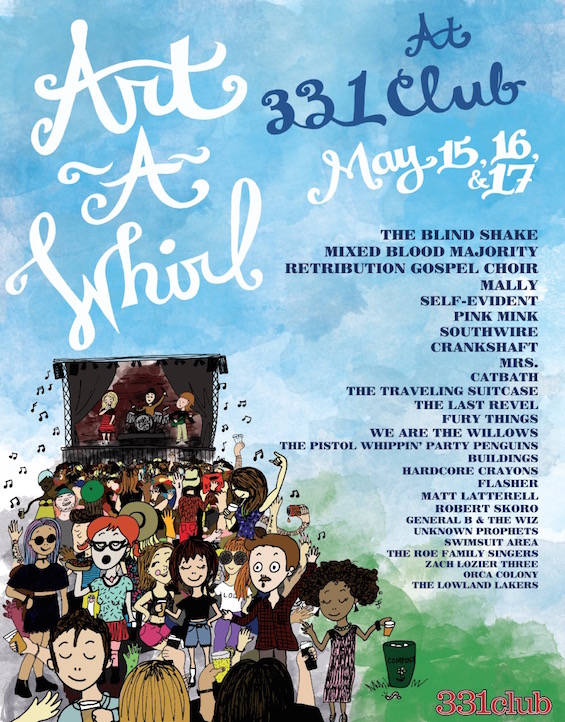 Here's one quick random press thing that didn't really fit anywhere else: Fast Company's Co.Create website did a big interview with Sims, Cecil, Stef, and Dessa down at SXSW on what it takes to keep creative collaboration alive in a 7-member collective. There are a lot of gems getting dropped in this one, and I thought it was worth including in today's post. Click the image below or go right HERE for the full interview.
And here's a bonus Dessa video on her previous collaboration with Clif Bar's Green Notes program. Click the player below or go right HERE and scroll to the bottom to watch the whole thing.
I've got a very special Bonus Album Jam for you today. Our good friend Greg Grease recently dropped his excellent new full-length album Born To Lurk, Forced To Work, and I could not recommend it any more highly. For those of you at the recent Chicago and Madison crew shows, you'll definitely remember Greg's opening set. He's crafted a truly awesome record front to back with this one, and it's been getting equal play with the new Drake mixtape (which is incredibly high praise coming from me). You can stream the entire thing via the Soundcloud link below to get a feel for it, but if you're feeling it, definitely go support the project by picking it up on iTunes right HERE. I really can't see this one not being in my top albums of 2015. Enjoy!
[soundcloud url="https://api.soundcloud.com/playlists/86341939″ params="auto_play=false&hide_related=false&show_comments=true&show_user=true&show_reposts=false&visual=true" width="100%" height="450″ iframe="true" /]
I'll leave you with a few Bonus Baby Pics to make up for the last couple of posts. Here's LOUtenant Lou and Camouflage Cam rocking the matching camo jammies and keeping themselves entertained for the entire duration of the Wisconsin/Arizona game. Love that. Shouts to their mom for picking up this new Radio Flyer toy. Priceless.
Sad to say, but it appears that all three of my children now truly enjoy spending most of their time living inside of a cardboard box. I had such high hopes for them all when this family started out.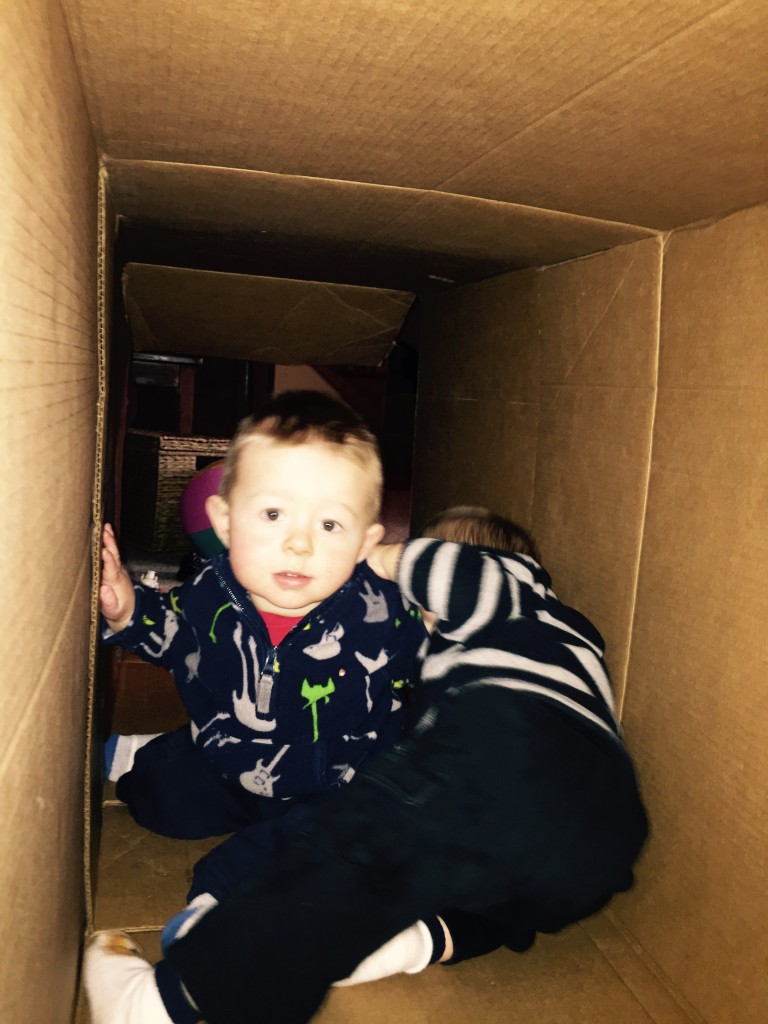 Can't forget about P! She's crazier than ever these days, and is only two months away from the big 3 year mark. Despite all of her mischievous shenanigans, she has started saying the phrase "Thank you, Daddy. You're awesome.", which makes it pretty much impossible to ever get mad at her.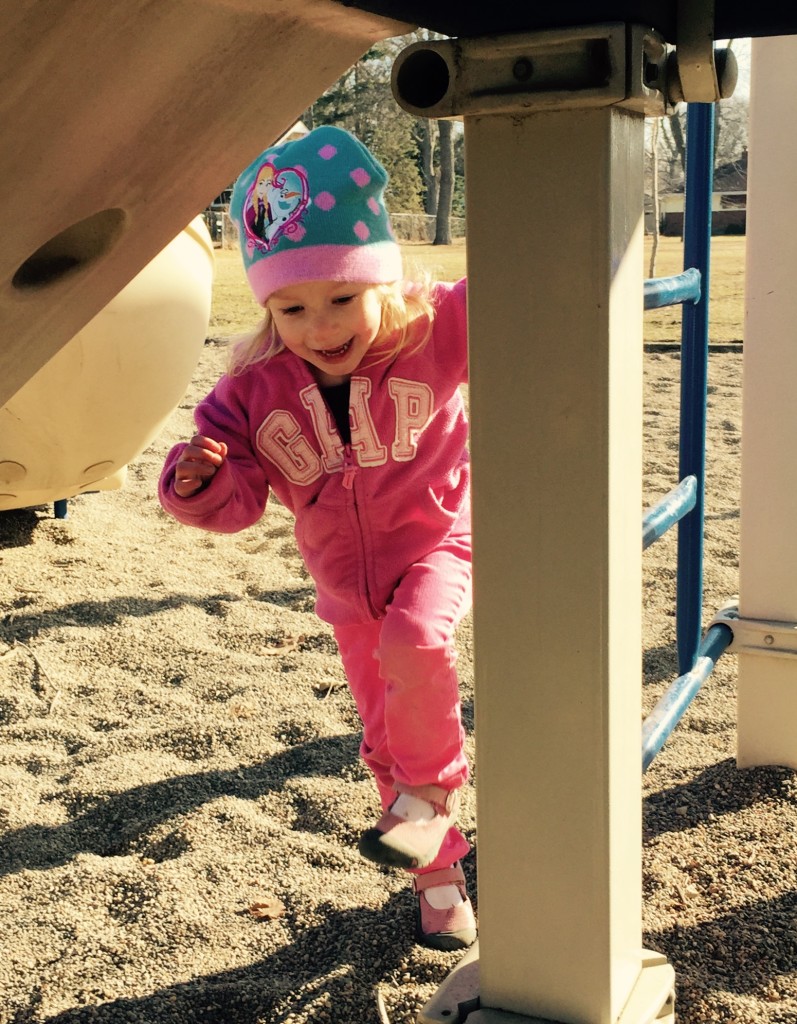 Here's she is trying out a controversial new ice cream eating technique and taking a selfie at the SAME DAMN TIME. The verdict is still out on whether or not this new cone-first fad will be sweeping the nation at any point in the near future. Only time will tell.
Alright, that about does it. Stay on the look out this next week as we'll be premiering an awesome new Doomtree video any day now. I hope you all have a wonderful week, and I'll see you back here next Tuesday for another installment of TWL!
— Beak
Twitter: @_LAZERBEAK
Instagram: @lazerbeak
SUPPORT THIS BLOG LYFE. TUESDAYS WITH LAZERBEAK SHIRTS AND POSTERS AVAILABLE NOW!!!