Welcome back to another round of Tuesdays With Lazerbeak! Today I've got a big time world premiere of Paper Tiger's "Tape Deck" remix from Sims' 10-year-anniversary deluxe edition of Lights Out Paris! Papes completely flipped the track for a super updated sound, and Sims actually re-recorded lyrics from the original song alongside a ton of new FLAMING HOT BARS for a true remix in all senses of the word. I love this one. Check out Paper Tiger's "Tape Deck" remix on the Bandcamp player below.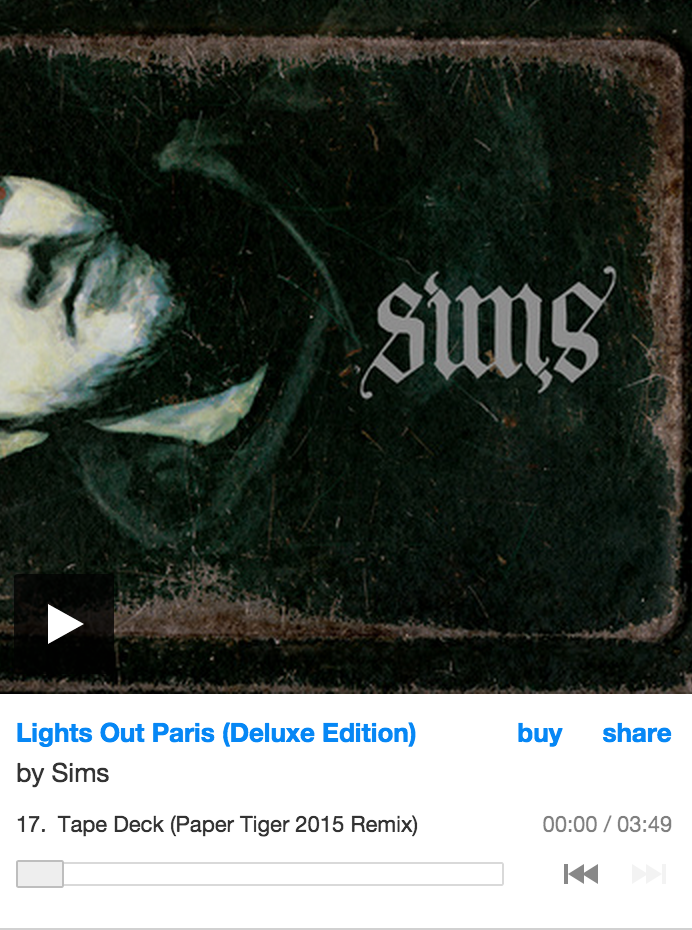 You'll now receive both the "Tape Deck" remix and my "15 Blocks" remix as instant digital downloads when you pre-order Lights Out Paris, whether you grab it physically from the Doomtree Webstore (HERE) or digitally on iTunes (HERE). And for those of you who have already pre-ordered you should now have access to both tracks. We'll be rolling out a more official hands-on video later in the month to show you how truly cool the vinyl turned out, but for now here's a quick tease. The new silver embossing turned out insane.
You can get the remastered double LP and all the insane bonus stuff that comes with it when you pre-order from the Doomtree Webstore. Check out the Deluxe LP package below and get even more details and ordering info right HERE.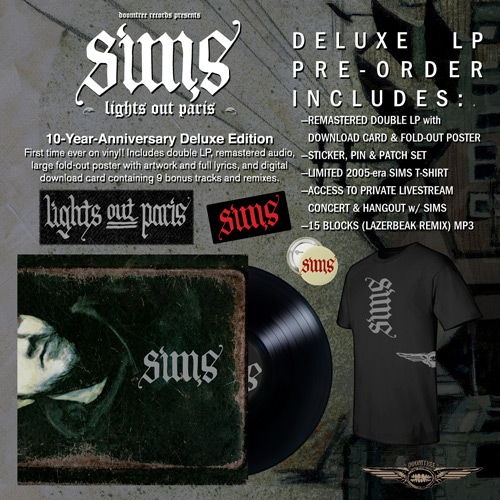 Oh and speaking of the Doomtree Webstore (Segue Segue Segue), we now have brand new No Kings tank tops available for all your Summer needs! Available in black, orange, and blue in both men's and women's sizes. Check them out below and grab one right HERE.
Sims crushed his sold-out show at Icehouse last weekend, and that means that the Doomtree June Show Takeover rolls on this week with P.O.S' Best F*cking Show Ever!!! It all takes place this Saturday, June 13th at Familia HQ in NE Minneapolis. Stef will be playing his first headlining show since last year's TFBSE, and the lineup this time around is incredibly tough. Big Freedia, Ho99o9, Marijuana Deathsquads, Psymun, Saba (with Cory Grindberg backing him up on bass!), Denitia and Sene, TIIIIIIIIIIP, and our very own Ander Other. NUTZ. Check out all the crazy details below and hopefully we'll see a ton of you out this Saturday. Grab your tickets right HERE.
UPDATE: Check out this video from P.O.S for info on how you can enter to win tickets to TFBSE!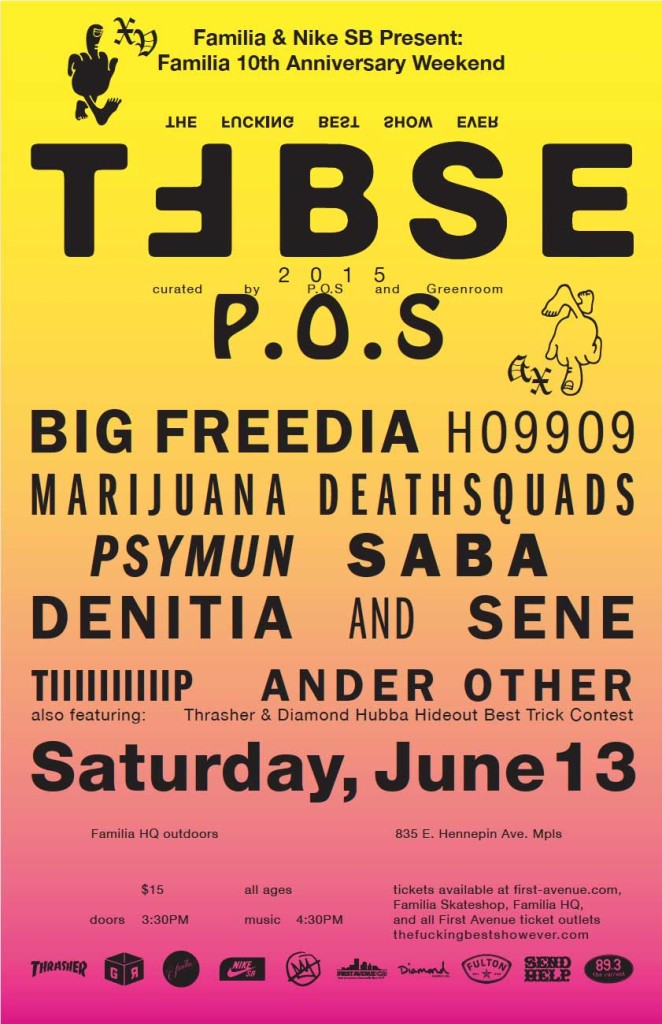 In celebration of the big show, I've got a very special TFBSE Bonus Jams Playlist for you courtesy of the good folks over at Greenroom Magazine. Get familiar with all of the amazing performers on the Soundcloud player below, and we'll see you on Saturday!
[soundcloud url="https://api.soundcloud.com/playlists/103134440″ params="auto_play=false&hide_related=false&show_comments=true&show_user=true&show_reposts=false&visual=true" width="100%" height="450″ iframe="true" /]
Next week the Doomtree June Show Takeover barrels forward as Mike Mictlan performs (and wrestles???) at First Avenue for WRESTLEPALOOZA! Should be totally wild. You can read a great interview that Mike just did with Gimme Noise that talks all about the show right HERE. Tickets and details right HERE.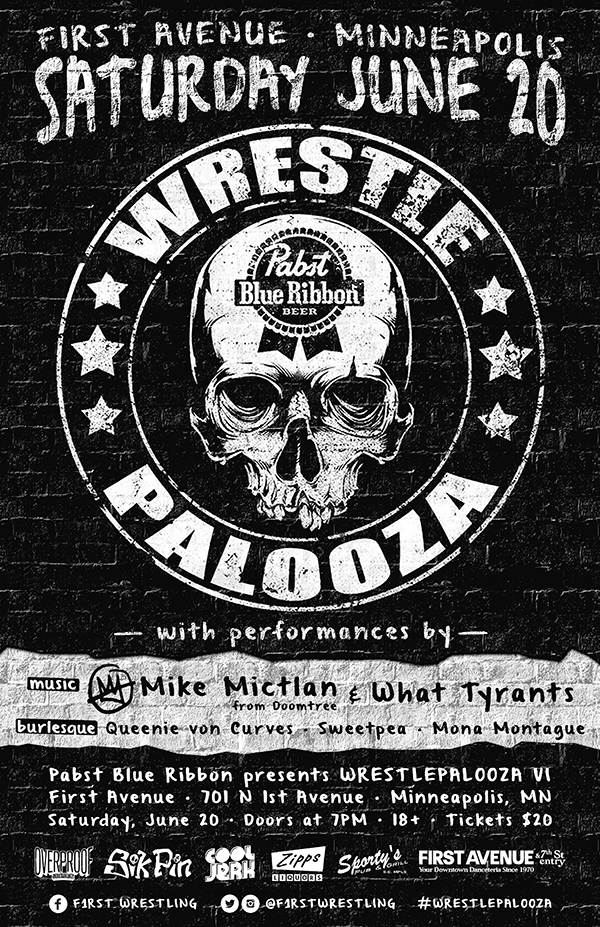 Directly after that, Doomtree will head overseas to kick off the All Hands Europe Tour and end June with a bang. Check out all the show dates and ticket details right HERE. The Euro run now includes a big time performance at the legendary Glastonbury Festival on June 28th!
Speaking of tour, if you've always wanted to know what it's like behind the scenes on the road, the good folks at Impose Magazine just put out a little photo recap from a few of the All Hands US dates as part of their "Shot By The Band" segment.  You can check the whole thing out right HERE.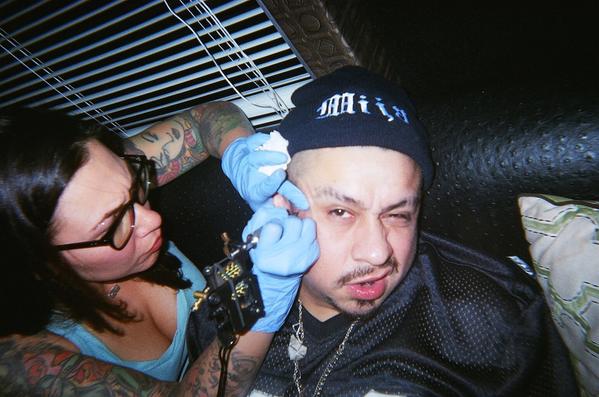 Alright, that about does it for this post. I'll leave you with a couple Bonus Baby Pics before heading out to the office. Laid Back Lou and Crab Man Cam have been absolutely loving the great outdoors lately. Here they are in a rare synchronized double smile moment while swinging side-by-side at the park. Apologies for the sacrilegious Cubs gear. Their mom dressed them that day, promise. GO TWINS.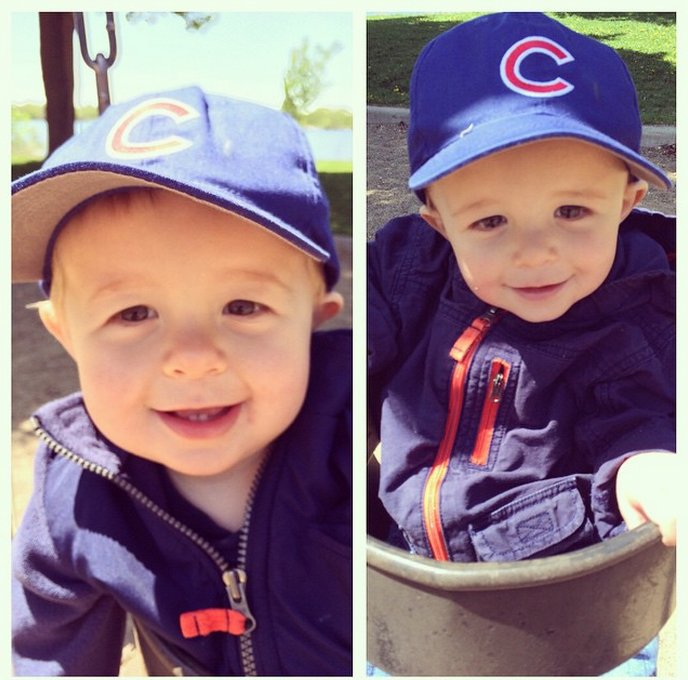 And here's a newly three-year-old Penny getting into her angsty pre-teen years a little early with this tough-as-nails pouty face. I suppose it's possible she may just be working on another groundbreaking model pose to shake the fashion industry to its core. Come to think of it, that's probably definitely what this is.
OK! I hope you all have a wonderful week enjoying these crazy NBA Finals. Looking forward seeing a ton of you out at TFBSE this Saturday. If not, next Tuesday for sure!
— Beak
Twitter: @_LAZERBEAK_
Instagram: @lazerbeak
SUPPORT THIS BLOG LYFE. TUESDAYS WITH LAZERBEAK SHIRTS AND POSTERS AVAILABLE NOW!!!