Welcome back to another Tuesdays With Lazerbeak! Today kicks off Week 3 of Doomtree's European Tour, so I figured we ought to kick things off with another big photo recap of life on the road. I'm missing all these dudes pretty bad right now from back home in Minneapolis, but I'm super pumped to report that the shows have been going great and spirits are high. Here's a shot from Denmark's legendary Roskilde Festival that the guys performed at last week. These European fests do not mess around. INSANE.
Extra special shouts to Roskilde for gifting the crew with these personalized miniature chocolates. Pretty sure you've got Dessa's heart forever now.
Here's tour manager extraordinaire, Snake, posing with Ander Other and the Gentlemen of Doomtree. Looking real good everybody. I wouldn't change a thing.
Our very own Mike Mictan turns 33 in Germany this Thursday (ahem, "born 7/8 1982 coming at you live" amiright?). Here he is trying out some new looks at a German truck stop. I'd go with bottom right personally.
Here's the one-and-only Ander Other, posted up on a park bench surrounded by a bunch of beige taxi cabs. Really hoping this becomes a press shot of some sort later down the road.
Here's the crew in The Netherlands rocking Woo Hah! Festival over the 4th of July. Heard this one was a total crusher.
 Stef and Mike celebrating America's birthday in true style.
The squad taking in a peaceful evening and all of the majesty outside of their hotel.
You know Week 3 of tour has kicked in when people start posting photos like this. Here's Dessa and Mike trying to hold it all together.
And here's the crowd at the super-packed show in Berlin last night. Wings & Teeth Worldwide!
Last but not least, here's a photo of Mike Mictlan smilling ear to ear and drinking a huge beer. Pretty much the best.
Kind of reminds me of this classic photo from years back of Mike enjoying a nice cup of peppermint cocoa in an Iowa Denny's. They don't call him Drank Sinatra for nothing. Beverages just seem to bring out the best in him.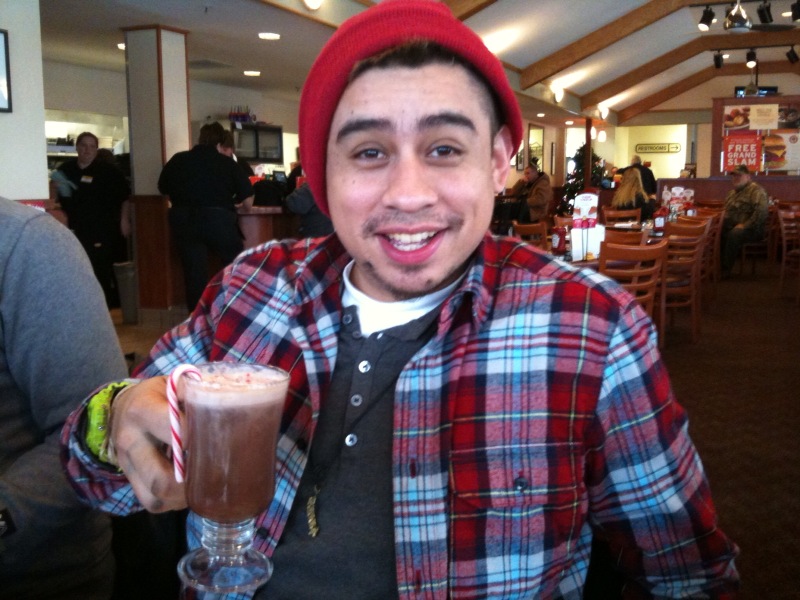 You can catch Doomtree in Munich tonight (Tuesday, tix HERE), Cologne on Wednesday (tix HERE), Paris on Thursday (tix HERE), Bremen on Saturday (tix HERE), and closing things out with a bang at Germany's massive Splash! Festival on Sunday (tix HERE). Check out the full list of dates below and grab even more ticket info right HERE. Only five shows left on this European run!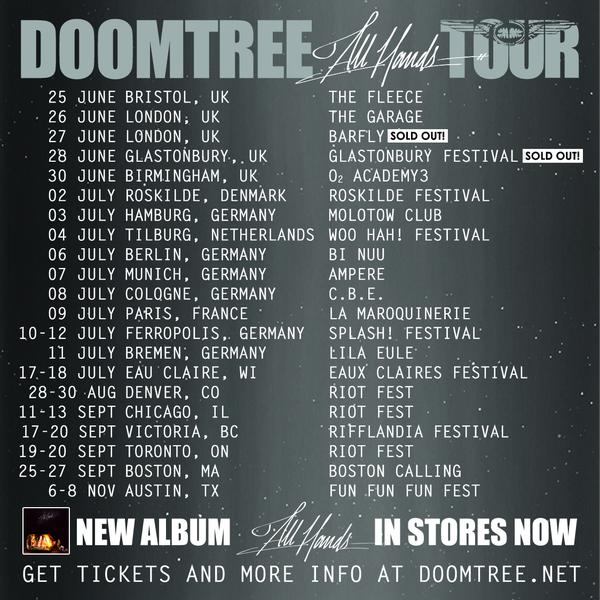 By this time next week everyone will be flying back home to the states to gear up for what may turn out to be the greatest show OF ALL TIME: Eaux Claires Fest!!! Can't wait to be reunited with the crew and rage so hard at this one.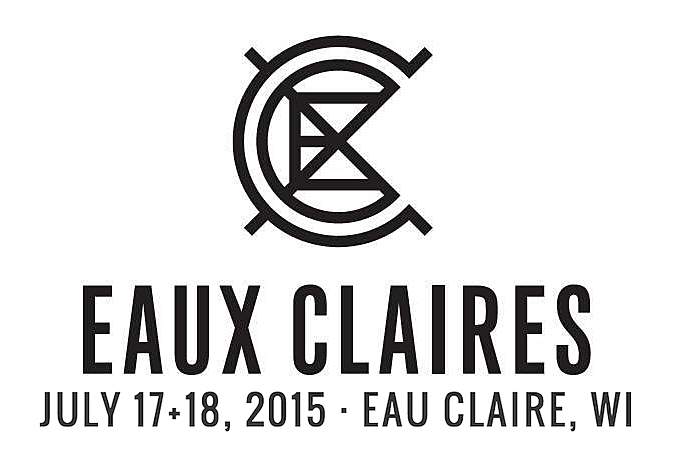 We'll be playing next Friday at 5:45pm sharp (right before Spoon). Below is the full lineup and schedule for that day. So many incredible bands and friends in one spot. This is going to be absolutely glorious. Grab tickets right HERE and we'll see you down there next weekend for sure!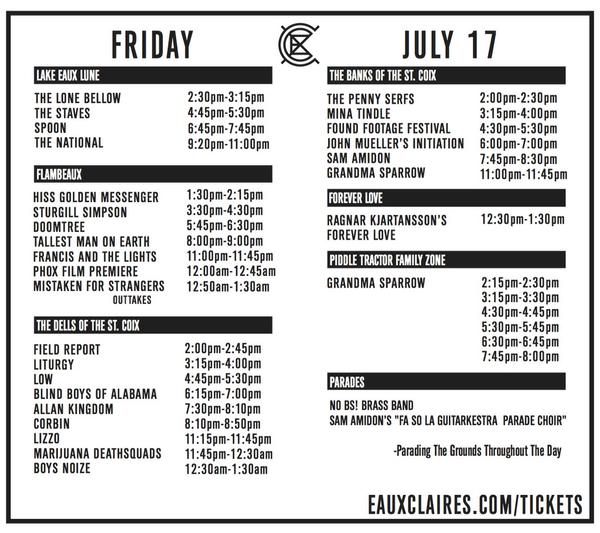 OK! That should do it for this week's Doomtree-related news. Switching gears a bit, I wanted to just say a little bit about this past weekend's insane Lifter Puller reunion at the Triple Rock's D'4th of July party. I could probably write an entire book on how much this band meant to me and all my friends as we were growing up and getting our start in the Minneapolis music scene. They pretty much soundtracked my entire junior high and high school existence. When TPC! started playing out they became almost a big brother band of sorts, throwing us on shows and teaching us the ropes of how to record and release albums. Just like Ten Grand, Lifter Puller had an enormous impact on me growing up and are a huge reason why I ever started making music in the first place. I loved and still love this band, and I can't tell you how awesome it was to see Steve, Craig, Tad, and Dan belt out eight classic heaters like no time had gone by. No pictures could ever do it justice (the one below especially), but here's the best shot I could grab in between jumping around, throwing my hands in the air, and singing along just like during the Foxfire days. Made me feel super old and super young all at the same time, and more than anything it just plain ruled.
So in honor of that memorable show, here's some sweet Lifter Puller Bonus Jams for you. Gonna start things off with their legendary performance on the Jenny Jones Show back in 1999. We all totally skipped school to watch this.
And here's a couple great jams that they brought out of retirement on Saturday. The ending of "Naussa Coliseum" was NUTZ.
BAM! Seriously make sure to check out all their albums if you haven't ever. So worth your time. I'll leave you with a handful of Bonus Baby Pics before calling it a day. Crab Man Cam and Laid Back Lou have been quite the night owls as of late. Here they are pulling an all nighter over the weekend. I'm pretty much convinced that they've been waking up solely to judge my questionable movie picks. Michael Mann's 2006 Miami Vice movie adaptation is definitely lost on this new fickle generation.
We've been spending a ton of time by the water now that it's full blown Summer here in Minnesota. For some reason Penny would much splash around in these muddy sand puddles than swim in the actual lake. To each their own.
 Crab Man Cam is officially back to feeling good after a rough week of super high fevers. Cam smiles are pretty tough to capture in the wild, but he broke character for a second and let out a big one at the swimming pool last week. Lou prefers to take in the sun just outside of the water's reach. Somebody's gotta be the cautious one I guess.
Speaking of Lou (SEGUE), he just started walking! Here he is taking a breather after chasing his brother all over the house.  Extra shouts to the very fashionable shark jammies he's rocking. Proud of this dude.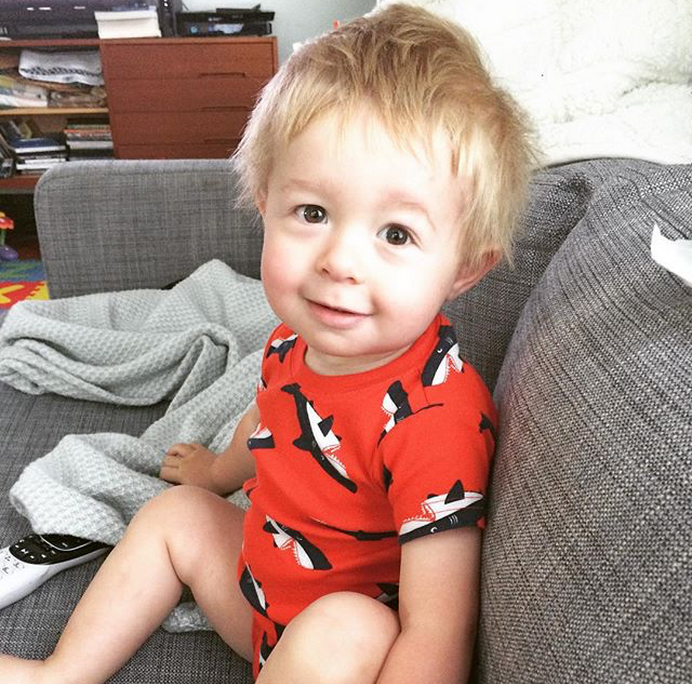 And here's the whole squad posted up at the park. I've still gotta come up with a good name for the three of them. Triple Trouble, THREE.99, Bases Loaded, The TRInasty: Roc La Familia. It'll come to me eventually. Totally open to any suggestions though. Bring it on.
 Alright, that about does it. I hope you all have a wonderful week. I'm headed up to the TPC! cabin for a couple days of relaxation, but I'll see you back here next Tuesday for a final European tour recap.
– Beak
Twitter: @_LAZERBEAK_
Instagram: @lazerbeak
SUPPORT THIS BLOG LYFE. TUESDAYS WITH LAZERBEAK SHIRTS AND POSTERS AVAILABLE NOW!!!