OH MAN, HERE WE GO! It gives me tremendous joy to announce the details of the first-ever Doomtree Zoo, a ginormous special event we're throwing at CHS Field in St. Paul, Minnesota on October 3rd! Doomtree will be headlining the show, and we're bringing a ton of our favorite people and artists along for the ride. Aesop Rock w/ Rob Sonic, Trash Talk, Shabazz Palaces, Open Mike Eagle, Serengeti, Aby Wolf, Koo Koo Kanga Roo, Anonymous Choir, and In the Heart of the Beast Theatre will all be performing! WHOA. Check out the awesome show flyer below, courtesy of designer extraordinaire Emmanuel Mauleón, and GET SERIOUSLY AMPED. So excited for this!
Tickets for the Doomtree Zoo will go on sale to the general public this Saturday, August 1st at 11:00am CST, but if you're a member of the Doomtree mailing list you are definitely  gonna want to check your inbox RIGHT NOW for a special pre-sale opportunity. A bunch of us are gonna be down at the CHS Field box office this Saturday morning selling tickets hand-to-hand and hanging out from 11:00am-1:00pm. Come on down, grab some tix, and get a glimpse of the beautiful ballpark. Even more info and Doomtree Zoo details can be found right HERE.
In addition to the $35 GA ticket, there's also a super limited Baller Pass which gets you tons of crazy extra access to the show. Check this out….
THE DOOMTREE BALLER PASS sweetens the (already very sweet) deal. Pass holders get:
GA Ticket
 Early entry to watch the Doomtree soundcheck. You'll be able to get into the stadium before doors, tour the grounds, hit the merch booth before any lines, and watch the magical shouting match we call 'soundcheck.' (Feel free to chime in with a "Check one, two!" if the spirit moves you.)
A question-and-answer session with Doomtree. You bring the Qs, we're on the As.
A photo with the crew. Easy on the rabbit ears, please.
Access to the Securian Club. A space to warm your hands, charge your phone, skip the bathroom lines, hit a dedicated bar, and get a great view of the show. Is there an awesome balcony? I think you know there is.
Drink tickets. The universal currency.
A limited-edition, autographed, screen-printed poster. Unavailable anywhere else. Hand-numbered and signed by every member of the crew.
A Doomtree drawstring bag. You know, for all your stuffs.
An exclusive Doomtree Zoo laminate. Ooooh, you fancy.
BAM! Once again, it all goes down on October 3rd at CHS Field in St. Paul, MN for an all-day outdoor event from 2:00pm-10:00pm. The Little Leaguer in me is definitely freaking out that we're throwing a headlining concert in the middle of a minor league baseball stadium. NUTZ. Here's another crazy flyer from Emmanuel Mauleón to get you even more pumped.
I want to take a quick second to send some big time shout outs to all of our Doomtree Zoo sponsors. Enormous thanks to our main presenters Surly Brewing Co. and Copycats Media for helping us pull this thing off, along with The Current, Star Tribune, City Pages, and the University of St. Thomas. It feels really great to know that we have an all-Minnesota lineup of organizations and businesses supporting this first-time event.
Now back to the music. We could not be happier with how this lineup has come together. So much crazy talent on one ticket. In case you're not all the way familiar with everyone, or just want to investigate a bit further, we put together this awesome Doomtree Zoo Playlist with a couple of tracks from each performing artist, in order to paint a better picture of the glorious bill. Check out total heaters from Aesop Rock, Trash Talk, Shabazz Palaces, Open Mike Eagle, Serengeti, Aby Wolf, Koo Koo Kanga Roo, Anonymous Choir, and Doomtree (duh) below, and make sure to check out doomtree.net/zoo for all the show details along the way.
[soundcloud url="https://api.soundcloud.com/playlists/128717896?secret_token=s-Td2sX" params="auto_play=false&hide_related=false&show_comments=true&show_user=true&show_reposts=false&visual=true" width="100%" height="450″ iframe="true" /]
Speaking of insanely awesome shows (SEGUE STREAK), yesterday we announced a ton of new Doomtree Fall tour dates! Check out all the cities and dates on the upcoming Off in the Deep Tour below, along with our full current itinerary underneath that. Tons of big time festival dates sprinkled in for good measure too. This is gonna rule SO HARD, plus I'm finally gonna be traveling along with the guys for all of these dates. YES!
DOOMTREE FALL TOUR DATES:
8/29 – Summit Music Hall – Denver, CO (Riot Fest Afterparty)
8/30 – Riot Fest – Denver, CO
9/13 – Riot Fest – Chicago, IL
9/17-9/20 – Rifflandia Festival – Victoria, BC
9/19-9/20 – Riot Fest – Toronto, ON
9/23 – Underground Arts – Philadelphia, PA
9/24 – Brooklyn Bowl – Brooklyn, NY
9/25 – The State Theatre – Portland, ME
9/26 – Boston Calling Festival  – Boston, MA
9/27 – Rock & Roll Hotel – Washington, DC
10/3 – CHS Field – St. Paul, MN
10/14 – The Showbox – Seattle, WA #
10/15 – Wonder Ballroom – Portland, OR #
10/16 – Oakland Metro – Oakland, CA #
10/17 – El Rey Theatre – Los Angeles, CA #
11/6-11/8 – Fun Fun Fun Fest – Austin, TX 
# – w/ Astronautalis 
Tickets for the Off in the Deep Tour will go on sale this Friday, July 31st, and you can find out tons more details and ticket information for all of the dates right HERE. Super pumped that our good friend Astronautalis will be joining us for the West Coast portion of the shows too.
On top of all these crazy announcements, don't forget that we just released our brand new video for "Generator" this past Friday. Directed by the insanely talented James Gundersen, it finds Sims, Mike, Stef, and Dessa rapping over an absolute banger from Paper Tiger, while our hometown of Minneapolis morphs into a crazy post-apocalyptic wilderness. I know I say this a lot, but I honestly think this is my favorite crew video yet. Check it out below and please help us spread the word far and wide if you can. Trying to get as many eyeballs on this thing as humanly possible. Thanks!
I'll leave you with a couple of extremely fitting Bonus Baby Pics before calling it a day. We took our little Party of Five to the Como Zoo this past weekend to get out of the house and run around a bit. Total coincidence with the whole zoo thing, I swear. I'm not addicted to the Segue Streak enough to tie my family outings into the weekly announce schedule of my rap crew (not YET at least). Here's Penny, Lou, and Cam chopping it up with this super chill gorilla. I think they able to work a lot of things out in their short time together.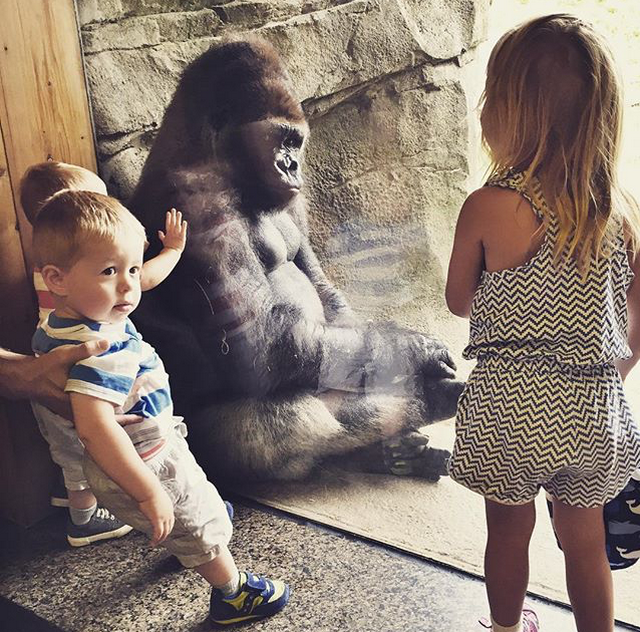 And here's Cam and Lou riding atop a super spooky fake giraffe. Shout out to my guiding fatherly hands in both of these pictures, making sure nobody hits the deck ever.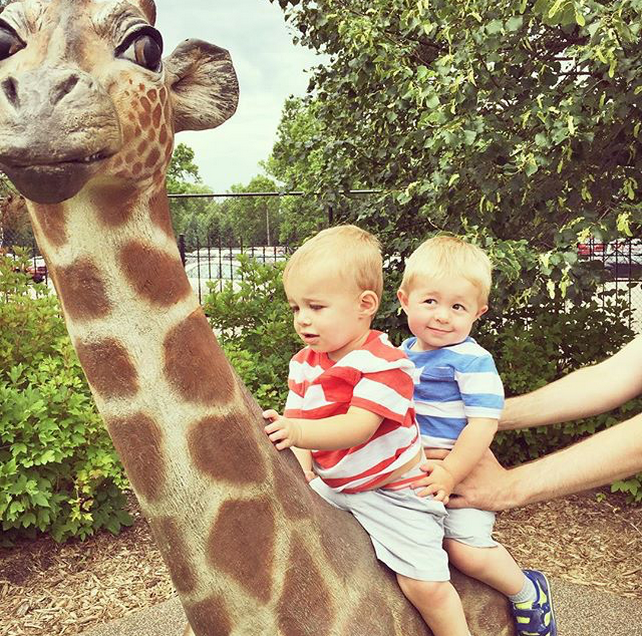 Alright! That about does it. It's been a hell of a couple weeks getting all these big announce details together, and I cannot tell you how relieved I am to finally have everything out in the open. If you get a second this week, please help us get the word out about the Doomtree Zoo, Off in the Deep Tour, and "Generator" music video. 'Preciate you already. I hope you all have a wonderful week, and I'll see you back here next Tuesday for another round of TWL!
— Beak
Twitter: @_LAZERBEAK_
Instagram: @lazerbeak
SUPPORT THIS BLOG LYFE. TUESDAYS WITH LAZERBEAK SHIRTS AND POSTERS AVAILABLE NOW!!!