Welcome back to another edition of Tuesdays With Lazerbeak. Last week we announced the first-ever Doomtree Zoo, and this week tickets are officially on sale to the public! We've been going pretty hard with the promo on this thing right out the gate, so I'll spare you every single glorious detail from last week's post. Make sure to check out the flyer below though for the full lineup and all the details, and go to doomtree.net/zoo right HERE to grab your tickets now. As of this moment, there are only 10 Baller Passes left in all of existence. That window on balling outrageous is rapidly expiring. Dooooit! UPDATE: Baller Passes are officially SOLD OUT! GA tickets are still available right HERE.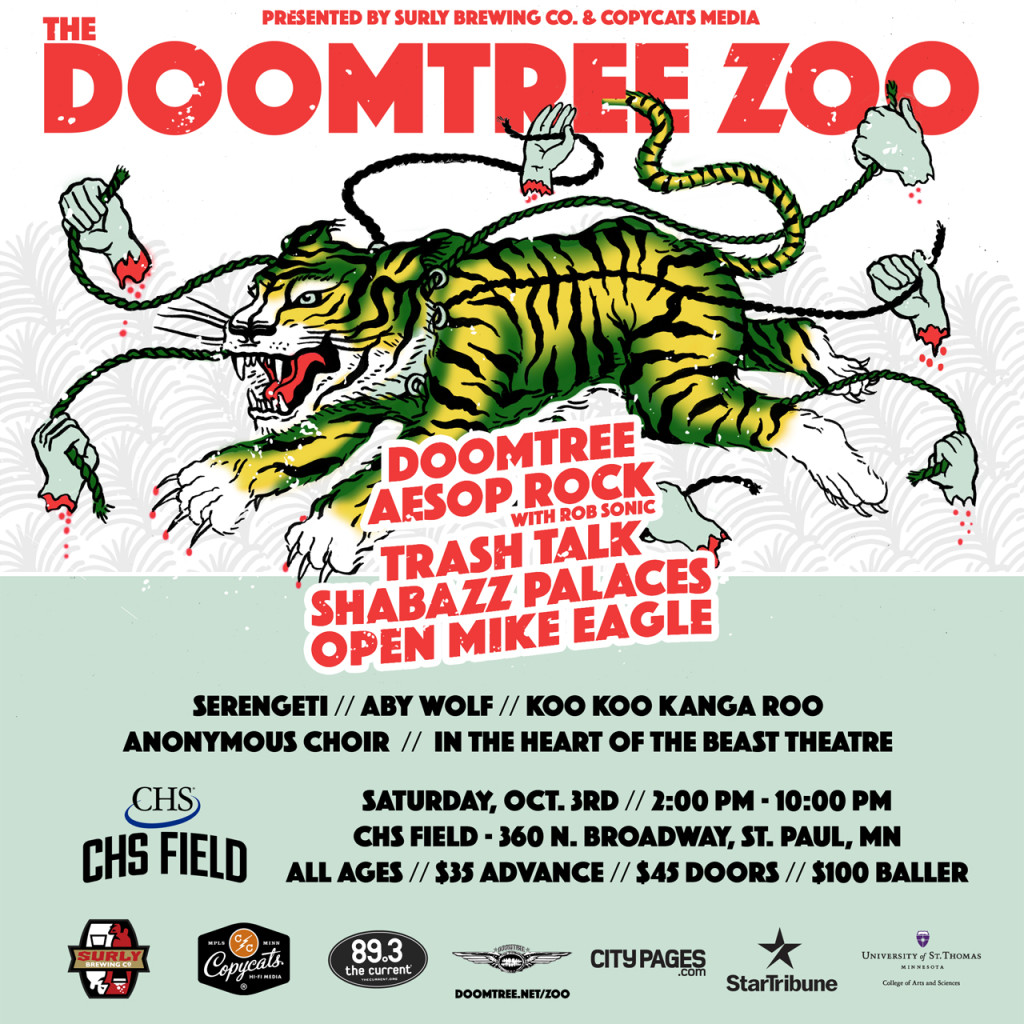 This past Saturday a bunch of us went down to beautiful CHS Field in St. Paul to personally slang tickets hand-to-hand and hang out with people right in from of the venue. Check out the crazy view from center field. This show is gonna be so nutz!
Sims, Stef, and the Artist Formerly Known as Young Baby getting ready for their first crash course in running the box office. Thanks to Alex, Mark, and the team for going easy on us and doing the heavy lifting.
Dessa and I actually got so excited for tickets to go on sale that we decided to make this ill-fated hat swap. Maybe not the most clear-eyed decision we've every pulled off in retrospect. M'lady!
Here's a pic of an actual Doomtree Zoo ticket in all of its glory. Feels so good to be announced and on our way.
Thanks to everyone that braved the crazy construction and traffic to come down and by a ticket in person on Saturday, and huge shouts to all of you that went online and swooped yours up right away. 'Preciate you immensely. Now we've gotta just keep pounding the pavement to get the word out about this thing. If you live in Minnesota (or a state close by) and have any interest in joining the illustrious Doomtree Street Team to help hang flyers and posters, please email [email protected]. It will be awesome and you will get cool stuff, guaranteed. Now here's that crazy animal flyer one more time because it rules it so hard. Shouts again to Emmanuel Mauleón on all the design for this thing. Nailed it. Grab your tickets HERE!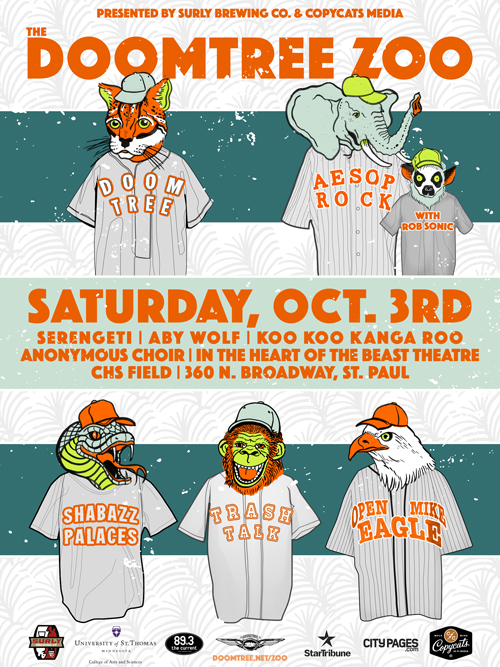 Last week was big for many reasons. In addition to the Zoo announce, we also announced some brand new tour dates on the East and West Coasts to coincide with the many festivals we'll be hitting up this Fall. Check out all the new dates for the Off in the Deep Tour below, followed by the full list of our entire Fall itinerary, and grab your tickets right HERE! Excited to be bringing out Astronautalis for the West Coast dates. And again, if you live close to any of these cities that we're coming to and would like to get down with the Doomtree Street Team to spread out posters and flyers, please hit up [email protected]. There really will be cool stuff in it for you, promise.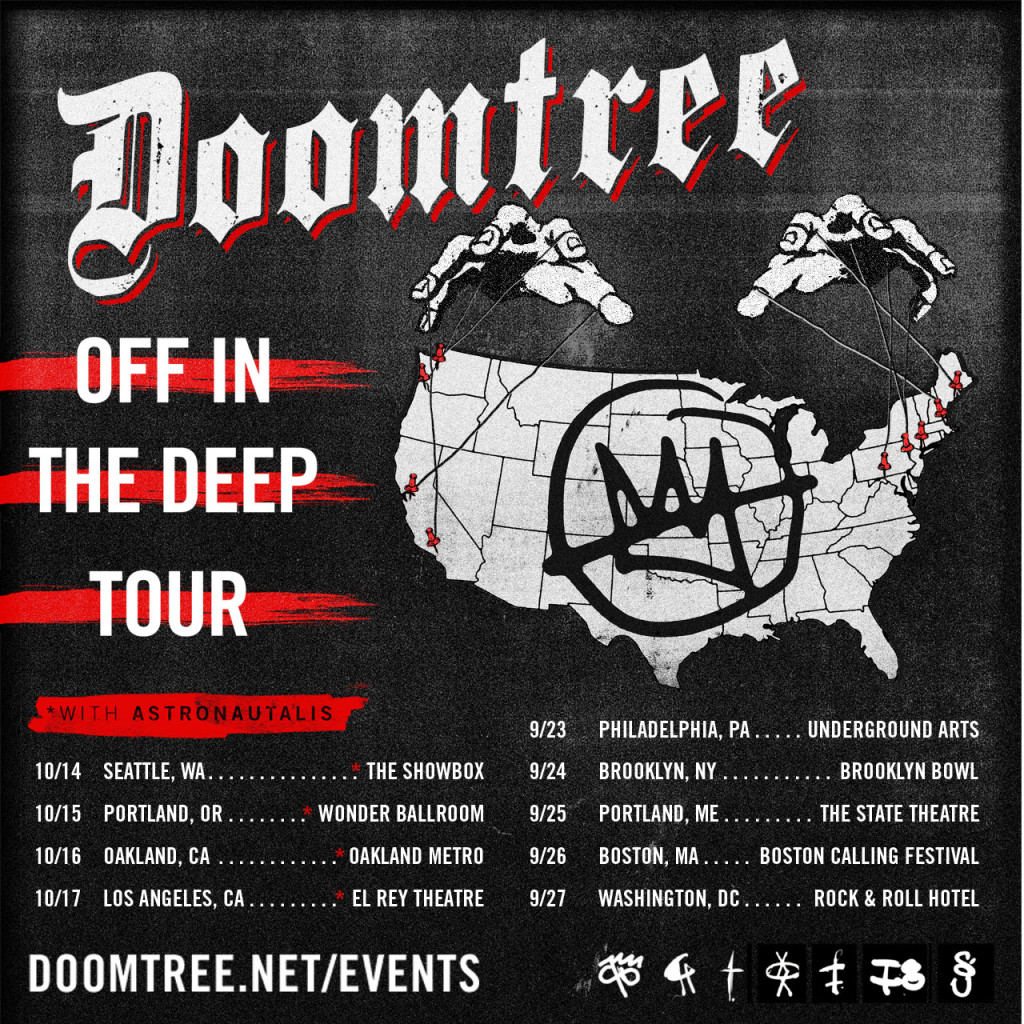 DOOMTREE FALL TOUR DATES:
8/29 – Summit Music Hall – Denver, CO (Riot Fest Afterparty)
8/30 – Riot Fest – Denver, CO
9/13 – Riot Fest – Chicago, IL
9/17-9/20 – Rifflandia Festival – Victoria, BC
9/19-9/20 – Riot Fest – Toronto, ON
9/23 – Underground Arts – Philadelphia, PA
9/24 – Brooklyn Bowl – Brooklyn, NY
9/25 – The State Theatre – Portland, ME
9/26 – Boston Calling Festival  – Boston, MA
9/27 – Rock & Roll Hotel – Washington, DC
10/3 – CHS Field – St. Paul, MN
10/14 – The Showbox – Seattle, WA #
10/15 – Wonder Ballroom – Portland, OR #
10/16 – Oakland Metro – Oakland, CA #
10/17 – El Rey Theatre – Los Angeles, CA #
11/6-11/8 – Fun Fun Fun Fest – Austin, TX 
# – w/ Astronautalis 
While we're on the subject of Doomtree crew news, don't forget about the brand new James Gundersen-directed insane vizual for "Generator" that we just dropped. By far one of my favorite videos we've ever done, as a crew or solo artist. Check it out below and pass it on to a friend!
Alright, now back to the shows for a little bit. The 12th-annual Pizza Lucé Block Party is going down this Saturday (8/8), and our guys Sims & Mike Mictlan are going to be performing together for a rare joint set towards the end of the evening. Young Gunners are back! The lineup for this show is completely stacked too: Har Mar Superstar, Dillinger Four, and Retribution Gospel Choir, just to name a few. Plus admission is a whopping FREE.99, so you really can't go wrong. Click the flyer below for even more details and set times.
Speaking of block parties (Segue Streak), I played with Mixed Blood Majority this past Sunday at the excellent Red Stag Block Party and had a total blast. Here's a sweet shot that Mark Kartarik grabbed for Go 96.3.
We had so much fun that we decided to do it all over again this Thursday night (8/6) in Lowertown St. Paul for the Music in Mears series. It's a totally free outdoor event in Mears Park (duh), with Moon & Pollution kicking things off a little after 6:00. Mixed Blood Majority will hit the stage around 7:45 and then there'll be a totally awesome movie premiered at 9:00 courtesy of the Twin Cities Film Fest. That's what we in the industry call a Win Win Win. We've been playing a ton of new MBM songs out at these Summer shows as we gear up to record our second full-length, so there should be lots of surprises in the set. Click the flyer below for more details. Looking forward to seeing a bunch of yous out there!

Oh, and one more thing! Not a show per say, but Doomtree will have a booth at the second-annual Autoptic Festival this weekend in Minneapolis. Autoptic is a two-day festival of independent culture, with emphasis on design elements. Comics, zines, prints, art, music, and more. Last year was great, and this year should be even better. Check out the details below and click HERE for more info. Come down, check out some really cool art, and say hi at the Doomtree booth!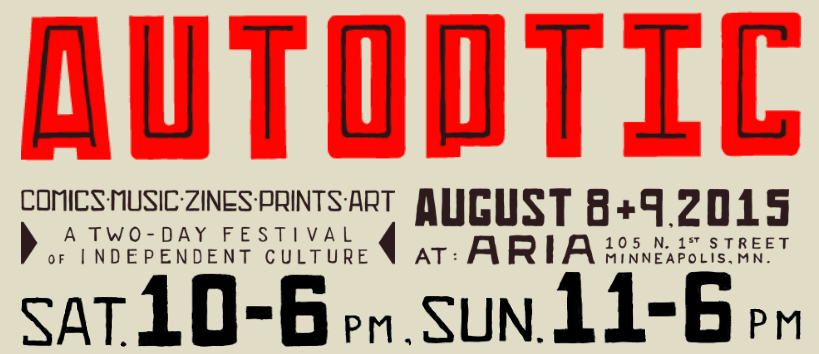 OK! That should do it for Doomtree-related news in this post. Once again, the awesome Doomtree Zoo Playlist will serve as your Bonus Jams of the Week. I figured that was probably better than me just posting Drake's "Back to Back" over and over again, right? We've got a truly insane lineup for the Zoo, and there's a good chance you might not be 100% familiar with everybody who will be participating. Get familiar below and then GET AMPED. Check this out.
[soundcloud url="https://api.soundcloud.com/playlists/128717896″ params="auto_play=false&hide_related=false&show_comments=true&show_user=true&show_reposts=false&visual=true" width="100%" height="450″ iframe="true" /]
And if you're more of a Spotify guy, check out the Doomtree Zoo Spotify Playlist by clicking right HERE or going to the image below. Even more jams from everybody involved!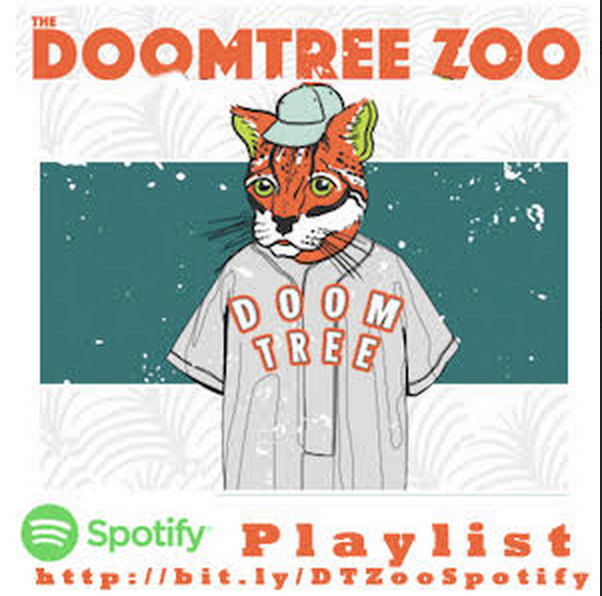 Now for a couple of Bonus Penny Pics before calling it a day. Penny has gotten pretty into rocking this drawn-on whiskers and nose cat face lately. Might have something to do with her trip to the zoo a few weeks back. Here she is looking about as ferocious as one can look while eating a vanilla-drizzled fruity granola bar in a Minnie Mouse t-shirt.
 Aaaaaaaand here she is rocking the same cat face in her new favorite outfit: a pink sequined fairy wings and tutu ensemble. Very fashion forward, but really, would we expect anything else at this point? TRENDSETTER.
 Lastly, here's a little collage that my mom put together of the many faces of P. Her photographic range and depth is truly unparalleled. Modeling agencies take note!
OK, that's a wrap! I hope you all have a great week enjoying the wonderful weather. Jopefully we'll see a bunch of you out and about at the different different shows going on throughout the weekend here in the Twin Cities. If not, next Tuesday for sure!
– Beak
Twitter: @_LAZERBEAK_
Instagram: @lazerbeak
SUPPORT THIS BLOG LYFE. TUESDAYS WITH LAZERBEAK SHIRTS AND POSTERS AVAILABLE NOW!!!