Welcome back to another edition of Tuesdays With Lazerbeak! Last week we premiered a brand new music video from Mike Mictlan for his HELLA FRREAL standout "CLAPP'D." Those of you who have been to a Doomtree show in the past year know just how powerful this song is every single time Mike performs it, and I'm thrilled that we're able to give the track, and the message behind the track, an even bigger push with this new Kron-directed vizual.
The song and video deal with the ongoing harsh realities of gun violence and police brutality in America. In Mike's words:
"I wrote this song way before Ferguson, way before Freddie Gray. I could feel the climate rising in our country with every video of police brutality posted on the Internet. I wrote this song for my friend Abdulle Elmi, gunned down execution-style in the streets of Toronto. But the biggest surprise was playing "CLAPP'D" on tour with Doomtree and finding out that I also wrote this song for the people I performed it to in every city who needed it more than me. I will continue to write these songs, not as a reaction but as a need. Stop The Violence."
Please take a few minutes out of your day to watch the video all the way through and spread it around if you can. Tough to watch at times but extremely important.
Mike joined Sims last weekend at the Pizza Luce Block Party for a joint set of heat knocking mega rap bangers. Here's a quick picture from Adam DeGross of the total party that ensued.
And speaking of total parties (Segue Segue Segue), you know I gotta mention the first-ever Doomtree Zoo concert, our all-day party going down at CHS Field in St. Paul on October 3rd. Stef, Dessa, Sims, and myself stopped by CHS Field a few weekends back to sell tickets hand-to-hand and get a little tour of the grounds. We're going to be bringing back the "We're Working Hard" video series to help document the ridiculousness of Doomtree throwing a show in a baseball stadium. Check out the crew dusting off their bats and gloves and getting into the spirit of things in the promo video below. Huge shouts to Ander Other for once again knocking it out of the park (baseball pun very much intended).
Can't believe it's all less than two months away! All of the Baller Passes have completely sold out at this point, but you can still grab general admission tickets right HERE. We're taking over the entire right field of the ballpark, so there really isn't a bad seat or spot on the floor in the whole place. Check out the insane flyer from Emmanuel Mauleón below, and go to doomtree.net/zoo right HERE for even more details and ticket info.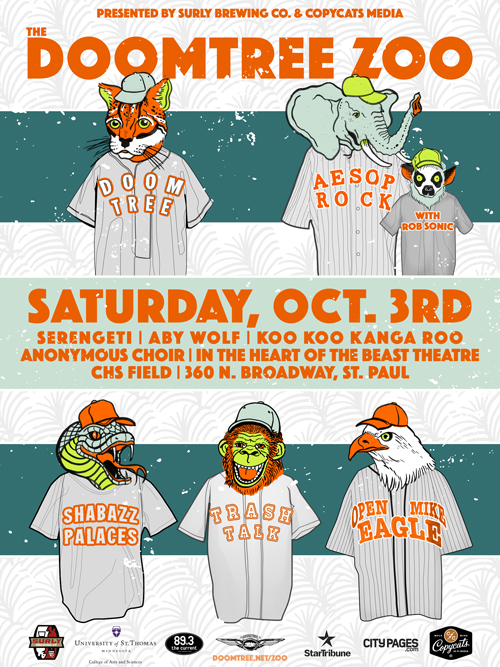 The Doomtree Zoo isn't the only big show we have planned this Fall. The whole crew will be hitting the road over the next several months to knock out some big time festivals and mini-tours throughout the US and Canada. Check out the full list of dates below and go to doomtree.net/events right HERE for all of the glorious details.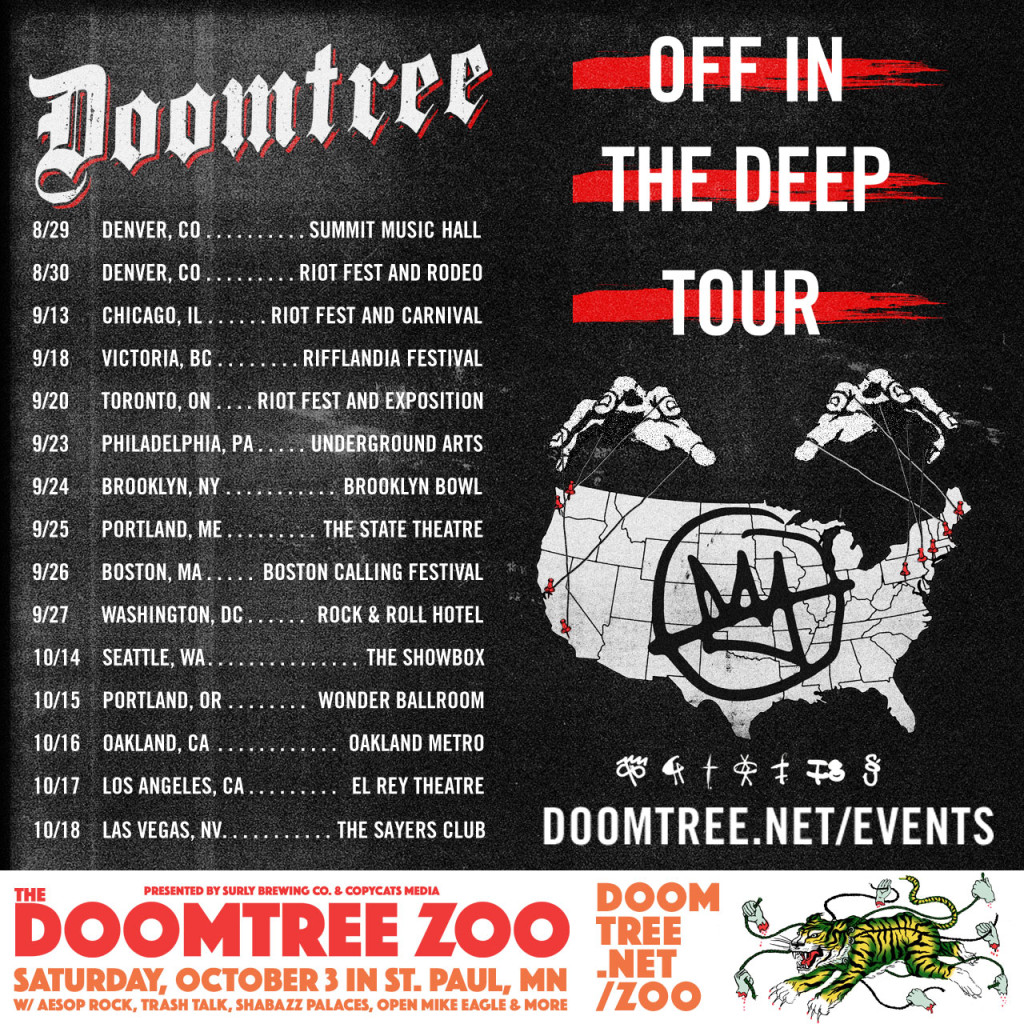 We just added a new show in Las Vegas at the tail end of our West Coast run in October, and we're bringing Astronautalis along for that date as well. Grab your tickets right HERE if you're in the area. I've still never been to Vegas, so I'm extremely pumped about this addition. Gonna do everything in my power to catch the Mariah Carey residency between soundcheck and doors.
Doomtree will be in Denver at the end of August to kick off Riot Fest with a bang, and we're headlining one of the official afterpartys the night before our festival appearance! It's all going down at Summit Music Hall on Saturday, August 29th. Stoked that Cayetana and Input + Broken are on the bill as well. They all rule. Grab your tickets right HERE.
We'll be playing the Denver Riot Fest the following day (8/30), and then heading to Chicago on 9/13 and Toronto on 9/20 to finish out the three-city run. Should be a total blast all around. Check out more information on all three festival weekends right HERE.
Red Bull Music just dropped a big feature on Doomtree, filmed when the guys were out in London last month. Check out the full story, interview, and video clips right HERE, and click the player below to see a special stripped down version of "Heavy Rescue."
P.O.S continued his recent podcast appearance streak last week when he sat down with the homie Yoni Wolf for The Wandering Wolf Podcast. Check out the entire 90 minute interview below, recorded in Yoni's rental car directly outside of the legendary First Avenue nightclub. They touch on a ton of topics, ranging from Stef's upbringing, early influences, and high school punk bands; to his career arc, teenage son, and kidney transplant.
[soundcloud url="https://api.soundcloud.com/tracks/218072041″ params="auto_play=false&hide_related=false&show_comments=true&show_user=true&show_reposts=false&visual=true" width="100%" height="450″ iframe="true" /]
Speaking of Stef, he also popped up last week on a new song from London punk band Black Futures. Check out the video for "LOVE" below, with a special P.O.S guest verse about halfway through.
Black Futures ft. P.O.S – "LOVE"
And now for a few random Bonus Jams before I call it a day. Let's keep things in London Town for a second. I recently heard about this new singer named SG Lewis, and so far I am 100% all in. Not gonna lie, I caught this "Warm" song at the end of last week's Ballers credits just like everybody else (seriously kind of love that show). The music is right up that same Sampha, Majid Jordan, R&B Drake alley that I love so much. Extremely excited for this guys EP that's dropping at the end of the month. For now, get familiar with these two great singles.
SG Lewis – "Warm
SG Lewis – "No Less"
That new Tame Impala record is really good. I'm not sure that I'm into it quite as much as everybody else seems to be, but I can say that this "Yes I'm Changing" song is pretty much flawless. The producer nerd in me is still shocked at how well this was all recorded.
Tame Impala – "Yes I'm Changing"
Now for a few curveballs. Penny has been watching that new-ish Dreamworks kids movie Home on repeat for the last month or so (the one where J. Lo plays the mom and Rihanna plays the kid and aliens come to Earth and relocate all the people). Anyways, I've gotten super knowledgeable on the soundtrack since Penny demands that we listen to it on the phone during our walk to the park every day. This Rihanna song is the one that I look forward to hearing the most. Totally has that simple two-step vibe of early singles by The-Dream, plus it's just really fun to try and imitate the way that Rihanna says the word "night."  Check it out.
Rihanna – "Dancing in the Dark"
I was up North at a cabin this past weekend with my wife's family, so you know I had break out a little country on the drive up. That Kacey Musgraves album still totally rules in case you were wondering. Here's my favorite track off of it currently. Love the tiny strings in the background and the cutesy lyrics. She's the best one out there doing it right now.
Kacey Musgraves – "Cup of Tea"
I'll probably lose you with this last country jam, but it's currently my pick for Song of the Summer. Super bro country from newcomer Sam Hunt, with some especially questionable DJ scratches to boot, but that hook just cannot be denied. For all my homebody's out there. Enjoy.
Sam Hunt – "Houseparty"
OK! That about does it for this week. I'll leave you with a few Bonus Baby Pics before calling it. Like I mentioned, we hit the Cabin Lyfe pretty hard this weekend. Stopped by the Pequot Lakes Dollar General on Saturday to grab some supplies and couldn't resist this cool dollar mustache. Big hit with the kids. Here's Laid Back Lou doing his best Sam Elliot impression. NAILED IT.
And here's Penny hanging out at my mom's place, possibly attempting to drown her Little Mermaid doll? I suppose you can't really drown mermaids now that I think about it, so this behavior is probably just fine.
That's it! I hope you all have a wonderful week. Make sure to check out those "CLAPP'D" and Doomtree Zoo videos, and help spread them all over the Internets if you get a second. Trying to get all the eyeballs on them that we can. See you next Tuesday for another round of TWL!
– Beak
Twitter: @_LAZERBEAK_
Instagram: @lazerbeak
SUPPORT THIS BLOG LYFE. TUESDAYS WITH LAZERBEAK SHIRTS AND POSTERS AVAILABLE NOW!!!