Hello, assorted friends.
This is Dessa, reporting by proxy for the esteemed Lazerbeak, whose weekly updates we all enjoy so thoroughly. Beak's been burning the midnight oil in preparation for this weekend's big show so I'm pinch hitting to allow him a few extra minutes of REM sleep today. He's no doubt dreaming of a perfectly balanced spreadsheet that extends to the horizon in gentle, rolling hills. Sweet dreams, Beak, sweet dreams.
The whole crew arrived home yesterday, after a brief East Coast run with Speedy Ortiz and Serengeti. There were encores, there were cupcakes, there were laboriously rerouted driving directions to stay out of the Pope's way, there was only one stern scolding by hotel management. In all, a win. Here a few pictures that our friends took along the way.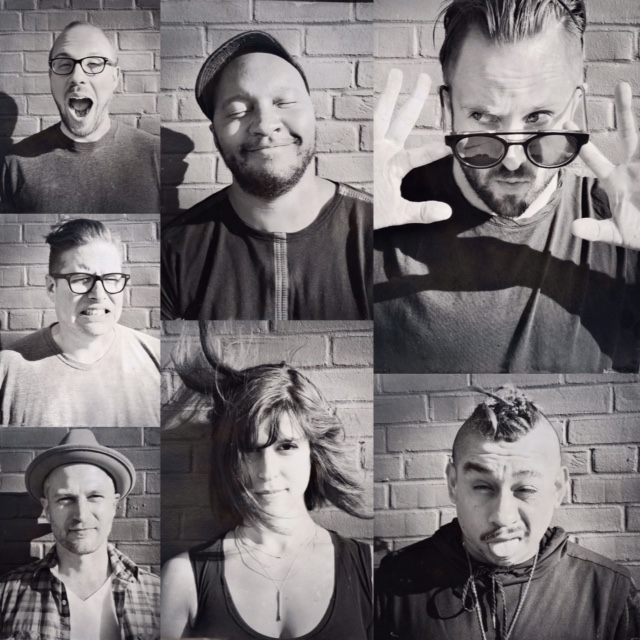 Photo credit: Chad Kamenshine
Photo credit: Jessy Gonzalez
 Photo credit: our own Andrew Sims.
Now our collective attention turns to Saturday's Doomtree Zoo, our biggest event yet. We've got rehearsals with singers and players; we've got meetings with puppeteers; we've got TV and radio interviews all lined up. It is, at long last, go time.
If you've missed our (pretty intense) messaging about the Zoo, here's the short story.  After retiring the Blowout, we wanted to flip the format, create a kind of show we'd never tried before. We wanted it to feel immersive, so that the action was all around, not just on stage. We decided it should happen outside, should last all day, and should have all sorts of stuff for kids. We booked a double Dutch troupe and a facepainter (who's busy working up special Doomtree designs). We also partnered with In the Heart of the Beast Theatre. Beak and I visited their warehouse of larger-than-life puppets to do a little scheming.
Selecting the musical line up required long and hard deliberation. We held meetings in coffee shops, in moving vehicles, and in airport bars. We drafted and redrafted for weeks, then months. At last we arrived on a bill that's as varied as our individual tastes—everything from hardcore to choral music. The artists we invited to play at the Zoo almost feel like a map of the influences that combine to shape the sound of our collective. If you haven't seen it yet, here's the list of the artists who'll be performing (we'll be releasing the exact performance schedule on Thursday):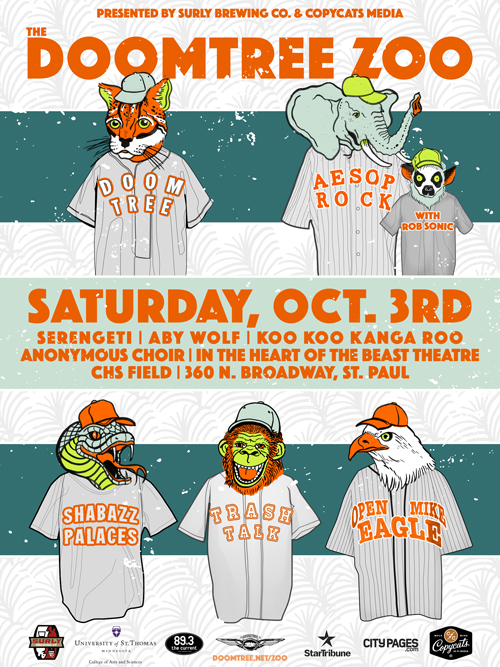 If you haven't scored tickets, you can still do so at the advance rate: $35 (they'll be $45 at the door.) In the meantime, there are plenty of opportunities to catch us on air or say hello in person; we'll be running around like crazy all week. As you'll see below, Stef and I will be at Glam Doll Donuts today, swing through at 12:30 for a sugar fix and a high five.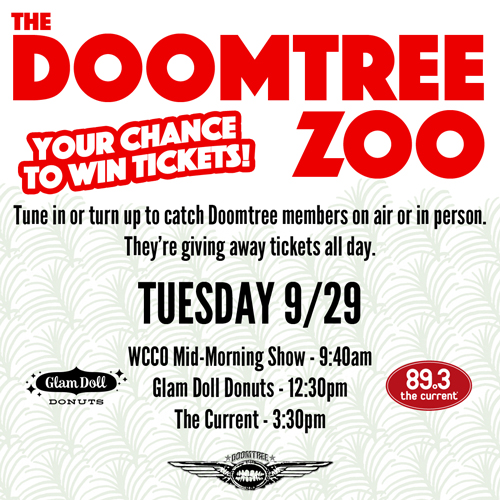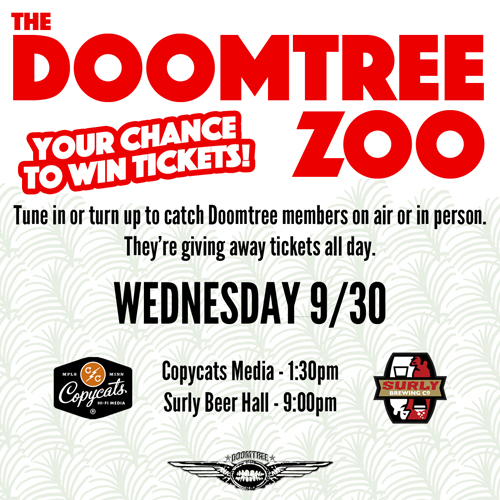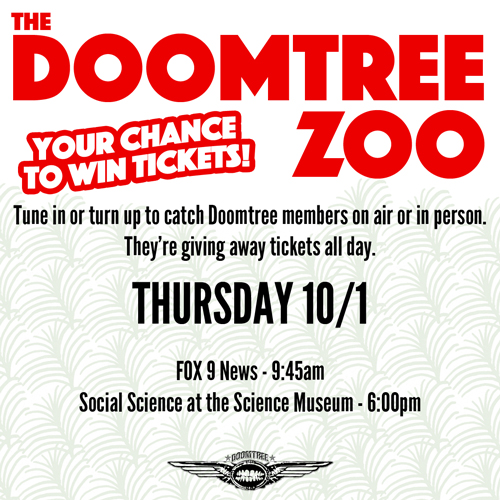 After we've shut down the Zoo in a blaze of glory, we'll head west into the sunset (and conveniently towards the first stop of our West Coast tour). Our friends Astronautalis and Sister Crayon will be rolling with us for this one. If you're on the left coast, or you've got homies there, check out the tour dates below.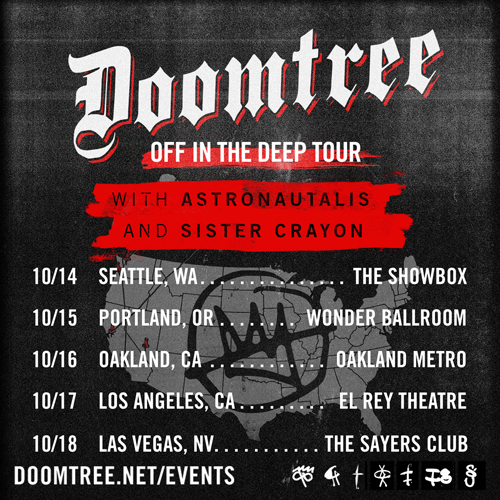 Then in December we'll do a loop a little closer to home, with a handful of Midwest dates. Tickets went on sale on Friday: you can check out the full details on our events page.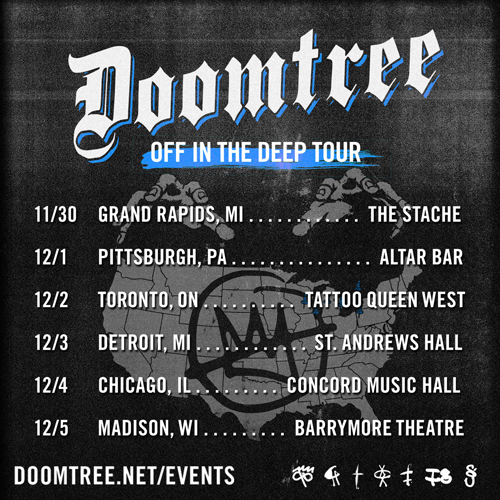 Before powering down the ole' blog, permit me to doff my cap towards all those players who've made it through the whole Pop Quiz, Hot Shot game (*borrows Cecil Otter's cap, doffs it, and returns it*). If someone told my ten-year-old-self that her interests in wordplay, competitive low-stakes games, and mystery-solving would coalesce into a rap trivia program she invented with her friend named "Lazerbeak," well, she would have probably headed for the nearest trusted adult. And she'd most likely try to weasel an extra dessert out of the unsettling encounter with a creepy stranger. (Her worldview was, and is, dessert-centric.) In all seriousness, big thanks to Clockwork for the killer design, and shouts out to everybody who made it to the tough rounds. If you'd like to try your hand at an answer or two, there's still time. Simply log on here, and give it a go. You'll be automatically entered to win all sorts of nonsense, including airfare to a Doomtree show or a chance to retain me and Lazerbeak as your personal life coaches.
Your friend,
Dessica.
@dessadarling
P.S. We've all been lucky enough to perform in to faraway places this year. I just managed to confirm my first solo show in Cardiff, Wales and can't wait to visit for the first time. If you're in Cardiff, have friends in Cardiff, or travel to faraway rap shows in fits of whimsy, you can score a tickets here. (Stay tuned for news of an a show in Ireland.) See you soon. -Dess.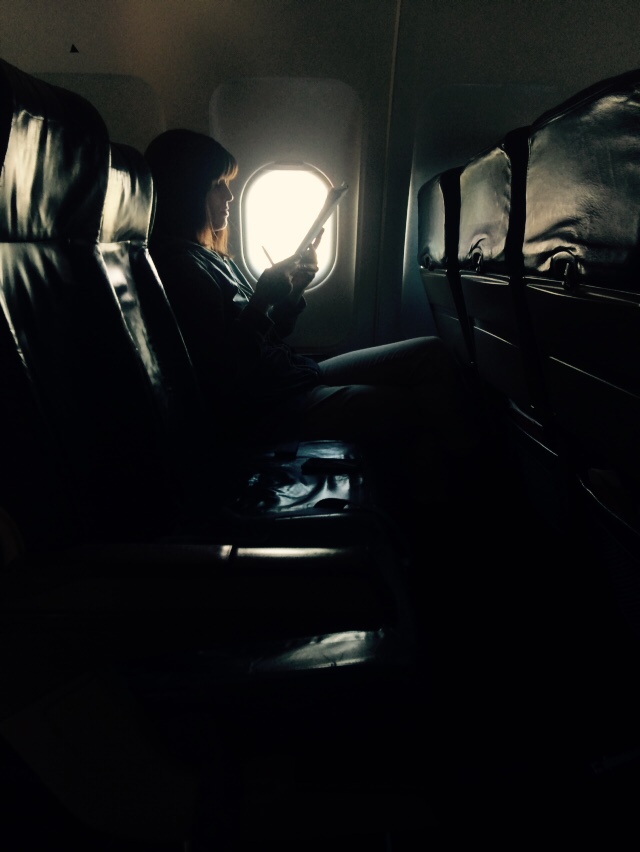 P.P.S.