Welcome back to another round of Tuesdays With Lazerbeak! We had a total blast in Milwaukee over the weekend ringing in Halloween right. Big time shouts to Lizzo and her squad for totally killing it, and to Surly and everyone on the Surly bus for coming down and repping so hard. Here's a few shots of the huge crowd from stage. Such a sweet night.
And here's a picture of me basking in the glory of a restaurant that shares my last name. Finally made it to Mader's!
Can't believe we're really already into the month of November now. This month is jam packed with tons of crew and solo shows, so I figured it was probably time for another Official Doomtree Show Rundown. Things kick off this weekend with our final two festivals of the year. We'll be in Iowa City on Friday (11/6) headlining the inaugural Witching Hour Festival. Really excited to get back to IC. You can grab more info on the fest and ticket details right HERE.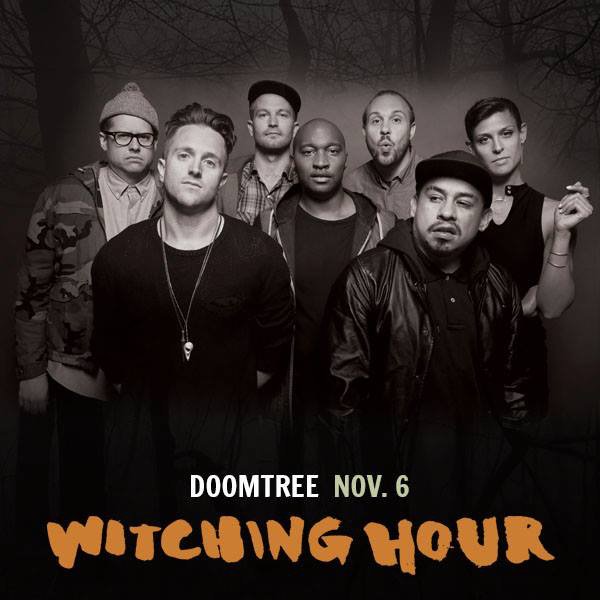 From Iowa we'll hop on a plane to Austin, TX for the 10th anniversary of the legendary Fun Fun Fun Fest! We perform on the Blue Stage this Sunday (11/8) at 3:50pm. There are literally hundreds of bands playing this festival that I want to see live. Such a great lineup. Grab your tickets right HERE.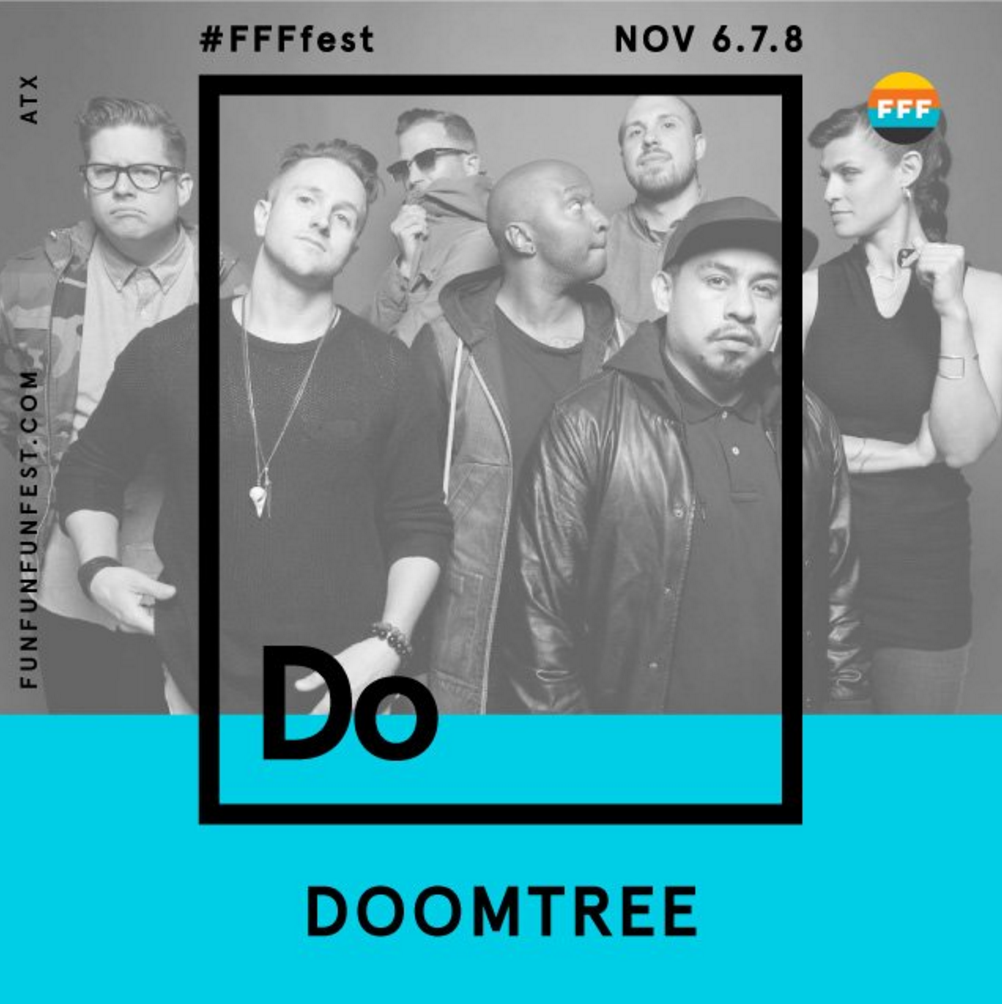 As a special bonus, we're also playing a club show Sunday night for the official Fun Fun Fun Nites afterparty. Our favorite guy Har Mar Superstar will be joining us at Sidewinder, and you can only get in if you have a  festival wristband. Come close out the weekend with us in style!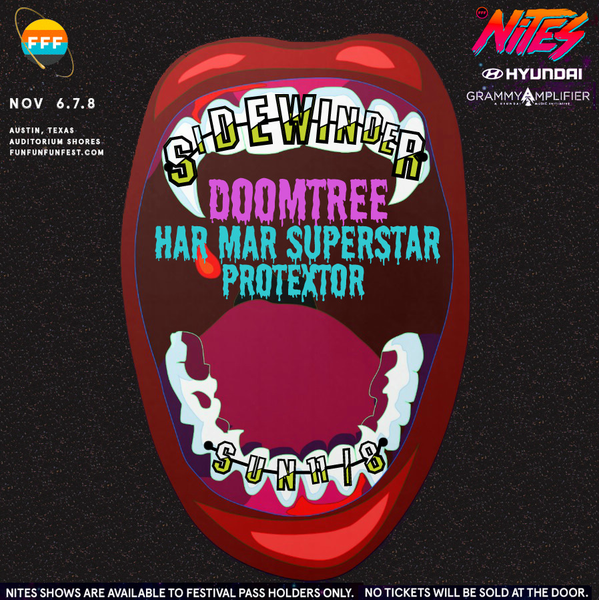 The following week, on November 12th, Sims will be headlining a People Serving People benefit concert at the Triple Rock with proceeds going to help homeless children and their families. Great cause and a great lineup. Check out more info and ticket details right HERE.
Dessa will be heading overseas for a few shows this month. On November 13th you can catch Dessa in Dublin, Ireland for a show at The Mercantile (tickets HERE).
And on November 16th she'll be in Cardiff, Wales for a show at Clwb Ifor Bach (tickets HERE). If you've got people in either of those parts of the world make sure to give them a heads up. It's not everyday someone from Doomtree makes it out that way.
The whole crew will regroup back home over Thanksgiving weekend and then head out for the final leg of Doomtree's Off in the Deep Tour. We'll be playing Grand Rapids, MI on 11/30 (tix HERE), Pittsburgh on 12/1 (tix HERE), Toronto on 12/2 (tix HERE), Detroit on 12/3 (tix HERE), Chicago on 12/4 (tix HERE), and closing things out with a bang in Madison on 12/5 (tix HERE). These will be the last out-of-town Doomtree shows of the year, and probably for quite some time to come as we start to refocus on solo albums at the top of 2016. Definitely come out and party with us if you're in the area and celebrate the end of an amazing and productive year. As always, you can hit up doomtree.net/events right HERE for all sorts of details on each show.
Don't forget about the crazy Mixed Blood Majority release show at the First Avenue Mainroom on December 11th with P.O.S and GRRRL PRTY. This is a super rare headlining solo set from Stef, plus MBM will be playing tons of new songs off of our upcoming Insane World album. Thanks to everyone who already grabbed tickets during the presale. Tickets are now open to the public and moving fast. Make sure you grab yours right HERE. So pumped for this one!
Speaking of Mixed Blood Majority (Segue, Segue, Segue), we just wrapped up the final mixes for the new album last Friday, just in time for Halloween. Here's a classic Spooky Basketball Halloween band pic we took after everything wrapped up. Seemed like the right thing to do at the time. Extra huge shouts to Graham O'Brien (pictured on the right) for all of his help with post-production and co-production on this album. I couldn't be happier with how these songs are sounding, and I really think we tapped into a totally different feel with this album. We'll be dropping a brand new single and album pre-order next week, so definitely stay tuned!
In the meantime, let's get kick off this week's round of Local Bonus Jams with the current Mixed Blood Majority single "Same Thing Coming," just in case you were living under a rock last week and missed the premiere. Can't wait to share more of this album with you next week!
Mixed Blood Majority – "Same Thing Coming"
[soundcloud url="https://api.soundcloud.com/tracks/230048075″ params="auto_play=false&hide_related=false&show_comments=true&show_user=true&show_reposts=false&visual=true" width="100%" height="450″ iframe="true" /]
It was really great to see Lizzo over the weekend and hear her play some new songs live. Her upcoming album Big GRRRL, Small World drops on December 11th and she's released a pair of banging singles so far to give you a taste of what she's working with. Check out "Ain't I" and "Humanize" below. The album sounds excellent and I was happy to land a beat on there ("The Ride") and also lend a hand with some overall post-production work.
Lizzo – "Ain't I"
Lizzo – "Humanize"
Prof released his Rhymesayers debut album Liability a few weeks back and recently put out this video for "Apesh*t," which happens to feature a guest verse from none other than Waka Flocka Flame. Our dear friend DJ Fundo turns in the performance of a lifetime in the acting department. Not totally sure what constitutes as NSFW these days, but just a heads up that this might be it.
Prof – "Apesh*t"
Great to see BK-One back in the mix making music these days. He's been working with Anthony Newes (Villa), Chris Bierden (Polica), and Nate Collis (guitar monster) on a new project called Bones & Beeker. Everything I've heard from these guys so far has been outstanding. They drop their full-length album on Wax Poetics on November 13th. Check out "Each Time I Die" below.
Bones & Beeker – "Each Time I Die"
The homie Mike Swoop relocated to NYC a while back, but I'm still lumping this one into Local Bonus Jams for old times sake. Mike recently wrapped up an EP with singer Lena Carr called Do Not Disturb, and you can stream the entire project below.
Mike Swoop and Lena Carr – Do Not Disturb EP
[soundcloud url="https://api.soundcloud.com/playlists/133497383″ params="auto_play=false&hide_related=false&show_comments=true&show_user=true&show_reposts=false&visual=true" width="100%" height="450″ iframe="true" /]
Wrapping things up, here's a new visual from Bain off of his excellent Love in Blue album. There's always been a really strong and steady stream of great live band R&B coming out of the Twin Cities, and this album definitely continues that lineage. Check out the extended jam "After" below.
Bain – "After"
I'll leave you with a few ridiculous Halloween-themed Bonus Baby Pics. I was in Milwaukee for the big day and missed out on the mayhem, but it looks and sounds like the kids had a total blast. Here's Laid Back Lou and Crab Man Cam rocking the Minion look with the Grandma's.
And here's Penny as either Anna or Elsa from Frozen (let's keep that between us though, she'd kill me if she found out I couldn't tell them apart). It's a miracle that anybody kept their costume on for more than 15 seconds.
Trick or treating can take a lot out of you. Looks like the gang decided to stop for a classic mid-house chips and chili sidewalk break. Well played.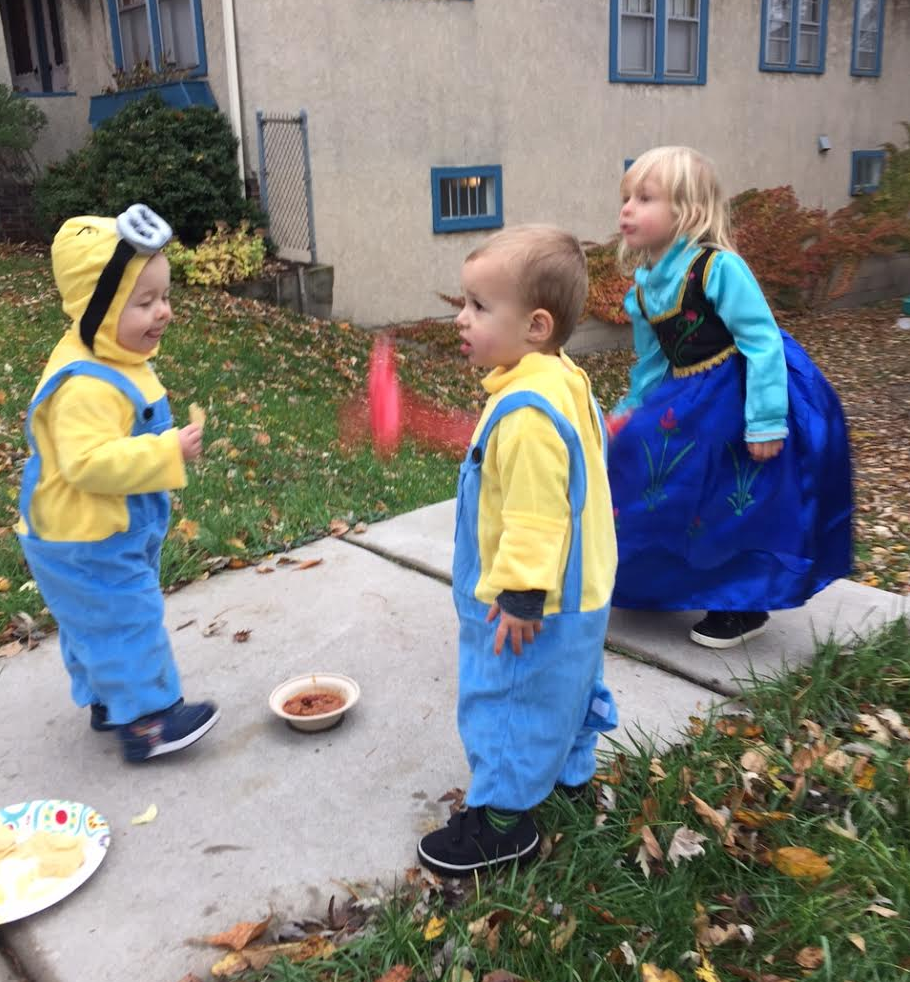 Here's Cam getting into the pumpkin carving spirit back at home.
And here's one more of Lou for good measure. We haven't even seen that Minions Movie yet. Something tells me this may become an everyday outfit whenever we finally do.
Alright, that does it for this post. I hope you all have a wonderful first week of November. Excited to see a ton of you out in Iowa City on Friday and Austin on Sunday. I'll be back next Tuesday with a festival recap and some brand new Mixed Blood Majority music. See you then!
— Beak
Twitter: @_LAZERBEAK_
Instagram: @lazerbeak
SUPPORT THIS BLOG LYFE. TUESDAYS WITH LAZERBEAK SHIRTS AND POSTERS AVAILABLE NOW!!!