Welcome back to another round of Tuesdays With Lazerbeak! I've got a ton of extremely awesome Mixed Blood Majority news for you today, so let's just jump right into it. Without further ado, here is the brand new Mixed Blood Majority single and title track to our upcoming album Insane World, which drops on December 4th. Definitely one of my favorites from the record. Check it out and pass it around if you can!
[soundcloud url="https://api.soundcloud.com/tracks/232347328?secret_token=s-HdXZI" params="auto_play=false&hide_related=false&show_comments=true&show_user=true&show_reposts=false&visual=true" width="100%" height="450″ iframe="true" /]
And here's the suuuuuuper sweet album cover, designed by none other than Kai Benson (fka MK Larada).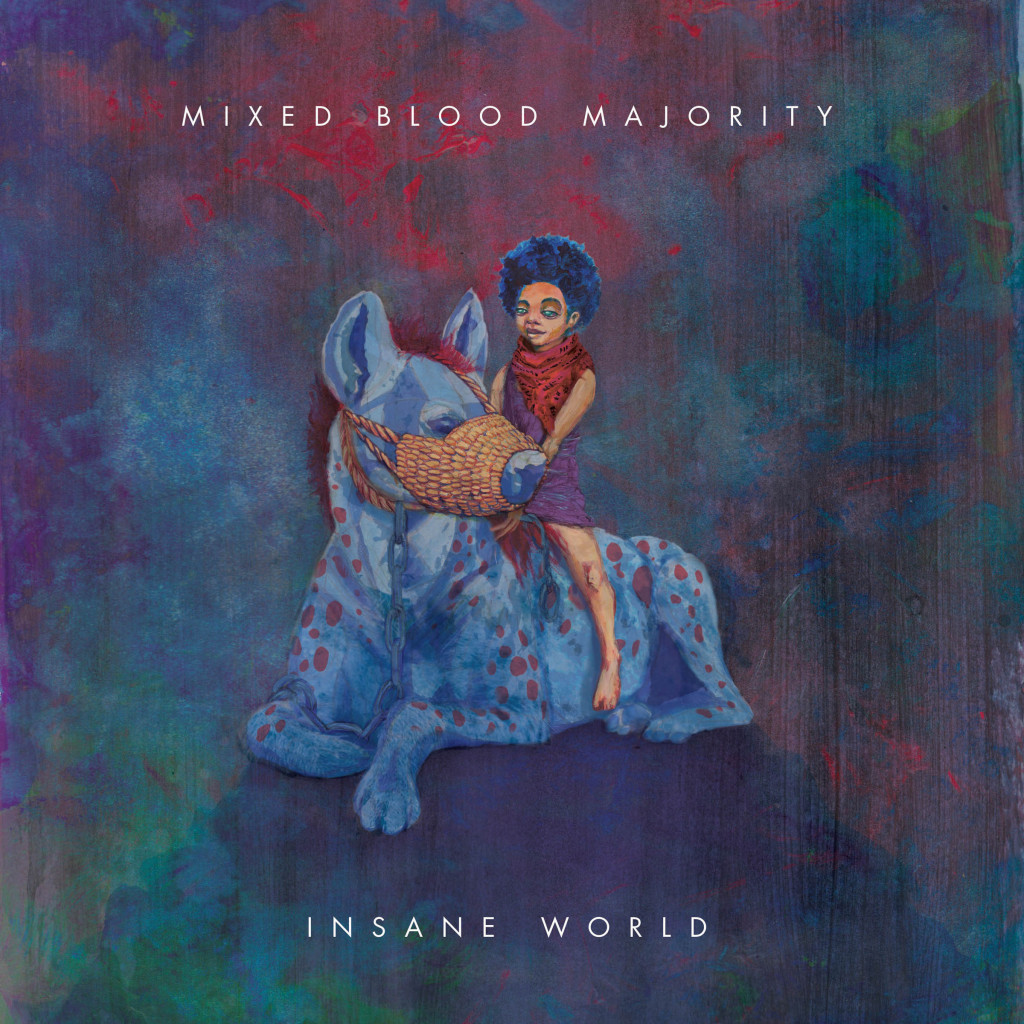 We've just announced the Insane World Pre-Order as well! You can pre-order the digital album through Bandcamp right HERE and receive instant grat tracks "Same Thing Coming" and "Insane World" right away. For the fans of physical goods, we've got a great Deluxe Pre-Order available through the Doomtree Webstore. You'll get the 11-track CD digi-pak, limited-edition Mixed Blood Majority t-shirt, large glossy poster signed by Crescent Moon, Joe Horton, and Lazerbeak (that's me!), and immediate digital download of "Same Thing Coming" and "Insane World", all for only $26.99 (which is roughly how much Paper Tiger spends at Arby's in just one sitting). Check out the details below and grab your Insane World Deluxe Pre-Order right HERE.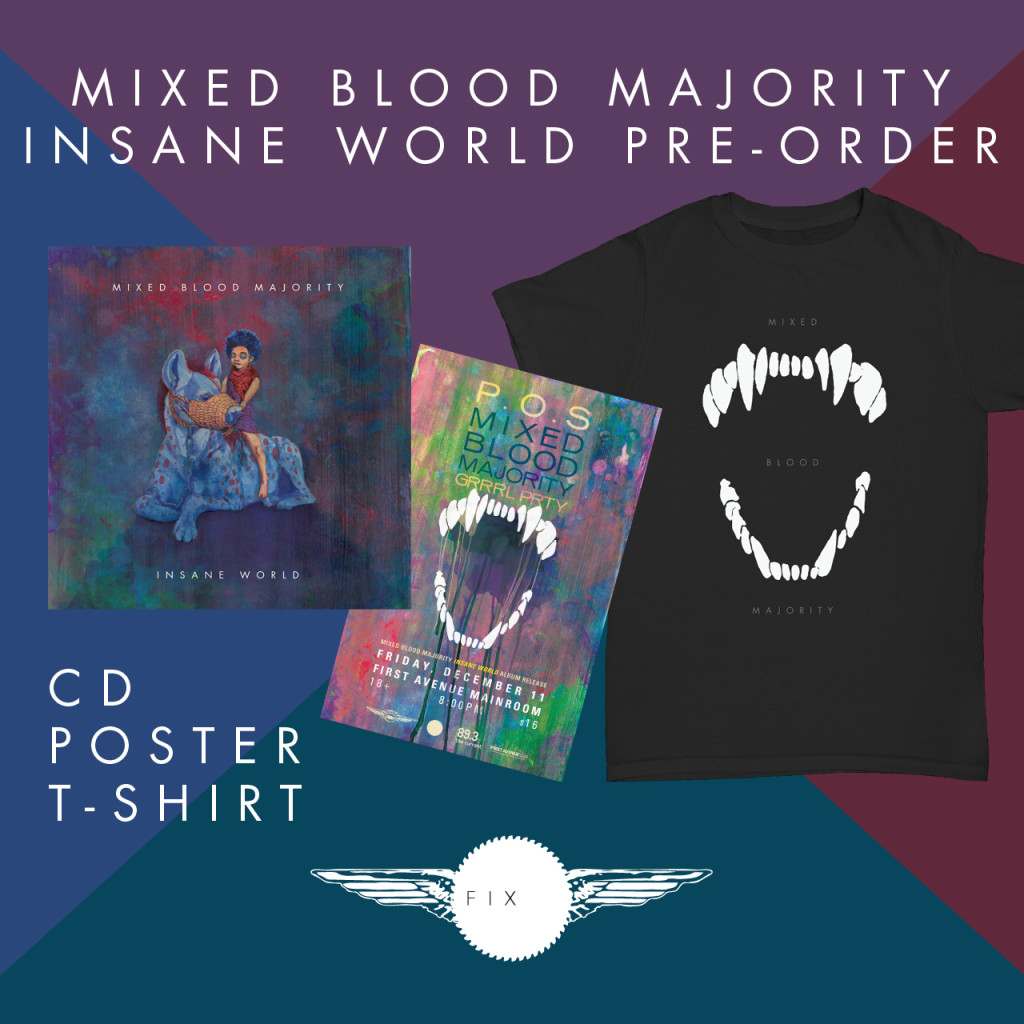 If you're balling on a budget or just really don't like wearing t-shirts, you can always grab the Insane World Standard Pre-Order, which comes with everything in the Deluxe Pre-Order minus the shirt. See below for details and grab a Standard Pre-Order right HERE.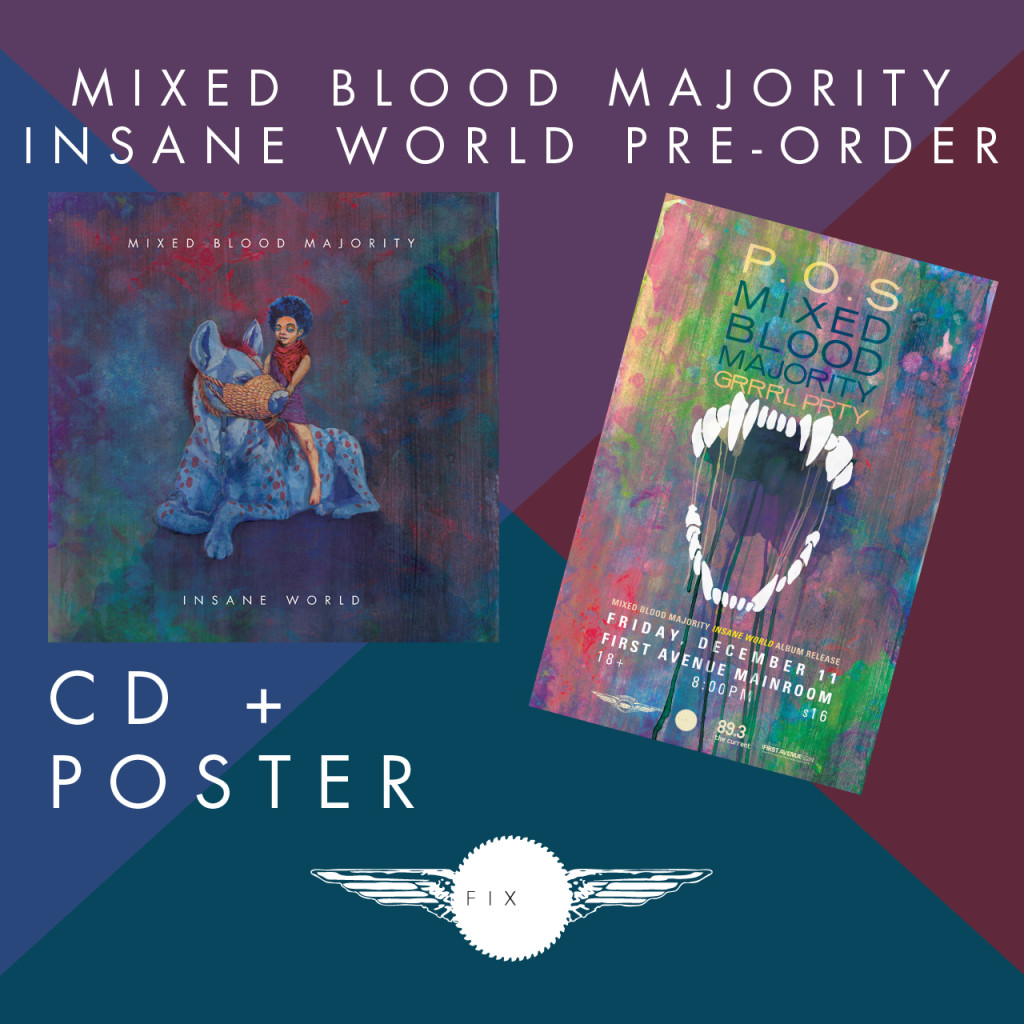 And if that weren't enough big time news, Mixed Blood Majority has also just been added as main support for Doomtree's final leg of the Off in the Deep Tour! We'll be hitting Grand Rapids, Pittsburgh, Toronto, Detroit, Chicago, and Madison starting in late November. These will be Doomtree's last out-of-town crew shows for quite some time, so you definitely don't want to miss them. Our homie Bleubird is gonna be coming along for the ride as well and opening things up. So happy with this phenomenal lineup, should be a total blast. Check out the full details below and grab your tickets right HERE.
That'll bring us right up to the big Mixed Blood Majority Album Release Show at First Avenue on December 11th. P.O.S will be performing an extremely rare solo headliner set, and GRRRL PRTY rounds out the totally stacked bill. Tickets are starting to move fast for this one. Check out all the sweet deetz and ticket info right HERE and don't miss it!
Speaking of huge December shows (SEGUE): Doomtree will be closing out 2015 with a massive New Year's Eve show at International Market Square in Minneapolis as part of the 12th annual Crystal Ball party! Dessa performed there last year and this time we're bringing the entire squad along for all the festivities. You can learn more about this crazy five-story year-end celebration right HERE, and pick up your general admission and VIP tickets right HERE. We've got a special limited-time discount for you too: Enter promo code "DTRGA" or "DTRVIP" when checking out and receive $10 off the already discounted early bird prices. This one is gonna rule!
There's a couple Doomtree-related shows going down this week as well to round out the month of November. Sims will be performing a headlining set at Triple Rock this Thursday, November 12th for People Serving People's annual Sounds Like Home Benefit Concert. All proceeds will be going to help homeless families and their children. Come out, support a great cause, and get rewarded with a great show. Tickets and more info are available right HERE.
Dessa hops on a plane tonight to head overseas for a couple of shows in Ireland and Wales later this week. On Friday (11/13) she'll be in Dublin at the Mercantile with Aby Wolf and Anti-One. Check out more details HERE.
And on Monday the 16th she'll be in Cardiff, Wales at Clwb Ifor Bach. Tickets available HERE. If you've got people nearby either of those cities, definitely let them know about these rare performances. Should be awesome.
OK, enough about upcoming shows. How about a quick recap of some recent shows? We had a total blast in Iowa City and Austin this weekend for Witching Hour Festival and Fun Fun Fun Fest. Here's Cecil in IC cleaning up in pool and rocking a pretty appropriate new t-shirt.
And here's Dessa early in the day at Fun Fun Fun Fest conquering this tractor and feeling like a champ.
A view of the crowd right before we hit the stage in Austin. Really didn't expect that many people to show up for our afternoon performance. So much fun.
Not totally sure what's going on here, but this is Sims, Stef, and Dessa right before our official afterparty performance at Sidewinder. This seems like it could either be the cover of a new Slipknot album or the start of a Saw 14 movie trailer.
Huge shouts to both festivals for treating us so well, and thanks to all the people that came out and rocked with us. That was a very memorable weekend. We were down Mike Mictlan again, but for really good reason. He finally had his baby boy and was at home tending to Daddy duties. So thrilled to welcome Bazqi Blue Lewis Marquez into the world. I think Doomtree might officially be outnumbered by our own kids now. Look at these little feet!
So wild. I'll leave you with some cool Bonus Jams before calling it. First up is this new project from our good friends Open Mike Eagle and Serengeti, who both crushed it at the Doomtree Zoo this year. Together they are Cavanaugh, and they just released a sweet song and video for lead single "Screen Play." Check it out below and get seriously amped for their full-length dropping later this month. Really excited for this one.
Cavanaugh "Screen Play"
Speaking of good friends, our ultimate bud Astronautalis just announced that he's signed with Side One Dummy Records and released a brand new single to celebrate. Check out "Sike!" below and get psyched for his new album.
Astronautalis – "Sike!"
Now for a couple of Bonus Jam Docs. The FADER recently shot a mini-documentary on rising St. Paul talent Allan Kingdom. Check out the 8 minute feature below. It's been pretty amazing to watch this guy consistently crushing it for the last couple years now. Big things coming.
Allan Kingdom – True North Documentary
Pitchfork just produced a mini-doc on legendary photographer and overall great guy Dan Corrigan. Dan has been documenting the Twin Cities scene for the last several decades and plays a big role behind-the-scenes at First Avenue. Always good to see him getting the respect and attention that he most definitely deserves. Check out the whole thing below.
Dan Corrigan  – Pitchfork Unsung Documentary
You know I've gotta close this thing out with the new Mixed Blood Majority single again on some Circle of Life steez. Check out the Insane World title track below and get pumped for the December 4th release by pre-ordering the album right HERE.
Mixed Blood Majority – "Insane World"
[soundcloud url="https://api.soundcloud.com/tracks/232347328?secret_token=s-HdXZI" params="auto_play=false&hide_related=false&show_comments=true&show_user=true&show_reposts=false&visual=true" width="100%" height="450″ iframe="true" /]
OK! That about does it for this post. I hope you all have a wonderful week, and I'll see you next Tuesday with another round of TWL. Go Vikes!
— Beak
Twitter: @_LAZERBEAK_
Instagram: @lazerbeak
SUPPORT THIS BLOG LYFE. TUESDAYS WITH LAZERBEAK SHIRTS AND POSTERS AVAILABLE NOW!!!