Welcome back to another edition of Tuesdays With Lazerbeak! We're all officially back home and catching our breath after the last Doomtree tour of the year. Such a ridiculously great time. I've got a huge tour photo recap to hit you with a little bit later in the post, but first things first, I wanted to shine a little light on the brand new Mixed Blood Majority album Insane World that just dropped last Friday. It truly brings me the utmost joy to know that this album has finally been released out into the world. Joe, Alexei, and I spent the better part of two years grinding away on this one, completely starting from scratch with the hopes of building a totally different sound than the first record. I could not be more proud of the end result. Huge shouts to Joe and Alexei for crushing every written and spoken word on this album, Graham O'Brien for being such a beast on the post-production and co-production, Andrew Broder for providing some legendary cuts, Adam Krinsky for mixing the living hell out of this thing, Huntley Miller for giving it that ultimate knock, and Kai Benson for completely upping the game on art and design as we know it. This has by far been one of the craziest years of my long-legged life, and it feels extremely fitting to put an exclamation point on the end of it with the release of this album. You can grab Insane World digitally from iTunes (HERE) or Bandcamp (HERE), and pick up the standard and deluxe physical editions from the Doomtree Webstore right HERE. Thanks to everyone who's picked up a copy or sent us encouragement about the project. Help us spread the word even further if you've got a second this week.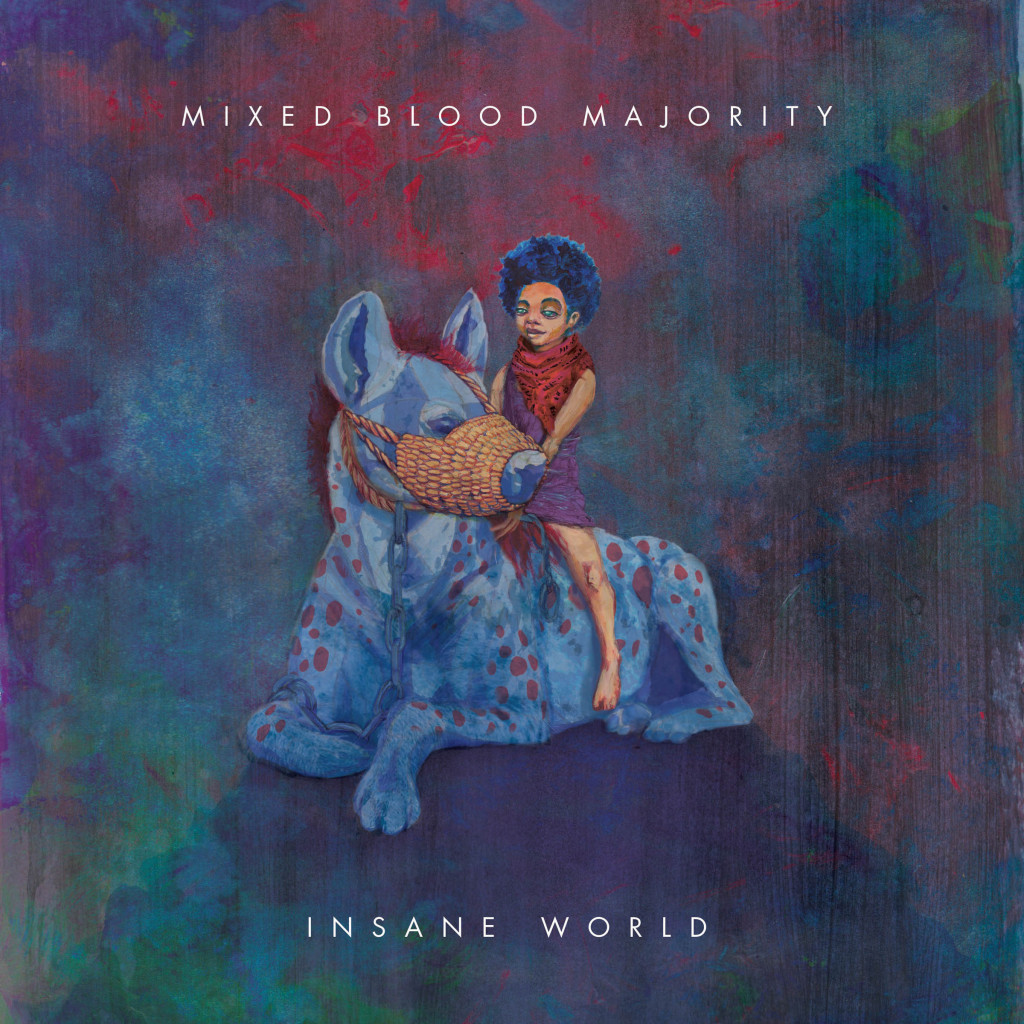 Mixed Blood Majority recently stopped by The Current to record an in-studio performance and in depth interview with Andrea Swennson. This was definitely one of my favorite recent interviews. Things got really real as we broke down the behind-the-scenes album stuff and how this project relates to all the madness going on in the world currently. Check out a video of us performing my favorite song off the album, "Blinded," below, and click HERE to listen to the entire 30 minute interview and performance. Shouts to Nate Ryan on the great pics as always.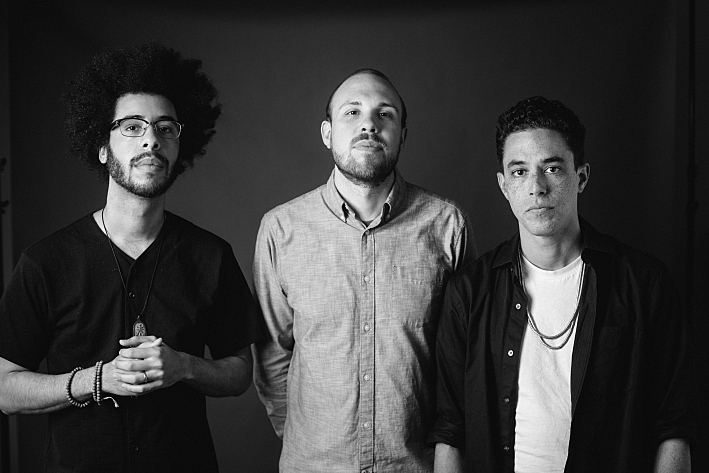 We've gotten a chance to test out and hone in these new Insane World songs live over the past week on the Off in the Deep Tour, and now we're ready to blow the doors off of First Ave this Friday night for the big homecoming release show. P.O.S will be performing a super rare solo headlining set with Marijuana Deathsquads backing him up. GRRRL PRTY will be rocking tracks off their brand new EP with Bionik. It's gonna be NUTZ. Tickets are really starting to move fast this week, so make sure to grab yours HERE and make sure to catch the party. Check out the flyer below for all the sweet deetz. See you there!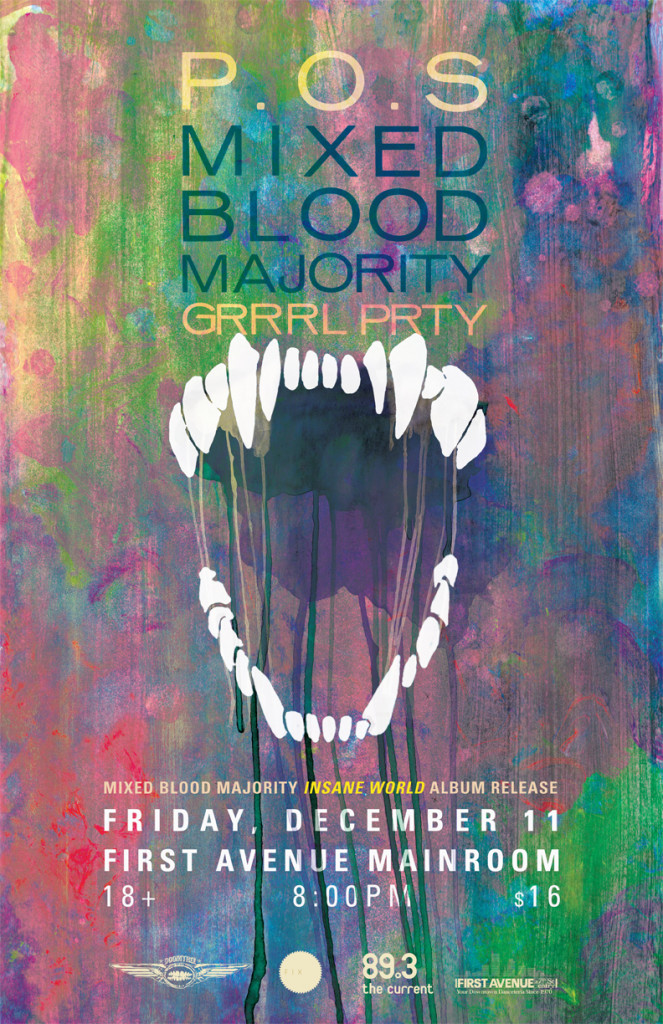 Speaking of awesome local shows, our very own Mike Mictlan will be headlining a FREE SHOW at Turf Club this Thursday (12/10) to celebrate 7th Street Tattoo's 10 year anniversary. Should be a great night. Check out all the details right HERE.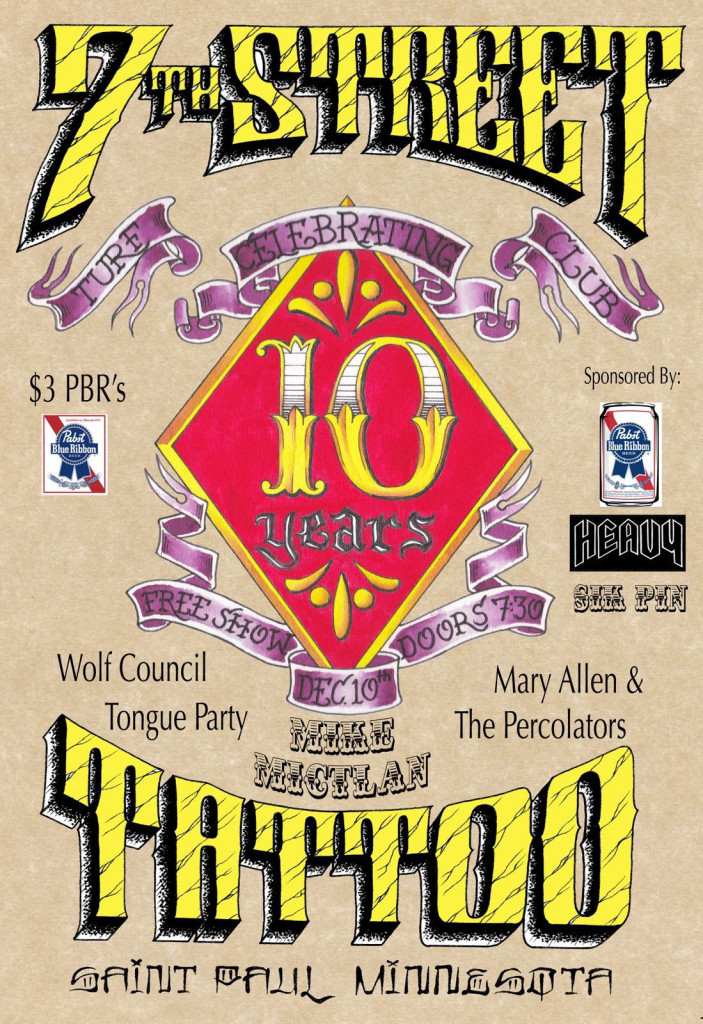 OK, now for a big time photo recap from the last leg of Doomtree's Off in the Deep Tour. I realized that none of us are all that good at grabbing actual pictures from the shows themselves, but we've gotten great at snapping these really goofy on-the-road shots. If you want to see what the shows themselves were like you can find all that stuff on the internet pretty easily. I always like seeing these more candid shots though, so here goes nothing. Enjoy!
Here's Mike keeping warm with the horse-print poncho, extreme ski mask, and HeatTech gloves trifecta. Not messing around out here.
Stef potentially trying to ghost ride our Sprinter rental.
Paper Tiger finally got his three finger Doomtree rings back! Mike "borrowed" these off him about 12 years ago and they've now made the journey back to their rightful owner. Nice one.
TWINZ. Not sure this is the best way to upsell the (extremely comfortable and stylish) No Kings Raglan shirt, but it was certainly worth a shot.
Bleubird and Sims making some real cool rap faces. Shouts to Bird for killing his set every night and being an absolute blast to be around.
No idea really.
Alexei posted up at the Barrymore before our last show of the run. Such a great time having the Mixed Blood Majority guys out with us.
Mike demonstrating his drink of choice: Blue Fizz. Equal parts blue gatorade and ginger ale. Revolutionary.
Stef and Sims hijacked my phone at the hotel and took like 16 different pictures of this scenario. Total pranksters.
Bird posted up in Madison next to an extremely tricked out Mercury Sable.
Papes showing off his new tour food favorite: The peanut butter and banana hot dog.
Dessa looking about as tough as one can while wearing a straw hat and sitting next to a grinning idiot.
Stef next to a wall (thee wall?) of salad.
Here's Ander Other pushing all the content live and wearing that same straw hat at the SAME DAMN TIME. For real, huge shouts to Ander for getting our massive December Blowout Webstore Sale off the ground and up online, all from the confines of a tour van.
You already know what it is. Sick Trim 4 Lyfe.
Here's your Bonus Baby Pic of the Week. This is Sims' niece, Nora. Not totally sure if she's working on planking, yoga, or just having a rough morning. I feel her though.
Aaaaaaand that's a wrap. Enormous thanks to the thousands of people that came out and checked out a Doomtree show this past week. That was honestly one of the funnest runs I can remember being on. Insane gratitude for everyone that's supported All Hands this year, either by buying an album, coming out to a show, copping a t-shirt, or telling a friend. It's been an incredible year for us and we are very grateful to have the opportunity to spread this music out into the world. We've still got one final crew show before 2015 comes to a close. If you're in Minnesota, come ring in the New Year in style at International Market Square for the 12th Annual Crystal Ball event on December 31st. Five floors of partying, tons of DJs, tons of confetti, tons of champagne, and tons of Doomtree. Grab details and ticket info right HERE.
That should about do it for this post. Don't forget about the crazy December Blowout Sale going on ALL MONTH LONG over at the Doomtree Webstore. Out-of-control discounts, savings, and sweet limited-edition bundles. Check it all out right HERE!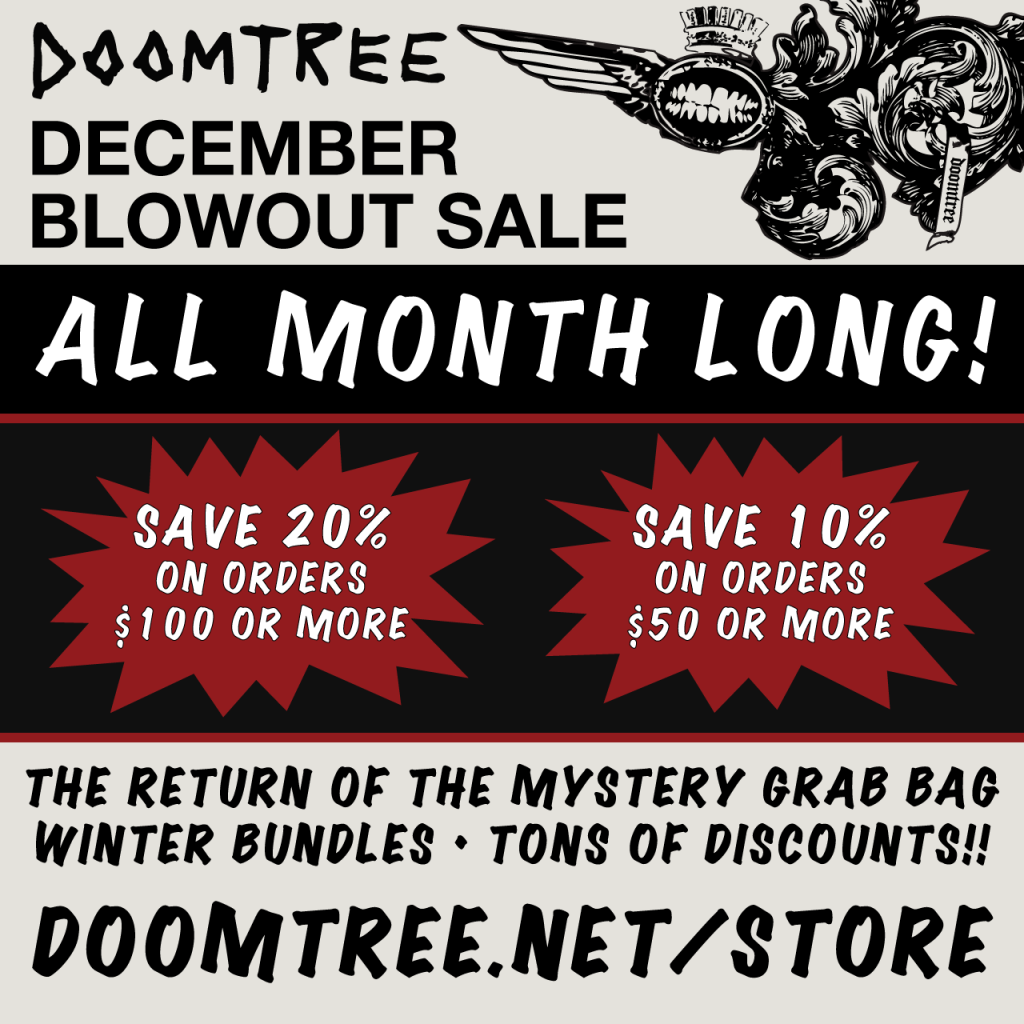 Alright, I hope you all have a wonderful week gearing up for the holidays. Can't wait for this Friday's release show at First Ave. See you down there!
— Beak
Twitter: @_LAZERBEAK_
Instagram: @lazerbeak
SUPPORT THIS BLOG LYFE. TUESDAYS WITH LAZERBEAK SHIRTS AND POSTERS AVAILABLE NOW!!!