Welcome to the first official Tuesdays With Lazerbeak post of 2016! I hope you all had a wonderful and relaxing holiday break, and have been able to ease back into work and/or school without too much stress or trepidation. Doomtree put a huge exclamation point on 2015 by playing our last crew show of the year on the last night of the year at the 12th annual Crystal Ball party in downtown Minneapolis. Good lord, that was a wild one. Here's a picture that Brian Grenz snapped during our set. Yes, that's me and Papes performing 12 feet above the stage atop a replica Star Wars Tie Fighter.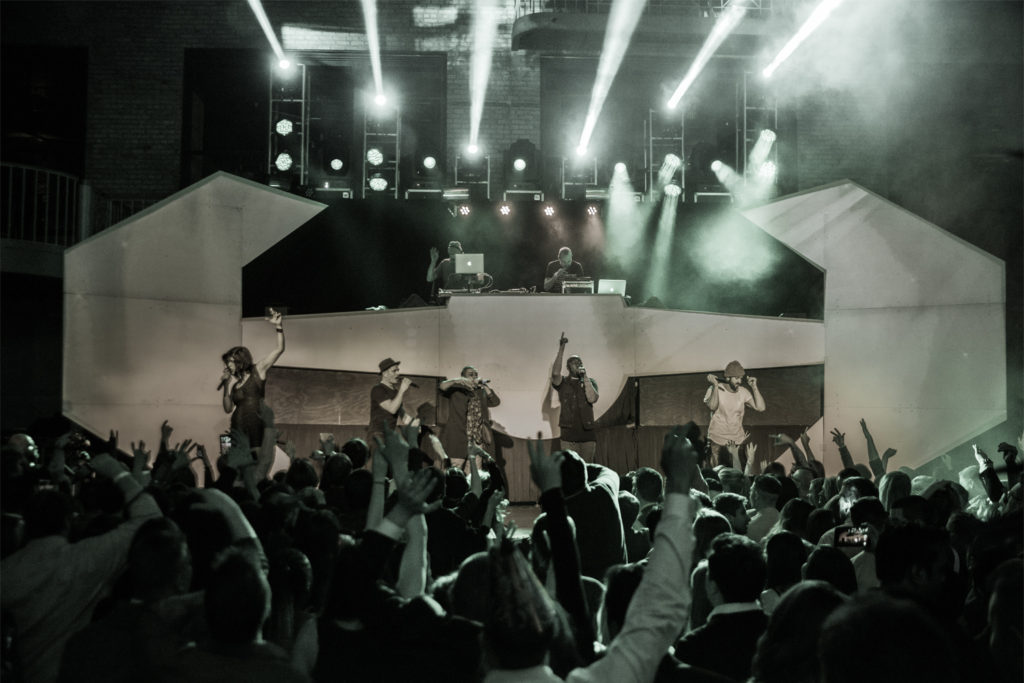 Check another one off the bucket list I guess. Here's me at soundcheck soaking it all in.
As you may have been able to guess, there was a pretty crazy Star Wars tribute that took place directly after our set, which meant that outside of our green room were about 30 dressed-up Star Wars characters practicing their moves and getting into character all night. Stef managed to sneak off with these Yoda hands long enough for me to take a cool pic.
And then Mike actually caught up to the real Yoda for this even cooler Star Wars-related pic (as if the movie needed any more marketing help at this point).
Suffice to say that ringing in the new year with 4,000+ people in a 5-story warehouse building while drinking chilled Fireball from a fancy ice bucket in VIP was by far the most nutz NYE experience I've ever had, or more than likely will ever have. Huge shouts to Vargas Productions and everyone on the Crystal Ball team for taking such good care of us and putting on such a party spectacle. That was theeee best.
So here we finally are in January, and the shows JUST. KEEP. COMING. Stef is getting ready to fly overseas for a very special one-off P.O.S show in Berlin on January 15th. Check out all the details and ticket info right HERE. If you live close by I would definitely recommend checking it out. I don't foresee many of us heading over that way again for a decent amount of time at this point.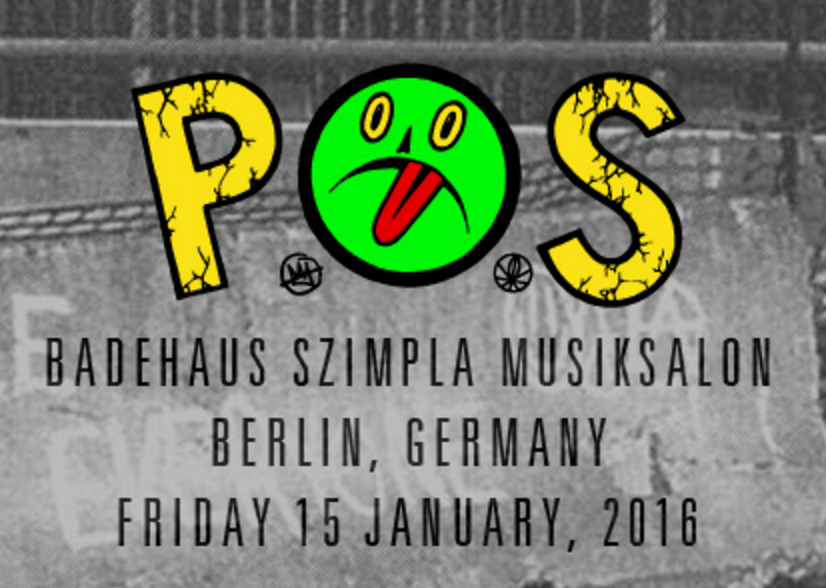 For those of you closer to our hometown of Minnesota, Mixed Blood Majority will be ringing in The Current's 11th-annual birthday bash with a huge show at First Ave on Friday, January 22nd. Low, John Mark Nelson, Bad Bad Hats, and Bones & Beeker will all be in the building as well. Such a strong lineup for an insanely strong radio station. Tickets are going fast, so grab yours HERE before they're gone. Can't wait to play this one!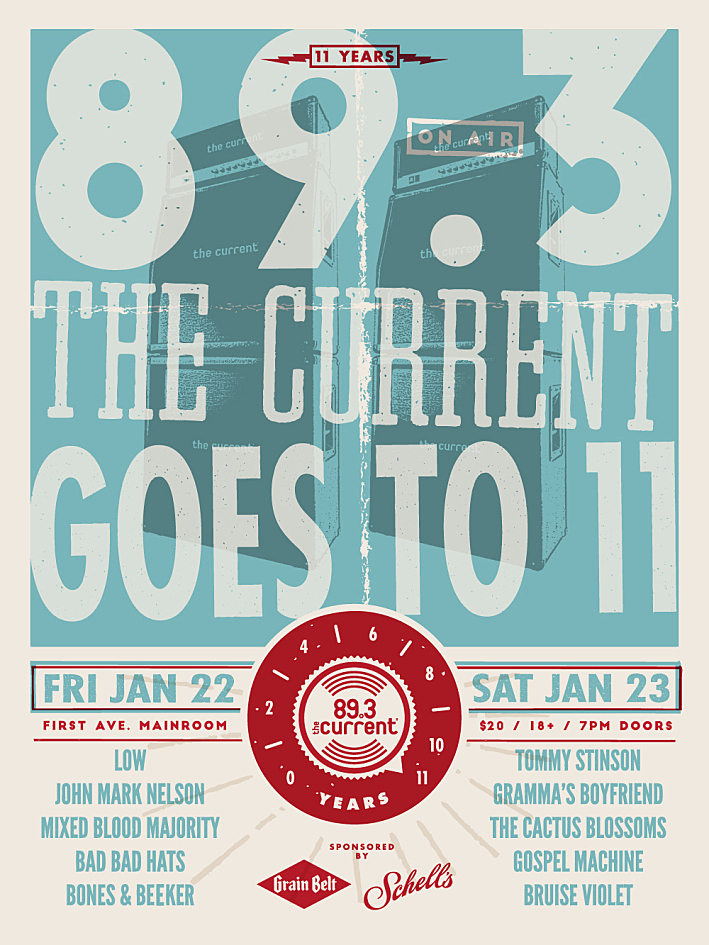 Then just one week later, Sims will head over to First Avenue to play Sean Anonymous' 10th-annual birthday show on January 29th. Another ridiculous lineup on this one: Sims, Sean Anonymous & DJ Name, Greg Grease, Crunchy Kids, and Sophia Eris. Damn. Check out all the details on the flyer below and grab your tickets right HERE.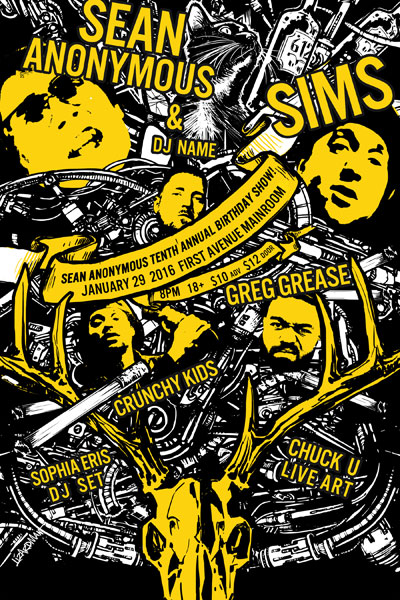 That's about all the immediate news I have for you this week, so let's jump right into the Bonus Jams. Last week I dropped off my very first Spotify mix, Lazerbeak's Christmix (check that out HERE if you're still in the holiday spirit), and this week, due to popular demand, I'd like to hit you with another one. Ladies and Gentlemen, I present you with Lazerbeak's Drake Starter Pack. This all came about because the wifepiece and our best friends, Scoops and Shark, had been on the fence about Drake and whether or not they were ready to admit that they liked his music. I created this starter pack last month in hopes of wooing them over to the Drake Side (see what I did there?), by selecting his best and biggest hits and presenting them in chronological order, starting from present day and working my way all the way back to "Best I Ever Had." 22 absolute heaters of unrelenting Drake dominance. If this doesn't turn you into a believer, I really don't know what will. Click the extremely cool album cover below (I'm getting better at photo shop), or go right HERE to check it all out.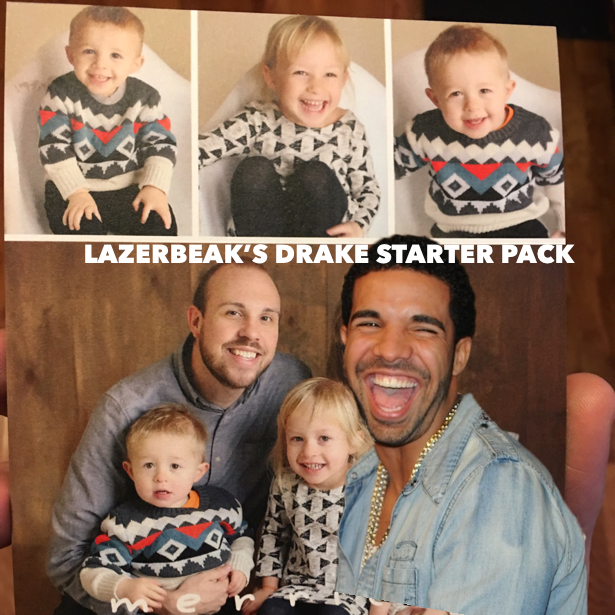 Here's the first ringing endorsement for the starter pack, in case you needed a little nudging.
I've got a few more sweet Local Bonus Jams to round things out. First up is Lexii Alijai, who's new album Joseph's Coat reminds me a lot of Drake in the best way possible. Check out the whole thing via the Soundcloud player below. Looking forward to hearing what she comes up with next.
Lexii Alijai – Joseph's Coat
[soundcloud url="https://api.soundcloud.com/playlists/155559035″ params="auto_play=false&hide_related=false&show_comments=true&show_user=true&show_reposts=false&visual=true" width="100%" height="450″ iframe="true" /]
Next up is a new one from Makr, who took one of the best Jay-Z lines ever and flipped it into a hilarious album title for a record that was released on Christmas day. Check out Curse The Day That Birthed The Bastard in its entirety below via the good folks over at Totally Gross National Product.
Makr – Curse The Day That Birthed The Bastard
[soundcloud url="https://api.soundcloud.com/playlists/163710679″ params="auto_play=false&hide_related=false&show_comments=true&show_user=true&show_reposts=false&visual=true" width="100%" height="450″ iframe="true" /]
Speaking of TGNP, they just released a new album from Legend God Drummer JT Bates last month, and it smokes. Created over the last year with go-to engineer BJ Burton, this whole thing is comprised entirely of manipulated drum sounds. Totally insane and awesome. Check out lead single "Rich Kids" below and grab the whole Open Relationships album right HERE.
JT Bates – "Rich Kids"
OK! That'll do it for Bonus Jams. I'll leave you with a couple Bonus Baby Pics before calling it a day. Lou and Cam continue their understudy program as the mysterious future-R&B DJ/producer duo known simply as JAMMY BOYZ. I've got high hopes for them.
And here's Young Nelpz munching on some ice cubes and discovering the rabbit hole that is "selfies."
BAM! That's it for me. I hope you all have a truly awesome week crushing out work and getting back on top of the game in 2016. See you next Tuesday!
— Beak
Twitter: @_LAZERBEAK_
Instagram: @lazerbeak
SUPPORT THIS BLOG LYFE. TUESDAYS WITH LAZERBEAK SHIRTS AND POSTERS AVAILABLE NOW!!!