Welcome back to another Tuesdays With Lazerbeak! It's a bit of a slow news week, so I decided to switch things up a little and lead off with a brand new Spotify mix. Back in December I dropped my first seasonal Christmix, followed by the Drake Starter Pack at the top of the year. Now it's time to continue the legacy of the greatest voice this humble world has ever known. Ladies and gentlemen, I give you Lazerbeak's Luther Vandross Starter Pack!
You gotta admit I'm kind of getting the hang of this photoshop thing. The Luther Vandross Starter Pack includes 15 absolute heaters — 2-3 highlights from each of his first five solo albums (arguably the greatest back-to-back classic album streak in the history of man), presented here in chronological order. We're talking vintage '81-'88 Luther Vandross. It does not get any better than this, people! Click the cover above or stream on the Spotify player below. I'll spare you any endless rants about what this man and his music has meant to me over the years (for now at least), so that you can immerse yourself in the real deal. Enjoy!
Speaking of sweet mixes, a few weeks back I dropped a 3-song remix EP of Trampled By Turtles excellent Wild Animals album. Check out the Wild Animals Remixes below and help me spread the word. Should be available at all digital retailers later this week. Love this band.
[soundcloud url="https://api.soundcloud.com/playlists/103248422″ params="auto_play=false&hide_related=false&show_comments=true&show_user=true&show_reposts=false&visual=true" width="100%" height="450″ iframe="true" /]
Now for some upcoming Doomtree-related shows. Mixed Blood Majority will be heading back to First Avenue this Friday (1/22) for our first performance since the Insane World album release show. We'll be one of five bands celebrating The Current's 11th birthday party in style. Low, John Mark Nelson, Bad Bad Hats, and Bones & Beeker will also be posted up. Such a great night and a great lineup. Tickets are almost completely sold out, so grab yours HERE while you still can. And huge shouts to The Current for making Insane World this week's Album of the Week. You can read all about it and stream the whole thing right HERE.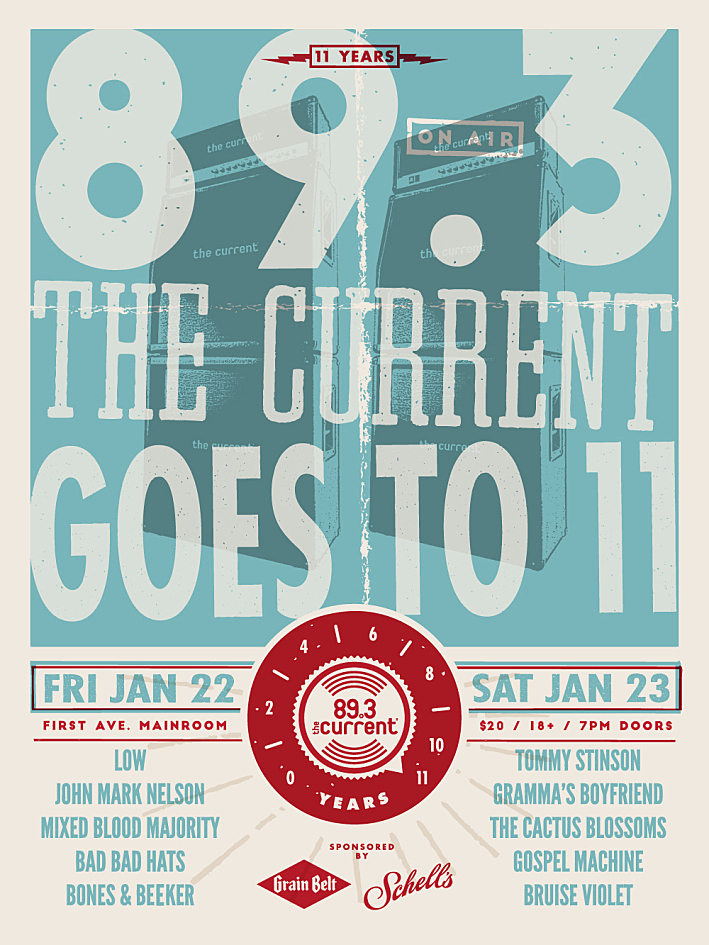 The very same night, January 22nd, our very own Mike Mictlan will be all the way up in the frozen tundra of Duluth, headlining a show at the Red Herring Lounge with PCP and Low-Hi Funk. Check out all the details and ticket info right HERE.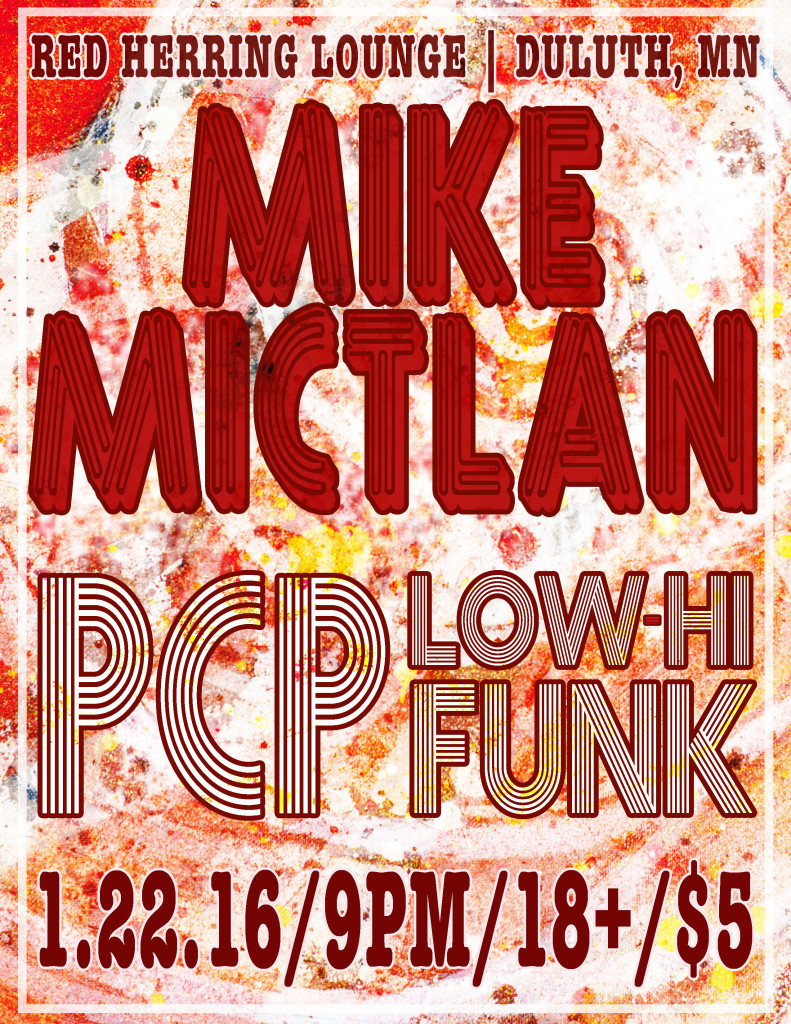 Mike also just announced that he'll be the main support act on Prof's upcoming Gasoline Run tour throughout Wisconsin. The dudes will be hitting LaCrosse, Eau Claire, and Madison in early February along with the homies Mac Irv and DJ Fundo. Check out all the details right HERE.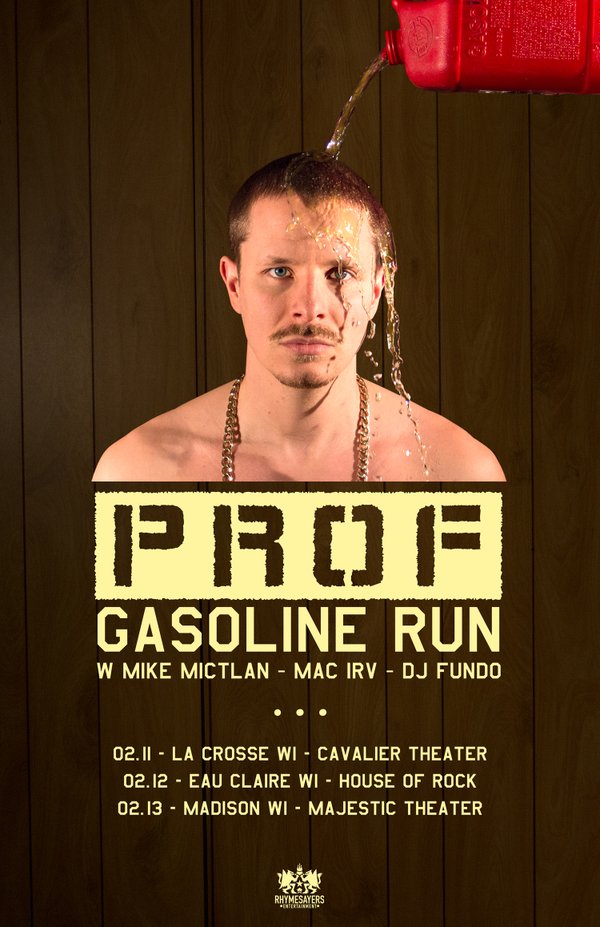 Sims will close out January at First Avenue for Sean Anonymous' big 10th-annual birthday show on January 29th. Sean, Sims, Greg Grease, Crunchy Kids, and Sophia Eris will all be in the building for what is sure to be a legendary local night. Grab details and ticket info right HERE.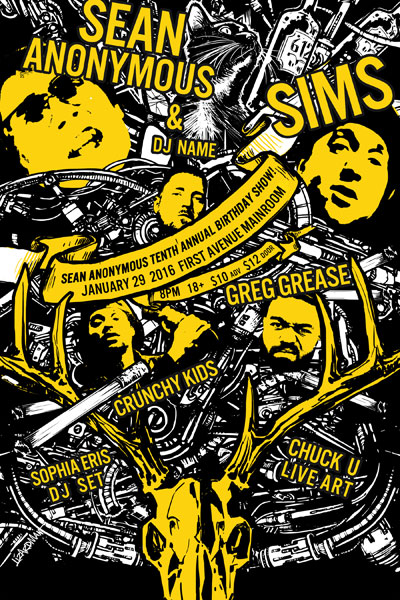 Dessa kicks off the month of February with a huge Australian run supporting the ever-popular Welcome To Night Vale podcast. She'll be doing a total of eight shows throughout the country, half of which are already sold out. If you live anywhere near these parts, make sure to check out the remaining dates and ticket info right HERE.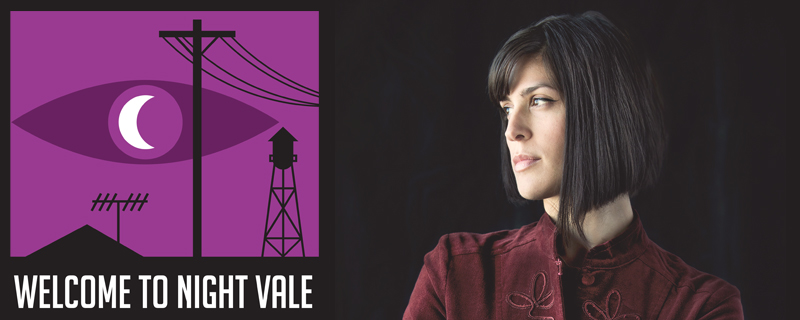 Stef will be bouncing around the country in February for a pair of big time one-off shows. First up is our friend Onry Ozzborn's album relase show on February 19th in Seattle, featuring performances by P.O.S, Grayskul, Kimya Dawson, and Rob Sonic. Such a crazy lineup. Make sure to grab your tickets right HERE while you still can.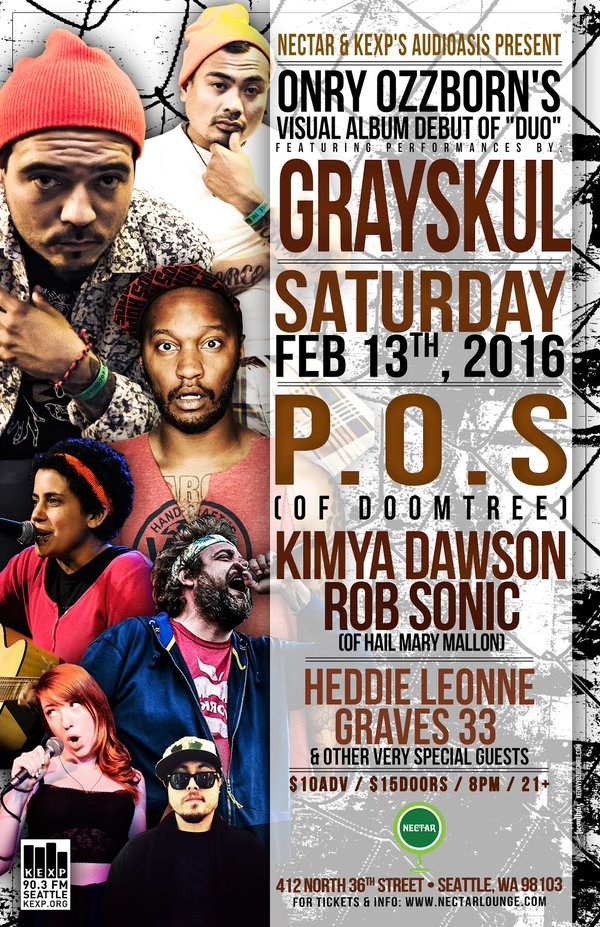 Then he'll fly back to the Midwest the following week for the first-annual Daytrotter Downs festival in Davenport, Iowa. Stef plays on the 18th and you can grab tickets to that show and the entire fest right HERE.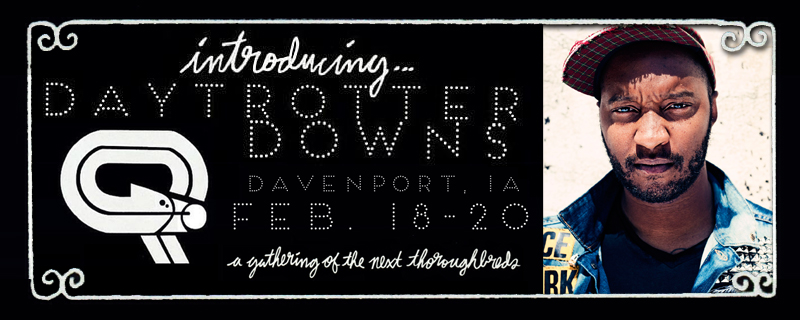 Speaking of P.O.S (Segue Streak emmereffers), Stef just popped up with a sweet guest verse on this new Ratchet Kills song. Check out "GodEater" below.
[soundcloud url="https://api.soundcloud.com/tracks/242133669″ params="auto_play=false&hide_related=false&show_comments=true&show_user=true&show_reposts=false&visual=true" width="100%" height="450″ iframe="true" /]
While we're on the subject of new music, now is probably a better time than any to jump into the Bonus Jams of the Week. I want to start things off with a few jams from all the incredible MN bands playing at The Current's birthday party this Friday. It's been awhile since I've been this pumped to see every single band on a bill that I'm a part of. Cannot wait for this one.
Low – "What Part of Me"
John Mark Nelson – "Dream Last Night"
Mixed Blood Majority – "Blinded"
Bad Bad Hats – "Shame"
Bones & Beeker – "Lupine"
And now for an album that hasn't left my speakers since it came out last Friday: Anderson .PAAK's instant classic Malibu. I gotta admit, I mostly knew this guy because of that one "Drugs" song a few years back and never actually dug into his previous Venice project. Then Dr. Dre's COMPTON came out of nowhere last year and .PAAK showed up as a guest on like half of the tracks. I still didn't really pay attention to that record because it never showed up on Spotify in all the streaming music wars of 2015, and I'm too lazy to go anywhere else for music these days. So when singles started dropping for Malibu over the past few months I was absolutely floored at the artistic and musical growth I was hearing in this dude. This album is a sheer masterpiece, front to back. Not one weak spot has emerged in the five times I've listened to it so far. He's somehow channeling equal parts D'angelo, Pimp A Butterfly-era Kendrick, and the purest and richest and warmest 70's soul-funk fusion you've ever heard. He lined up a who's who of legendary producers (Madlib, 9th Wonder, DJ Khalil, Hi-Tek) alongside a great live band and himself on the boards, and somehow managed to get a completely universal and flowing sound throughout the entire project. I'm seriously floored at the level of skill used in putting this thing together. It was gonna take a miracle to get me to stop listening to that new Babyface album for even a week, and this is what finally did it. Please, I urge you to check out Malibu. I know it's only January, but similar to The Revenant, I just have no idea how anything can possibly touch this in 2016. Grab it right HERE and check out a few of my early favorites below.
Anderson .PAAK – "The Waters"
Anderson .PAAK – "Am I Wrong"
Anderson .PAAK – "Lite Weight"
And of course, if you missed the link at the top of the post, DO NOT SLEEP on this Luther Vandross Starter Pack. Click the cover below to stream. All respects due to Luther the True Legend God.
I'll leave you with a couple of Bonus Baby Pics before calling it a day. Penny and the Wifepiece are down in Florida this week visiting P's great Grandma and going to DISNEYWORLD (!!!), so it's just been me and the JAMMY BOYZ since Saturday. Here's a picture they sent me of Penny waving goodbye to frozen Minneapolis from the plane.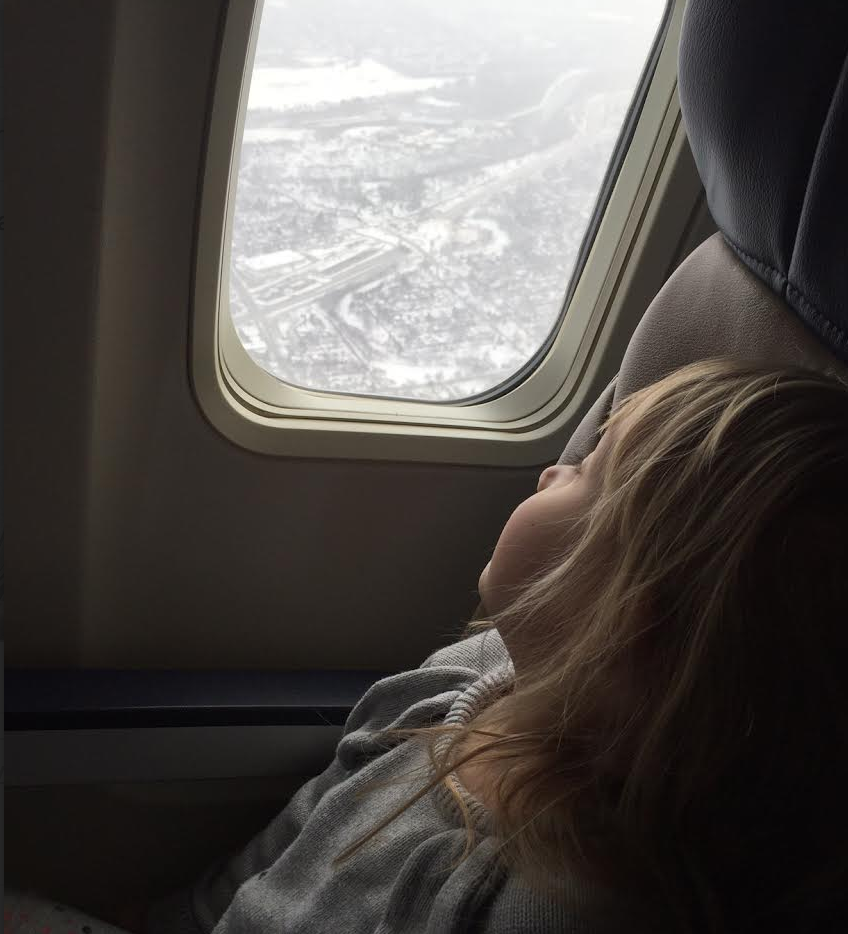 I gotta say, it's been a total blast getting some quality hang time with these clowns. Here they are tag teaming the dishes last night. I'm hoping that once they master this chore we can quickly move on to "order Dad an ungodly amount of Domino's" and "fetch Dad a Mike's Hard Strawberry Lemonade from the fridge." Truth be told I've pretty much eaten Domino's for the past three days now.
On Saturday their good friends Finn and Gus slept over and it was an all out testosterone-fueled rager. JAMMY BOYZ EVERYWHERE (and Frozen karaoke boomboxes).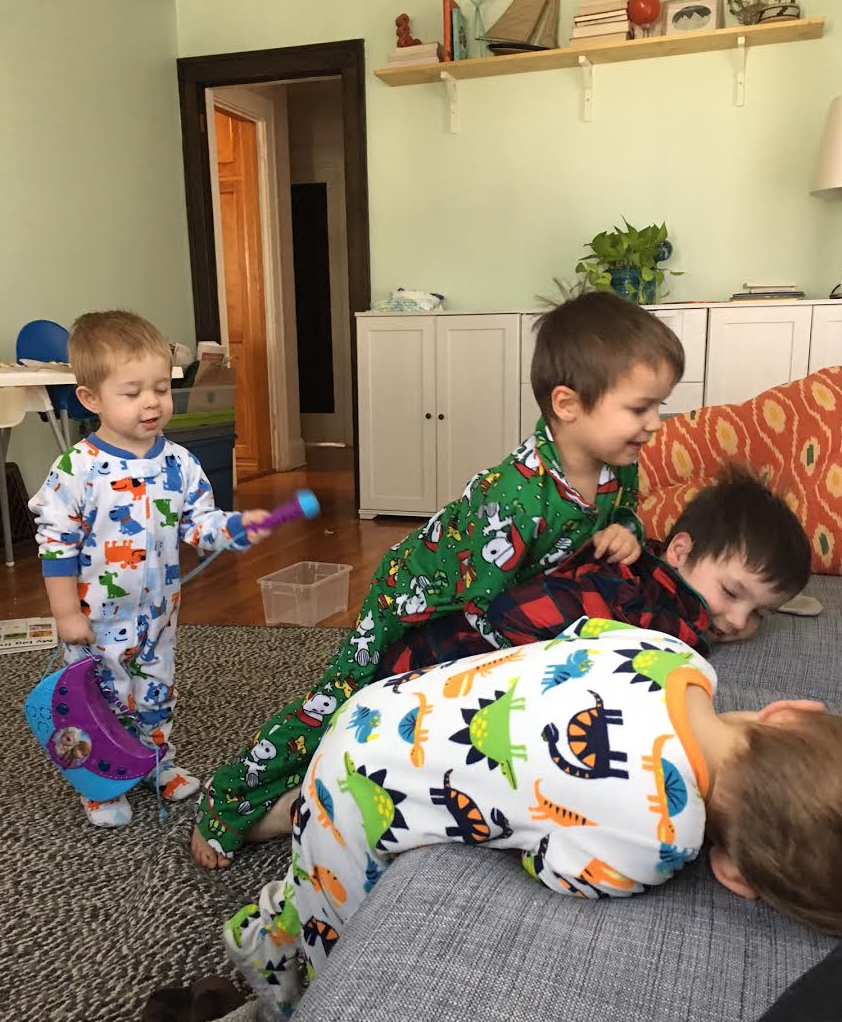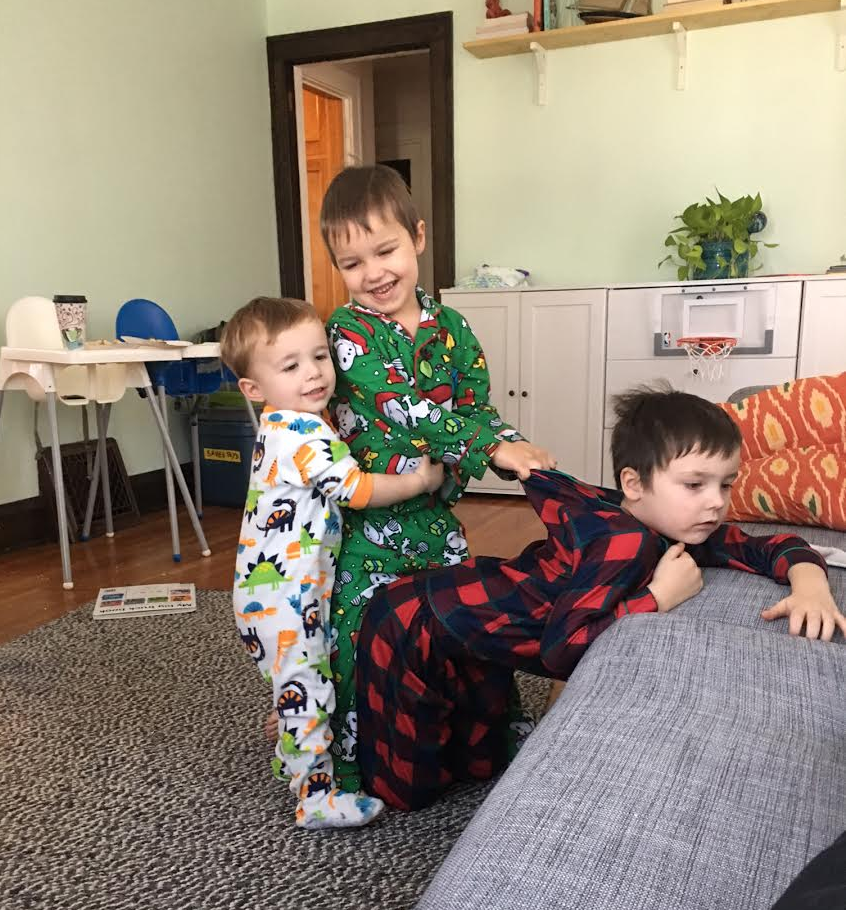 Here's Lou rocking some crazy green jammies. We still can't tell if those are frogs or weed leaves on the print.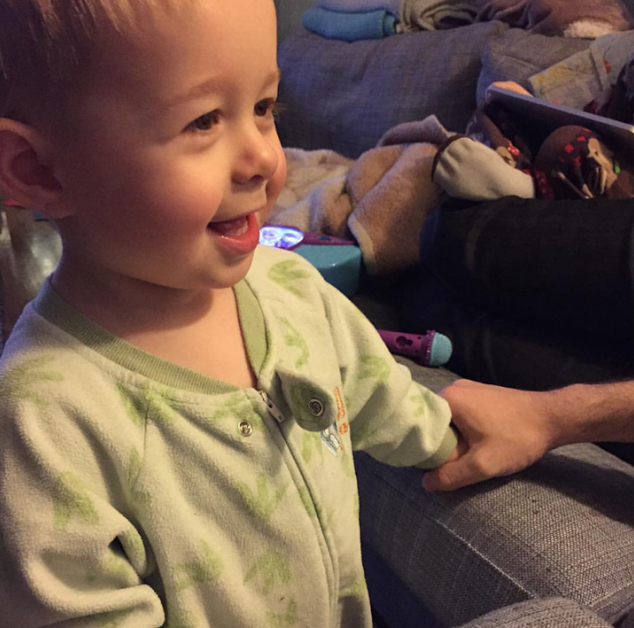 And here's Cam back at the sink, rocking my grown man winter hat and already filling it out nicely. Hugest head in the game. FRREAL.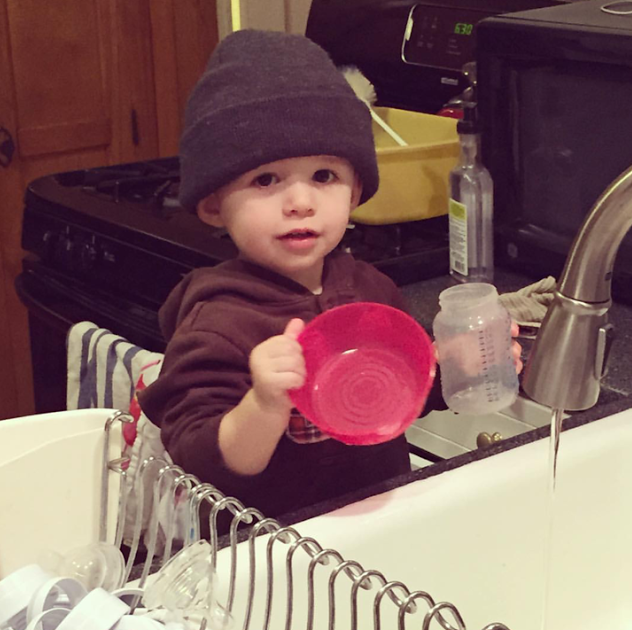 OK! That should do it for this post. I hope you all have a wonderful week gearing up for some crazy playoff games this weekend (Go Panthers!). Looking forward to seeing a bunch of you out at First Ave this Friday at the Mixed Blood Majority show. If not, next Tuesday it is!
— Beak
Twitter: @_LAZERBEAK_
Instagram: @lazerbeak
SUPPORT THIS BLOG LYFE. TUESDAYS WITH LAZERBEAK SHIRTS AND POSTERS AVAILABLE NOW!!!