Welcome back to another edition of Tuesdays With Lazerbeak! Huge shouts to P.O.S, who took over the blog last week to debut his first new solo song in forever on the two-year anniversary of his kidney transplant. I can't tell you how good it is to have him back crushing out epic songs, or how good  it feels to be able to release his music directly through Doomtree Records. Check out the P.O.S and James Gundersen-directed video for "sleepdrone/superposition" below and help us continue to spread the word about this mammoth track. Lots more new stuff coming from Stef and everyone else very soon!
SoundCloud / YouTube / iTunes / Amazon / Doomtree Webstore / Bandcamp
Shouts to all the publications who ran stories, interviews, and features on P.O.S last week. Read all about the last three years and the challenging process that led to this song from Star Tribune (HERE), City Pages (HERE), Brooklyn Vegan (HERE), and The Current (HERE).
Stef hit the road last weekend for a little Midwest run that saw him touch down in Sioux Falls, Fargo, and Mankato.
If you missed out on those shows but happen to live near the Twin Cities, you're in serious luck: P.O.S just announced a very special and intimate headlining show at Icehouse on Sunday, April 3rd with our good friend and Ruby Yacht-affiliate Milo! This will sell out ridiculously fast, so if you want tickets you should grab them HERE right now.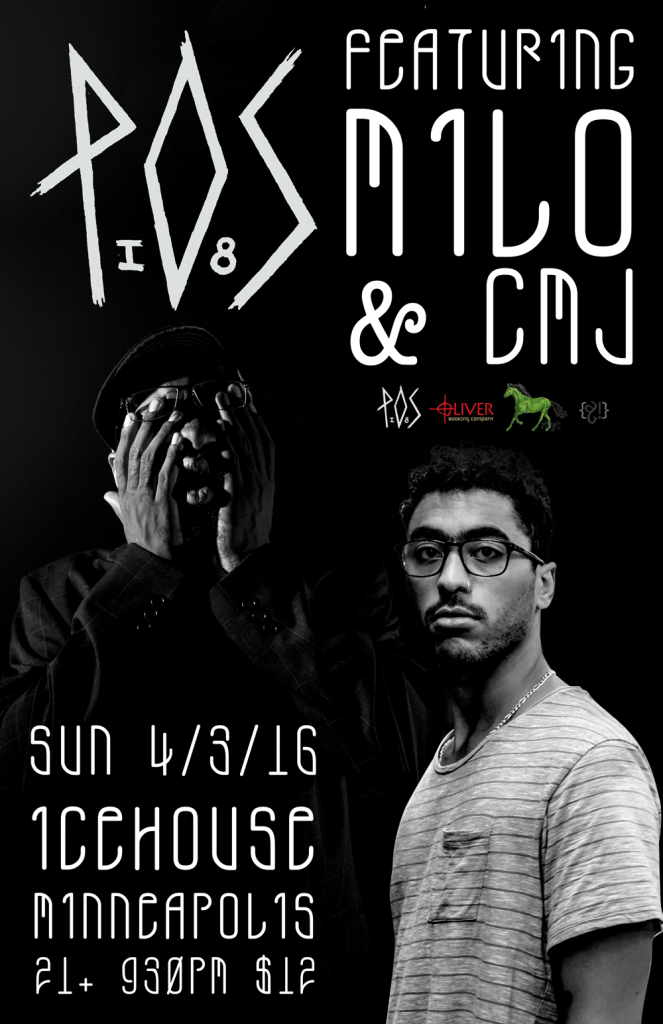 Speaking of new show announcements (SEGUE!), Doomtree just announced a couple new festivals and after party shows this week. We're going to be kicking off the entire festival season with a big after party show in Denver for the Project Pabst series. Dessa will be out in NYC during this time working on some new material, but all six "Gentlemen of Doomtree" will be in Colorado ready to rock. Details and ticket info right HERE. Should be a total blast.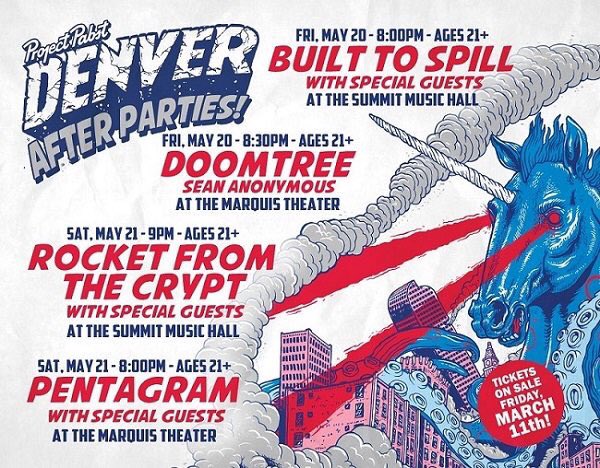 On June 3rd the entire crew will head to Chicago for a headlining set at Subterranean. More news coming soon on this one, but for now you can grab your tickets right HERE.

And don't forget about Doomtree's two-night headlining stand in Lutsen, MN on April 1st and 2nd for the big Elevate ski and music festival. They've got crazy package deals on lift tickets and concert tickets which you can find right HERE. Can't wait for this one!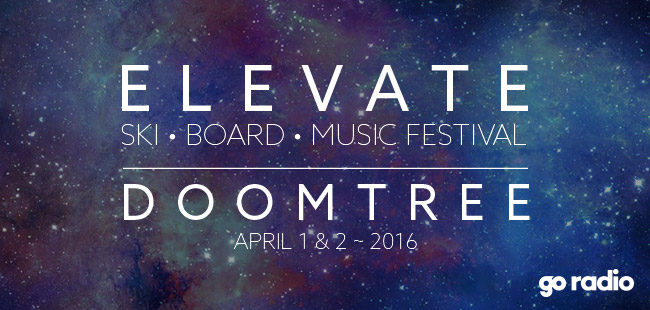 Our only other show currently scheduled in Minnesota this spring and summer will be at the legendary Soundset festival on May 29th. The lineup this year is completely out of control, as you can see below. VIP tickets have sold out at this point, but you can still grab GA tix right HERE. Dooooooit.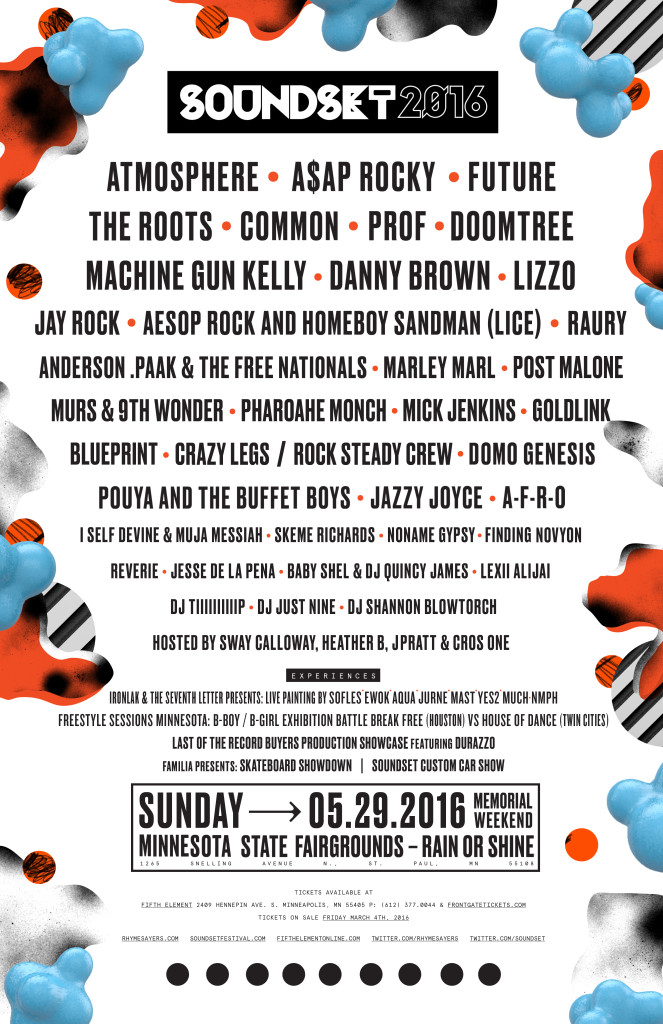 Sims just announced a rare solo set going down at First Avenue on March 24th as part of Go 95.3's Go Show event. Mr. Peter Parker will be hosting the entire thing and bringing along Sims, Curren$y, Your Old Droog, Greg Grease, and Sophia Eris along for the ride. Tickets are a whopping $10 cheaper when you buy in advance, so make sure to grab yours HERE.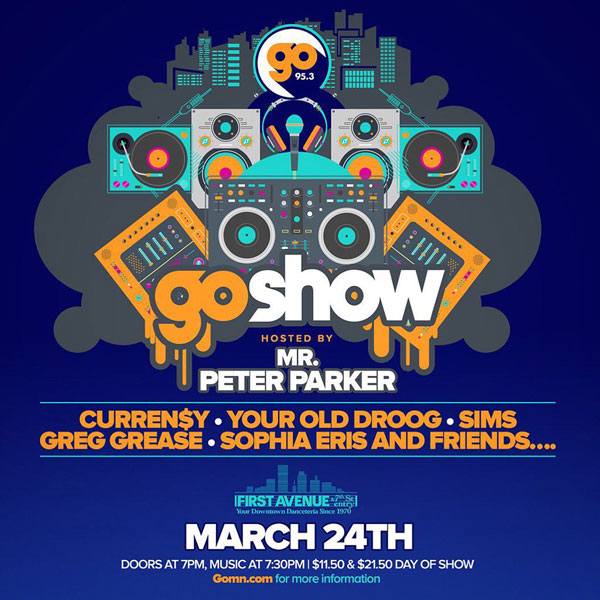 Our very own Mike Mictlan will be hitting the University of Minnesota's Whole Music Club on April 8th with our good friends Busdriver and Metasota. This has gotta be one of the most stacked 3-way bills of the year, and it's only $5 to the general public. INSANITY. Grab your tickets HERE while you still can.
Mike will continue his big Gasoline Run tour with Prof later this April as the dudes run all over the East Coast and the Midwest. See the initial dates below and grab your tickets HERE. Hamden, Fargo, and Sioux Falls were all just recently added as well!
International Touring DJ Paper Tiger will be holding it down in NYC on April 15th playing with The Hood Internet at Brooklyn's Knitting Factory. The amount of tight jams and dancing going on in this room will be truly groundbreaking. Tickets and info right HERE.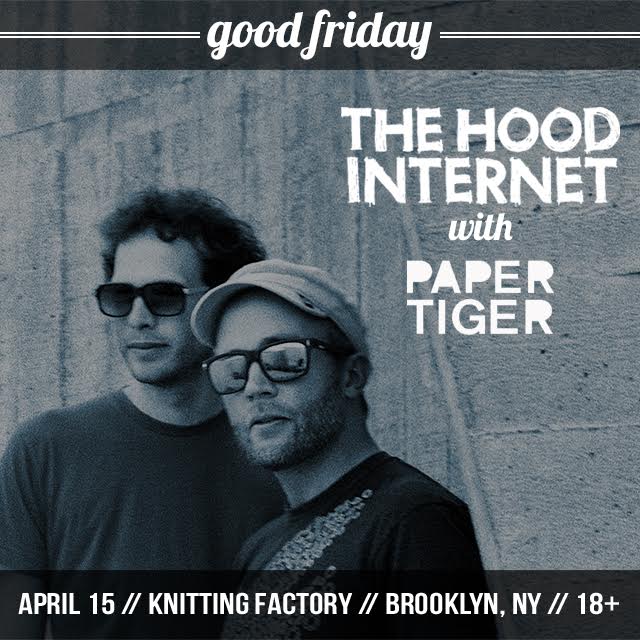 On that same day, Dessa will be taking part in World Art Day with the University of Minnesota and Northrop Auditorium. Her set will be free to all UofM students, but you can still grab GA tickets right HERE if that ain't you.
OK! I think that covers all the Doomtree-related shows for this week. You can tell things are definitely starting to ramp up around here as of late. I'm so excited to hit you with a lot more solo and crew music soon too. Speaking of muuuuuusic, let's get into these weekly Bonus Jams! First up is our homie Astronautalis, who just announced the details for his upcoming full-length Cut The Body Loose, dropping on May 13th. Our very own Cecil Otter produced the lead single "Running Away From God" which you can immediately receive when you pre-order the album from iTunes. Click the cover below for more details.
Astronautalis – "Running Away From God" (prod. by Cecil Otter)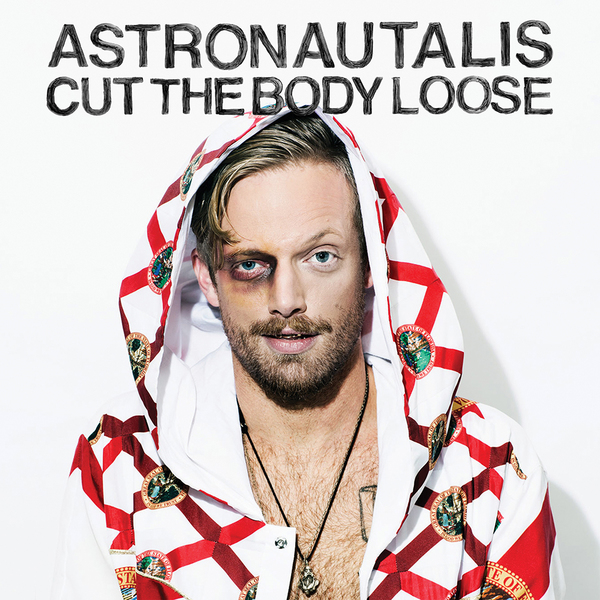 Andrew Broder is gearing up to release his brand new album under the Fog moniker and everything I've heard so far is straight flames. Check out new single "Kid Kuma" below, and if you're looking for an extra dose of Fog, you can download the out-of-nowhere experimental album Cornered Animal that just dropped right HERE.
Fog – "Kid Kuma"
[soundcloud url="https://api.soundcloud.com/tracks/240822337″ params="auto_play=false&hide_related=false&show_comments=true&show_user=true&show_reposts=false&visual=true" width="100%" height="450″ iframe="true" /]
Open Mike Eagle is getting ready to release his new collaborative album with producer Paul White and the two recently dropped a brand new single in anticipation of the big day. Check out "Admitting the Endorphin Addiction" below. This one knocks.
Open Mike Eagle & Paul White – "Admitting the Endorphin Addiction"
[soundcloud url="https://api.soundcloud.com/tracks/250844762″ params="auto_play=false&hide_related=false&show_comments=true&show_user=true&show_reposts=false&visual=true" width="100%" height="450″ iframe="true" /]
Next up is local newcomer BATMN, who just dropped a heater of a song with Greg Grease over a great beat from Medium Zach. I gotta go grab this album and check out the rest of it, but for now this "Cliche" track is highly recommended.
BATMN ft. Greg Grease – "Cliche"
[soundcloud url="https://api.soundcloud.com/tracks/250396106″ params="auto_play=false&hide_related=false&show_comments=true&show_user=true&show_reposts=false&visual=true" width="100%" height="450″ iframe="true" /]
RONiiA, the duo of Nona Marie Invie and Mark McGee, just dropped this new song "Love Me" as a teaser track to their upcoming EP dropping very soon and it totally rules. Check it out below.
RONiiA – "Love Me"
Local producer O-D just put up a brand new instrumental on Soundcloud recently. I was a huge fan of the One Drop album that he made with K.Raydio a year or two ago, so it's great to hear some new music from him. Check out "Blap Blap Blap" below.
O-D – "Blap Blap Blap"
[soundcloud url="https://api.soundcloud.com/tracks/251350504″ params="auto_play=false&hide_related=false&show_comments=true&show_user=true&show_reposts=false&visual=true" width="100%" height="450″ iframe="true" /]
Aaaaaaand we'll close things out with this new Ariana Grande single from her upcoming Dangerous Woman album. Anyone that knows me knows that I'm a huuuuuge Ariana fan. I gotta admit, this song doesn't totally do it for me due to the bluesy downtempo vibe, but her vocal parts are still absolutely CRUSHING. I'd be hard pressed to name a better and more technical singer than her in the pop world right now, and I might just have to put together an Ariana Grande Starter Pack to prove it. Check out "Dangerous Woman" below and get pumped for the album.
Ariana Grande – "Dangerous Woman"
BAM! That does it for Bonus Jams this week. I'll leave you with a couple Bonus Baby Pics before I head out. The TWINZ (aka JAMMY BOYZ) turned TWO YEARS OLD on Sunday, and we had quite a rager over at our house to celebrate the special occasion. Here's Lou deciding to abandon the silverware and just shove cake and ice cream in his mouth at the SAME DAMN TIME.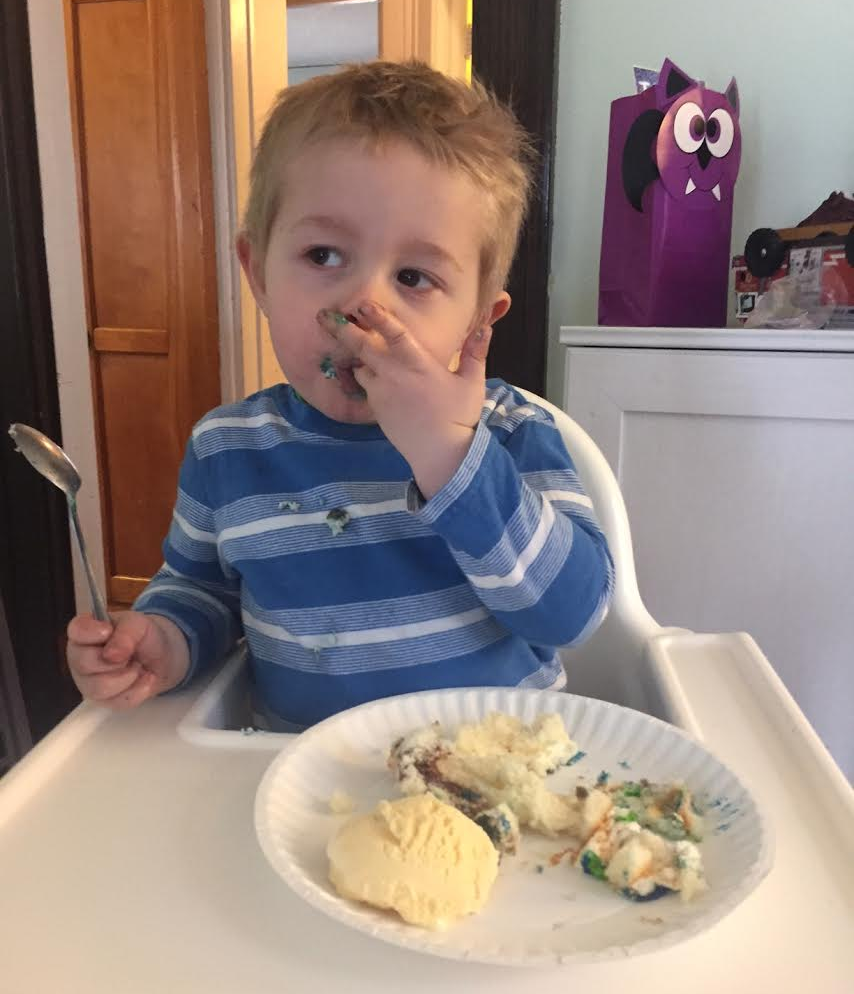 And here's Cam keeping things a little more traditional (except for the Cars toy on his tray). Cannot tell you how pumped I am that he's shaping up to be a Southpaw just like his dad. Leftys 4 EVA.
Here's an extremely rare capture of Crab Man Cam's true emotions shining through. Best smile in the world when you can actually coax it out of him. I suppose bouncy castles definitely help.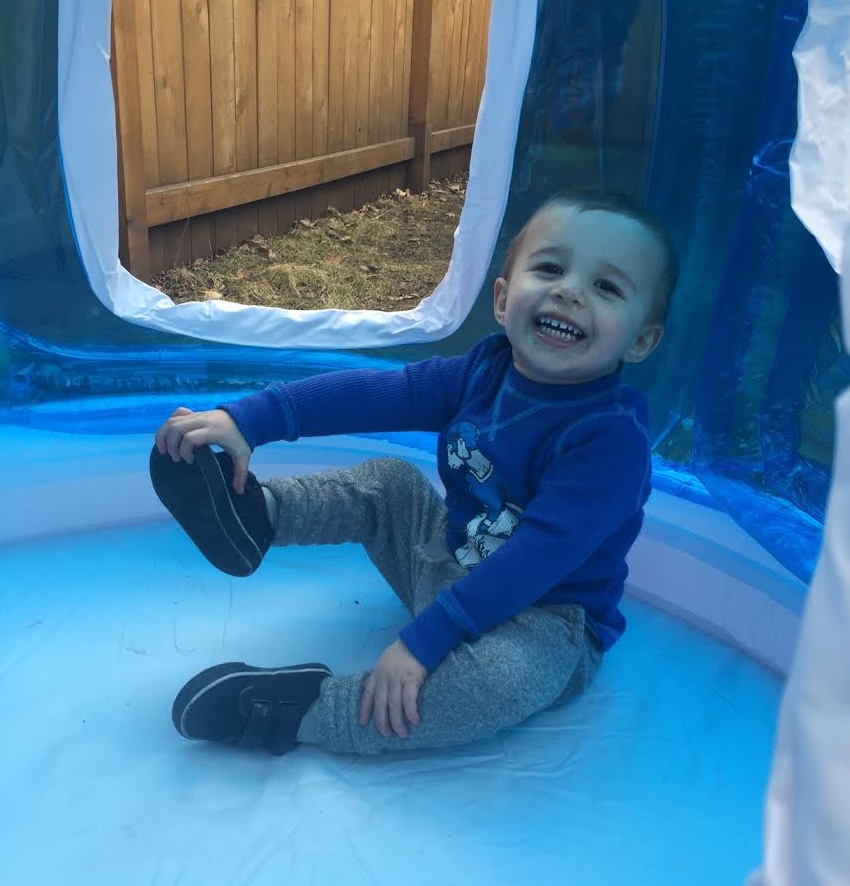 Here's Penny escaping the wild party with her best friend Anaiia. Pretty sure they're watching their favorite show, Monster High, which is one of the stranger kid series I've ever witnessed. Whatever works though.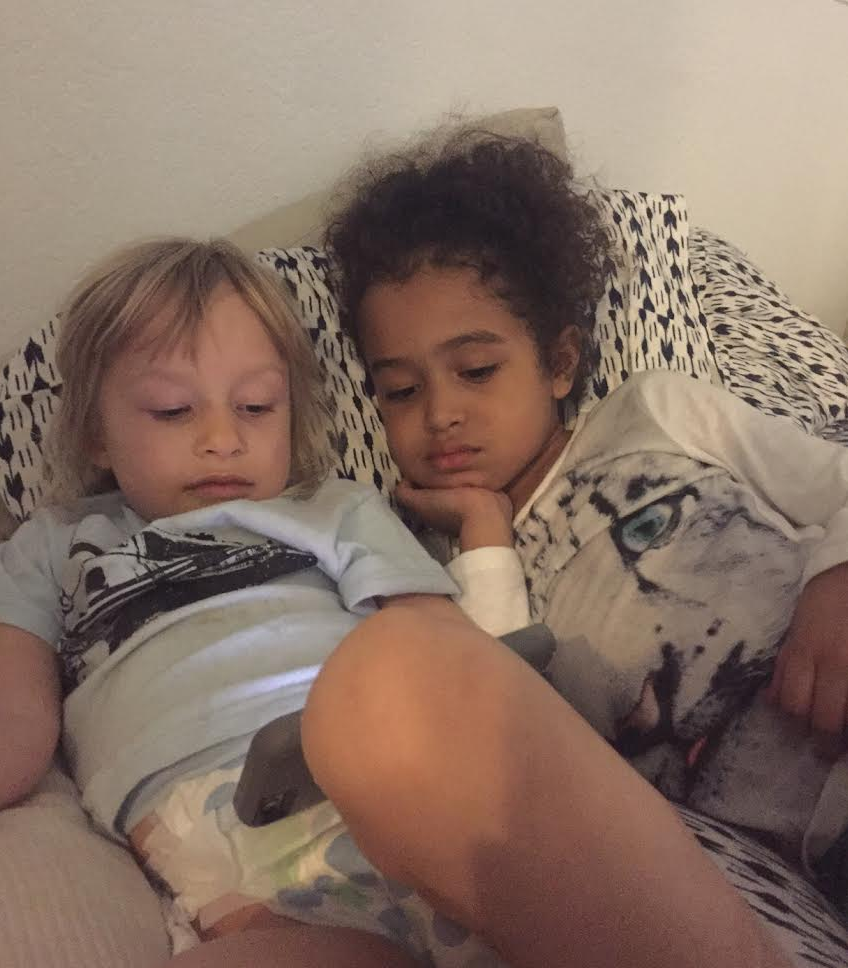 And here's Penny out with her grandma at the big indoor park, kneeling on a rock and making a weird face. Pretty standard these days. Craziest hair in the game.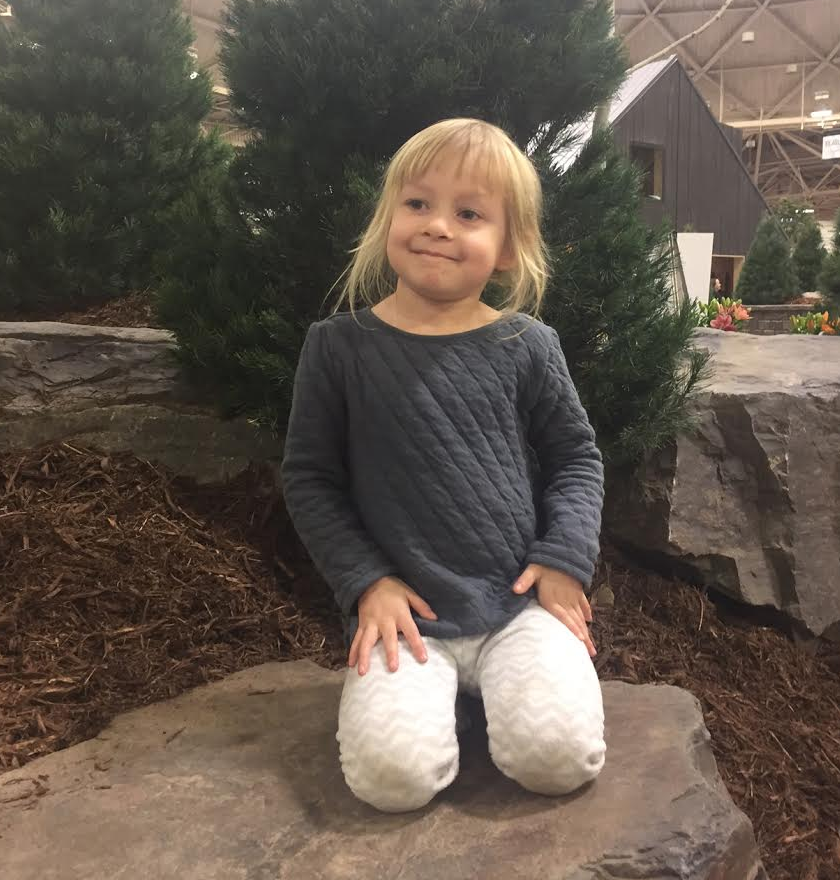 Alright! That's it for this post. I hope you all have a wonderful week gearing up for some insane March Madness upsets. Keep bumping that "sleepdrone/superposition" track and I'll see you back here next Tuesday for another round of TWL!
— Beak
Twitter: @_LAZERBEAK_
Instagram: @lazerbeak
LISTEN TO LAZERBEAK'S STARTER PACK MIX SERIES ON SPOTIFY
SUPPORT THIS BLOG LYFE. TUESDAYS WITH LAZERBEAK SHIRTS AND POSTERS AVAILABLE NOW!!!